Five best USA self drive road trips
Driving holidays can be great fun and what better than to discover some of the iconic routes in the States? There are many different ways of achieving this, there are inclusive holidays, the opportunity to hire your own car and we can book your motels and hotels, or hire a camper van – or even a classic car. You can do one way hires, picking up the vehicle in A and dropping it off in B but it is cheaper to pick it up and drop it off at the same place. Whichever way you choose, the Unites States is vast, has varied landscape, small towns and huge cities to enjoy with Bob Dylan's Highway 61 as musical accompaniment!
Route 66 Self Drive
The most classic of all American routes is Route 66, nicknamed 'the mother road' and 'main street of America' which was built in 1926 and was the first highway. The route was originally 2,451 miles southwest from Chicago to Santa Monica. Over the years, chunks of it have been handed over to be state and local roads and other parts are now disused, but most of it can still be retraced which takes about five days. Places to take a rest include the Cadillac Ranch at Amaraillo where Caddies can be seen racing each other and the meteor crater in Arizona where a sizeable meteor hit 50,000 years ago! There is a 320-mile stretch of Route 66 to enjoy in south-west Arizona from Petrified Forest via Winslow and Flagstaff. At La Posada Hotel Route 66 meets the Santa Fe railroad.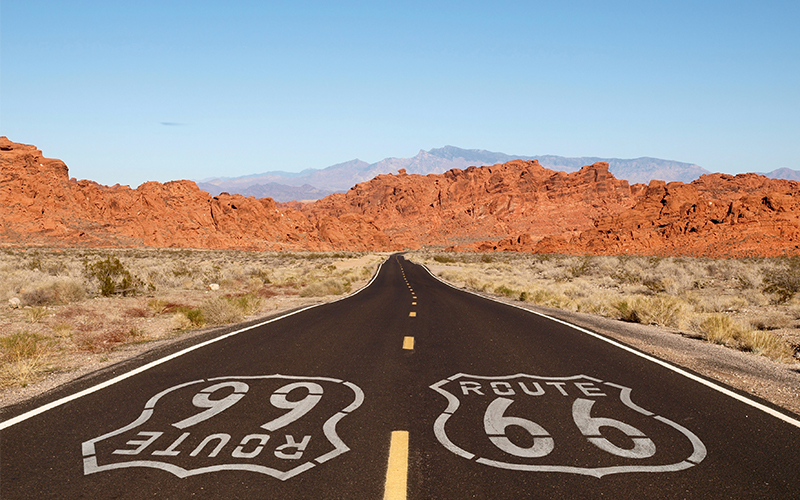 Florida Keys Self Drive Route
The Florida Keys route that stretches the 150 miles from Miami to West Key is absolutely stunning as most of the time it is just you and the turquoise water and it feels as though you are flying! The route touches on the Everglades and joins the Ocean Highway, which links some of the Keys (from the Spanish word 'cayo' meaning 'islets') the Gulf of Mexico on the right and the Atlantic on the left. The highlight of the trip must be the seven-mile bridge across the water made famous in the film 'License to Kill'. There are several good places to stop along the way including Islamorada where there is the chance to swim with dolphins at the Theater of the Sea or just over the seven-mile bridge where there is a dolphin research centre where you can learn about and interact with the dolphins.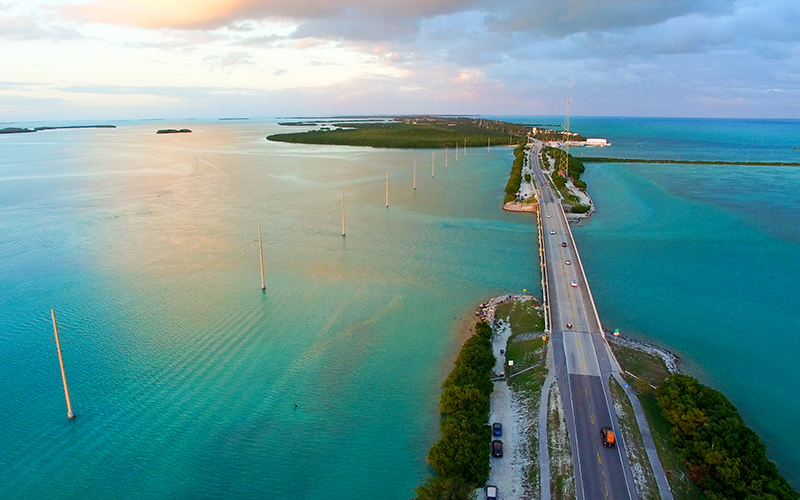 California State Route Self Drive
Another classic route with great views of the sea is California State Route One – also known as the 'Pacific Coast Route'. Stretching along the coast from Dana Point in San Diego to Leggett in North Carolina, parts of this route are instantly recognizable as they have been in so many films! This route is particularly good in the summer, but if you are attempting it in cooler months, drive north to south and it will get warmer along the way! There is plenty to see on this self-drive route, allowing you to avoid all the traffic jams of Los Angeles by skirting the city but it does pass through beautiful scenery at Big Sur and great wine country in Paso Robles, through Santa Barbara and on to San Francisco.
Route 21 Self Drive
Route 12 in Utah is said to be one of the most stunning roads in the world. The route links Capitol Reef National Park with Bryce Canyon Natural Park and is a distance of 124 miles – but at an altitude of 9,000 feet! There are forested and bare mountains in Boulder and narrow ridges to follow along the red canyons of Grand Staircase and Bryce Canyon, and at the end of the drive, St George is an attractive little town with a warm welcome for a stop off to grab a nice cool drink!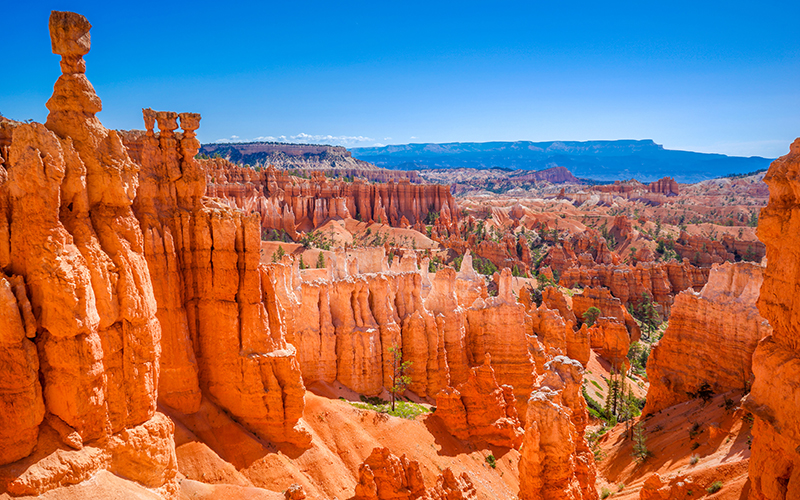 Interstate 90 Self Drive Route
If time is on your side and you are looking for a really good journey that will take a week, the Interstate 90 and a mere 3,000 miles is hard to beat! This is not the best-known route in the States but it is a classic as it crosses from coast to coast, Boston to Seattle. Along the way you will definitely see really varied scenery including forests, plains, three great lakes, numerous Indian reservations and the Rockies. There will be cities to explore including Buffalo, Cleveland and Chicago and a detour to make when you reach South Dakota to Mount Rushmore. This is a brilliant journey to make but it is definitely for fair weather days in the summer months.
Inspired by our Five best USA self drive road trips? Contact us today to speak to a travel expert about your next holiday. Call us on 0800 0856 846 or fill out our online enquiry form. Find your local Pure Destinations store here.