OVERVIEW
Sometimes you just need to get away from it all, and celebrate each other. Discover a world of luxurious resorts in breath taking destinations  with our luxury holidays for two. Whether you want to do a lot or nothing at all, our collection of hand-picked hotels radiate romance and luxury. From a tranquil retreat in Bali, an over-water villa in the Maldives  to a cosmopolitan resort in the Far East, we will ensure to create the exact romantic holiday you have been searching for.
With our extensive range of hotels across the globe, you can rest assure that you will find the most perfect base to explore for two. From dedicated adult-only resorts, honeymoon and couples suites, spa packages and a host of purpose-built amenities to make your holiday for two intimate and special.
As well as offering you a range of well-suited hotels and boutique resorts, we aim to make your holiday memorable with our expertise in travel. Don't just plan your couples holiday around your lavish pool suite; discover the world around you by planning an exciting itinerary with a difference. Choose from an array of wonderful destinations that feature lavish hotels and even more desirable excursions and tours.
Mexico
Culture, beach life and endless activities can be endured in Mexico, as well as its charismatic collection of foodie restaurants, lively night scenes and superlative hotels. You can't visit Mexico and not explore the crystal clear ocean, make your way to National Reef Park of Puerto Morelos where you can both discover enchanting marine life on a scuba diving tour. This incredible Park is the worlds second largest coral reef, after the Great Barrier Reef! Another great way to continue the romance is to embark on a unique dinner cruise through the calm waters of Nichupte lagoon as the sunset falls dramatically into the Ocean's horizon.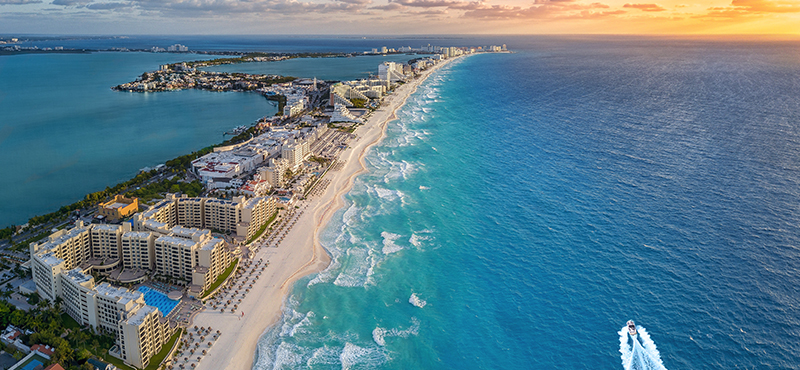 Maldives
Known as paradise to most, the Maldives is ultimately the perfect getaway for two. Imagine waking up each morning with panoramic ocean views accompanied by the gorgeous sunrise. As if it were completely designed around couples, most resorts offer private dining on the beach, sunset cruises and honeymoon benefits. If you're looking for an absolutely tranquil escape, the Maldives is the perfect destination for the both of you.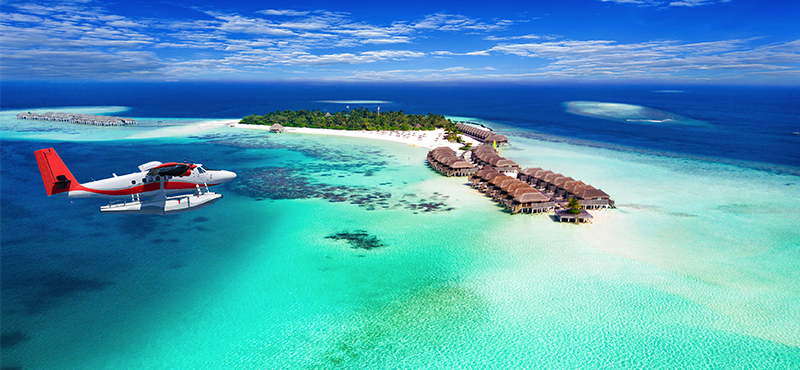 Caribbean
Laid back and what seems like a million world's from earth, Jamaica really exposes what its like to truly take a vacation. Spend your days relaxing beachside with a fruity cocktail in hand, then come night, get out your best attire and hunt down lively rum bars with explosively catchy tunes. The Caribbean prides itself on all-inclusive adult-only hotels, with a range of larger resorts and smaller boutique hotels to choose from. We have a wide collection of Sandals Resorts, which offer an all-inclusive experience with everything included, from the 11 + restaurants, butler service and water activities.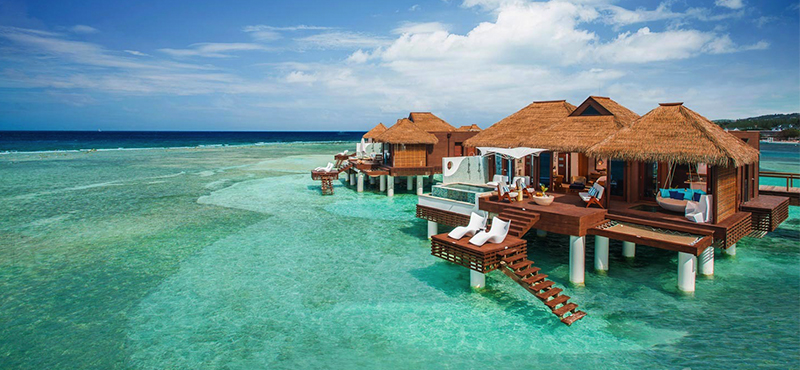 Europe
Looking for an escape not too far away? Europe offers plenty of dreamy locations, such as Greece, scattered with pool villa accommodations with staggering Ocean views. Why not head to Greece's impressive volcanic island of Santorini? Alternatively, discover an abundant of culture in Dubrovnik, Istanbul or Limassol.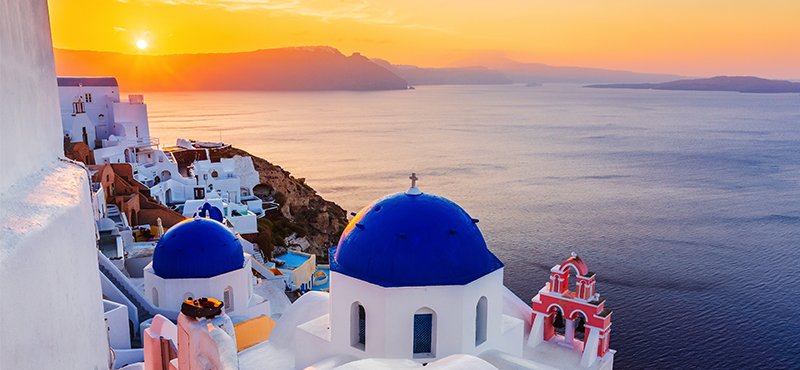 USA
The big apple is perceived to many as one of the worlds most romantic destination, and with the likes of Central Park, the Empire State Building and Times Square, you'll never run out of fun things to do. Catch a Broadway show, enjoy a picnic in the park or visit the iconic Grand Central. Alternatively, Los Angeles makes for a spectacular couples holiday, with its friendly beach destination hosting a range of iconic activities such as the walk of fame, Universal Studios Hollywood, Disneyland and Santa Monica Pier – you'll find yourself coming home with so many memories to cherish. Those looking for the glitz and glam of America can turn route to Las Vegas, known for the strip brimming with casinos, cocktail bars, luxury hotels and entertainment, each night will become a brand new experience. If you want to explore more to this thriving destination why not head a little further than the strip and sightsee from above on a Vegas hot air balloon ride or glide through the sky by helicopter and take in the breath taking views of Hoover Dam.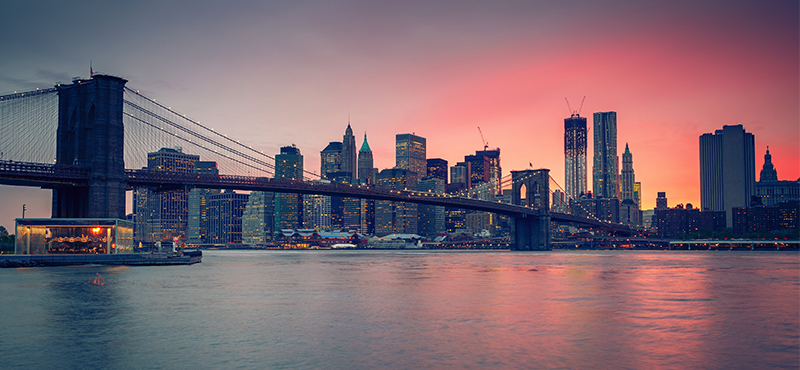 Middle East
Dubai offers a spectrum of things to do, with its glorious city and beach life benefits. Find yourself topping up your tan one afternoon, and the next on an adventure through downtown Dubai's golden souks. Those who love adventure will want to tower the Burj Khalifa's sky deck for impressive views, sky dive the palm and spend an afternoon cooling down at Ski Dubai. The Desert Safari is also a popular choice for couples, as are the famous Friday Brunches, which mustn't be missed by those who love plenty of food and a great atmosphere!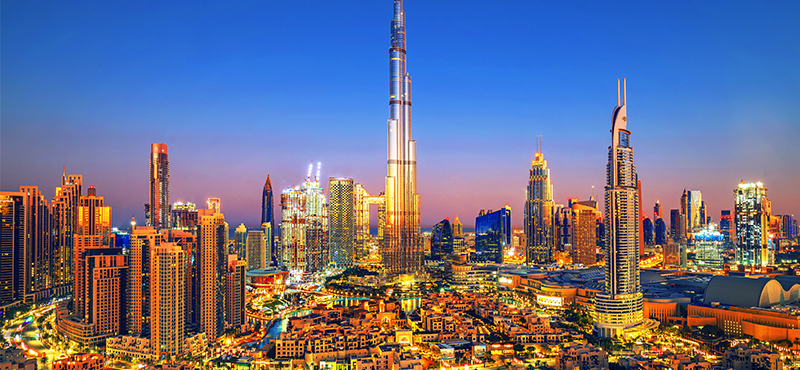 Mauritius
The tropical island of Mauritius dotted in the glistening Indian Ocean is a world away from the hustle and bustle back home. Escape to a sun-kissed island on your romantic couples getaway to Mauritius, with pristine white beaches, dramatic waterfalls and world-class diving. Furthermore, there is a host of luxurious resorts offering a variety of accommodation – from spacious suites to private hideaway villas with pools. For unrivalled luxury and in spectacular location at the foot of Le Morne mountain a UNESCO Heritage landmark, LUX* Le Morne offers the best sunsets on the island, a chance to swim with dolphins, incredible dining offerings and elegant accommodation for a romantic holiday in paradise.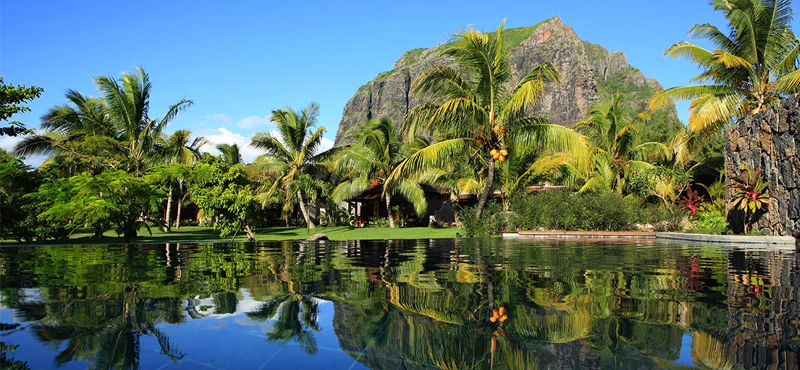 Days spent in Mauritius can range from laid-back afternoons on a white palm-fringe beach with a whole host of fun watersports, snorkelling and diving activities to enjoy. Alternatively, be adventurous by exploring the Black River Gorges Park and make new memories together on a hike, which will lead you to many gorgeous picnic spots to enjoy the views together. Make sure you don't miss seeing the spectacular Alexandra Falls when here, as this is one of the highlights of the park and is considered as one of the most beautiful falls on the island that drops an impressive 500 ft.
Japan
Imagine strolling hand in hand with your other half as pink cherry blossoms surround you on your romantic holiday to Japan. Or perhaps you want to visit in autumn, when the maple and ginkgo trees transform their leaves into red, orange and gold to set the romantic scene on your amazing holiday? Whatever time of year you plan to go to Japan, there's one certainty that you're going to have an incredible time exploring this diverse country. From ancient geisha districts and jaw-dropping mountains, to futuristic and fast paced living in Tokyo. Home to almost every experience you can think of such as Michelin star dining, street go-karting, sumo wresting, shopping and tea ceremonies. Of course more traditional sights include countless temples and shrines as well as visiting a traditional onsen (Japanese term for hot spring) is a must!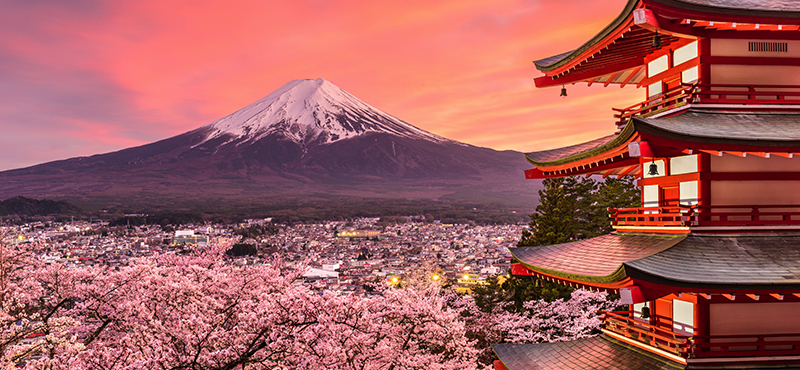 Thailand
From glittering temples to tropical beaches – Thailand is a diverse destination for an utterly romantic holiday for two. Typically, a holiday to Thailand is best explored as a multi-centre trip to really see some of the country's beautiful places that will leave you both feeling mesmerized. Begin your trip in the bustling city of Bangkok before exploring a sun-kissed beach escape such as Krabi, Phuket, koh Samui and Khao Lak. If you're looking for a unique camping experience surrounded by nature, Elephant Hills won't disappoint. Boasting as the first ever luxury-tented camp in Thailand, you can get up close and personal with Thai elephants in their natural habitat, kayak the lush rainforest river and so much more.
The vibrant city of Bangkok is the perfect place to spend with your loved one, with so much to see and do including a thriving market scene – from street food markets to floating markets and night markets. Take a tuk tuk around the city as you hop in between many temples and shrines, big shopping malls and attractions. When the sun goes down, be sure to book a dinner cruise along the Chao Phraya River to see the city lit up at night for a romantic backdrop.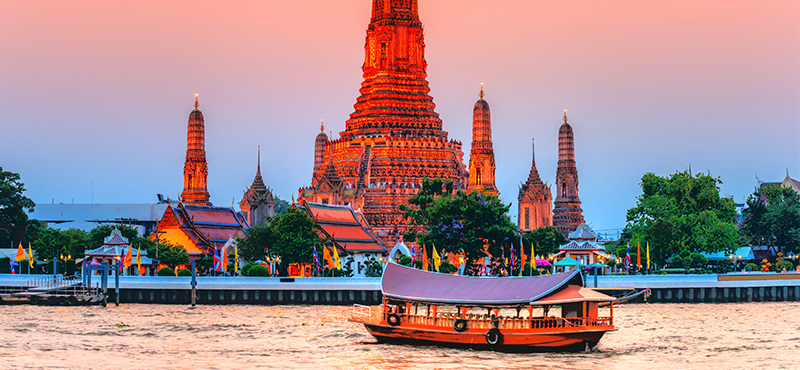 Thailand is blessed with gorgeous coastlines and islands for a romantic holiday and after all the hustle and bustle of Bangkok, it's much needed for some ultimate relaxation together. Phuket is one of the main Thai beach destinations, with over 30 world-class beaches to soak up the sun. Nightlife, activities and excursions and gorgeous scenery all make up an unforgettable couples holiday in Phuket. Make sure you don't miss seeing the gigantic Big Buddha, sea cave canoeing and a visit to the renowned Phang Nga Bay with limestone cliffs and rock formations that rise from the emerald waters and is also the home to the famous James Bond Island.
Bali
The romantic backdrop of lush ancient jungles, well-kept rice paddies, golden beaches and volcanic vistas is everything you can experience on a couples getaway to Bali. Plus, there is plenty of adventure to be had. From white water rafting, quad bike adventures, snorkelling, diving and chasing waterfalls in gorgeous locations. Furthermore, if you're looking to find your 'Zen' in Bali, you've come to the right place. A destination that exudes with tranquil bliss and healthy eating, you'll find an array of activities to feel more relaxed such as yoga, spa treatments, sightseeing the gorgeous temples and palaces as well as touring the rice terraces and coffee plantations. Couples that seek adventure with romance will love a Mount Batur tour at sunrise for undoubtedly mesmerizing views.
One of our popular Bali multi-centre holiday packages is Ubud and Seminyak for a jungle and beach getaway. Begin your Bali holiday in the ancient jungles of Ubud with popular attractions such as the Monkey Forest, Gates of Heaven and the Ubud Palace just to name a few. Then, head back to your relaxing pool villa for a refreshing dip and enjoy the sunset together. Once you've explored the ancient jungles of Ubud, it's time to enjoy the laid-back beach vibes of Seminyak with luxurious hotels, high-end shopping, chic bars and restaurants and simply breathtaking sunsets.
Australia
If you've got a good 2-3 weeks (or even more) to spare when planning your couples holiday, why not consider jetting across the world to explore incredible and diverse Australia? With buzzing cities and breathtaking natural wonders, Australia offers a round of everything for every type of traveller looking to explore. From snorkelling the Great Barrier Reef and witnessing the remarkable landscapes of Uluru-Kata Tjuta National Park that looks like nowhere else on earth – to sipping world-class wines in Hunter Valley, hiring a car to see the roads less travelled and visiting some of Australia's unforgettable cities. If it's your first time to Australia, make sure you visit Sydney to see the Opera House, climb atop the Harbour Bridge and take a surfing lesson on Bondi Beach.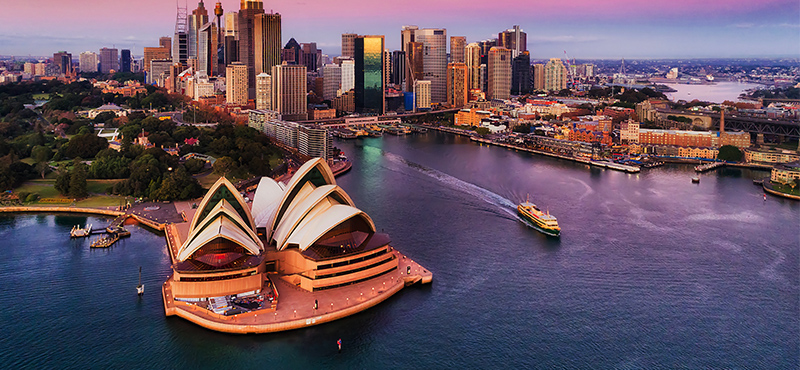 New Zealand
Explore New Zealand's natural beauty on a romantic holiday unlike no other. From towering mountains to awe-inspiring Fjords, beautiful coastlines and picturesque lakes and volcanoes – there's so much adventure to squeeze in. Perfect for couples that love the outdoors, New Zealand has so much to see and do. Discover incredible heights from the Sky Tower in Auckland, which is based around an extinct volcano and homes two beautiful harbours. Then there's Wellington, the country's beautiful capital with quirky cafes and award-winning dining options. Take the Wellington Cable Car Ride to enjoy the gorgeous city and suburban hills as you ride above the city. Lord Of The Rings fans won't want to miss a trip to Waikato where the Hobbiton Movie Set is located with enchanting little villages and lush green rolling hills.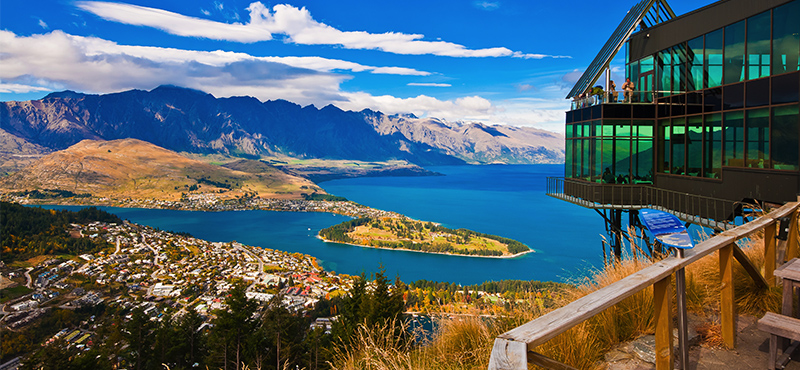 Fiji
Made up of 333 idyllic islands, 106 of which are inhabited, Fiji is the ultimate honeymoon and anniversary destination. Oozing with romance, with vibrant villages, picture-perfect beaches and incredible location for snorkelling and diving with some of the world's most varying biodiversity to explore. Fiji is a destination for couples that want an extraordinary holiday with fascinating marine life. The renowned coral reefs that surround Fiji are among the most diverse on earth. See this for yourself is on a snorkelling or scuba diving trip that can be arranged at your resort. Combine your paradise holiday to Fiji with the likes of New Zealand or Australia for an incredible once-in-a-lifetime multi-centre trip.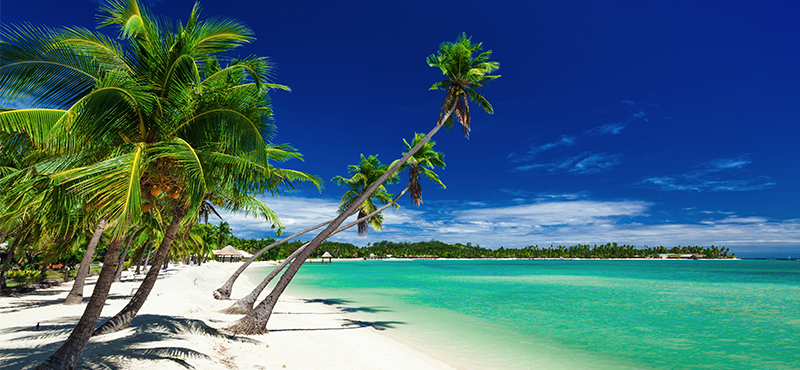 Bora Bora
Bora Bora is an utterly romantic destination where rugged green landscapes, turquoise waters, pearly white beaches and charming over water villas set the scene for a whirlwind honeymoon or anniversary celebration. Spend your romantic escape in paradise enjoying the shallow, crystal clear waters that are ideal for paddling and light water activities. Ranging from stand-up paddling, sailing, kayaking, windsurfing and much more. Don't miss out on the incredible marine life, grab your snorkelling gear or scuba dive to see the magnificent marine life such as turtles, sharks, dolphins, and manta and leopard rays.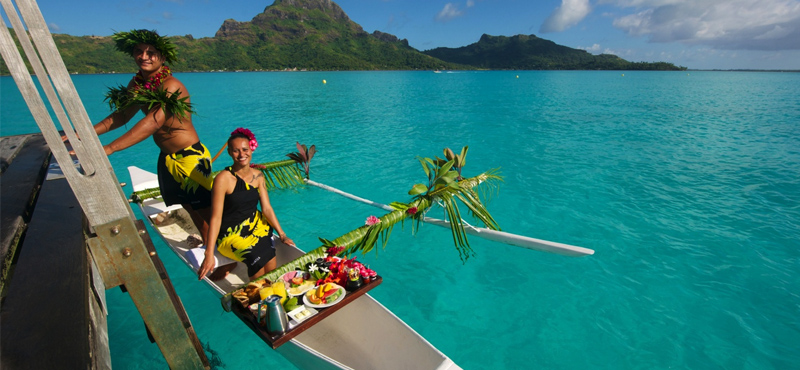 There's a lot to do on land too, where you can explore the tropical jungle on a 4×4 tour, climb Mount Otemanu or the twin-peak Mount Pahia, which is the tallest point on the island. A great way to surprise your other half while in Bora Bora is to arrange a canoe breakfast experience if you stay at InterContinental Bora Bora Resort & Thalasso Spa where breakfast is delivered to your overwater villa in a traditional canoe and you enjoy your American-style breakfast on your deck facing the lagoon.