Overview
Let The Magic Begin…
The land where dreams come to life
For many adults and children, Disney holidays are a once in a lifetime dream where your favourite characters are in full form. From magical rides to shows and live entertainment, your time at Disney World will be action packed and filled with many things to do.  Children have the upmost incredible choice of things to do to ensure their time is well spent and full of excitement. Your children can enjoy fun yet gentle waterpark rides based on their favourite characters, while adults can relive fond memories of iconic Disney Characters from their childhood.  See the golden carriage from Cinderella, it will guarantee your love for the magical world of Disney is forevermore.
Character experiences in Disney World are the perfect way to get up close and personal with your favourite characters. Go on a Jedi Training Academy where you can pledge the Jedi Oath under the tutelage of a Jedi Master. Follow Alice down the rabbit hole at the Mad Hatters Tea Party and relive the mystical wonders of Alice in Wonderland.
For an unforgettable experience, take one of the many tours that Disney World has to offer. The Magical Kingdom tour is a fun and light-hearted adult tour of the unseen area's of the kingdom where you will learn new secrets of the magical kingdom.
Those looking for a little more adventure can go on a dive quest where you'll discover new tips in the depths of the Caribbean coral reef. Take in the crystal water views while spotting creatures such as sea turtles, angelfish, dolphins, eagle rays and sharks. While this tour is more for experienced divers, don't miss out on swimming with Dolphins where you'll experience a fun and friendly encounter with a Dolphin or two.
Catch your favourite Disney movie at Disney's AMC Cinema, or grab some live entertainment at the theatres. From shows such as Beauty and the Beast, Dream along with Mickey and a Frozen Sing- A-Long show, the entertainment never really stops.
Treat your summer wardrobe at Beach Haus where they stock everything from beach towels, swimwear, cameras and sundries. Visit Build-A-Dino where you can build your very own Dinosaur toy in a fun way with your own creativity. At Disney's Candy Cauldron, indulge on your favourite food treats and pick up a bottle of your choice spirit.
Take time out to nurture your body and mind by heading to a Disney Spa retreat to tingle your senses. However, if you love more action than relaxation you can find that in a fitness centre with fast amount of equipment to keep you going.
Morning, afternoon or night; Disney have a dining experience for every mood and theme you could imagine. Splash out on a 50's themed cafe where you can enjoy milkshakes, light and main dishes. For a truly fairytale dinning experience, visit Cinderella's Royal Table in the life-like Cinderella ball hall. Mingle with Disney princesses while indulging in a banquet fit for a king or queen.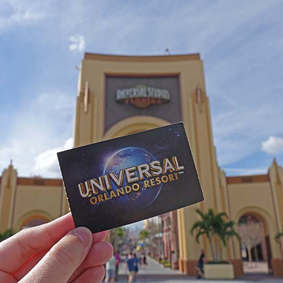 Disney & Universal Combo Tickets
With our Disney and Universal Combo Pass you can enjoy UNLIMITED admission to all that Walt Disney World and Universal Orlando® Resort have to offer. Enjoy complete freedom to come and go as you please and hop from park to park in the same day. Universal Combo Pass! Call us today to learn more!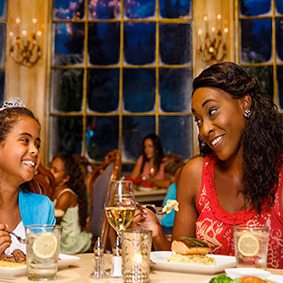 Disney dining plans
Only exclusively available to Disney resort hotel guests, The Disney Dining plans allows guests to dine in over 100 venues throughout. This includes all six Disney parks, Disney's Boardwalks, Disney Springs and other Disney Resort Hotels. It offers fine dining and meals with Mickey to healthy options, family fare and good food on the go, so there is really something for everyone. Additionally, you will get one specialty drink included with every meal, opt for a healthy smoothie, an artisanal milkshake, or even a beer, cocktails and so much more.

When your food is pre-paid, it can make the trip so much fun as you don't need to stress about paying. This plan must be selected for all members of the party travelling aged three and over at time of the visit. Whether you visit a sit-down restaurant, buffet place or the character dining venue, this plan is so much easy to use as you simply scan your Magic band at any restaurant or kiosks and then the appropriate number of credits will be deducted from your account. Sometimes, Disney offers free dining promotions which allow guests to get the Disney Dining plan for free, therefore it's the perfect time to snap this up. Disney is also committed to offering a wide range of options for guests seeking well-balanced meals, as well as those with lifestyle dining requests or special dietary requests.

Contact us today to discuss more about the Disney dining plan packages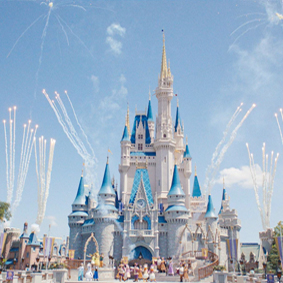 Best time to go to Disney World & Universal Studios
The sun shines all year round in Orlando therefore the theme parks are open for business every day. Though the busiest season is when the kids are out of school which is late May to just past Labor Day. long holiday weekends, thanksgiving and Christmas time, special events and spring and summer breaks. Therefore, the best time to visit Disney World and the Universal is during the low season where its less crowded and more affordable, this is during January and early February when it is cold and just at term-time in early September throughout to mid-November. Even though you will have a great time no matter how busy it is, the experience is more magical when the crowds are less. However, if you are looking for pleasant weather, the months between January and April are the best, with July being the hottest month.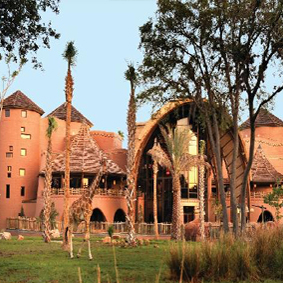 5* Disney Animal Kingdom Lodge
Set across 43-acres of wildlife preserve, Disney's Animal Kingdom Lodge offers authentic African-inspired architecture and African village landscape in the heart of Florida. Guests will enjoy expansive views of the surrounding savanna and its many animal inhabitants, providing an intimate feel of Africa. An elevated rock platform gives guests the opportunity to view the animals and thousands of indigenous African shrubs and grasses. Disney's Animal Kingdom Lodge is the perfect choice for your Walt Disney World vacation, offering a range of exclusive facilities.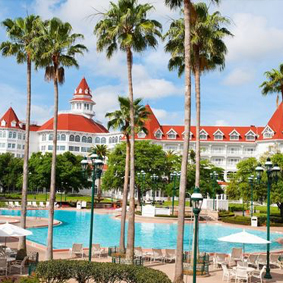 5* Disney's Grand Floridan Resort & Spa, Orlando
Fulfil the dreams of your whole family with a magical stay at Disney's Grand Floridian Resort & Spa. This exquisite hotel is dripping with Victorian elegance while remaining thoroughly contemporary. It offers guests the chance to stay within one monorail stop of the Magic Kingdom - perfect for maximising your time in Disney's vast park complex. The rooms and amenities at this resort are nothing short of mind-blowing, adding an extra touch of the extraordinary to an already wonder-inducing break. When you're not exploring the park itself, enjoy time splashing around in one of the hotel's shimmering pools, take a speciality cruise around Seven Seas Lagoon and Bay Lake or indulge in the Senses Spa after a day of thrilling roller coaster rides.Then end the evening with dinner at the hotel's incredible range of restaurants.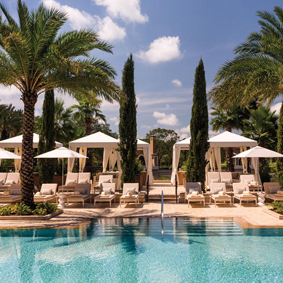 5* Four Seasons Resort Orlando at Walt Disney World Resort
Live out your childhood dreams at Four Seasons Resort Orlando at Walt Disney World Resort. A dazzling blend of enchanting surrounds and world-class amenities, this hotel boasts manicured gardens dotted with cypress trees and swaying palms. A series of glimmering pools and a soothing onsite spa will also help you to relax and unwind.

Enjoy access to the EXTRA MAGIC HOURS benefit and DISNEY FASTPASS+ for thrilling character breakfasts and exclusive access to the theme parks after hours. After a busy day mingling with Goofy and Pocahontas, wind down with a family meal in one of the gourmet eateries before catching live music in the The Lobby Bar or simply curling up in your suite for a movie marathon.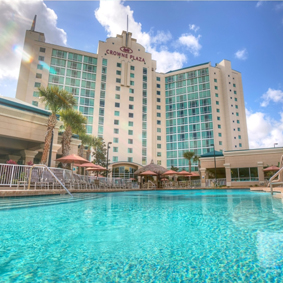 4* Crowne Plaza Orlando Universal
Crowne Plaza Orlando Universal is the perfect place to rest for business travellers and families alike. With 7,000 sq. ft. of resort place, there's plenty of room to accommodate all. Located on the Universal Blvd, you'll be close to all the nearby attractions such as Sea World Orlando, Universal Studios, Islands of Adventure, International Drive Resort Area, Walt Disney World, Downtown Disney, Mall at Millenia, Aquatica Sea World's Water Park and much more!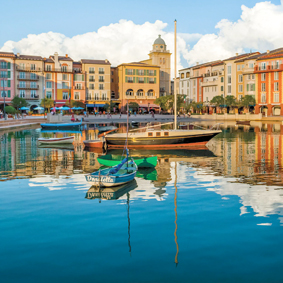 4* Universal Loews Portofino Bay Hotel
Loews Portofino Bay Hotel is a spectacular bayside resort nestled right in the grounds of Universal Orlando. Home to exquisite architecture, reminiscent of its Italian namesake, and complete with cobbled streets and graceful Italian cypress trees, the hotel gives you an authentic taste of the Old Country, blended with golden Florida sunshine and plenty of Universal adventure. The resort also offers guests an impressive array of sumptuous guestrooms and suites, not to mention mouthwatering Italian dining, three swimming pools and facilities for meetings and special events.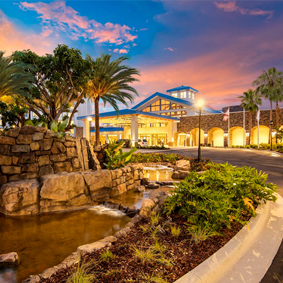 Universal Loews Sapphire Falls resort
Nestled among lush grounds and cascading azure waterfalls – for which it is named – this luxury Loews resort is modelled on a gracious tropical estate, and is sure to take your breath away from the moment you arrive to check in. Blessed with atmospheric architecture, sumptuously appointed guest rooms and suites, world-class dining and a majestic swimming pool center piece, there are so many reasons to book a romantic or family getaway here.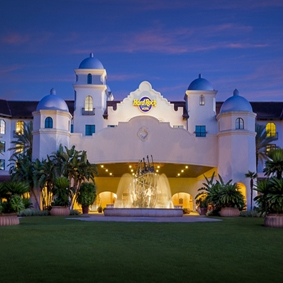 4* Universal Orlando's Hard Rock Hotel
There are so many reasons to love Universal Orlando's Hard Rock Hotel. These include its exquisitely furnished accommodation options, personalised service, outstanding dining, rock 'n' roll memorabilia and impressive selection of leisure and recreation options. If that wasn't enough there is also a dazzling sand beach pool to enjoy, which gives you an amazing underwater audio experience not to be missed.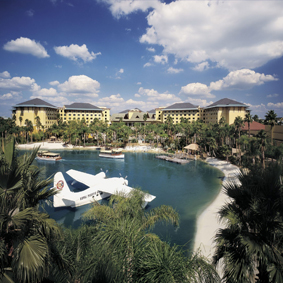 4* Universal Loews Royal Pacific resort
Designed to evoke the fun, adventure and luxury of a vacation to the South Pacific, the Loews Royal Pacific Resort is an oasis of lush palm trees, soft white sand, and exquisitely appointed accommodation. When you're not taking advantage of the incredible attractions provided by Universal Orlando you can savour hours of bliss unwinding with your loved ones at this superlative resort, with its delectable cuisine and incomparable hospitality. The spectacular lagoon-style swimming pool and the Royal Pacific's other fun-filled leisure and recreation facilities are guaranteed to provide you with plenty of opportunities for delight.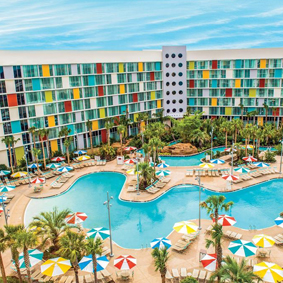 Universal Cabana Bay beach resort
For a fun-filled family holiday at Universal Orlando why not book a room or family suite at Cabanda Bay Beach Resort? This warm and inviting retro-inspired luxury hotel provides well-appointed accommodation with all of the must-have amenities, not to mention an impressive array of leisure and recreation facilities. If that wasn't enough to entice you, the resort's prime location means you are within easy reach of the many amazing attractions and the buzzing nightlife of Universal Orlando.