OVERVIEW
Whether it's a romantic break for two to see the bright lights of New York City or a family getaway to the cultural city of Berlin; Pure Destinations will tailor make your perfect luxury city break. With an array of European cities just a short flight away, why not head to Paris, Rome or Dubrovnik for a short city holiday or venture further afield to New York, Bangkok or Singapore. A city break is perfect for a special occasion, surprise getaway or romantic weekend away.
Istanbul
Set between Europe and Asia, Istanbul is scattered with a blend of gems that have kept it interesting since tie can tell. With Roman and Egyptian influences, this intriguing city has plenty to give. Visit the many landmarks in Istanbul such as Aya Sofya, Topkapi Palace, Suleymaniye Mosque and the famous Blue Mosque. When you're not sightseeing, you can pick up bargains in the open air and indoor markets, or hunt down Turkish delights with a street food tour!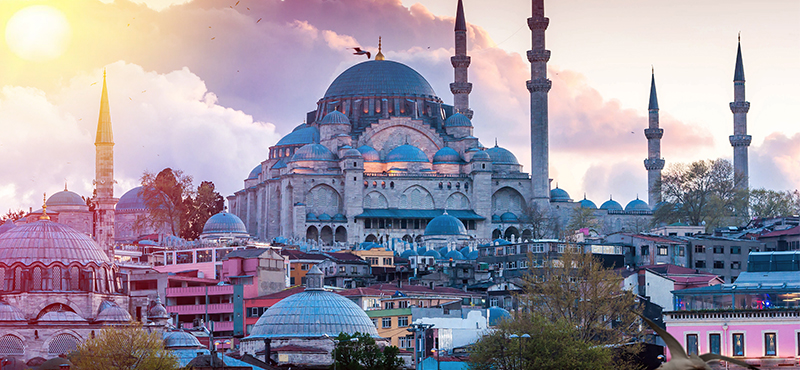 Rome
More culture can be found in Rome, this sprawling city holds almost 3,000 years of art, architecture and culture. Visit the iconic Colosseum, or the Roman Forum before stopping at a decadent pizzeria for authentic Italian flavours. Why not make a wish at Trevi Fountain or climb the Spanish steps while visiting this ancient and poetic city?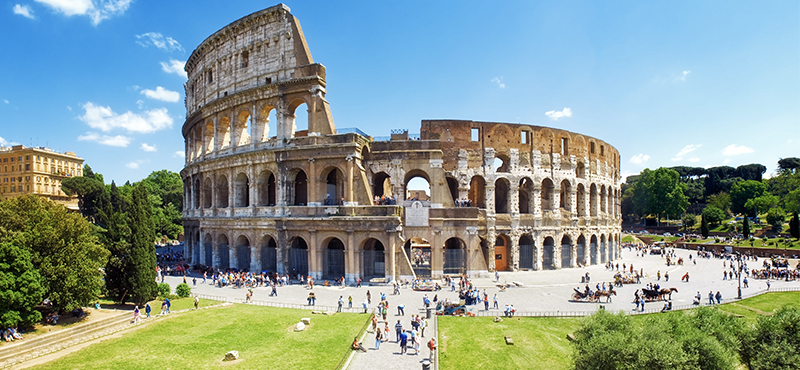 Bangkok
Flourished with culture, temples, local markets and streets sprawling with street food, Bangkok is a destination for the senses. Visit the 5-star Lebua at State Tower and head to the rooftop bar, but not just for the incredible views, but also for its movie set from the Hangover. Another highlight is Lumpini Park, feel a world away in one of the largest parks in the city with open green spaces for relaxing and entertaining, with always something happening around the park.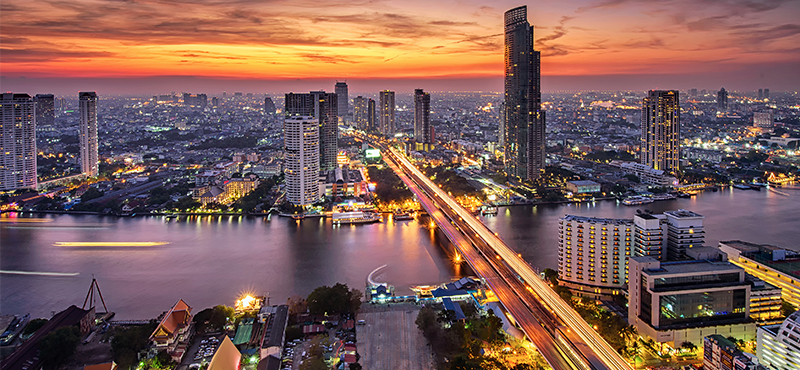 Singapore
For an ultra modern city break, head to Singapore, flourished with outstanding attractions for an adventurous holiday full of fun and entertainment. From Sentosa Island, Universal Studios Singapore, Wild Wild Wet water park, Tiger Sky Tower, Jurong Bird Park and the famous Singapore Flyer observation wheel.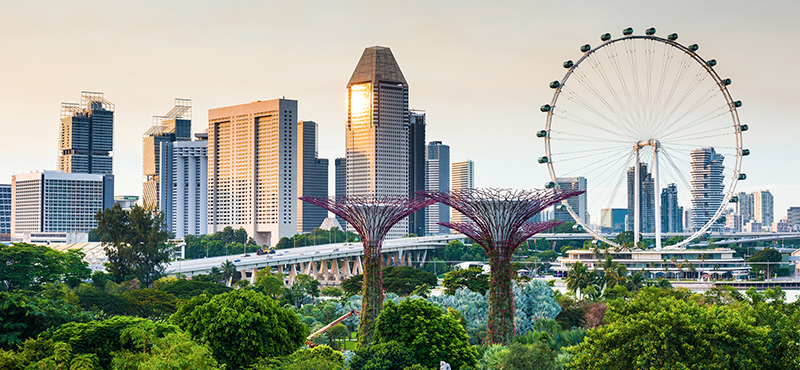 New York
New York, New York – so good they named it twice! Be dazzled by the bright lights of Times Square, cycle through Central Park and shop until your heart's content on 5th Avenue. Home to so many on-screen locations you'll feel as though you're on a movie set – from spotting the apartment block in Friends to steeping in The Plaza Hotel as seen in Home Alone 2. There's no shortage of blockbuster locations to spot when wondering around the city.
Grab a New York pass to make the most of the attractions including the Empire State Building, 9/11 Memorial Museum, Top of the Rock and Statue of Liberty just to name a few. The food scene in New York is incredible, from huge slices of pizza and hot dog stands to breakfast diners and fine dining with a choice of 76 Michelin starred restaurants for something extra special.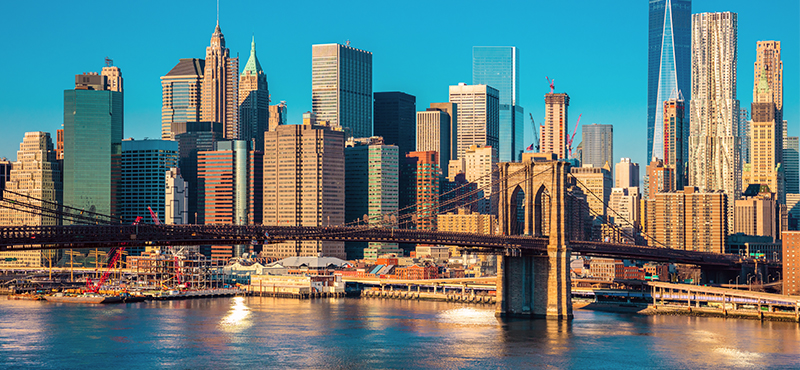 Amsterdam
Amsterdam is the capital of the Netherlands where getting around the city is mainly via canals or cycling. In just over an hour by flight from the UK you will touch down in Amsterdam with plenty to see and do, even if you're looking for just one or two nights.
The Museum quarter is the cultural hub of the city with the likes of the Van Gough Museum and the Stedelijk Museum of Modern Art to explore. There are also designer shops, a skatepark and wading pool (which transforms into a ice rink in winter) and green spaces such as Vondelpark to stroll around. Don't miss a chance to visit Anne Frank House while in the city, which dates back to World War II. Treat your loved one to some blossoming flowers at the Bloemenmarkt – a unique floating flower market that dates back to 1862.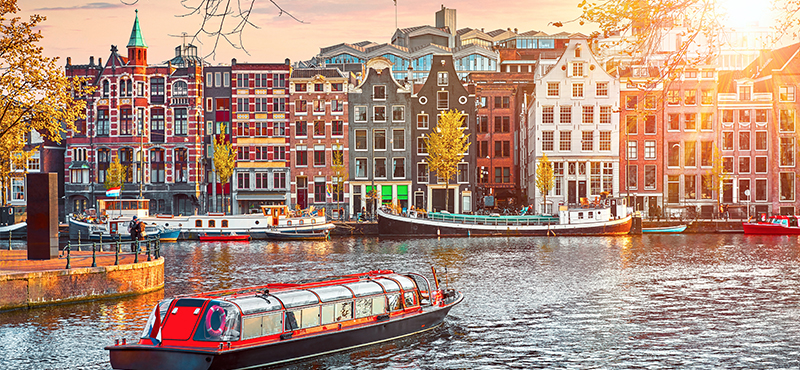 Disneyland Paris
A magical city break close to home can be found in Disneyland Paris. Promising plenty of fun for all the family, Disneyland Paris brings the enchanting world of Disney to life in the form of rides, shows and parades. Disneyland Paris is split into two theme parks – Disneyland Park and the Walt Disney Studios Park. There is plenty to do for all ages. You can either fly or hop on the Eurostar to get to Disneyland Paris. With plenty of hotels to lay your head at night, including the Les Villages Nature Paris, which is just minutes from the park is a great option for family, friends and couples set in a picturesque green village.
Disneyland Park is home to Sleeping Beauty's Castle and homes thrilling attractions, shows and parades as well as an abundant of restaurants to dine at. Enjoy character experiences from the likes of Mickey Mouse, Aladdin and Disney Princesses. See breathtaking firework displays around the sleeping Beauty Castle at night and ride on thrilling rollercoasters and rides based on your favourite Disney movies.
Walt Disney Studios brings the world of Disney and Pixar to life as you feel like you're on a movie set at every turn. Enjoy a 4D experience at Disney Ratatouille, drop down a 25-metre high half pipe coaster at RC Racer, or take a Studio Tram Tour to discover behind the magic of Disney with full-scale movie sets!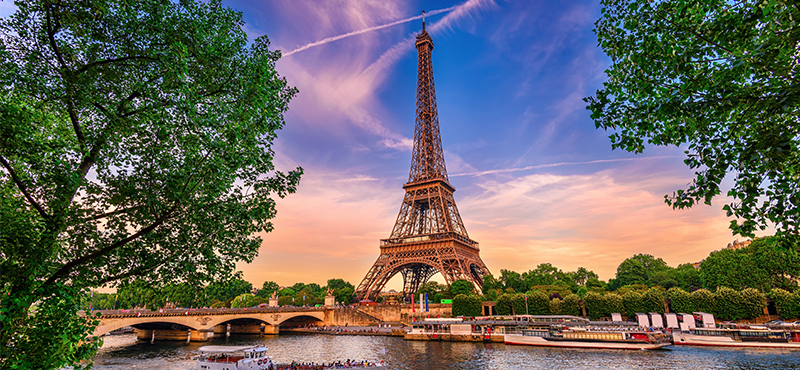 Copenhagen
Rich in history, Copenhagen is Denmark's coastal capital with 18th century buildings, palaces and castles to explore. The colourful Nyhavn harbour front is a great place to enjoy people watching while indulging the bars, cafes and restaurants as the wooden ships come and go from the waterfront. One of the city's most iconic statues is The Little Mermaid, which can be found by the waterside at the Langelinie promenade standing at 1.25 meters tall.
Copenhagen offers plenty of things to do. The hub of all the fun can be found at Tivoli Gardens, which opened in 1843 and is the world's second oldest operating amusement park! Here you will find an abundant of rides, restaurants and theatre shows to entertain you.
As well as picturesque gardens, which host weekly fireworks displays every Saturday for all the family to enjoy. Shops galore can be found on Stroget, which is a car-free shopping area and a popular tourist attraction with beautiful buildings and a wealth of shops from budget-friendly buys to designer labels.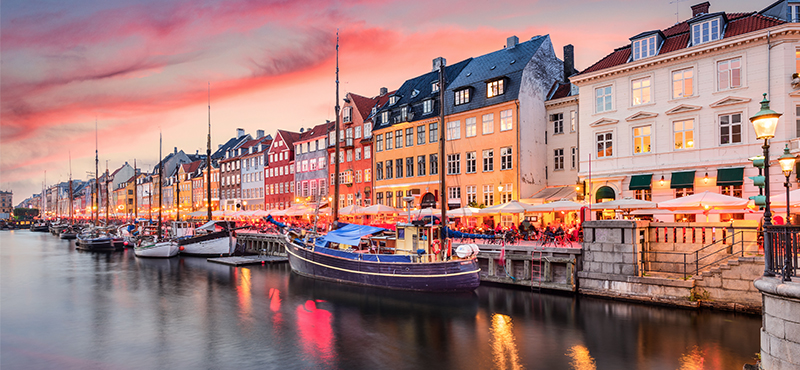 Barcelona
Barcelona offers the best of both worlds – a cultural city with a gorgeous coastline, offering world-class bars and architectural gems. Take a stroll around the charming Gothic Quarter, which has narrow medieval streets with trendy bars, clubs and restaurants. It's also home to the iconic Cathedral of Barcelona, which was built between 13th and 15th century. The city is a gem for foodies with tapas bars, seafood taverns and chocolate shops to tickle your taste buds.
When you're not enjoying the cultural sights of the city you can head down to the sun-drenched beaches where you can laze the day away to top up your tan or partake in a variety of water sports such as kayaking or stand-up paddle boarding. Port Vell Harbour is a 2000-year old harbour front, which was once an industrial port. These days you can enjoy one of many day trips or excursions from the harbour on a luxurious yacht or speedboat. This ranges from romantic sunset cruises and party boats to eco tours and glass-bottom boat trips.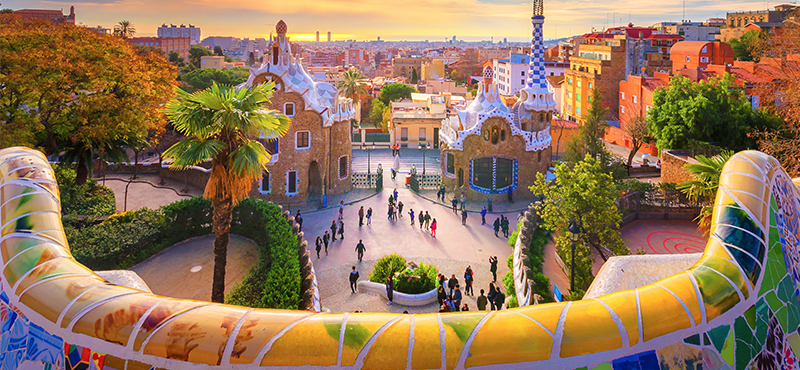 Dubrovnik
Spend 4-5 nights on the coast of the Adriatic Sea for an unforgettable city break unlike no other to Dubrovnik. Famous for its old town charm with countless film locations for the hit TV series Game of Thrones, Dubrovnik is a picturesque destination for a long weekend city break. Step back in time as you walk into Old Town, located on the coastline with 16th century architecture, from stonewall buildings with terracotta roofs, to pebble cove beaches with crystal clear waters.
The best ways to see the views of Dubrovnik is by walking the walls of Dubrovnik, which allows you to walk around the entire old town boasting of the most breathtaking views of the sea and city. Don't miss a ride up the mountains via the cable car. Visit here at sunset to witness the most spectacular sights of the city below as the sun goes down.
Island hopping and cave kayaking can be done from the harbour front with countless of excursions on offer. Don't miss the chance to see the island of Lokrum. Here you will find the Game of Thrones museum where you will find the iron throne. As well as this, there are botanical gardens, natural caves and coves and wildlife such as rabbits and peacocks. A great place to stay is on the Lapad peninsula, located just 10 minutes by car from the Old Town and is home to budget and five-star hotels perched on the Cliffside offering the most incredible views of the beach and neighbouring islands.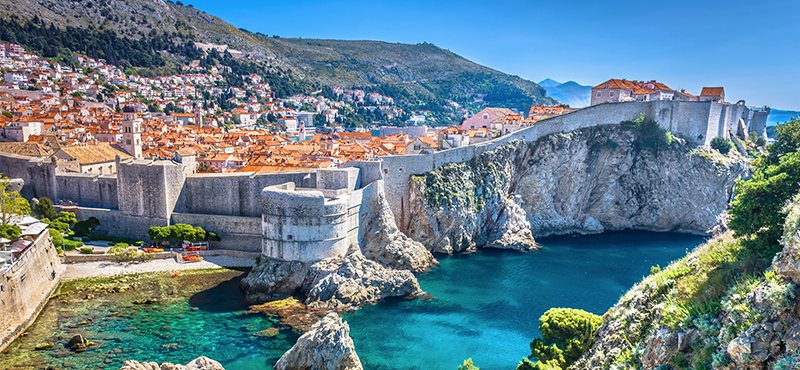 Krakow
Remains of this former royal capital are still apparent today with stunning architectural gems. From Roman to Gothic and art nouveau influences, Krakow impresses with rich history and sceneries that will make you feel as though you're walking into a fairy tale movie set. A visit to Auschwitz is the top of everyone's list when visiting Krakow, located 66km away from the city; it's easily reached as part of a tour or excursion, or get there on your own by car or public transport.
With a long list of annual events to keep you on your toes, Krakow showcases theatrical shows of the arts, music, film and dance, so there's always something fun to do while here. Furthermore, in between sightseeing and shows, you can enjoy the indulgent food scene in Krakow with French, Italian and Asian-inspired eat outs.
Vegan and vegetarian options are a common item on the menus across the city also. Don't miss the incredible underground chapels, chambers and lakes found at the Wielicza Salt Mine or the medieval Wawel Royal Castle museum complex on a long weekend break in Krakow.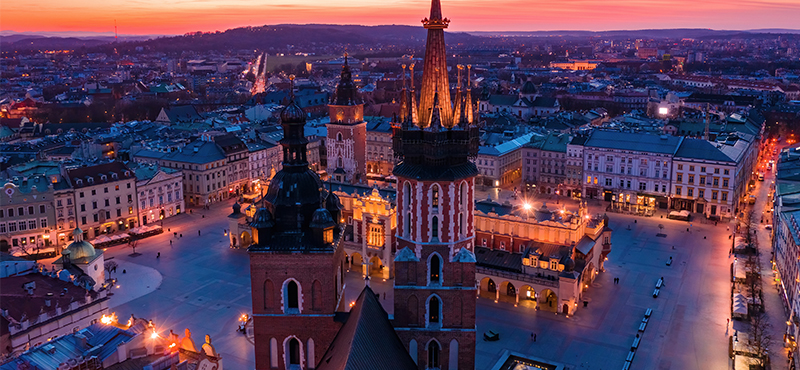 Venice
Indulge in Italian romance in the city of Venice. Home to over 100 petite islands in a lagoon in the Adriatic Sea. This carless city allows you to commute either by foot or boat taxi with gorgeous architecture from Gothic palaces, red roof buildings and charming footbridges allowing you to hop over the blue canals. The city's vibrant hub is at St. Mark's Square where you will find dozens of restaurants and bars and is a charming area to have date night together if you're here for a romantic weekend break.
Don't miss the breathtaking Saint Mark's Basilica Cathedral, which is the most famous church in the city with absolutely stunning architecture. Visit in the day and night as you will see it lit up and look stunning against the midnight sky. The main canal in Venice is the Grand Canal, which forms one of the major water-traffic corridors through the city. Take a boat trip through the Grand Canal to really take in the beauty of the city and its charming townhouses along the way. For a romantic experience, get in a Gondola that will take you to Rialto Bridge for an utterly romantic experience as the sun goes down.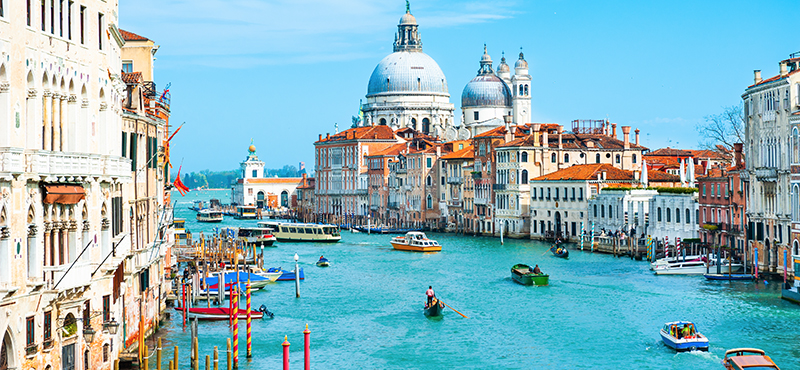 Prague
The enchanting capital of Czech Republic will take you back in history with Gothic Cathedrals, Baroque palaces and unique Cubist architecture. Prague is known for its steep history that is still present today, with its famous Old Town Square being a UNESCO World Heritage Site filled with colourful architecture that exudes with centuries of culture. Not only that, the city is famous for its beer, known for producing some of the world's finest brews. Therefore, a visit to the Beer Museum is a must even if you're here just for the weekend!
Some of the not-to-miss sights in Prague on a weekend city break includes watching the Astronomical Clock strike at the hour in the heart of Old Town Hall, walking across Charles Bridge at sunset for mesmerizing views, a visit to Prague Castle and a selfie at the Lennon Wall in dedication to John Lennon and The Beatles.