Overview
Pure Destinations have been selling luxury holidays since 2010 from honeymoons, cruise holidays, multi-centre holidays and everything in between, which is why becoming a Kuoni Partner Store was very fitting for us, to be associated with a company who offers such a high standard of accommodation.
We have a great history with Kuoni, having previously been a Kuoni Elite Specialist Agent for the past 5 years and after a fantastic 2013 and 2014, Kuoni helped us take the company to the next level and made us a Kuoni Partner Store. Our store in Edgbaston received a Kuoni make-over that has inspired many of our clients to decide on their future luxury escapes.
What does this mean for you?
Our Travel Experts can continue to sell you luxury holidays to beautiful destinations throughout the world with personal one-to-one service and we will continue to have access to all the Kuoni exclusive hotels our clients love visiting and we love recommending.
Becoming a Kuoni Partner Store has helped further increase our first-hand knowledge of the world with regular training and invites to exclusive FAM trips to Kuoni exclusive hotels around the world. Our Travel Experts can then offer you even more insights into the destinations you love and the ones you are yet to discover, including excursions, restaurants and hotels that suit your desires.
Kuoni Exclusive Resorts
Rocky's Boutique – Koh Samui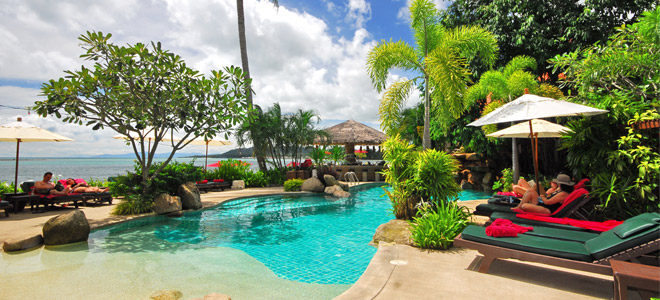 Watch the long tail boats depart in the mornings and return again in the evenings with their haul of fish, admire the sparkle of sunlight on the waves and treat yourself to delicious meals throughout the day at the resort's two excellent restaurants. Whether you are visiting for a soothing tropical break or a romantic Samui honeymoon you are sure to be satisfied with the hospitality, high-quality accommodation and authentic Thai feel of Rocky's Boutique Resort.
Mara Bushtops – Kenya
Situated in its own conservancy bordering the Masai Mara, Mara Bushtops is an award-winning camp which offers 5 star accommodation in a romantic African setting, surrounded by the wild beauty of the plains. As well as providing lavish tented accommodation, a swimming pool, spa and even butler service, this camp is also the perfect way to encounter the wildlife for which the Mara is famous. Morning, night and full-day game drives are available to help you experience as many unforgettable animal encounters as possible and create amazing memories of your luxurious Kenyan safari.
Not only do we have access to all the best hotels Kuoni has to offer, we also can offer exclusive discount on your Kuoni holiday or Kuoni honeymoon. So, why not book your appointment with one of our Travel Experts today and plan your luxury holiday with a glass of champagne in hand? Call 0121 446 4932.