Overview
Sandals Resorts are designed for two people in love to escape the hustle and bustle of everyday life and to be swept off their feet into a world of unparalleled luxury and impeccable service. Sandals resorts have been created for you to rediscover romance as well as yourselves. Resorts hold a vast range of water sports and activities, up to 15 restaurants, 9 bars and countless spots for you and your loved one to appreciate your surroundings as well as each other. There is no place like the Caribbean for romance to come alive!
More suited for the honeymooners looking for an adult all inclusive but at the same provides a luxury secluded spot for groups of friends to go and saver in the heights of luxury.
Sandals Resorts wedding packages
As well as offering a gorgeous collection of resorts for honeymoons, couples holiday and anniversaries, Sandals Resorts provides sun kissed locations for an exotic destination.
With beautiful beach locations that serve as your wedding venue, choose from Caribbean destinations including Bahamas, Barbados, Jamaica, St Lucia, Antigua and Grenada.
See below for the destination wedding brochure at Sandals Resort and start planning your wedding abroad here.
Sandals Luxury Caribbean Weddings
See below for an overview of all the Sandals Resorts in the Caribbean
Sandals Barbados
Situated in the vibrant environs of St Lawrence Gap, Sandals Barbados is a sleek and stylish new Barbados luxury resort which provides the perfect honeymoon hotspot. With its impressive variety of wining and dining options, its opulent guest rooms and suites and its remarkable features – which range from an expanded upmarket spa to Barbados' biggest lagoon pool – the resort is guaranteed to dazzle and delight.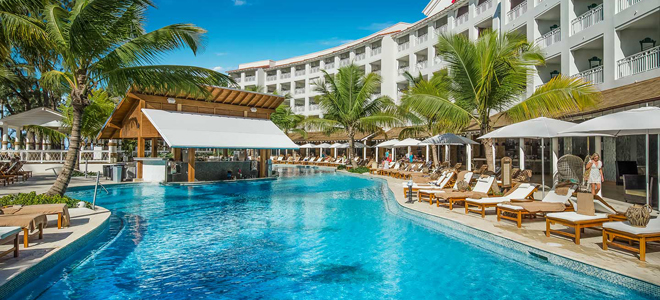 Sandals Royal Barbados – Barbados
The newest of all Sandals Resorts, Sandals Royal Barbados is situated next door to Sandals Barbados, which means you can stay at one and play at two resorts. You'll have the option of dining around 17 restaurants that serve specialties around the globe. What's more, Sandals Royal Barbados feature brand new facilities such as a rooftop pool and bowling alley. Featuring all-suite accommodation, your stay will be luxurious and romantic for an unforgettable couples holiday in paradise.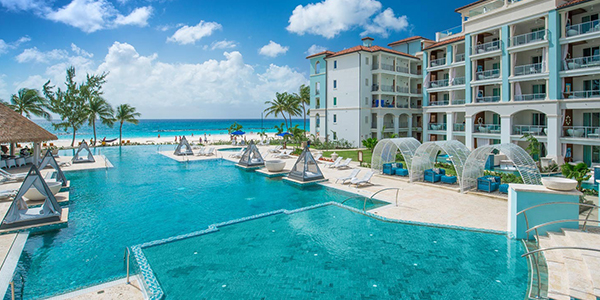 Sandals Emerald Bay – Bahamas
Set on a pristine white sand beach on the exotic island of Great Exuma, Sandals Emerald Bay Bahamas is the epitome of sophisticated luxury. With oceanfront rooms and suites all equipped with Concierge or Personal Butler Service, you will be treated like royalty at this jewel in the Caribbean.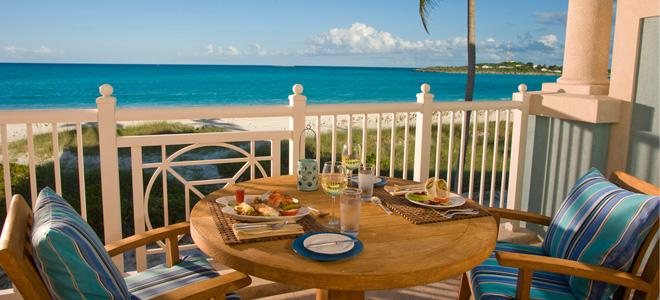 Sandals Royal Bahamian- Bahamas
Considered as Sandals most elegant resort, with an exclusive offshore island with two secluded beaches to enjoy. From two sky-sized colonnaded pools to 11 specialty restaurants and luxurious swim-up pool suites, Sandals Royal Bahamian is an exotic destination for a romantic retreat.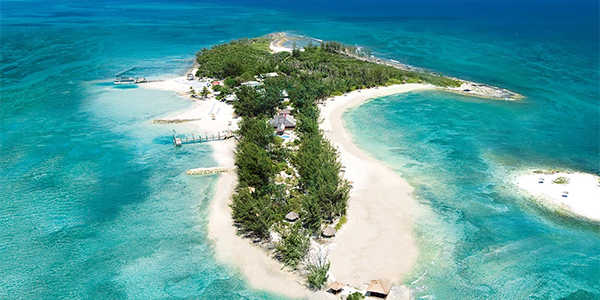 Sandals Montego Bay – Jamaica
Stay at Sandals' very first resort, Montego ay is set on a private white sandy beach with romance at every corner. With 12 world-class dining venues as well as 6 bars, you're never too far away for a tempting treat (all included, of course). The accommodation at Sandals Montego Bay is romantic and high end with beachfront suites and villas, and swim-up suites to choose from to celebrate your time together in utter style.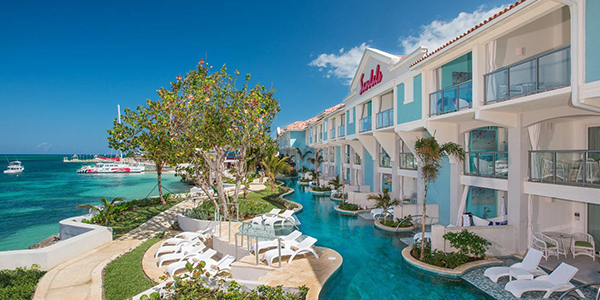 Sandals Royal Caribbean – Jamaica
Featuring a private offshore island you can both escape to, Sandals Royal Caribbean provides superlative amenities and facilities to revel in romance. The luxurious over water bungalows offer the experience of island living without going as far as Bora Bora or the Maldives. Dine around 9 world-class restaurants, or have the choice of 21 dining experience when you stay at one Sandals resort, but have the choice of utilising Sandals Montego Bay.
Sandals Negril – Jamaica
Perfectly located on Negril's pristine 7-mile long beach, a romantic holiday to Sandals Negril certainly isn't short on beautiful locations to enjoy together. Make the most of the beautiful location with unlimited land and water sports, and PADI certified scuba diving. What's more, all rooms are located just steps from the beach! Tuck into all inclusive dining around 7 top-notch restaurants and toast to romance at any of the 5 bars around the resort.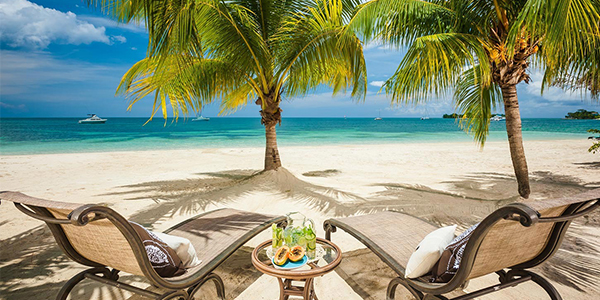 Sandals South Coast – Jamaica
Looking for somewhere utterly romantic to enjoy with your partner? Sandals South Coast offers all ocean view rooms so you're guaranteed that 'wow' factor. With 2 miles of white sandy beach to enjoy as well as a 500-acre natural preserve, you'll be connected to nature with all the luxuries at your reach. From 9 high-end restaurants to 7 bars serving premium liquors, you're never too far away from delightful Caribbean dining at it's finest. Furthermore, you can dip your toes in the Caribbean's longest river pool at Sandals South Coast!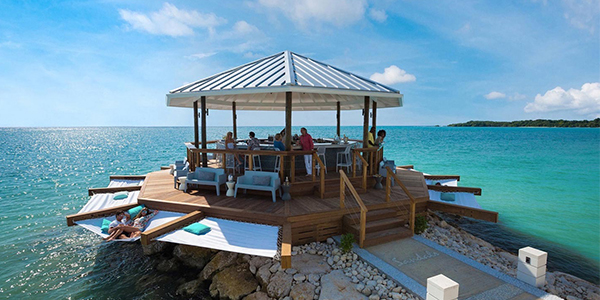 Sandals Ochi – Jamaica
Sandals Ochi offers the most value for money, with 11 bars and 16 restaurants (including the Caribbean's first speakeasy), this resort goes way beyond your typical all inclusive. Enjoy 10 acres of lush gardens, luxurious accommodation with the choice of butler suites for more unrivalled service, a luscious 18-hole golf course with green fees included and unlimited land and water sports. If that wasn't enough, there are also 105 pools and 22 whirlpools.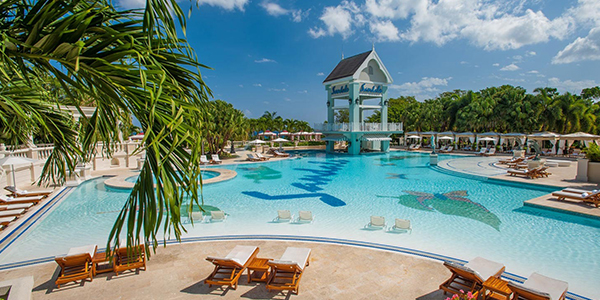 Sandals Royal Plantation
For unrivalled luxury, stay at Sandals Royal Plantation which is an all-butler and all-suite resort for ultimate indulgence. With just 74 rooms, this is Sandals' smallest resort for a boutique feel. With unlimited land (including golf) and water sports to choose from, you'll have a wide range of things to do together to create unforgettable memories.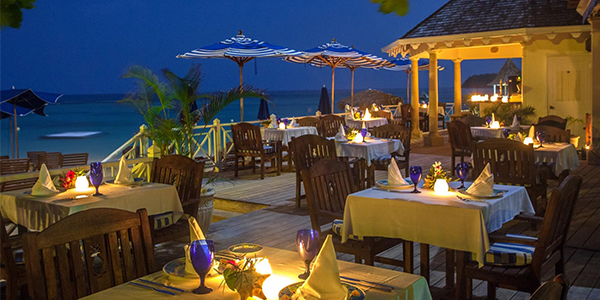 Sandals Regency La Toc – St Lucia
Set on 220-acres of exotic estate, with the lush hillsides and rolling fairways as your backdrop, Sandals Regency La Toc is a glamorous resort for a romantic beach escape. Enjoy access to 27 restaurants when you stay at one and play at three to experience the best of Sandals Resorts' amenities. Burn off the calorie from the all inclusive dining plan at the 9-hole Sandals Regency La Toc Golf Club with green fees and transfers included.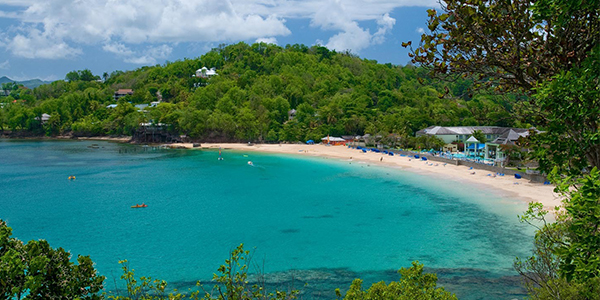 Sandals Grande St Lucian – St Lucia
Nestled on a sheltered mile-long beach on its own peninsula, that invites you to enjoy unlimited water sports, Sandals Grande St Lucian is he perfect place for absolutely indulgence together. Accommodation is of the highest standard at Sandals Grande St Lucian with over water bungalows, swim-up suites and walkout rooms to choose from. Furthermore, pick a new date night venue every night with 12 world-class restaurants to choose from and romantic fire pits scattered around the resort to enjoy moments together beneath the stars.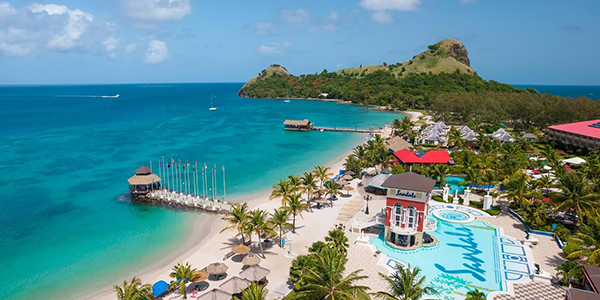 Sandals Halcyon Beach – St Lucia
Surrounded by dreamy turquoise waters and green mountains, Sandals Halcyon Beach is beautifully located for an intimate hideaway. Located along a pristine white beach, days can be spent together enjoying water sports or simply lazing the afternoon away with cocktails in hand. As well as 6 restaurants at the resort, you can visit the nearby resorts for a total of 21 restaurants to eat at. If that's not enough, there are 7 bars serving premium liquors. Green fees are included at 2 golf courses and unlimited land and water sports are on offer for your entertainment.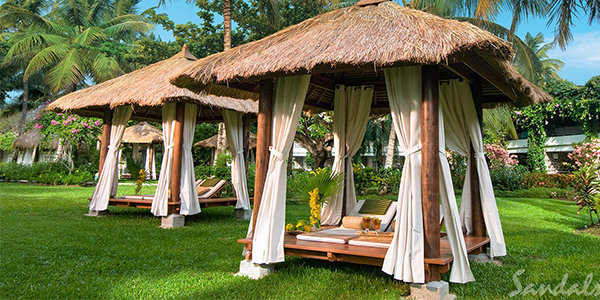 Sandals Grande Antigua – Antigua
Sandals Grande Antigua is located on Antigua's best and most famous beach, Dickenson Bay. Voted as the Caribbean's most romantic resort, year on year, this romantic resort has all the features to revel in romance. Discover cuisines from around the globe at 11 world-class restaurants and enjoy premium liquor at one of 7 bars. What's more, there are 6 pools to dip your toes into as well as 6 whirlpools for relaxation. Combined of two unique villages – an all-suite Mediterranean Oceanview Village and seaside Caribbean Beachfront Village, your stay at Sandals Grande Antigua will be smothered with indulgence.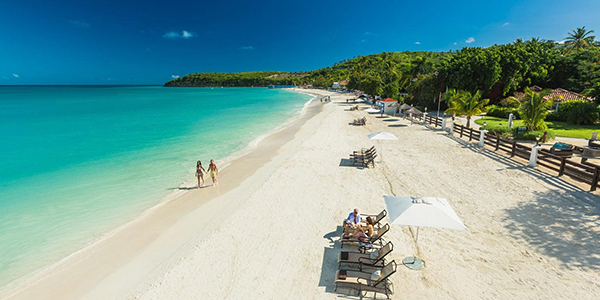 Sandals Grenada – Grenada
Book a romantic trip to the "Island of Spice" for an exotic escape with plenty of natural beauty to discover. With endless way to be entertained, Sandals Grenada offers a bounty of all inclusive extra to indulge until your hearts are content. Soak in your tranquility tub on your balcony with gorgeous views, dine around 10 restaurants and 6 bars, stargaze by one of many romantic fire pits and dip your toes into one of 5 sparkling pools and the choice of 2 whirlpools.