OVERVIEW
Looking for an unforgettable holiday experience you will treasure for a lifetime? A horizon of new experiences and surroundings are waiting for you on your luxury safari holiday where you will walk side by side with some of world's most powerful animals and sleep in luxurious 5-star tent accommodation. Deciding on the right safari for you can be a difficult task, when is the best time to travel? Which area do I stay in? That's where our experienced Travel Experts come in, our recommendations will ensure your safari holiday creates unforgettable memories.
The Great Migration
The annual Great Migration of the wildebeest, which takes place every year on the Serengeti and the Maasai Mara is one of nature's most awe-inspiring spectacles and is unsurprisingly a major draw for visitors to these world-renowned nature reserves. Where you can observe the migration depends very much on when you are going as the migration spans two countries. Kenya and Tanzania are very much driven by the rainy season, which usually runs from October to May and is at its height in April.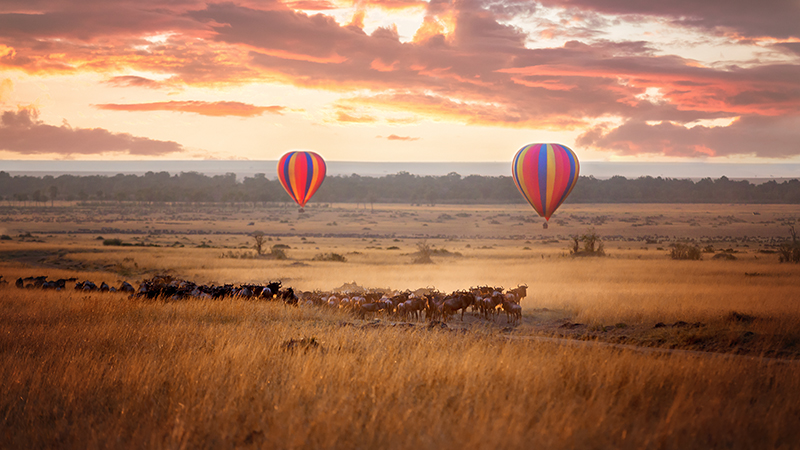 Serengeti National Park, Tanzania
Serengeti National Park is located in Tanzania also serves as a World Heritage Site and has recently become a 7th world Wonder. There are more than 200,000 zebra and 300,000 Thomson's gazelle. Even when the migration is quiet, Serengeti National Park still offers plenty of game viewing to see from herds of buffalo, smaller groups of elephant, giraffes and thousands of eland, topi, kongoni, impala and Grant's gazelle. Other than thrilling game drives you can also go on walking safaris, picnics, bush lunches and dinners and hot air balloon rides!
Best time to visit Serengeti National Park:
Enjoy a safari holiday during dry season, which is from late June to October and when the great migration can be spotted.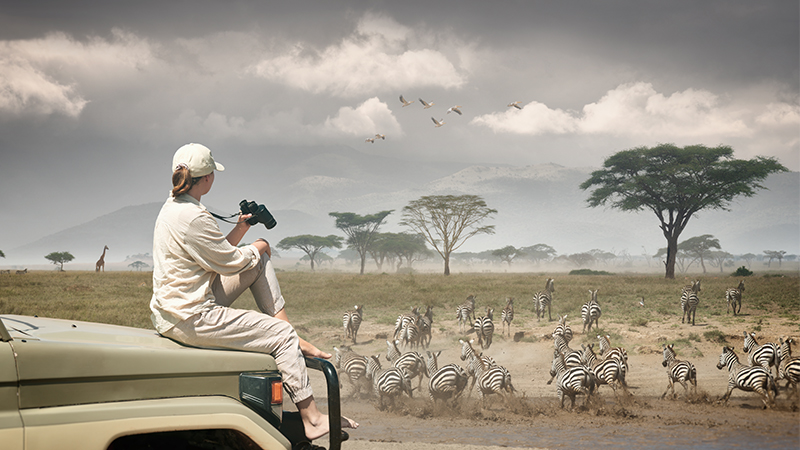 Maasai Mara, Kenya
Located in the southwest of Kenya, Maasai Mara is one of Africas greatest wildlife reserves and features the most diverse and incredible eco-systems in the world. Maasai Mara spans 1,510 sq. km. and is raised between 1,500 and 2,170 meters above sea level. With over 95 species of mammals and over 570 species of bird, this is the perfect place to explore nature's finest creatures. At Maasai Mara, you can customize your safari holiday with many packages to choose from. Some of the incredible things you can do include the big cat safari, feed and kiss a giraffe experience, visit the elephant orphanage, relax on the white sandy beach, lift off on a hot air ballon ride or visit Mount Kilimanjaro.
Best time to visit Maasai Mara:
Enjoy a safari holiday all year round in Maasai Mara, however, for the great migration viewings, July to October are the best months.
Kruger National Park, South Africa
One of Africa's largest game reserves, Kruger National Park is nature's playground with 19,485 square kilometres of life forms, historical and archaeological sights. With an entire range of lodges to choose from depending on budget, a safari holiday at Kruger National Park is blessed with broad and diverse wildlife for thrilling game drives and experiences guaranteed to excite your senses on unrivalled levels. Home to one of the largest populations of leopard than anywhere else in the world, Kruger is rich in wildlife – from black and white rhinos to rare antelopes, herds of elephants and 10% of the world's remaining African painted dog populate the park. Whether you're looking for a family or honeymoon safari adventure, there are plenty of experiences to make your holiday extra special. Imagine being drifted to the clouds during sunset or sunrise to look down on the amazing flora, mountain peaks and plains below as you sip champagne and admire nature at a slow pace. For a more thrilling bird's eye view of the park, why not take a helicopter safari where you'll get to see more of the reserve than on a jeep safari. An unusual activity that you can do in Kruger National Park is to play a round of golf at the Skukuzu Golf Course – who knows what you will spot in the distance as you try to get a hole in 1. Many lodges and reserves facilitate an onsite spa, so when you come back from your thrilling game drive, relax those tensed muscles with a tempting spa treatment.
Best time to visit Kruger National Park:
The best time to visit is during the dry season to see the wildlife, which is between May and October.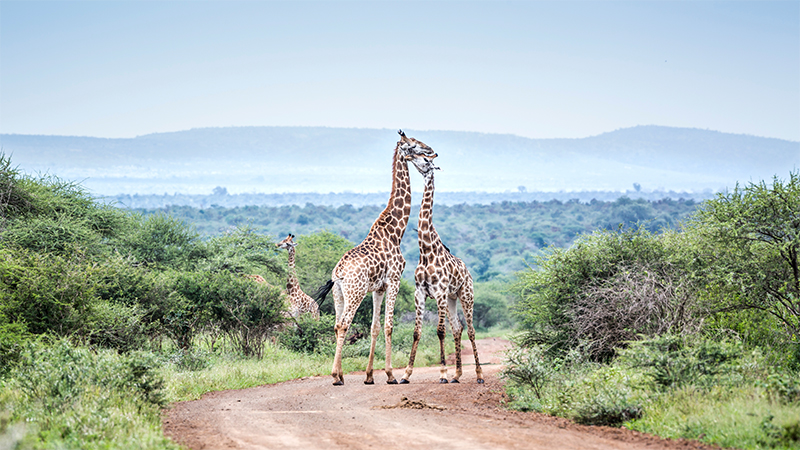 Chobe National Park, Botswana
Bordering Botswana and Namibia, Chobe National Park is Botswana's third largest national park. The Chobe River, which runs through the northern part of the park serves as the boundary between Botswana and Namibia and is the heart of life in the park where animals and birds visit. In 1967, Chobe Game Reserve was declared as Botswana's first national park and today it is divided into different sections – the northwest corner is a hunting ground for predators in the Linyanti wetlands – and in the north, the Chobe Riverfront features floodplains and forests. You can see the Big 5 in Chobe National Park – although the rhino is known to be hard to spot here. Go on thrilling game drives to see a wealth of wildlife encounters such as elephants, buffalo, hippos, Nile crocodiles, waterbuck and the red lechwe antelope. If you're an avid bird watcher there's over 450 species to photograph in the reserve. As well as the opportunity to enjoy two game drives a day (one in the morning and one in the afternoon) you can also go on a night drive to see the mesmerizing wildlife that come out to play at night. Depending on your budget, there is a range of wonderful lodges and campsites to reside in between game drives. Sleep in nature in 5 star eco-lodges such as the stunning Chobe Game Lodge, which is perfect for a romantic getaway, which is nestled near the riverfront of Chobe River. Spend your safari holiday in Botswana counting the herds of elephants that visit the riverfront as you enjoy front row seats to nature's spectacle. For a unique safari experience, enjoy a river cruise along the Zambezi and Chobe Rivers giving you an opportunity to spot wildlife from a difference viewpoint.
Best time to visit Chobe National Park:
The best time for a safari holiday at Chobe National Park is from May to October, where the days are sunny, warm and dry. Bring warm clothes for the evening and nights as the it can be chilly as night falls.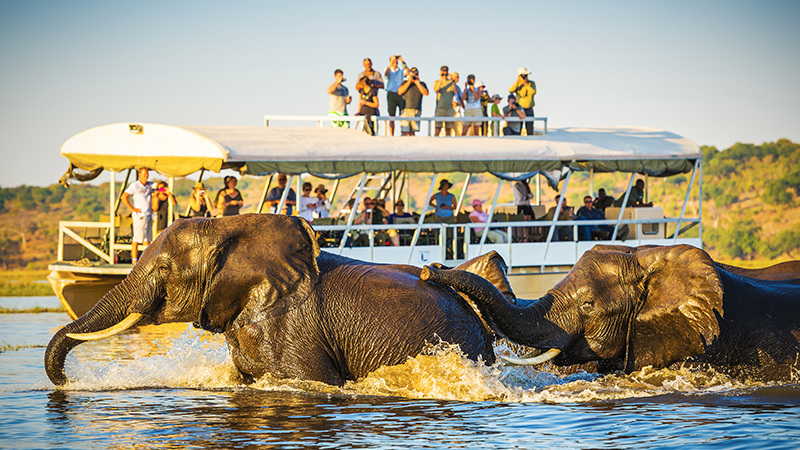 Bwindi Impenetrable National Park, Uganda
If you're seeking a unique safari holiday with the chances to spot endangered species, a trip to Bwindi Impenetrable National Park needs to be on your list. Located on the edge of Rift Valley in Uganda, this national park homes thick rainforest and is where you will find the extremely endangered mountain gorillas. Bwindi Impenetrable National Park has just over 1,000 mountain gorillas, which make up almost half of the world's population of mountain gorillas. A safari adventure trekking through the thick rainforest allows you to come face-to-face with the beautiful creatures – however, be sure to book your Gorilla Trekking Permit far in advance. There are also other animals that call the forests home, such as chimpanzees, baboons, elephants and antelope. Uganda has a diverse landscape with many experiences that go beyond gorilla trekking, such as canoeing in Lake Bunyonyi, spotting tree lions in Queen Elizabeth National Park, climb Mount Nyiragongo and exploring Volcanoes National Park Rwanda, which also offers gorilla trekking trips.
Best time to visit Bwindi Impenetrable National Park:
The park is open all year-round, the best time to gorilla trek is from June to August and December to February with less rainfall, so that the forest trails aren't slippery.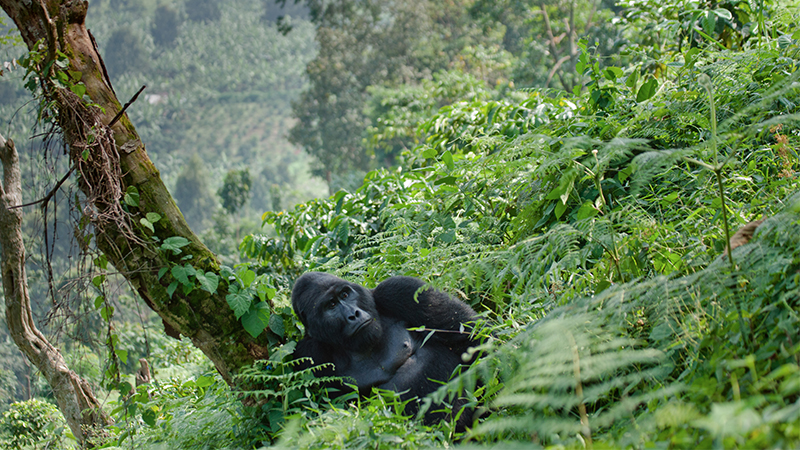 There are many other Game Reserves in Africa, from Amakhala Game Reserve and Shamwari Game Reserve, to Kenya's Nairobi National Park and Laikipia Plateau. For a tailor made safari holiday quote please call us on 0800 0856 846 or enquire online here.