Overview
Where To Holiday November
Winter is coming and the roads are icy, but November is not just frozen toes and stinging ears elsewhere! It's not the easiest of months now because most of the places with favourably weather are now long haul flights. Keep calm though because over the Pacific awaits beautiful weather and unforgettable memories.
For more information on the best places to visit in November please send us an enquiry or call 0800 0856 846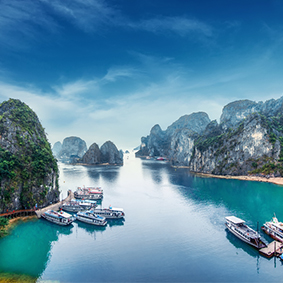 Vietnam
Perfect weather for touring, Hanoi, Vietnam's capital sees temperatures of 22 degrees in November. Vietnam boasts a plethora of options for holidaymakers, whether you are keen to spend your vacation hiking, visiting temples, lazing on a beach, or soaking up as much history and culture as you possibly can. Head to Hanoi and wander the atmospheric streets of the Old Quarter, witness a dawn tai chi session beside the sun-gilded expanse of Hoan Kiem Lake and admire its centuries-old pagodas. Visit the War Remnants Museum and the vibrant markets of Ho Chi Minh City, which enjoys lovely temperature of 27 degrees in November.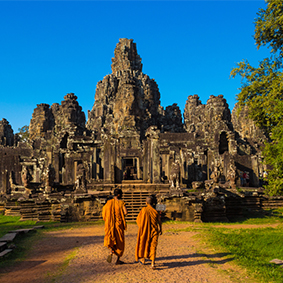 Cambodia
Cambodia is situated in Southeast Asia and is a relatively new travel destination and has the nickname 'Kingdom of Wonder'. Cambodia is the perfect holiday destination for all ages as it is a fascinating country where it is easy to step back in time whilst exploring ancient cities, temples and colourful markets. The busy capital of Cambodia, Phnom Penh has average temperatures of 27 degrees in November and can go as high as 30. Cambodia is the land of temples and the best-known and most visited one is Angkor Wat, which dates from the 11th century when it was the capital of the Angkor Empire.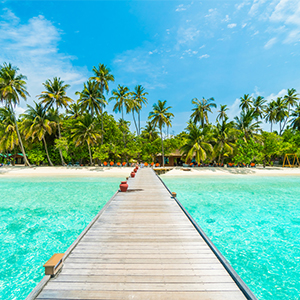 Maldives
November enjoys around 6 hours of sunshine a day and average temperatures of 27 degrees and highs of 29 degrees. The Maldives is a picturesque island nation in the Indian Ocean, a country famous for its natural beauty and highly popular as a tourist destination, particularly for families and honeymoons. Blessed with 1,192 pristine islands clustered in a double chain of 26 atolls, Maldives holidays are characterised by its unsullied white beaches, turquoise lagoons and coral reefs rich with a colourful variety of marine life. Home to some of the best diving spots in the world, this island nation is also renowned for its luxury resorts and for the richness of its local culture.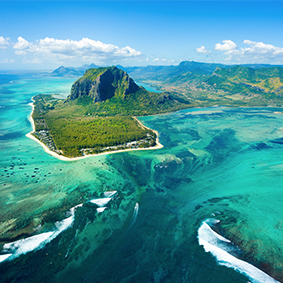 Mauritius
Kick back and relax on a gorgeous beach in which your luxurious accommodation for the next week or two is your new oasis in the Indian Ocean. Mauritius in November has lovely weather with average temperatures of 24 and highs of 27 and there's 10 hours of sunshine a day – this time of year is classed as the beginning of summer in Mauritius! If you love to explore culture, Port Louis is Mauritius' capital with stately colonial architecture and Le Caudan Waterfront. As well as gorgeous beaches, Mauritius has stunning natural beauty such as Le Morne Brabant, Black River Gorges National Park, Seven Coloured Earths, Trou aux Cerfs and Chamarel waterfall – just to name a few!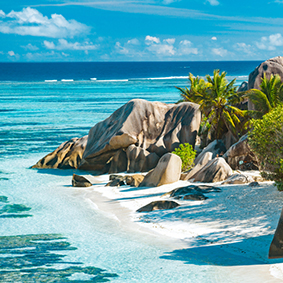 Seychelles
The Seychelles is a nation of 115 islands surrounded by the sparkling azure waters of the Indian Ocean – during November; Mahe has gorgeous temperatures of 27 with highs of 30, however rainfall may be expected. Famous the world over for its sugar-white beaches – including, arguably, the most beautiful beach in the world – as well as for its idyllic tropical climate and warm, friendly inhabitants, the Seychelles is a prime holiday destination for anyone seeking an unspoilt island paradise.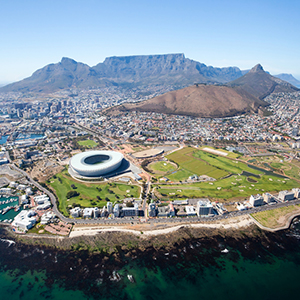 South Africa
Cape Town has temperatures of 18 degrees. If you're looking to combine your holiday with a safari, Kruger National Park can reach around 24 degrees. Perfect for families and couples looking for romance, a South Africa holiday can vary depending on your passions. From thrilling game drives in one of the game reserves to sampling wine in one of the many sweeping vineyards in Cape Wine lands District – a visit to Cape Town is a must, see the penguins on Boulders Beach, abseil Table Mountain and dine and shop along the stunning V&A Waterfront.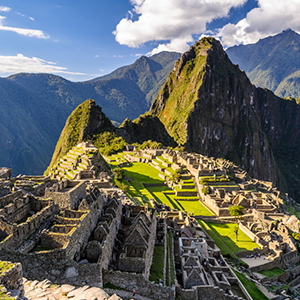 South America
South America is a vast continent with 12 countries including Brazil, Columbia, Chile, Argentina, Peru and Galapagos Islands. Most rainfall happens in the months of May to November and the rest of the year is much drier. Brazil in November is a lovely time to visit with the average temperature being 24 degrees and highs of 27! If Machu Picchu is on your bucket list, Peru is a great option to visit in November with an average temperature of 20 and highs of 23 degrees. Another bucket list for many is the Galapagos, which can enjoy 26 degrees on average in November.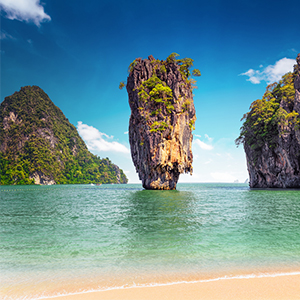 Thailand
Thailand's capital, Bangkok enjoys 8 hours of sunshine a day with average temperatures of 28 degrees in November. Thailand Holidays conjure wonderful images of exotic islands, decadent cities and a relaxed, friendly atmosphere; but the reality is so much better. No words can describe it you'll just have to experience it for yourself. Explore the bustling city of Bangkok where you can sample scrumptious street food and see the many temples around the city. Phuket is a stunning beach destination to explore in the Thailand, here you will find the majestic limestone cliffs that rise above the emerald green sea. Island hopping is very popular in Phuket, explore the Phi Phi Islands, visit James Bond Island and visit the renowned Phi Phi islands.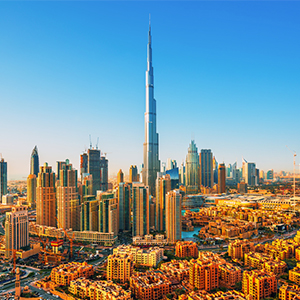 Dubai
Dubai holidays afford the ultimate location for your family holiday or special holiday for two with some of the world's best hotels, attractions and enjoys warm temperatures year round. From the beach to the desert, Dubai offers plenty of experiences depending on your holiday style. In the month of November, Dubai averages temperatures of 25 degrees and high temperatures of 31 degrees. For a true Dubai holiday experience, venture into the desert by four-wheel drive where you will leave the Dubai city skyline in your rear-view mirror and discover a different world of experiences. We love Atlantis the Palm for Dubai family holidays where you will be blown away by the impressive architectural design, luxurious accommodation options and world-class service with some of the best amenities in Dubai.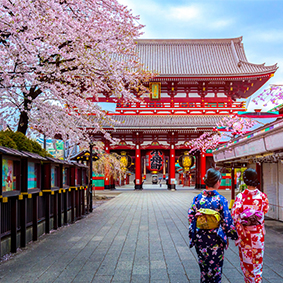 Japan
Tokyo has an average temperature of 12 degrees with highs of 15 in November. Touring Japan is one of the most effective ways to really get to know this diverse, volcanic country, whether you're looking to explore the vibrant cities or hop from blossom-filled gardens to snowy alpine resorts, Japan is the place to do it! Alternatively, a Japan multi-centre package is a great way for you to explore different destinations in your own pace.