Overview
Where To Holiday April
April opens up the doors to world tourism with continents on across the world enjoying long hours of sunshine and low rainfall. The Indian Ocean, Caribbean and parts of Asia continue to improve with favourable conditions for the month of April. See Where To Holiday April Below.
For more information on the best places to visit in April please send us an enquiry or call 0800 0856 846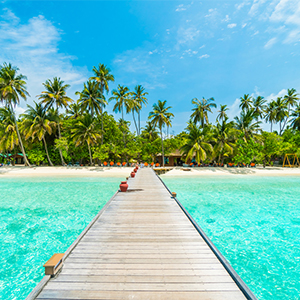 Maldives
April enjoys around 9 hours of sunshine a day and average temperatures of 29 degrees and highs of 31 degrees. The Maldives is a picturesque island nation in the Indian Ocean, a country famous for its natural beauty and highly popular as a tourist destination, particularly for weddings and honeymoons. Blessed with 1,192 pristine islands clustered in a double chain of 26 atolls, Maldives holidays are characterised by its unsullied white beaches, turquoise lagoons and coral reefs rich with a colourful variety of marine life. Home to some of the best diving spots in the world, this island nation is also renowned for its luxury resorts and for the richness of its local culture.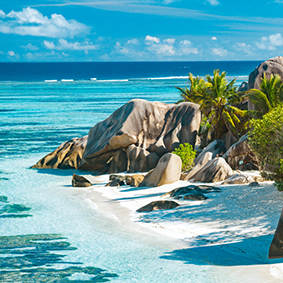 Seychelles
The Seychelles is a nation of 115 islands surrounded by the sparkling azure waters of the Indian Ocean – during April; Mahe has gorgeous temperatures of 28 with highs of 32. Famous the world over for its sugar-white beaches – including, arguably, the most beautiful beach in the world – as well as for its idyllic tropical climate and warm, friendly inhabitants, the Seychelles is a prime holiday destination for anyone seeking an unspoilt island paradise.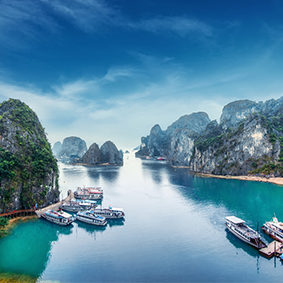 Vietnam
Perfect weather for touring, Hanoi, Vietnam's capital sees temperatures between 21-28 degrees in April. Vietnam boasts a plethora of options for holidaymakers, whether you are keen to spend your vacation hiking, visiting temples, lazing on a beach, or soaking up as much history and culture as you possibly can. Head to Hanoi and wander the atmospheric streets of the Old Quarter, witness a dawn tai chi session beside the sun-gilded expanse of Hoan Kiem Lake and admire its centuries-old pagodas. Visit the War Remnants Museum and the vibrant markets of Ho Chi Minh City, which enjoys lovely temperature of 30 degrees in April.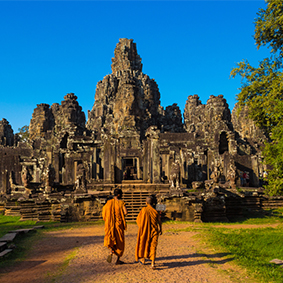 Cambodia
Cambodia is situated in Southeast Asia and is a relatively new travel destination and has the nickname 'Kingdom of Wonder'. Cambodia is the perfect holiday destination for all ages as it is a fascinating country where it is easy to step back in time whilst exploring ancient cities, temples and colourful markets. The busy capital of Cambodia, Phnom Penh has average temperatures of 31 degrees in April and can go as high as 35. Cambodia is the land of temples and the best-known and most visited one is Angkor Wat, which dates from the 11th century when it was the capital of the Angkor Empire.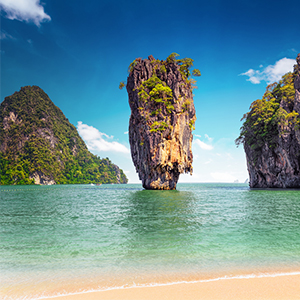 Thailand
Thailand's capital, Bangkok enjoys 8 hours of sunshine a day with average temperatures of 31 degrees in April. Beach destinations such as Phuket, Koh Yao Noi and Koh Samui enjoys lovely temperatures if you're looking to combine a city and beach. Thailand Holidays conjure wonderful images of exotic islands, decadent cities and a relaxed, friendly atmosphere; but the reality is so much better. No words can describe it you'll just have to experience it for yourself. Explore the bustling city of Bangkok where you can sample scrumptious street food and sightsee the many temples around the city. Phuket is a stunning beach destination to explore in the Thailand, here you will find the majestic limestone cliffs that rise above the emerald green sea. Island hopping is very popular in Phuket, explore the Phi Phi Islands, visit James Bond Island and visit the renowned Phi Phi islands.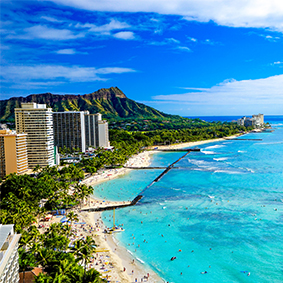 Hawaii
During April, Hawaii sees less rain and warmer temperatures as this month brings to close the wet season. Average temperatures in April are around 24 degrees and can go as high as 26 degrees. A Hawaii holiday invites every type of traveller, from those who love sun kissed beaches, boutique shopping and a variety of culture, to those who seek adventure, scenic hiking and driving trails and excursions. Hawaii has a collective of wonderful tourist areas with luxury hotels, a lively nightlife and an array of exquisite restaurants. Stay on the Big Island or go island hopping to Kauai, which has dramatic cliffs, big drop waterfalls and helicopter rides to see the stunning sceneries from a bird's eye view! For surfer's, the Island of Oahu is ideal, Waikiki beach on the north shore has the perfect spots!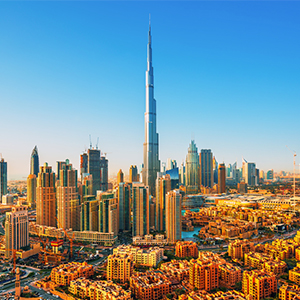 Dubai
Dubai holidays afford the ultimate location for your family holiday or special holiday for two with some of the world's best hotels, attractions and enjoys warm temperatures year round. From the beach to the desert, Dubai offers plenty of experiences depending on your holiday style. In the month of April, Dubai averages temperatures of 26 degrees and high temperatures of 32 degrees. For a true Dubai holiday experience, venture into the desert by four-wheel drive where you will leave the Dubai city skyline in your rear-view mirror and discover a different world of experiences. We love Atlantis the Palm for Dubai family holidays where you will be blown away by the impressive architectural design, luxurious accommodation options and world-class service with some of the best amenities in Dubai.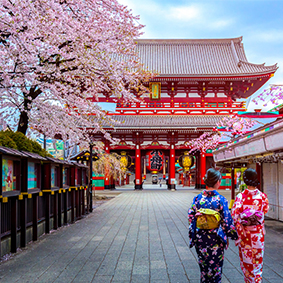 Japan
In places such as Tokyo, Kyoto and Osakam cherry blossoms can be seen in early April. Tokyo has an average temperature of 14 degrees with highs of 17 in April. Touring Japan is one of the most effective ways to really get to know this diverse, volcanic country, whether you're looking to explore the vibrant cities or hop from blossom-filled gardens to snowy alpine resorts, Japan is the place to do it! Alternatively, a Japan multi-centre package is a great way for you to explore different destinations in your own pace.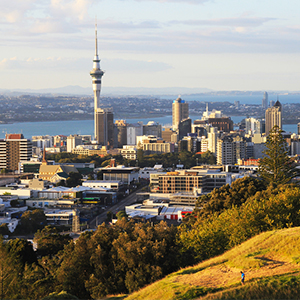 New Zealand
With so much to see and do in New Zealand, from hiring out a campervan and exploring the open road, stopping off in Dunedin, which has the world's steepest street – or seeing the film set of The Hobbit! Alternatively, explore this fascinating country by cruise where you can see the stunning Milford Sound as well as exploring top destinations such as Auckland, Wellington and Christchurch. April is a pleasant time to visit New Zealand and in Auckland the average temperatures is 17 degrees and highs of 20 – perfect if you're looking to be active!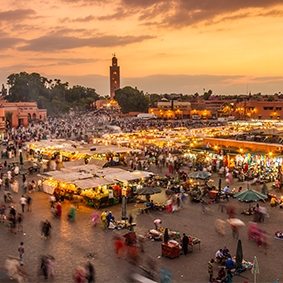 Morocco
Marrakech is a popular destination to visit in Morocco, which is the 4th largest city in the country. Explore the mosques, palaces, gardens and bustling markets where you can haggle your way to a bargain. During April, Marrakech has temperatures between 12 and 24 degrees and up to 10 hours of sunshine each day! Marrakech home to mosques, palaces and gardens, with maze-like alleyways, It'll be easy to lose your way, but that's where all the exploring begins. If you feel like escaping the hustle and bustle of haggling your way through market stalls head to Majorelle Garden. This 12-acre botanical garden with exotic plants and decadent fountains create a relaxing ambience for families and couples, you will also find the Islamic Art Museum of Marrakech within the grounds. Another fascinating place to see is the Saadian Tombs; the spectacular interiors within the 12-pillar chambers are a cultural sight not to be missed!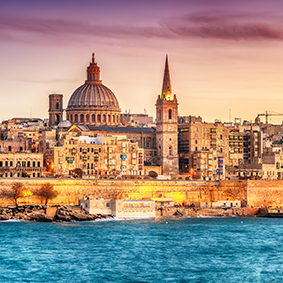 Malta
Malta is a stunning destination to visit in spring, with average temperatures of around 16 degrees and highs of 20 degrees. There are some days of rainfall and 11 hours of sunshine each day – ideal for exploring this beautiful destination, rich in culture and heritage. Great for families and couples, Malta has so much to see and do from snorkelling and shopping and breathtaking natural landscapes. With 7,000 years of history and a visit to the Grandmaster's Palace is not to be missed on a 'City of the Knights' walking tour – see ancient treasures in the Archaeology Museum, step inside the breakthtaking St John's Co-Cathedral and take a pleasant stroll around the flourishing Barracca Gardens.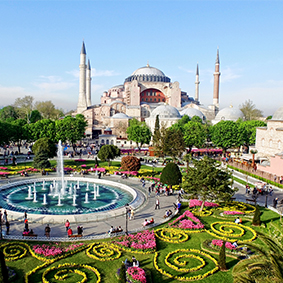 Turkey
Turkey is a land of ancient mystery and modern-day exoticism, with stunning landscapes and architecture, which reflects thousands of years of tumultuous history and diverse influences. Istanbul is a vibrant city to explore with pristine Aegean beaches, Roman ruins and lively bazaars – April marks the beginning of spring with warm temperatures of 12 degrees and highs of 16 degrees. If you'd love to enjoy a sun-drenched Turkish beach holiday then head to the likes of Patara (around 11 degrees with highs of 15), an 18km swathe of sand or Iztuzu Beach, a few kilometres south of Dalyan, nesting site of the local loggerhead turtle population. There is also stunning Ölüdeniz with its golden beach and shimmering lagoon.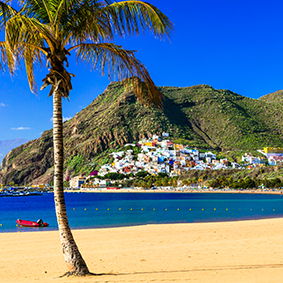 Canary Islands
The stunning Canary Islands are ideal to visit all year round and if you're looking for a quick break before summer, the likes of Tenerife, Lanzarote, Fuerteventura, Gran Canaria and La Palma are great options. These stunning volcanic islands have gorgeous sceneries, volcanic landscapes, sandy beaches and great dining spots. In April, Tenerife is warm with average temperatures of 18 and can go as high as 22 degrees. Those looking to top up the tan in time for summer can head to Lanzarote, which enjoys average temperatures of 19 degrees and can do as high as 24 degrees in the day.