Overview
Husky rides through the snow dusted forest, whispering to Rudolf as you pet him and a thrilling snow mobile safari are just a few of the adventures you will find on a Lapland holiday. Whether you are experiencing Lapland for just a day, or stopping over for a few nights you will never feel more close to Christmas than in the Winter Wonderland of Lapland in Finland's northern region and home to Santa Claus Village.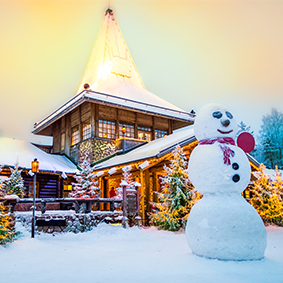 Santa Claus Village
The best place to stay in Lapland for an unforgettable family holiday at Christmas is Santa Claus Village, which is considered as Santa's official home, and where he can be found each day. The Arctic Circle runs through Santa Claus Village and is just 8 km from the city centre of Rovaniemi – you can even obtain a certificate of confirmation for crossing the line! It's Christmas all year round at Santa Claus Village, however, it's exceptionally special in November and December where there are concerts and performances by Santa's elves and the weather transforms the village into a winter wonderland.

Located just 2km from Santa Claus Village is SantaPark, where Christmas continues in all its magical glory. Enjoy fun activities for all such as taking part in the Elf school, tasting gingerbread cookies, Magic Train rides, send greetings from the Post Office and of course, see Santa!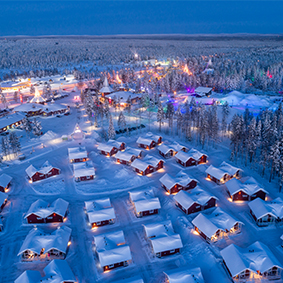 Accommodation in Lapland
Set in a cosy log cabin deep in the woods, your private visit to Santa's grotto is an experience that your children will re-live for many Yule Tide Seasons to come! With a selection of beautiful cabins and hotels to choose from you are sure to receive an authentic festive welcoming on your Lapland holiday. Relax by the log fire at night as you look back on the day's activities whilst your children, tucked up in bed, dream of what exhilarating experiences are in store for them the following day.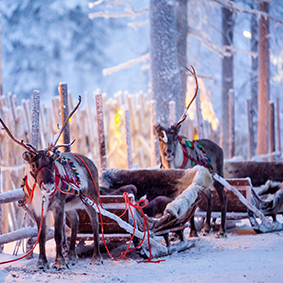 Things to do in Lapland
Enjoy a range of fun-filled activities such as Reindeer and sleigh rides, snow hockey, tobogganing, cross-country skiing, snowshoeing and ice fishing and see your children's faces light up with amazement as the Reindeer take them to their very own igloo, built especially for you by Santa's elves.

The northern lights are one of Lapland's most natural phenomenons to behold. Chase the northern lights on an excursion, hop on a snowmobile and journey through the white blanket of snow on the ground and past white dusted forest trees in exploration to see the vibrant natural display that is on the bucket list of many.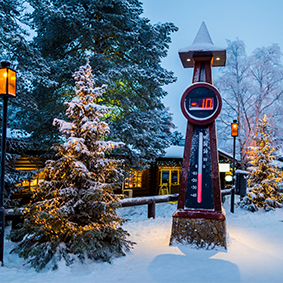 Best time to go to Lapland
December is undoubtedly the best time to go to Lapland, where the festivities and magic of Christmas comes alive. Remember to pack warm and cozy clothes, as the day temperature can be between 0 to -20 degrees and can even dip to -40. It is mostly dark during this time of the year, between 10am and 3pm there is a window of 'grey light'.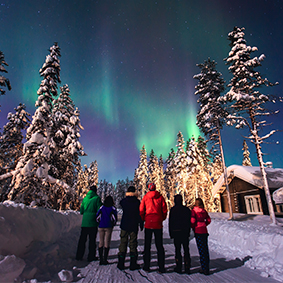 ATOL protected Lapland holiday packages
All our Lapland holiday packages include flights, transfers and all your snow gear during the stay. Kids go free on selected trips. Our Lapland Specialist, has been tailoring trips for many years and she knows how special a Lapland holiday can be.

"As a parent I know that it is of the utmost importance to keep your children's magic alight for as long as possible, this is why Lapland is such a special place to me. To see the look on young children's faces as they see the home of Father Christmas himself and to be able to tell him in person of the things they wish for under the tree on Christmas morning is truly one of the most enchanting things you can witness."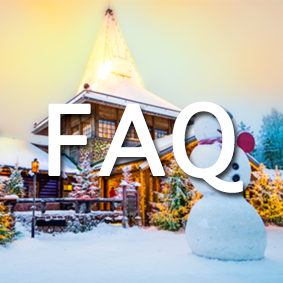 FAQs
What is the capital of Finland?
Lapland is a region in Finland. The capital of Finland is Rovaniemi.

What language is spoken in Lapland?
Finnish.

What is the time difference in Lapland?
Lapland is 2 hours ahead of UK time.

What is the currency used in Lapland?
Euro.

What is the flight time to Lapland from the UK?
A flight from Gatwick is 3 hours and 30 minutes.

Do I need a visa to visit Lapland?
British citizens do not need a visa to enter Lapland. For up to date travel advice visit the FCO website here.

What should I pack when going to Lapland?
Whether you're visiting for the day or enjoying a 3 or 4 night break, we recommend you bring warm clothes. Usually you will be given boots gloves, socks and a hat, but it's always best to bring your own – and don't forget your Christmas jumper to join in with the festivities. If you're looking to stay in a lodge with a sauna, bring along your swimwear too.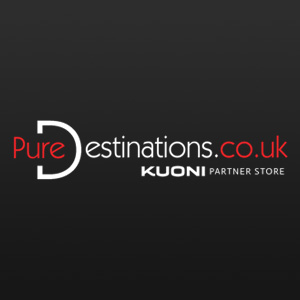 Get in Touch
Contact us today to discuss you Lapland holidays to day.

Call 0121 446 4932 to speak to a Lapland specialist or visit our luxury Birmingham store.

16 Templefield Square
Off Wheeleys Road
Edgbaston
B15 2LJ