Best Maldives Water Villas
The tropical islands of the Maldives is home to more than 100 luxury island resorts and most of them feature the renowned water villa. Fierce competition and the ever increasing lust for luxury has created some of the best Maldives Water Villas. We've picked out some of the resorts that are particularly outstanding and more importantly offer mesmerising views of a turquoise ocean. Get in touch with us today for a tailor made holiday package to the Maldives.
Kandolhu
With 7 ocean pool villas, Kandolhu offers a small but serene island environment. Modern amenities are in abundance like an ipod docking system, so you can take your favourite tunes with you! Wake up early on a beautiful morning in the Maldives and take in undisturbed views, whilst enjoying a hot drink from your very on espresso machine. Head out onto the decking area to catch some sun rays or climb into your private plunge. For those looking for both tranquility and adventure, glass bottom kayaking and so much more is run exclusively by the resort.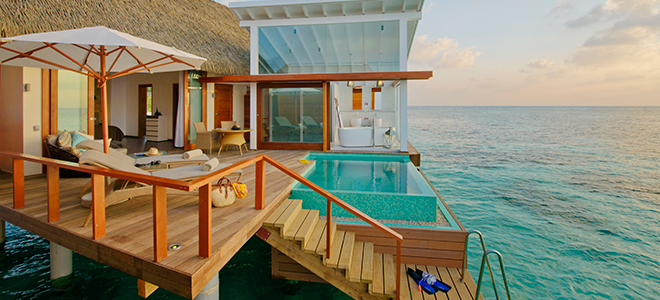 Coco Bodhu Hithi
Labelled the "Escape Water Villa", Coco Bodhu Hithi boast an impressive set up, that allows as the name would suggest… an escape like no other! Spacious rooms are throughout the villa, with a built in bar and a luxurious bathroom to top things off. A four poster bed, bespoke furniture and a plunge pool make Coco Bodhu Hithi's water villas the height of extravagance. To add to all this is that the food at the resort is nothing short of exceptional with buffets running throughout the day and a la carte dining on the night.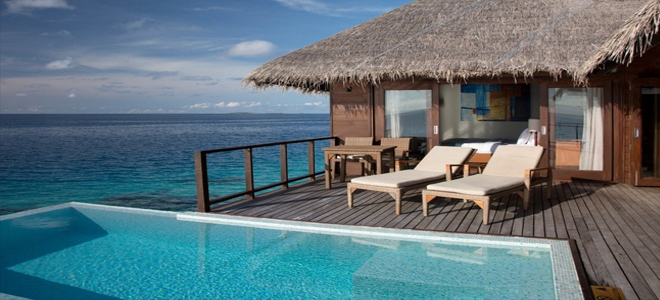 Kuramathi
Suspended above glimmering water, Kuramathi has a set of lush water villas, equipped with a premium  Jacuzzi to bathe in relaxation. Convenience is in full swing with just a  short walk to either the beach or complex. Kuramathi opens the door for you to shape your own holiday, with this immense example of luxury found across the Indian Ocean. With just a few steps you can be in the ocean with ladders climbing down into to the blue lagoon below. All the conditions are there for you to turn your villa into a unique adventure with panoramic views of the horizon.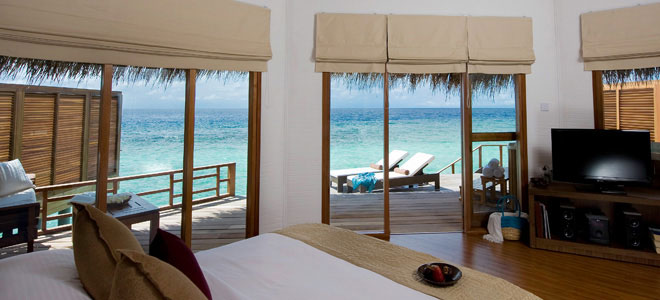 W Resort
Newly renovated W Resort Maldives is a tropical paradise with water villas that we can only describe as quirky! Glass floors allow guests to peer below into the ocean, catching sites of small fish from the comfort of their own living spaces. Also with an infinity edge pool and bathing deck the adult only resort is cool and vibrant. Mini bar's, flat screen TVs and bliss spa amenities all await for you at W Resort. What's more is the choice of excursions and water sports available, diving, kite sailing and even using a seabob to skip underneath the ocean surface, James Bond style!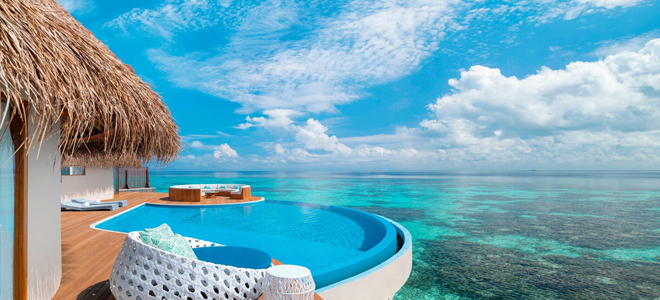 Niyama Private Island Maldives
Niyama Private Island Maldives pulls out all the stops. Fresh, intricate and innovative, the resorts One Bedroom Water Pool Pavilion is one of the best we've ever seen. An enormous full length infinity pool with a built in Jacuzzi and the neighboring decking area create a jaw dropping mix between natural scenery and ultra modern style. A 2 bedroom complex that has tons of living space and extra comforts makes for a truly special holiday. If this isn't enough to tempt you then take a look at their underwater restaurant and nightclub!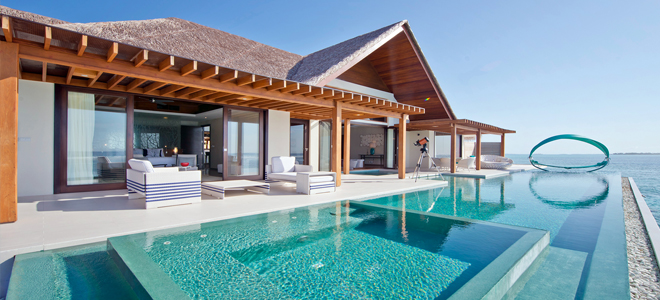 Popular with honeymooners and travel addicts, the water villa has become a sanctuary for the senses. With their rising popularity, water villas are now dotted all over the Indian ocean and with excellent weather for most of the year, it's a great way to escape the busy routine of daily life.
Interested in finding out more? Please call us 0n 0800 0856 846 or leave us an online enquiry so we can tell you more about the Maldives and the perfect accommodation for you.