New Hotels Opening In 2018
Are you on the search for something brand new? Whether it's the destination you are contemplating on or if it's where to stay that you haven't quite made your mind up about yet, our list of new hotel openings in 2018 will give you plenty of inspiration to point you in the right direction.
The Setai, Tel Aviv Israel
If you're searching for a unique holiday destination, why not put Israel on the top of your list. Located in the oldest part of Tel Aviv-Yafo, which is an ancient port city. Opened in February 2018, The Setai is an inviting hotel, which exudes elegant luxury combined with the history of Jaffa. The hotel has five buildings, which once was a historic Ottoman prison and police station has now been transformed with marble and stone corridors and a restored Turkish Hammam Spa and infinity rooftop pool, which offers breathtaking vistas of the city's skyline.

The Anandi Hotel and Spa, China
Opening March 2018, The Anandi Hotel and Spa is wonderfully located in the Hong Qiao hub, which adjoins the Su River. The beautiful swimming pools are a wonderful feature of this resort as well the destination spa that has a new concept of healing with a collection of health and well-being therapies to relax the mind, body and spirit.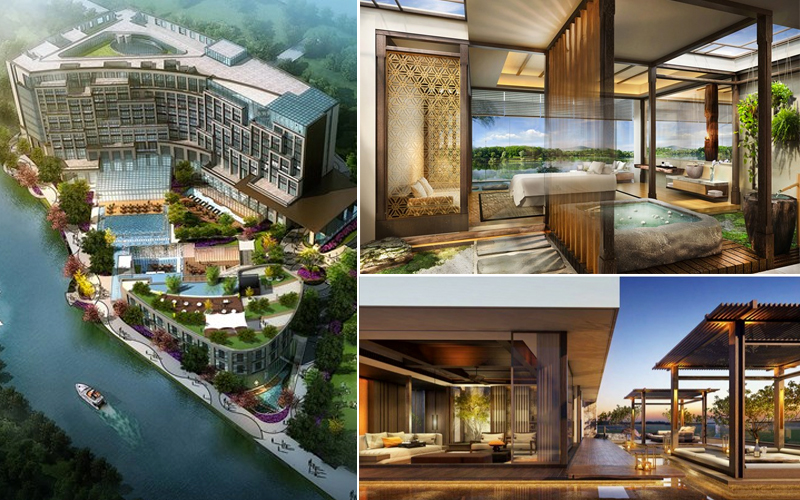 The Fontenay Hamburg, Germany
The Fontenay Hamburg offers lakeside luxury; its sculpture-like exterior reflects Lake Alster, giving guests the perfect balance between nature and city. Rooms and suites are ultra modern and homely and all rooms allow plenty of light in, adorned with parquet flooring, walk-in closets and balconies, most of which have lake views! The ideal place for relaxation, the hotel's 1,000 square-meters rooftop spa has a 20-meter indoor/outdoor pool and wonderful panoramic views. If you love the look of this hotel, you can stay here from March 2018.
Baglioni Resort Maldives
Set on the beautiful Maldivian island of Maagau in the Dhaalu Atoll, Baglioni Resort Maldives opens May 2018 and promises to bring Italian grace to a magical island getaway. There are 4 gourmet restaurants on the island offering global cuisine and when you're not relaxing on the soft white sandy beach you can explore the underwater playground of the Indian Ocean with facilities such as the PADI five-star Gold Palm Dive centre.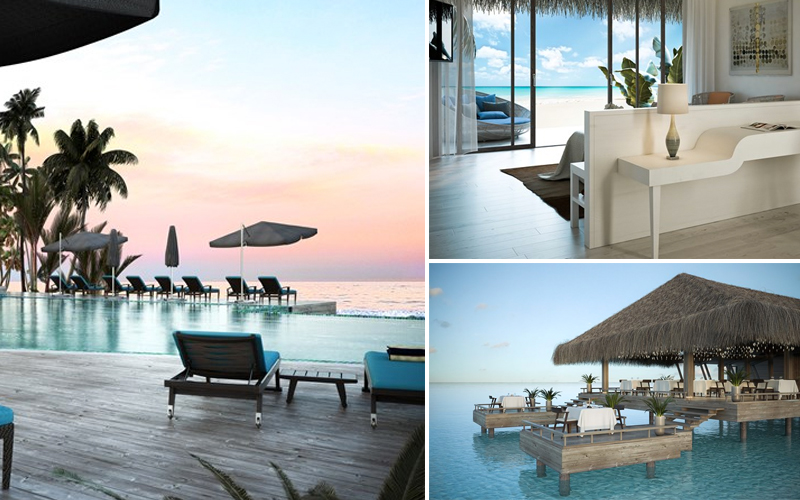 7Pines Resort Ibiza
Beautifully located in an oceanfront position with unobstructed views of the enchanting rock island of Es Vedra, 7Pines Resort Ibiza is a private resort designed for travellers looking to escape to a peaceful oasis whether for a short or long stay. Designed with authentic whitewashed Ibicenco homes, the luxury suites combine glamorous and homely living into one. The culinary offerings come with impressive views and the well-being spa has everything you need to relax including a thermal circuit with 2 saunas, steam bath, cold mists and water bed. Guests can stay here from May 2018.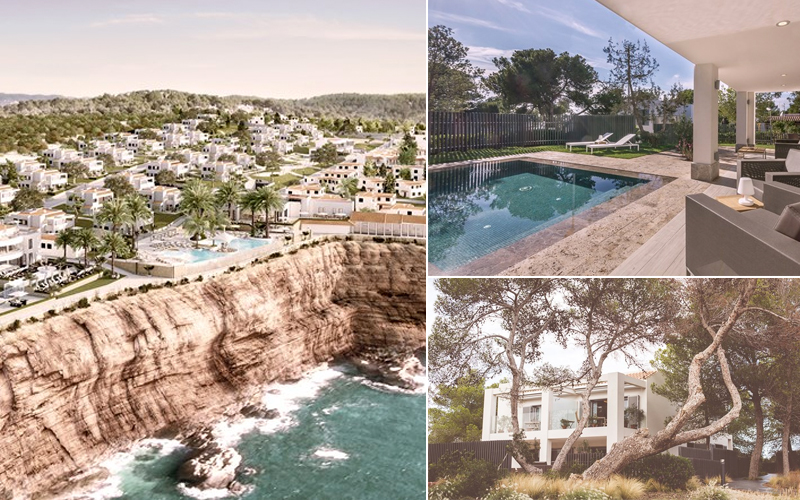 Katikies Mykonos Hotel, Greece
For chic seaside living just a moment away from the stunning Aegean Sea, Katikies Mykonos Hotel is an elegant hotel choice on the Island of Mykonos with traditionally Greek colour schemes of vibrant blue and white. The hotel's dining experiences bring the best of Mediterranean cuisine and the champagne bar and restaurant is a wonderful place to toast to the end of a magical day under the starry sky or as the sun goes down. Opening June 2018, we think this hotel is a fine choice for your next summer holiday in Europe.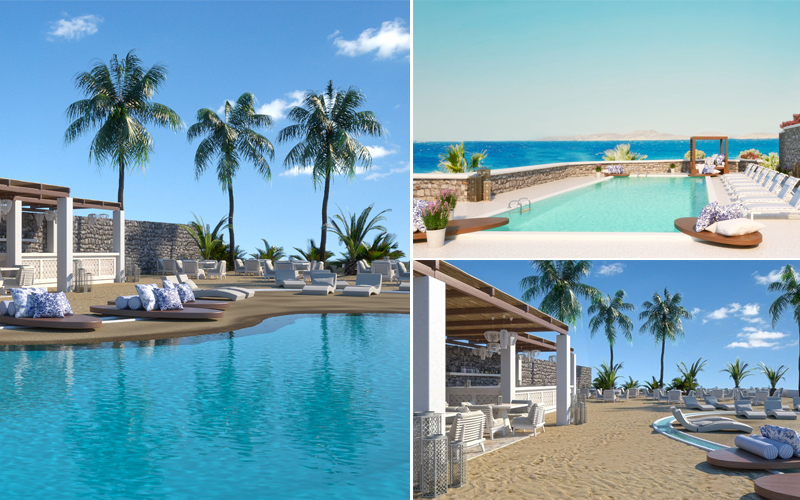 Emerald Maldives Resort & Spa
Due to open late October 2018, Emerald Maldives Resort & Spa has a collection of 120 luxurious villas; choose from either a beach villa or overwater villa, with over half of the resort's villas having their own private pool. Dine around 4 of the restaurants at Emerald Maldives Resort & Spa where you can devour delicious flavours from Mediterranean, Asia and South America. Those with children can enjoy the family facilities on the island such as baby-sitting service, a kids club and children's programs. Diving, water sports and land sports such as Yoga, tennis and a fitness center are all great amenities to enjoy on a weeklong holiday in paradise.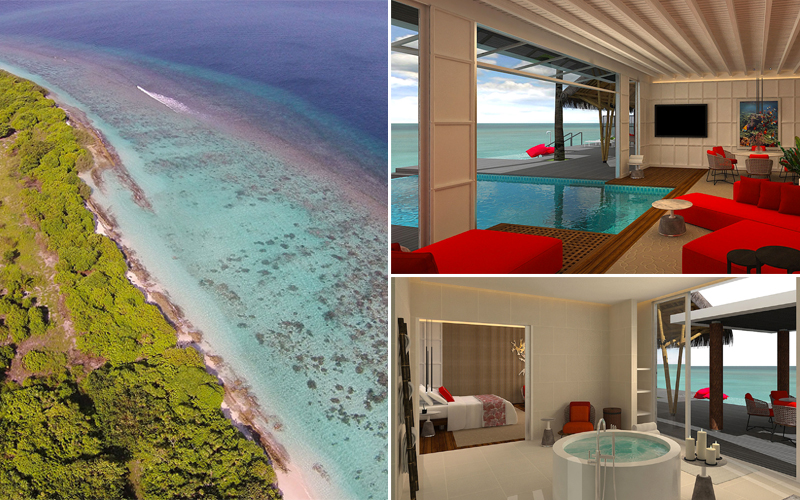 Inspired by these new resorts opening in 2018? Contact our travel experts and begin planning your next holiday!