Simon & Debbie's Maldives Escape to Sun Aqua Vilu Reef
Simon & Debbie whisked off to Sri Lanka & Maldives for an unforgettable holiday full of wonderful experiences. Having visited Sri Lanka & Maldives a few times previously, Simon & Debbie decided to return back to Sri Lanka and explore the local side to the country and opted for a more intimate island escape at Sun Aqua Vilu Reef. Learn all about their travels below.
Sri Lanka
"We visited Sri Lanka for the 3rd time, as it's such a fascinating country to explore. We stayed in touch with our driver from our previous visit and stayed at his home to experience Sri Lanka with a local. This was a great insight on how Sri Lankan locals live, work and eat! We were up early everyday as you have a lot of travelling to do in Sri Lanka to get to many places of interest, so getting up at 3-4 in the morning eating curry for breakfast with your hands, yes no cutlery! Took A bit of getting use to! But we had a great time and already planning another visit."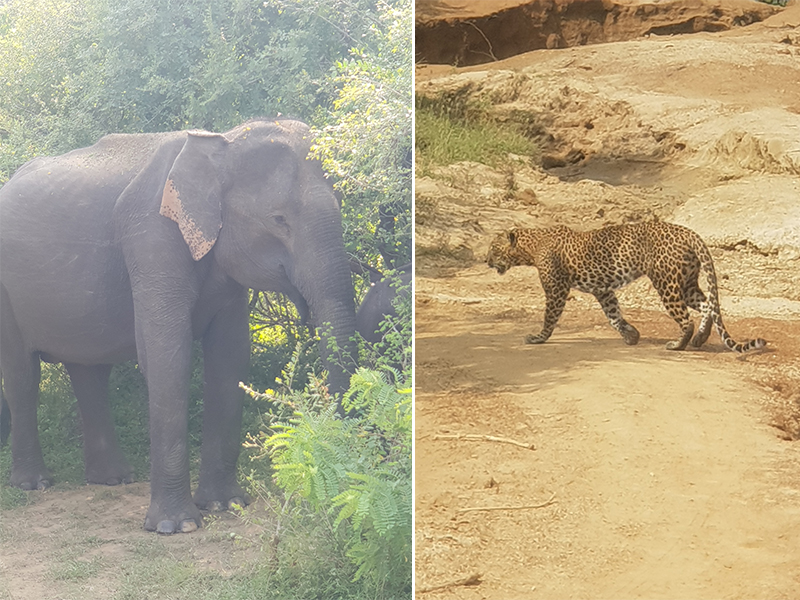 Maldives 
"The Maldives was on my list for 25 years plus, and this was our second visit – the first visit was to Kuramathi, which is a bigger Island, so this time we stayed at Sun aqua Vila Reef, which is a smaller island experience. Upon checking into the seaplane lounge you are on a high waiting for the best flight in the world! It's a small plane, but amazing flying over these turquoise waters and looking down onto the Islands, we think it's a must when visiting the Maldives."
Sun Aqua Vilu Reef
"Our first impressions of Sun aqua Vilu Reef is that it's an amazing, small Island surrounded by Crystal blue water and white sand with a few boats moored up off the jetty. On our meal plan we had the premium all-inclusive, which we think is a must. It allowed us to have a champagne breakfast everyday, bonus! Also we were allowed 2 bottles of wine a day in the room on top of our usual mini-bar as well as in villa dining which we really like and make the most of. On top of all this we had 100 dollars credit per person a day to use in the spa. Our favourite meal for both of us was at The Well Done restaurant and was the 3 course meal – the steak was lush!"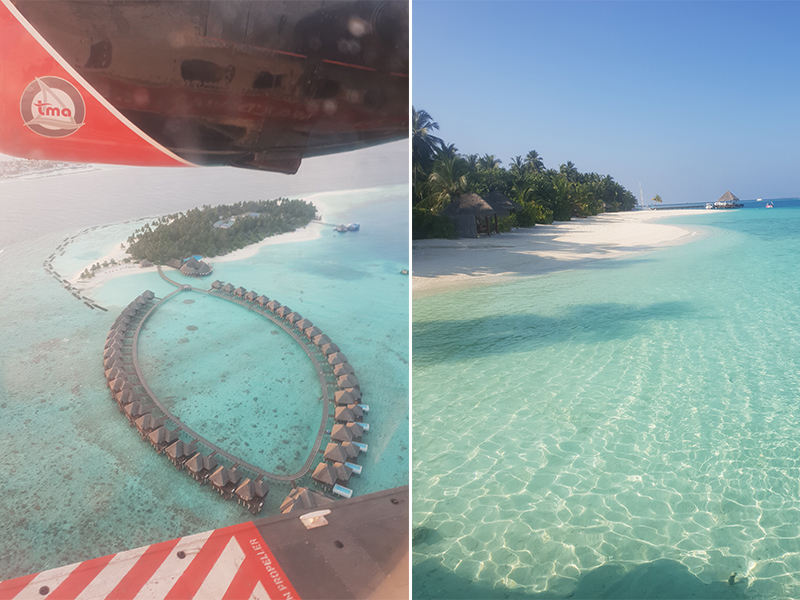 Deluxe Beach Villa with Pool
"Our accommodation while on the Island was a Deluxe Beach Villa with Pool, which was just amazing. Last time we visited the Maldives we stayed in an Over Water Bungalow so we wanted to try a Beach Villa and think we both preferred this. It was so nice to be able to come out your room right into the pool and only 20 feet from the sea .Our villa was on the lagoon side and also the sunset side so perfect to watch the sun go down with a glass of wine."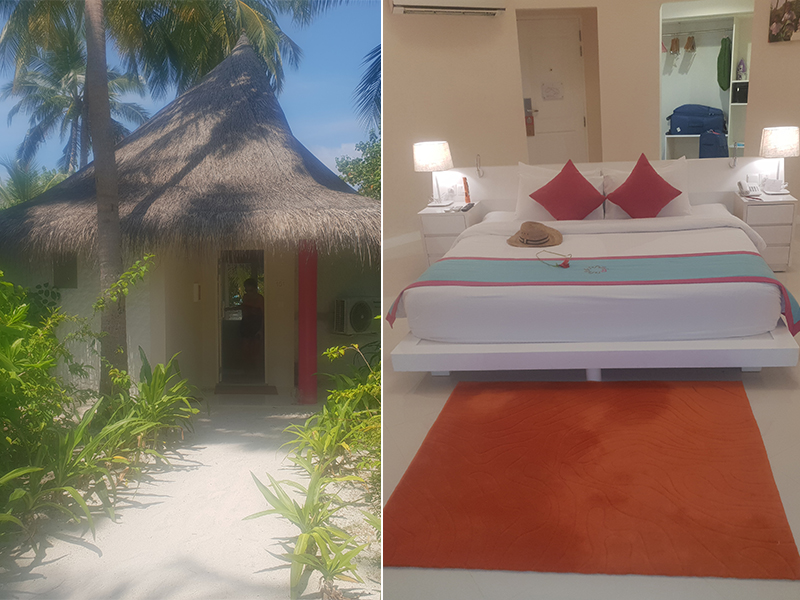 Spa & Excursions
"We spent most of our time on the Island chilling for 14 days! We did make use of our credit with the Spa and had treatments everyday! Amazing massages, the staff were great and so friendly it was so nice to have massage the beginning or end of the day. We did do a few trips while there, on the Dolphin Cruise and we spotted a few, it was great to see them in the wild. We also did sunset fishing with 6 of us on the boat so plenty of room and we caught plenty of fish, which we ate the following day at the Aqua Restaurant. On one day we did a trip to the resort's sister Island Sun Aqua Iru Veli, we had a look around the Island for future reference! And made the most of the all-inclusive!"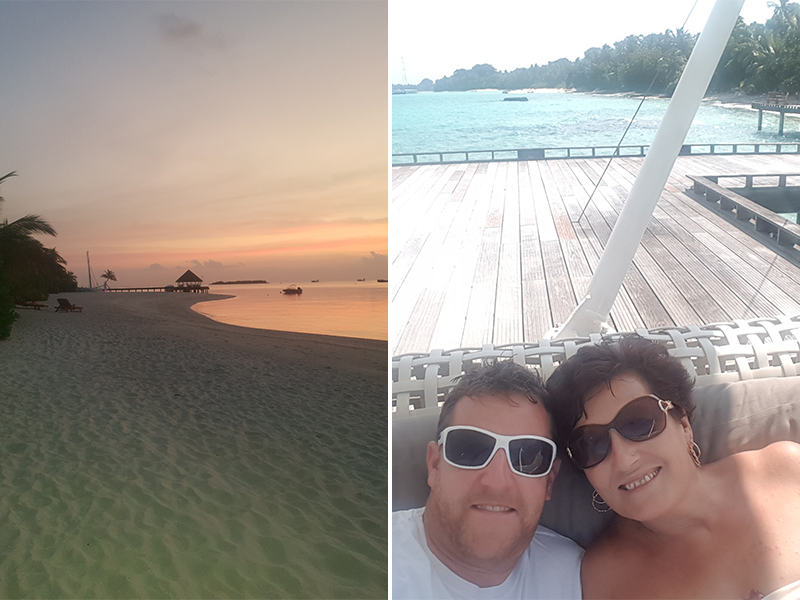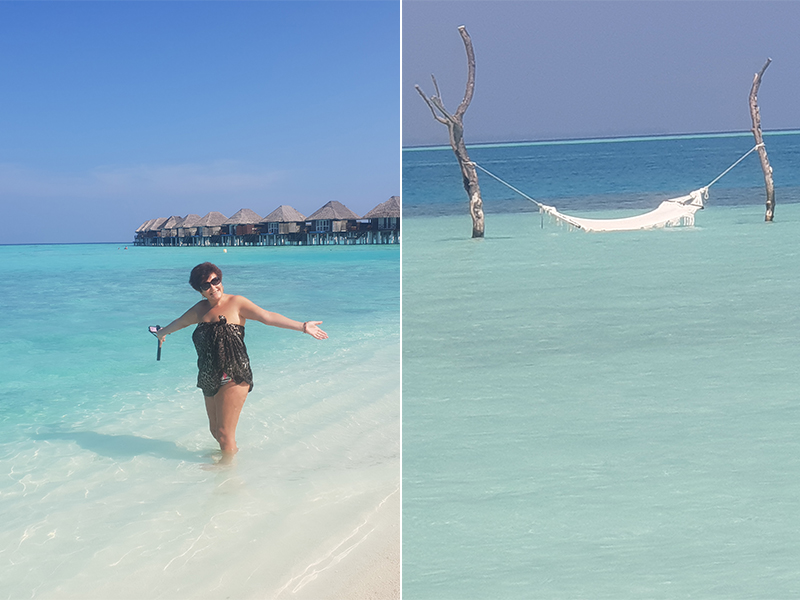 Maldives Packing tips
"If you're thinking of travelling to the Maldives pack lightly! When we travel, which is a lot my partner Debbie takes the kitchen sink! But seriously if your going to the Maldives you don't need shoes just flip flops which I never wore for 2 weeks and just shorts & t shirts even for women, shorts, light dresses and I would say minimal make up! It's very casual at Sun Aqua Vilu Reef, however, some of the bigger Islands tend to dress up more as there is more a la carte choice but still then just a smart shirt."
Where's next on your list?
"Next on our bucket list is probably South Africa safari with hot air balloon trip finished off with a beach stay possibly Zanzibar. We're also thinking Bali and Aruba, so we need to get saving!
Booking experience with Pure Destinations
"Booking with Pure Destinations is always so easy, we have booked the last 5-6 holidays with Michelle at Pure Destinations and once we see something we like we let her know and she comes back with ideas and itineraries to suit our needs. All the staff are always so helpful and if ever there is any queries they are always on hand and happy to help. They are a great company so get booking!"
Inspired by Simon & Debbie's Sri Lanka & Maldives holiday? Discover our tailor-made holiday package here or call us on 0800 0856 846.