Michelle Explores Canada and the Rocky Mountaineer
Edgbaston store manager, Michelle, recently visited Canada with First Class Holidays to explore some of Canada's most breathtaking sights as well exploring some of the luxurious hotels along the way and one of the highlights of the trip – the rocky Mountaineer! Get the low-down of her trip below:
Air Transat Flight
"I flew from Gatwick South Terminal with Air Transat on economy plus, which gives you little extras including a blanket, eye mask and pillow. Also included was an alcoholic drink and snack before the meal. If you are on standard economy you have to pay for any extra drinks you have that are not served at meal times. There are no blankets on board so if you feel the cold make sure you take a cardigan or jacket for the duration of the flight. On board entertainment included on demand films with a selection of new and old TV programmes and music. The flight to and from Vancouver has an hour touchdown in Calgary to drop and collect passengers, those staying on to Vancouver stay on board for this duration."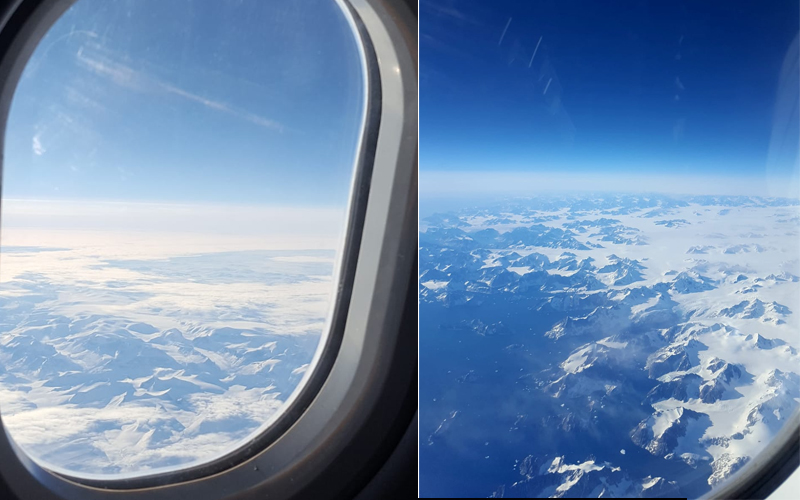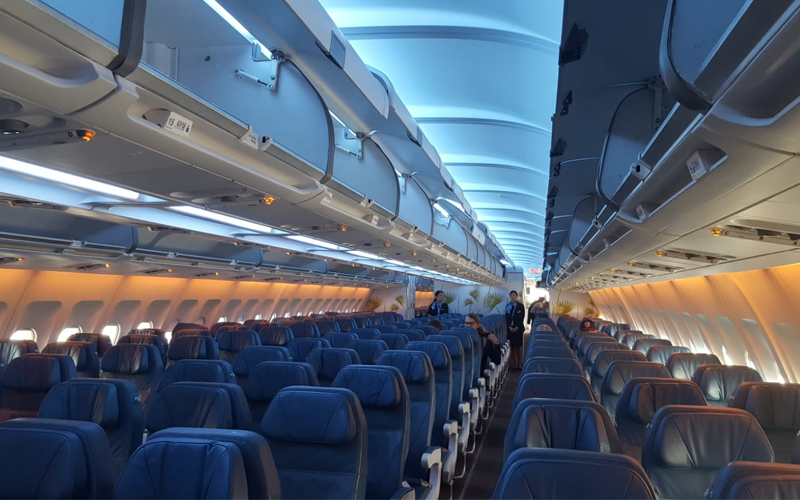 Delta Downtown Hotel – Calgary
"Our first stop was the Delta Downtown Hotel in Calgary. The hotel was really nice and located in China Town area with only a 5-8 min walk from the main shopping/restaurant area. The hotel is undergoing some renovations at the moment but nothing that affected us. The lobby area leads into the bar and restaurant and then into a lounge area with an open log fireplace. We ate in the restaurant on the evening and the food was so good. I had this amazing pulled pork burger. Rooms were really nice and big with 2 queen beds and the bathroom was spacious with just a shower. I would certainly recommend the hotel for its location and spacious rooms."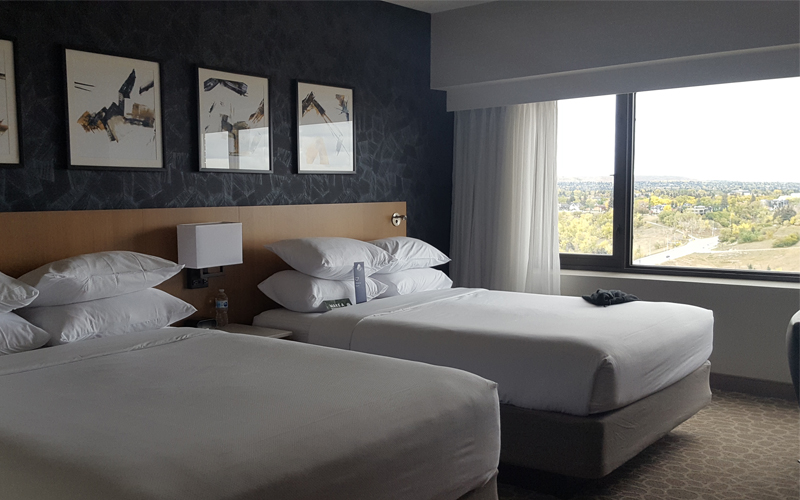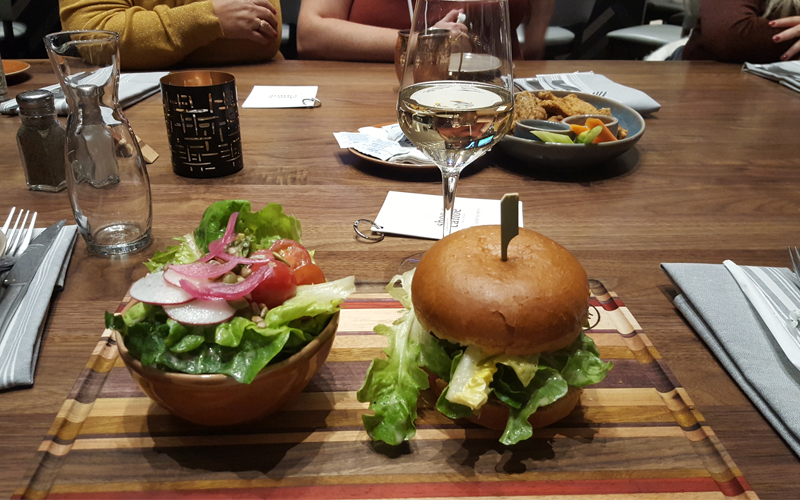 Calgary
"Calgary is ideal for an overnight stay as there isn't too much to explore. There is the Calgary Tower to go up and admire the views. Calgary is known for the famous stampede, which happens in July and brings over 2 million people to the city at this time. If this event isn't of interest to you I would avoid visiting this time of year."
Fox Hotel & Suites – Banff
"From Calgary we travelled to Banff for 3 nights and stayed at the Fox Hotel & Suites. I absolutely loved this place. From the moment you walk in it has a really homely feel with a lovey open log fire in the lobby area. The bar and restaurant is really nice and chilled out. No one dresses up and it has a casual ambience with guests dressed in jeans and jumpers, the bar staff are really friendly too. The rooms are apartment style with some on one level with a lounge, kitchen and separate bedroom/bathroom and others are on split level with the lounge and kitchen upstairs and the bedroom and bathroom downstairs. Rooms are nice and rustic style. There is a cave hot pool in the hotel, which is really nice and excellent on a cold day or after a day of walking. Breakfast was continental with a good selection of cereal, pastries, muffins, fruit and yogurt and make your own waffles. The Fox Hotel & Suites is about a 5 minute walk from the main centre of Banff."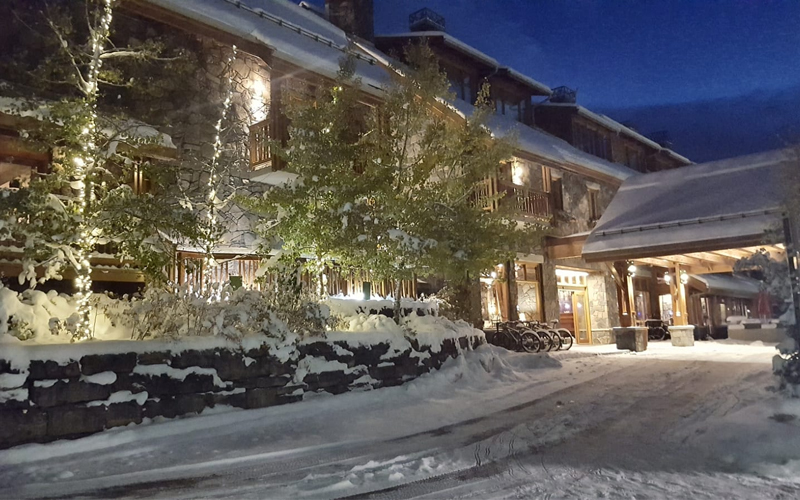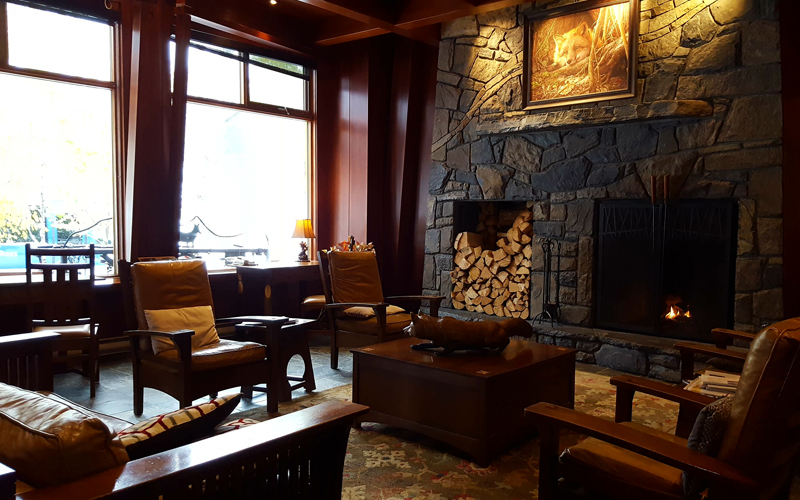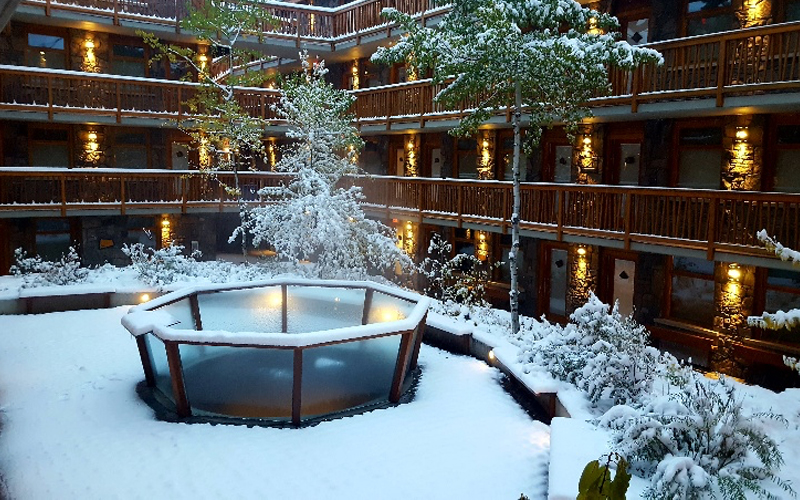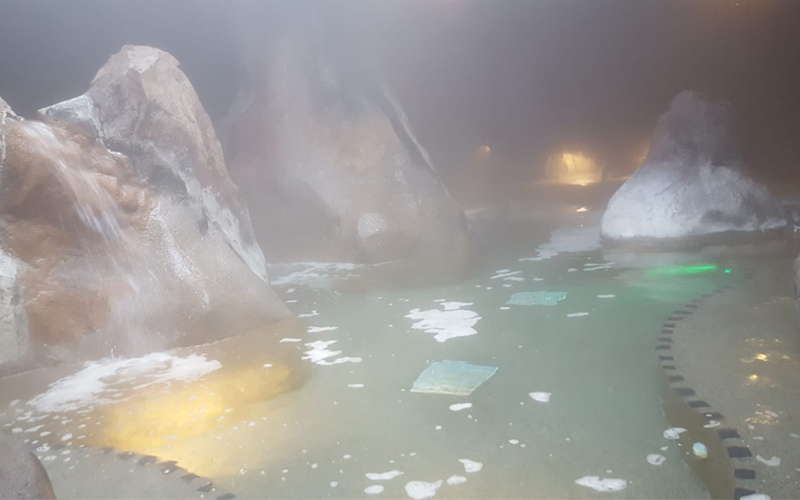 Banff was everyone's favourite place we visited, it's got a really nice vibe to it and so much to see and do around here. Banff surrounds the stunning scenery of the snow-capped mountains, which is just breathtaking. On the first day we did a walking tour, which was really good to get your bearings and lasted about 2 hours. Banff has loads of different shops, museums, restaurants and bars. At the end of the town is the Cascade Gardens to wonder round and relax in or take a walk along the river."
Day Tour from Banff
"From Banff we did a day tour – Mountains, lakes and waterfalls. This takes in the amazing lakes of Lake Louise, Lake Moraine and Emerald Lake all surrounded by the stunning mountains. We stopped off at some waterfalls and the day included a BBQ lunch at Emerald Lakes. Due to the snowstorm that hit Banff when we were there we couldn't visit the last waterfall unfortunately. In July and August, Banff is extremely busy and restaurants can be completely booked up for days so it's really worth booking reservations. Snow doesn't normally arrive in Banff until the end of October. Another place to visit that's just outside the town is the Cave and Basin Historic Site and also the Gondola Ride for amazing views. Unfortunately the weather was really bad when we did this and we couldn't see anything! Overall Banff is a fantastic town, with stunning scenery and lots to do on your doorstep. I would recommend this for all ages and families, I would recommend 3-5 nights."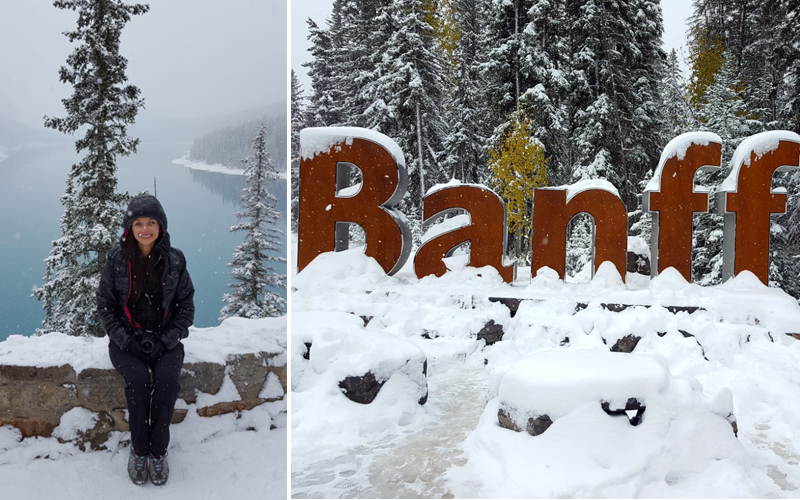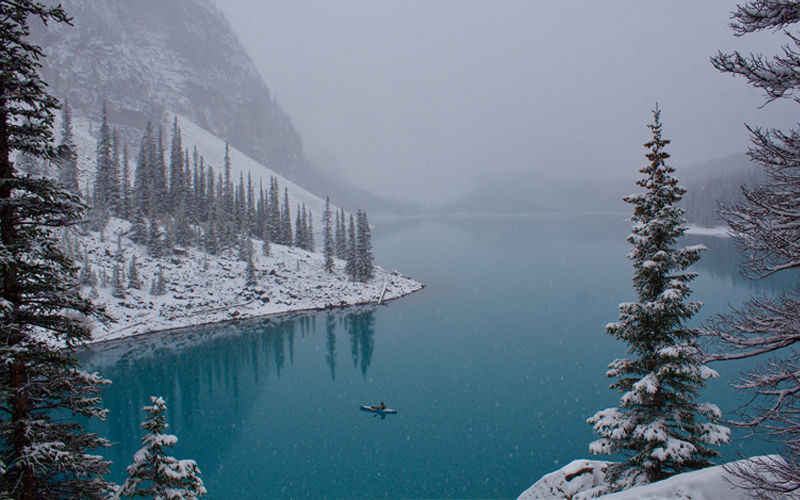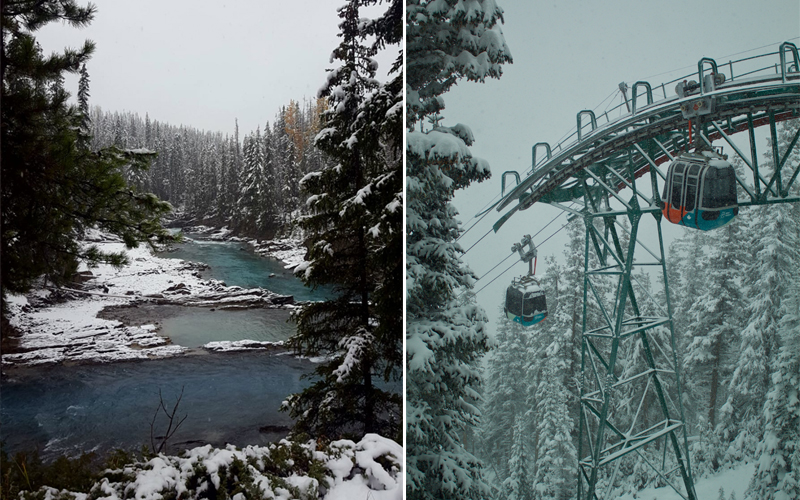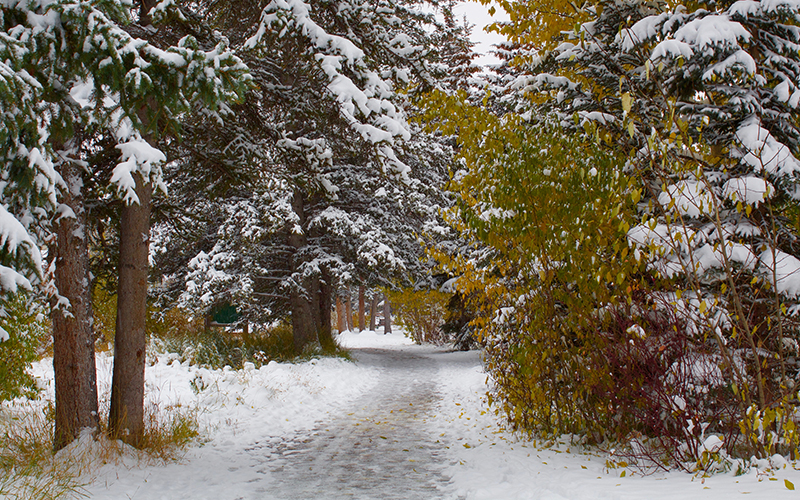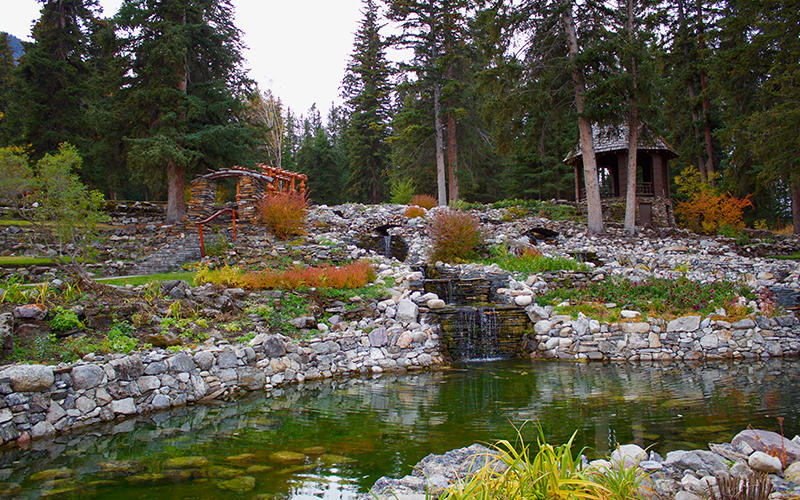 Fairmont Banff Springs
"We also visited the Fairmont Banff Springs. This hotel is just out of town about a 5-minute drive away. The hotel is big with over 700 rooms; therefore travellers that want a more intimate hotel should avoid this. The Hotel's highlight is the stunning views and I would recommend booking a room with a view."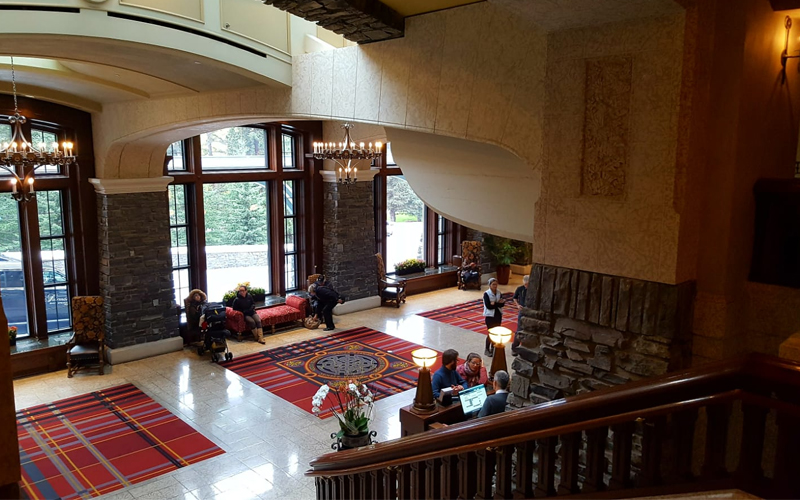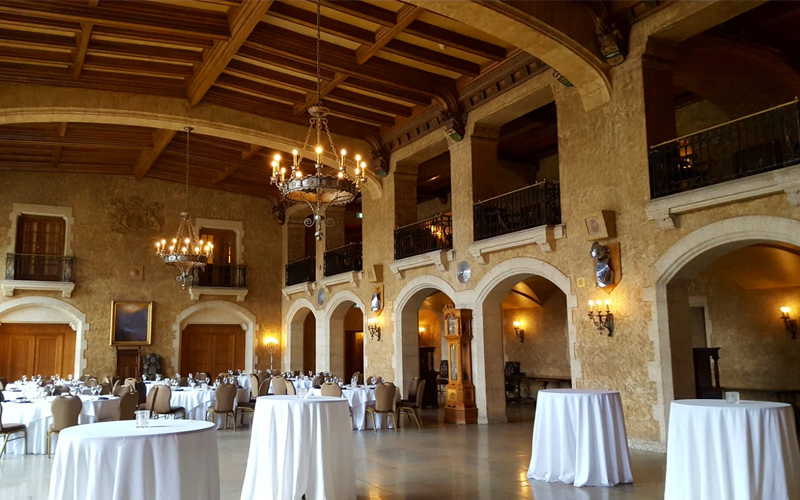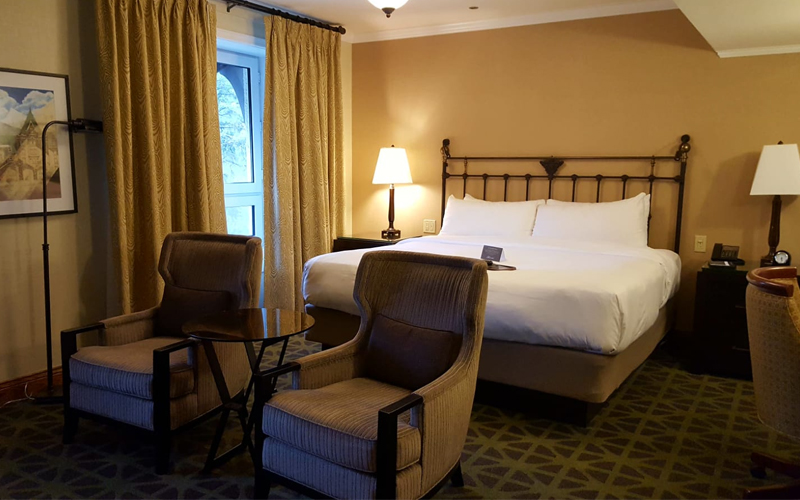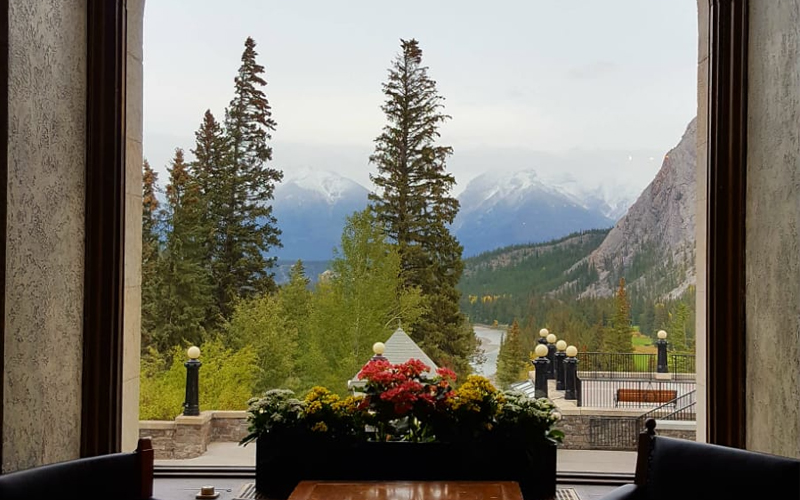 Rocky Mountaineer
"The Rocky Mountaineer is an amazing experience and a fantastic way to see the stunning countryside and scenery that Canada has to offer. It's the perfect option for those who don't want to do a self-drive or want a bit more comfort and luxury. We travelled from Banff to Kamloops and then onto Vancouver over 2 days.  The train has 2 cabins 'Silver Leaf' and 'Gold Leaf'. We travelled in Silver leaf, which is a cabin of about 60 people. The seats offer plenty of room, however, there is no over head storage for coats or bags in Silver Leaf so everything does has to go by your feet but there is plenty of room for a holdall bag. On board you begin the journey with a tea or coffee and then you have a cold and hot breakfast. From about 11am they bring round the bar and at 1pm you have a 3-course lunch with more alcoholic and soft drinks. Later, you get a snack and more drinks, so you are very well looked after throughout the journey. There is a water station you can help yourself to water and a fruit bowl too. All meals are served at your seats."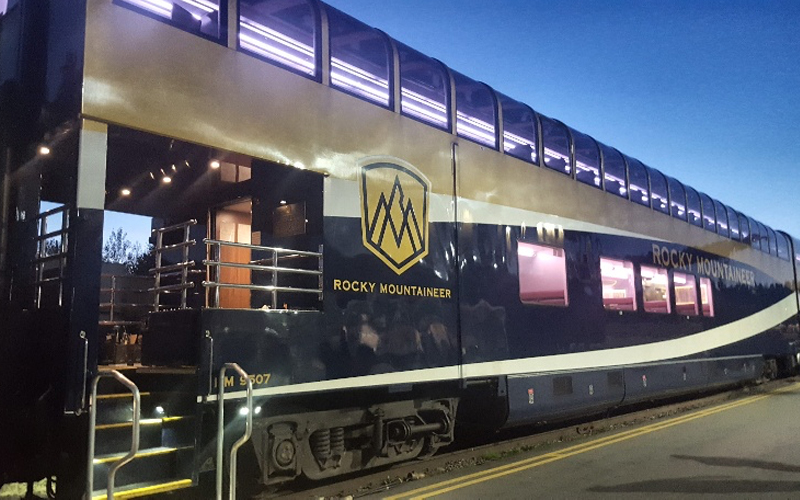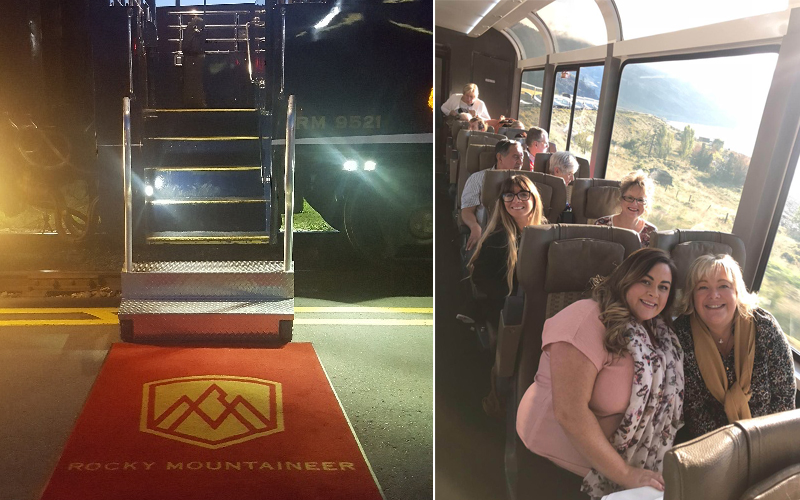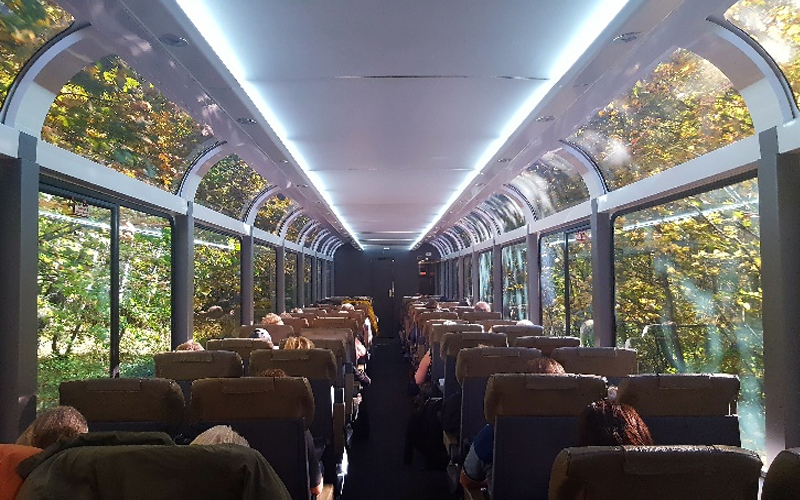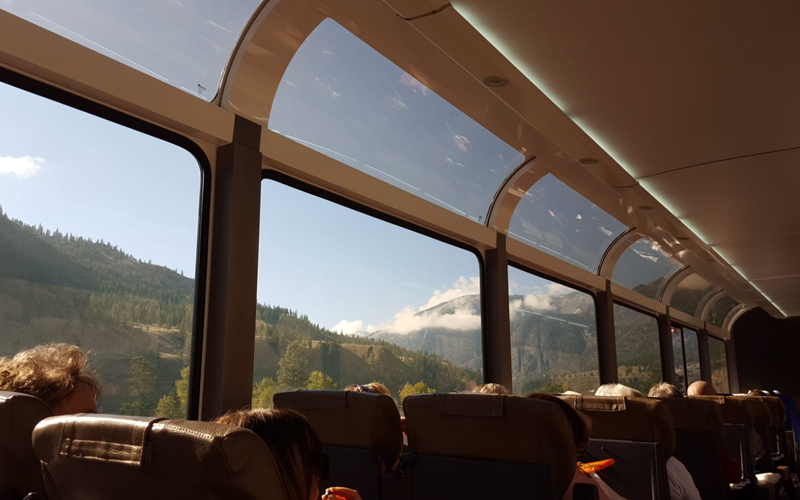 "The train goes around 30mph most of the time and slows right down or stops when there are particular things to see like waterfalls or animals. The Rocky Mountaineer doesn't get priory on the tracks and has to give way to any freight trains so from time to time you may be stopped for 20-60 minutes. Staff on board are very helpful as they as they regularly inform you about what you are seeing and are helpful to answer questions you might have. There are big windows for viewing and taking photos or you can stand outside the coach on a small viewing platform."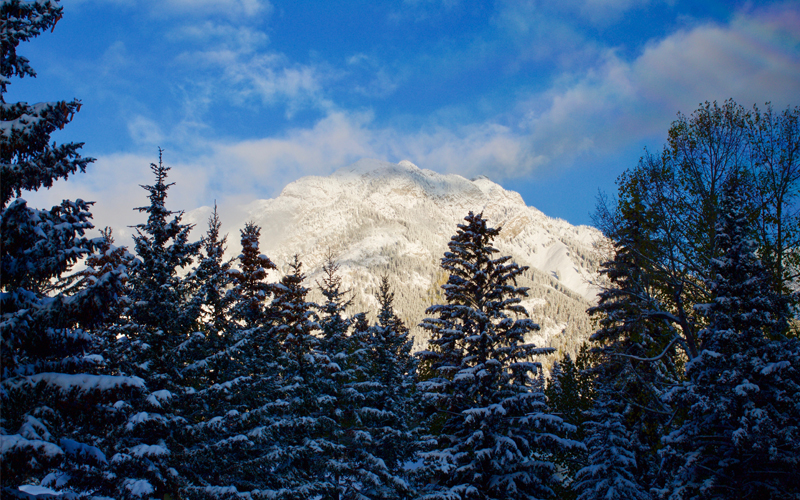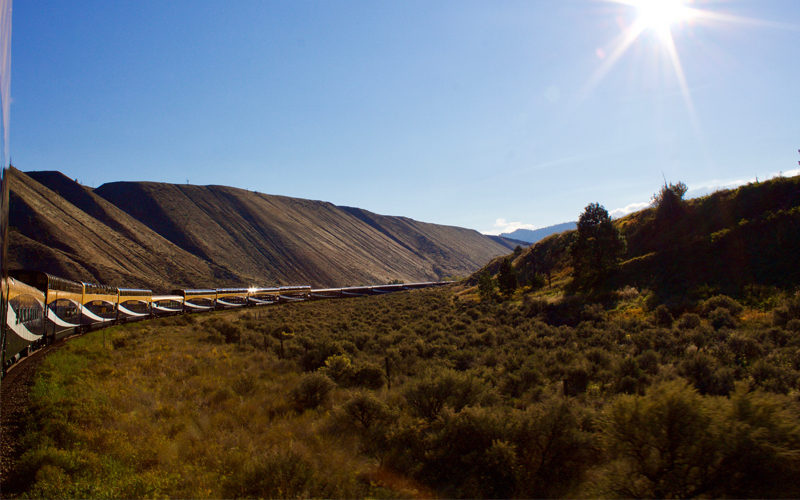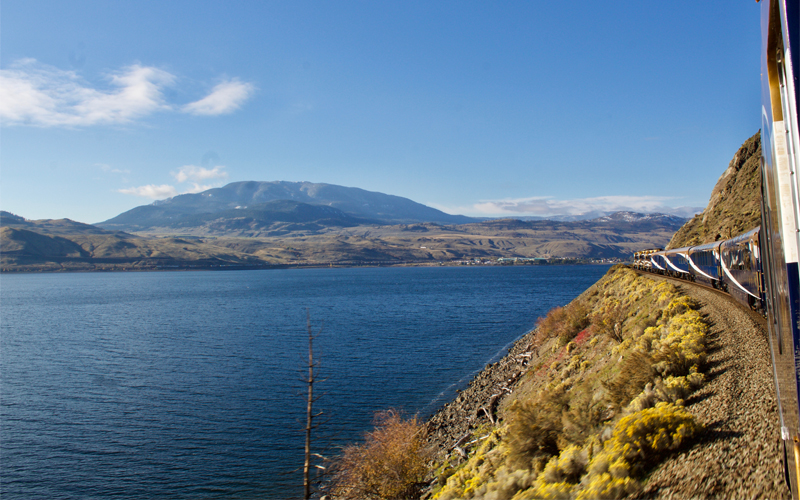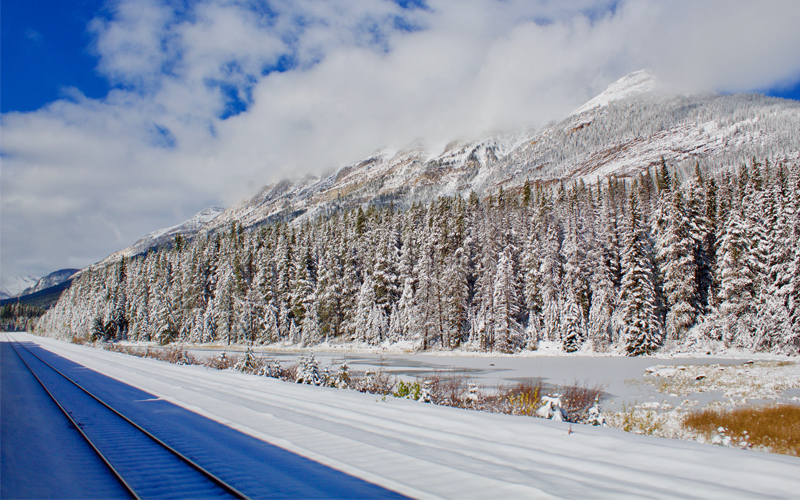 "We took a tour of the Gold Leaf on board the Rocky Mountaineer and from next year all coaches in Gold Leaf will have a brand new style. The main differences between Gold Leaf and Silver Leaf is that the seats are located upstairs with dome widows for a better view and get a separate dining area downstairs. The dinning area can only sit half the passengers at a time so they offer 2 sittings for meals. Passengers who have the first sitting the first day have the second sitting on day two. They have a bigger choice of food at meal times and a bigger outside viewing area. They also stay in upgraded hotels in Kamloops on the over night stay. We all really enjoyed the Rocky Mountaineer train and I would certainly recommended it to most ages. The Rocky Mountaineer doesn't have Wi-Fi and the reception is very limited. Its really an amazing once in a lifetime experience!"
Fairmont Waterfront Vancouver
"I really liked the Fairmont Waterfront Vancouver, it's in ideal location right on the waterfront and is ultra luxurious if you're looking for a stylish and modern base in which to explore the city. We enjoyed breakfast here, the restaurant area was very nice and the choice for breakfast was excellent with a separate gluten free fryer for cooking too. The rooms were well-sized and the decor is the same throughout all room types – its just the view that changes. They have interconnecting rooms, 1 king room connecting to a twin room. The Fairmont Gold floor rooms have a very slightly different decor with hints of gold in the rooms. Clients on this floor get a separate lounge for breakfast and all day snacks. If Gold clients want to eat in the main restaurant they will be charged for this."
Fairmont Gold Benefits:
Private check in and check out
Exclusive use of the Fairmont Gold Lounge and gardened terrace, overlooking Vancouver's harbour and North Shore mountains
Complimentary deluxe European buffet breakfast served between 6:30 a.m. – 10:00 a.m. weekdays and 7:00 a.m. – 11:00 a.m. weekends
Complimentary selection of house-made pastries and savory snacks served between 2:00 – 5:00 p.m. daily
Complimentary selection of hot and cold canapés served between 5:00 – 7:00 p.m. daily
Complimentary mineral water, soft drinks, coffee, espresso drinks and selection of teas
An honor bar is available to enjoy daily from 12:00pm – 9:30pm where charges will apply for alcoholic beverages.
Complimentary wireless internet and computer access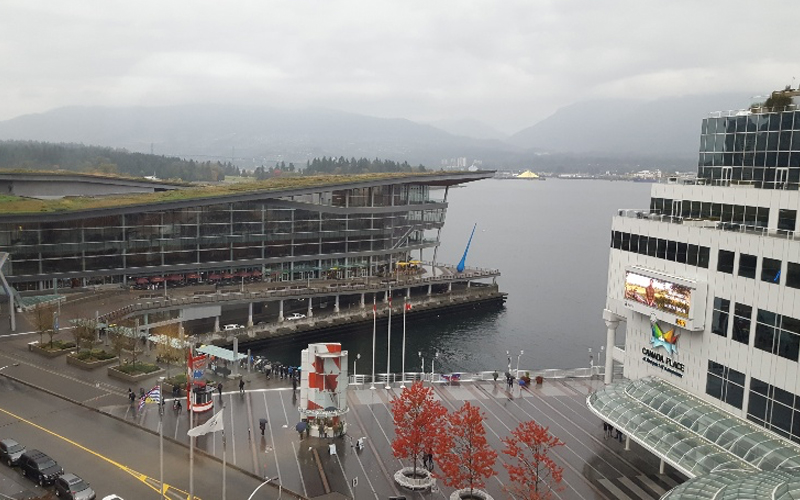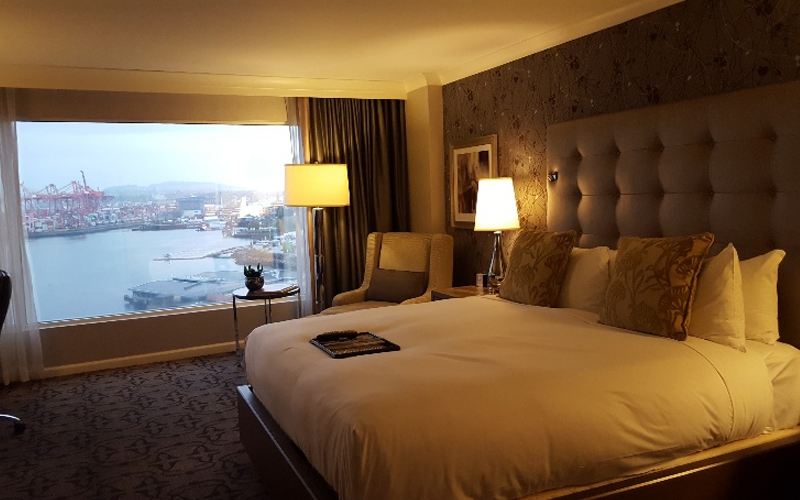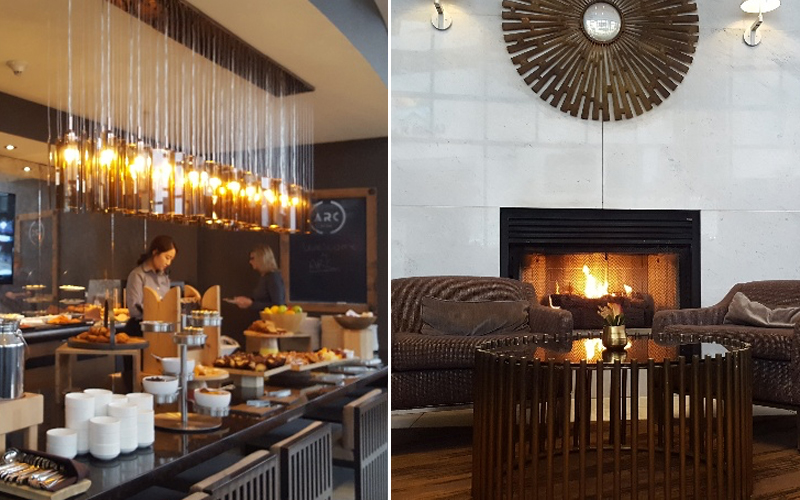 Fairmont Pacific Rim
"Also on the waterfront, the Fairmont Pacific Rim is just a 5 minute walk from the Fairmont Waterfront Hotel.  The Fairmont Pacific Rim is styled with contemporary features, from the nice lobby area with fireplace and a piano player, to the big staircase that leads up to a lovely bar and restaurant. This hotel was built in 2010 and features stylish artwork on the walls. The rooms at this hotel were spacious and guests staying Fairmont Gold rooms can use the lounge. There's an outdoor pool area, which is nice, however, I noticed that the pool doesn't get much sun. The pool is heated so you can swim in it all year round. Both these hotels are located in the waterfront where the cruise ships arrive and depart so for travellers looking to use this area as part of a cruise holiday are in perfect location.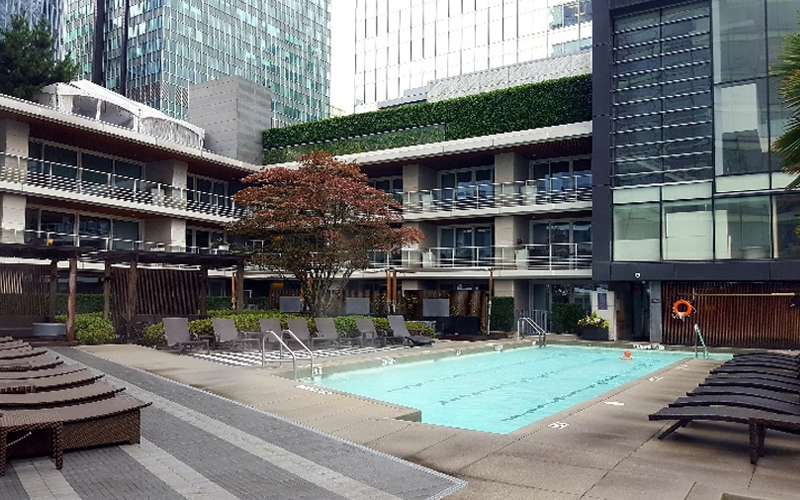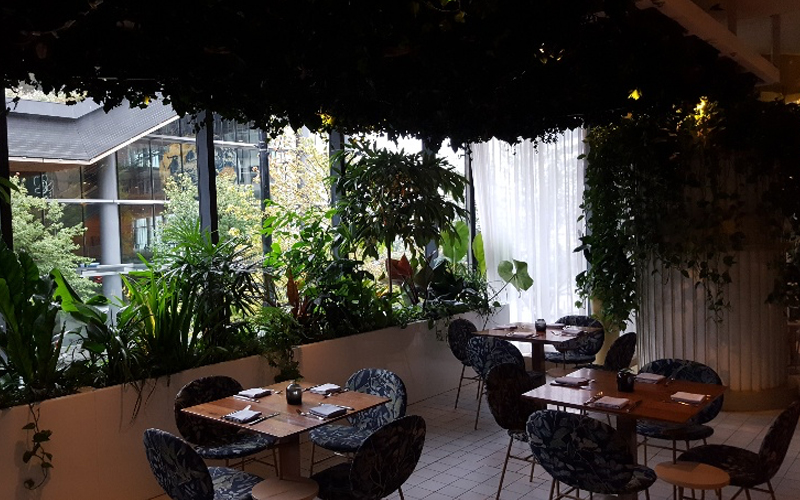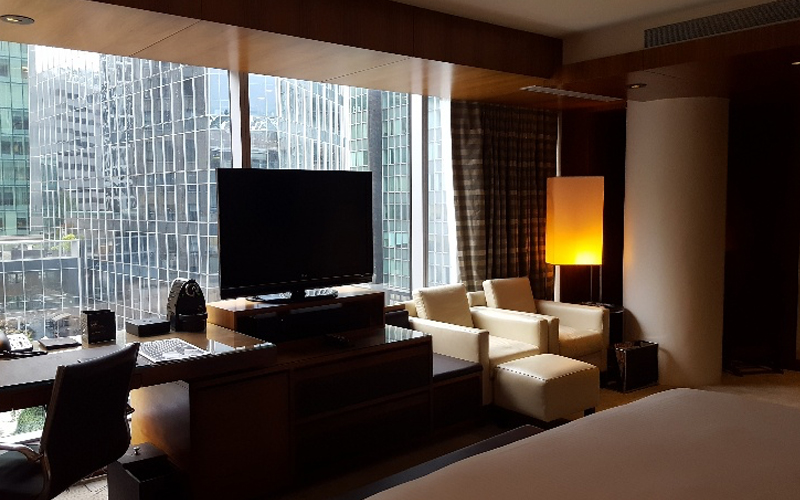 Capilano Suspension Bridge – Vancouver
"After visiting the hotels we headed to the Capilano Suspension Bridge with a detour through Stanley Park. Unfortunately we didn't have much time to explore here but it looked really nice, the views back to the city across the river were lovely and you can walk around the park through the many gardens or take a horse and cart, or visit one of the restaurants in the park for some lunch. You could easily spend a good few hours here. The Capilano Suspension Bridge is just outside the city on the north shore. You can drive to it but parking is not that good, so I would recommend getting the free shuttle that goes from down town. This is a good place to visit for adults and children, as long as no one is afraid of heights, as you walk over a 70 metre high suspension bridge over a river! You can also do a tree top walk through the rain forest and a cliff walk. I would suggest spending about 3 hours here. The costs are $45 for adults and $15 for children over 6yrs."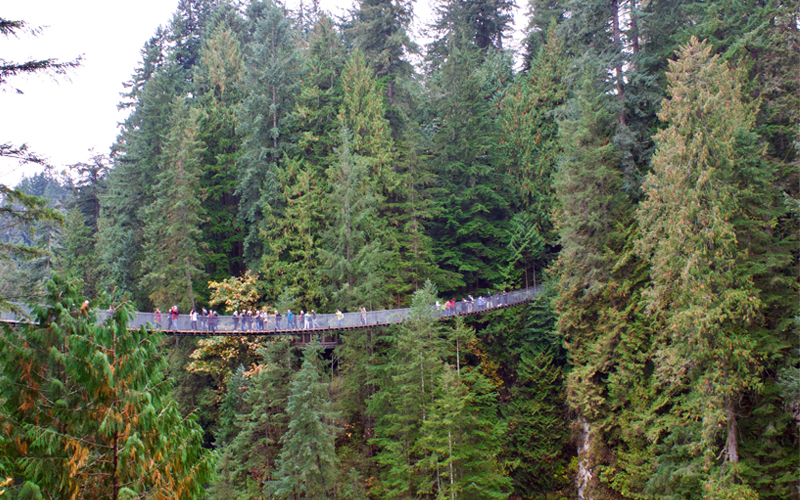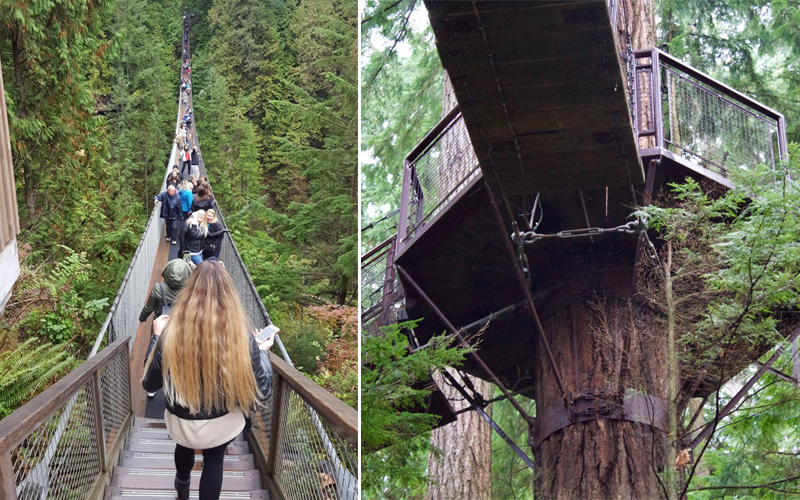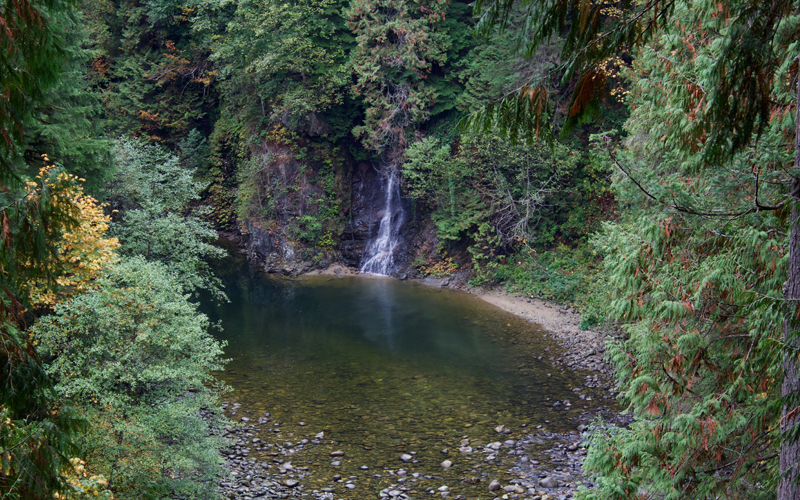 Granville Island Foodie Tour – Vancouver
"We then headed over to Granville Island for a Vancouver foodie tour. This is a fab tour and would recommend to most people. Be careful if anyone has dietary requirements, as they can't guarantee they will be catered for. I am on a gluten-free diet and there were a few things I couldn't have. We tried tea, bread, meats, nuts, fish, chocolate, cheese, fruit and donuts and then had free time for about 45 minutes to explore the market ourselves and buy some of the things we sampled.  As well as the foodie tour, you could spend hours on Granville Island, not just around the food market but also looking around the other shops on offer. Every day is very busy however weekends are the busiest and early morning too."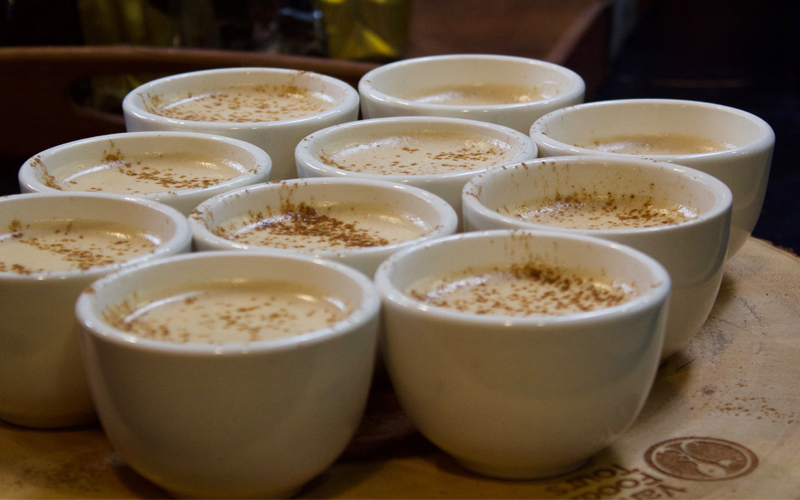 Other highlights in Vancouver
Gas Town – a nice area with Victorian buildings and cobbled streets lined with designer and boutique shops, bars and restaurants.
Yaletown – great for a shopping trip with hip clothing stores, high end cafes and lounges, restaurants and bars. There are also a few unique galleries here.
Vancouver Flyover Experience – this is Vancouver's newest attraction located in Canadian Place by the waterfront. The Vancouver Flyover Experience is a flight simulation ride, which takes you over many areas of Canada that you can't see from a car or train and only by air. The simulation lasts for about 6 minutes and is great for all ages. The cost for this is $33 for adults and $23 for under 12 years. There's also a ride again 50% discount!