Best Luxury Holiday Destinations 2021/22
Planning your next glamorous getaway? Sit back, relax, uncork the Champagne, and take some inspiration from the dreamy destinations set to be the top holiday hotspots for 2021/22.
These are our favourite luxury holiday destinations, but there's an idea in here for everyone, whether you're plotting an escape to a five-star spa hotel, or daydreaming about morning mojitos on your own secluded island. The top 10 luxury destinations for Pure Destinations are:
1) Maldives
A cluster of Indian Ocean islands blessed with idyllic scenery, the Maldives are never far away from top spot. The iconic white-sand beaches, blue lagoons and swaying palms are a huge draw, and make for an effortlessly jaw-dropping setting akin to a film set for a castaway movie.
You'll usually reach your secluded haven in rock-star style via seaplane or speedboat transfer, and it'll only get more exclusive from then on with sunset-Champagne cruises and the chance to rent an entire private island to yourself, or just enjoy a picnic lunch  on one.
Refined resorts jostle each other to be top dog, coming up with increasingly elaborate ways for well-heeled travellers to treat themselves — from surreal aquatic clubs, overwater villas with built-in spas and waterslides that double as exits, to underwater restaurants and abodes where you'll eat or sleep just a glass cocoon away from shoals of colourful fish.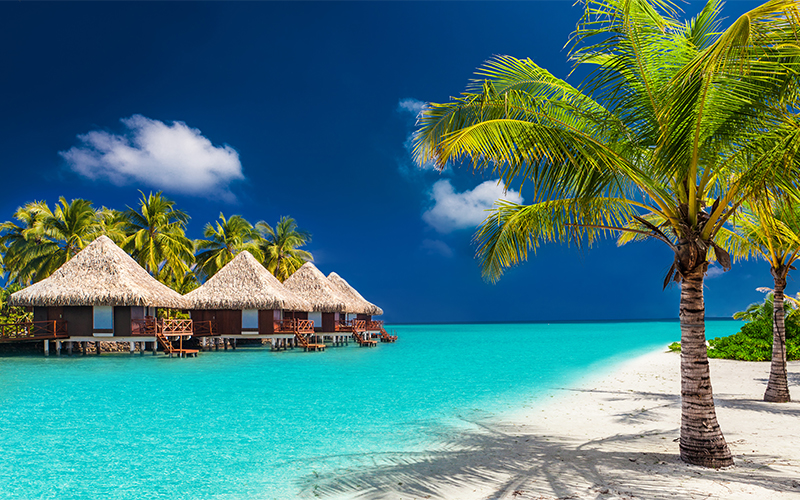 2) Dubai
If you were thinking of only using this eclectic and affluent UAE city as a stopover on the way to somewhere else, you'll be missing out. Dubai has well and truly carved out a niche for itself within the luxury travel sector — and you could even argue it was, in fact, built for it.
Both an Emirate and a capital city, it boasts everything you could ever need on your travels: upscale shopping districts with towering examples of modern architecture, chic hotels, world-class nightlife and restaurants, waterparks, markets, and the opportunity to explore endless sand dunes by camel, 4×4 or hot-air balloon.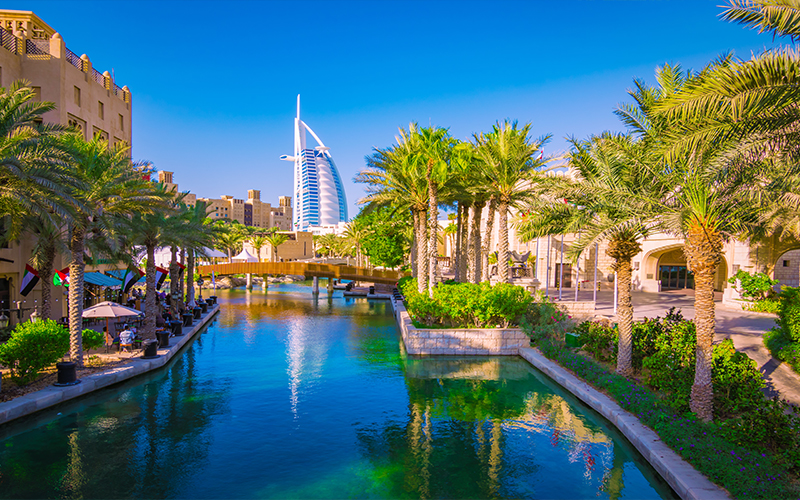 3) Mauritius
This East African island nation has come into its own over the past few years to become a top pick for aspirational travellers. Stay on the coast for warm Indian Ocean waters lapping at your feet, unspoilt beaches, famous dive sites, and hotels that offer a taste of luxury island living — but with spades of local inspiration.
If you fancy a change of pace from spending tiring evenings perusing extensive cocktail menus, spread your wings and traverse the hiking trails, mountains, rainforests and waterfalls of the country's lesser visited interior. You won't regret it.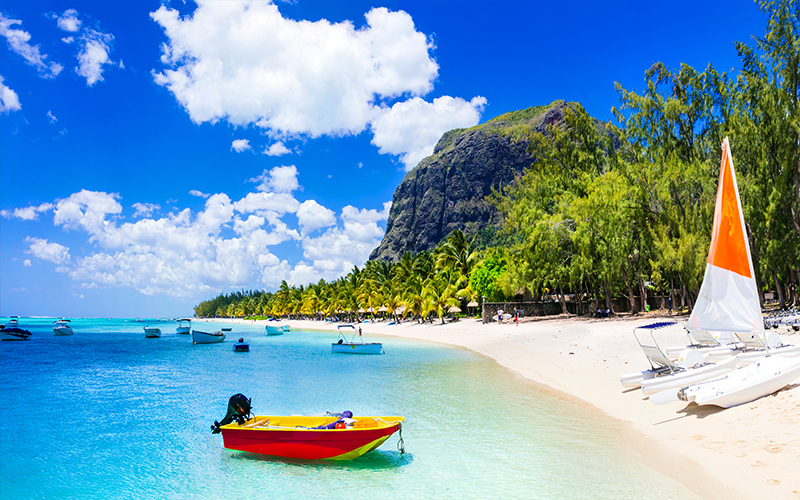 4) Thailand 
Don't let Thailand's tag as a backpacker magnet fool you — here you'll find an enviable selection of top-class resorts and some of southeast Asia's finest establishments. And, despite the fantastic infrastructure for travellers, you'll still find plenty of path-less-trodden treasures.
It doesn't get much better than Thailand's big hitter tropical islands, such as Phuket, Krabi and Koh Samui, which provide a decadent cocktail of beaches, coconut groves, and lush mangrove forest scenery. Find yourself in five-star spa hotels offering signature treatments inspired by the local landscape and ingredients, or enjoy a trademark Thai massage in exclusive settings including secluded coves, rugged clifftops or coconut plantations, adorned with all the trimmings — from pool villas, to outdoor hot tubs and personal butlers.
For something a little different, make the most of Bangkok's bustle by booking into a riverside retreat and perusing the city's most exclusive shopping and dining areas, or take in sweeping views of neighbouring nations Laos and Myanmar, from luxe treetop accommodation in the Golden Triangle. Explore Thailand holidays packages here.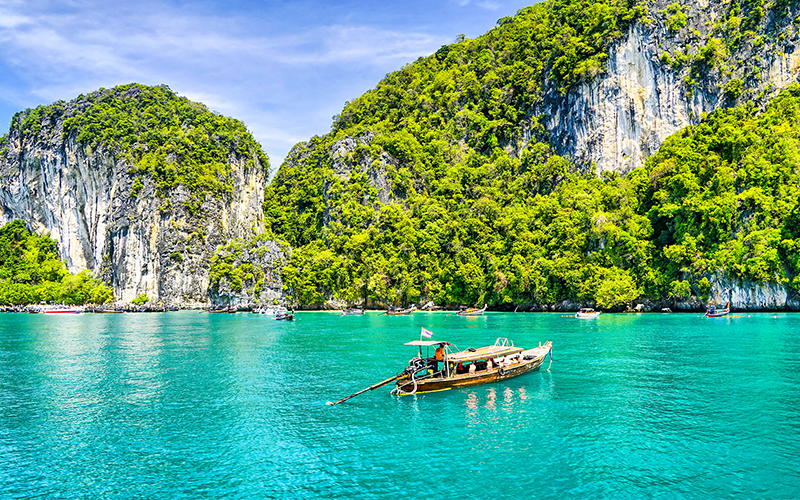 5) Singapore 
Sink a few slingers, dine out at headline-grabbing restaurants, explore unique urban landscapes, seek shelter in verdant green nature parks and botanical gardens, and even embark on a nighttime safari.
Singapore is a city, a state — and an international hub— in which you'll be able to spoil and pamper yourself rotten. Renowned for its innovation, forward-thinking and eco-vision, it is a destination unlike few others, managing to combine an array of cultures, cuisines and architectural influences with ease and panache.
So it's unsurprising that Singapore's luxury break credentials pack a serious punch, as its most sought-after neighbourhoods feature a catwalk of palatial hotels, numerous award-winning restaurants, rooftop pools, open-air bars, compelling colonial and modern designs, and destination shopping to rival anything on Oxford Street.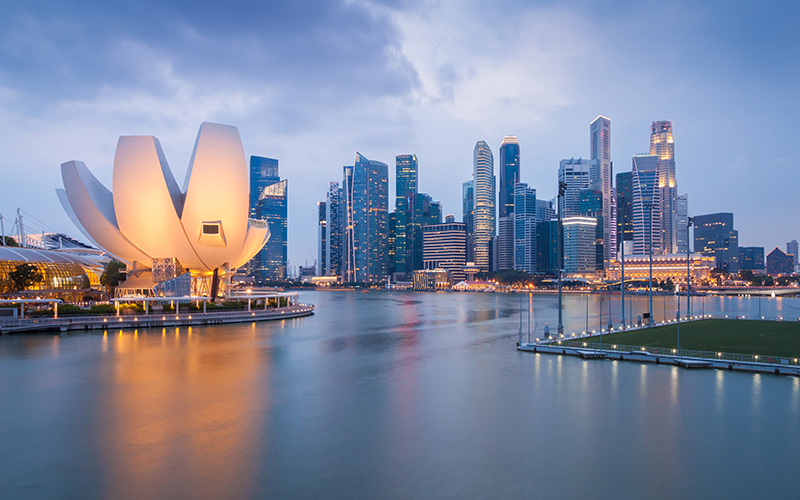 6) Bali
Luxurious wellness breaks and Bali go hand-in-hand. Enjoying a recent resurgence, the beautiful volcanic island offers bountiful natural wonders — from it's world-famous beaches, through to hot springs, mud baths, rice paddies, more waterfall trails than you'll have time to trek, and of course, its imposing — and active —volcanoes.
You can party like a VIP at rooftop bars and pool clubs, but it's Bali's Ubud that attracts creatives galore, thanks to its magical mix of traditional arts, crafts, temples and shrines. This makes the Indonesian island an ideal destination for an upscale getaway with a twist, as you can pair those activities with a resort stay based around your interests — whether that's immersing yourself in a five-star hotel with a state-of-the-art yoga studio, tea shop and juice bar, or a guided meditation retreat, spa break, surfing holiday, and even a trip stuffed with culture and craft workshops.
7) Sri Lanka
There's plenty of Sri Lanka that remains wild and untamed, which makes it the perfect destination for travellers hoping to mix thrills and breathtaking natural beauty, without scrimping on the frills and special touches that make a holiday memorable.
Cloud forest cabins, eco-lodges furnished with local goods, colonial tea plantations-turned boutique hotels, and high-end beach and spa resorts — Sri Lanka offers the lot.
Surfing, scuba diving, snorkelling, and sampling tea at the source…there's plenty to keep inquisitive minds and adventurous spirits occupied, not to mention acres upon acres of national parkland and perfect trekking terrain. And that's before you've even set foot on safari, which provides the chance to glimpse wildlife including leopards, elephants and crocs, up close.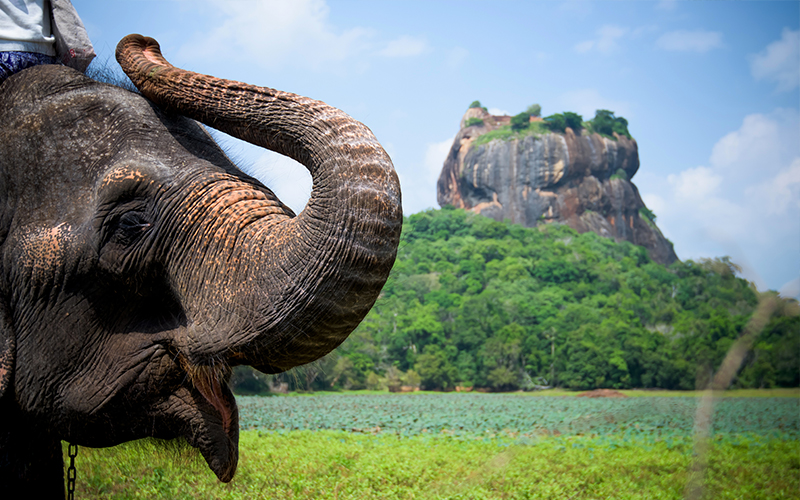 8) Canada 
Speaking of diverse landscapes, Canada deserves to be a headline-act when it comes to luxury destinations. If you're a city-breaker, sprawling Toronto, Vancouver, Ottawa, Quebec City and Montreal all offer the glitz and ritz of urban exploration. From the flagship international hotels you'd expect with fine dining, Michelin-starred chefs, piano-lounge bars, high-teas and rooftop Jacuzzis, to trendy, boutique options in historic quarters, you won't be short of options.
But, you can also easily enjoy a Canada multi-centre holiday without losing any of the luxe-factor, by escaping from the city to the lakes, jagged coastline, dense forests and general all-round ruggedness of British Colombia. There's no need to rough it in uncomfortable cabins, for there are luxury lodges, ranches and resorts aplenty, where you can rest your weary feet before you head out into the great wilderness — whether that's to whale watch, canoe or ride a train across the Rockies.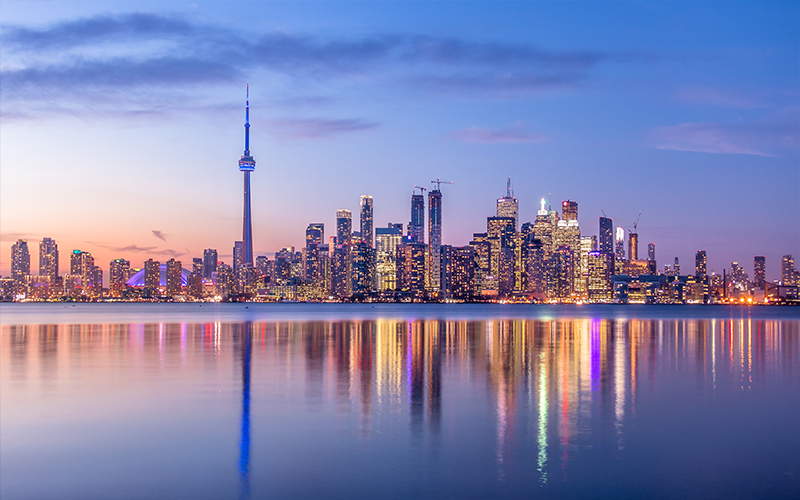 9) Mexico 
Continuously upping its tourism game, Mexico's easygoing charm means you'll find numerous gems when searching for a no-expense-spared adventure. Spoilt for choice with coastline, you can opt for the Caribbean Sea or the Pacific Ocean, the buzz of Cancun, the golden beaches of Riviera Maya, or the Mayan ruins and wellness retreats of Tulum.
It's easy to go all-inclusive as well as all-out in with a Mexico holiday package, with typical offerings including beach-facing hotels in party towns, as well as more remote eco-resorts, which take inspiration from local cuisines and cultures, as well as Mayan history. Swim-up suites, infinity pools and seaside spas, or traditional temazcal treatments, tribe visits and swimming in cenotes — you can have it all in Mexico, as exemplified by the recent trend for combing cocktails with yoga classes.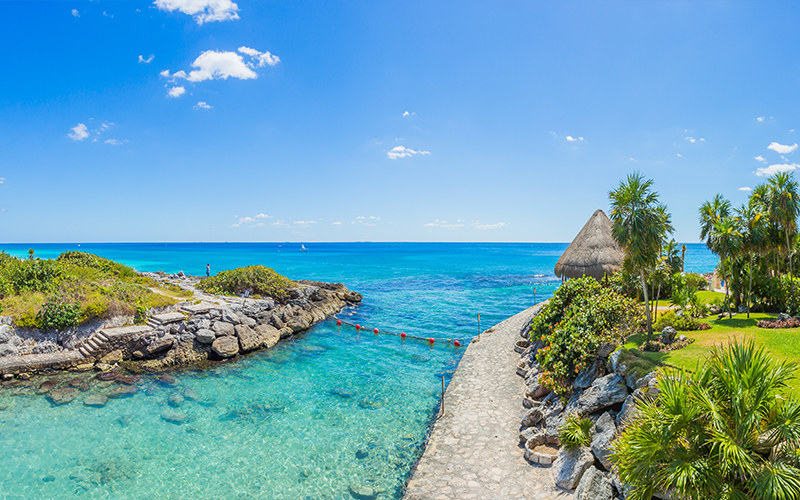 10) Cyprus
When it comes to luxurious Europe, Cyprus is making a name for itself as an excellent alternative to the usual suspects. Far away from its old reputation of wild nightlife and crowded beaches, the eastern Mediterranean island nation is drawing plenty of admirers for its rolling hills, historic towns, olive groves, Blue Flag beaches, and warm hospitality.
A banquet for those who love all-round resorts, you'll find high-quality hotels with all the trimmings. Pool dwellers, beach lovers, diving fanatics and foodies alike will find plenty to treat themselves to — whether that's lounging by the bar with drink in hand, year-round scuba lessons, or all-day dining on generously portioned local cuisine during those famously long and leisurely meals.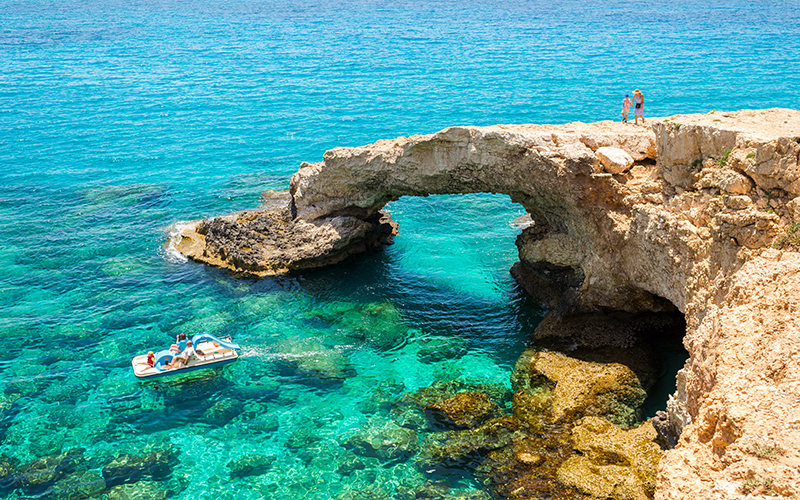 Speak to one of our holiday specialists today on 0800 0856 846 to start arranging your luxury holiday or request a quote online using our form here.