Awesome waterparks to visit for family-filled fun
Family holidays are a perfect way to spend some quality time together, whether the holiday caters for small children, teenagers or adults – we know how important capturing memories are. What better way than to add a waterpark experience in your itinerary, delve into thrilling, competitive and fast rides for a fun day out with your family. If thrill isn't your thing, don't worry as these parks are designed for the relaxers and cater for children too!
Plunge into Dubai's biggest waterpark for the brave hearted. If you're looking for an adrenaline kick, try the Poseidon's Revenge where you stand in a capsule and wait for the floor beneath you to fall and your rollercoaster begins into the unknown. Take a leap of faith on 'The Leap of faith' – this temple designed water slide is 9 stores high, find yourself speeding down a clear slide tube surrounded by sharks and crownnose rays.
Image: Leap of Faith ride at Aquaventure Waterpark 
If you love the idea of sliding above sharks, you can jump in a two person tube and find yourself in the middle of a shark filled lagoon.
For a competitive experience, race with your spouse in the world's first ever dual-waterslide, watch on the screen as your time is lit-up to see who won! There are plenty of things for small children in the Splasher's kids play area, with fun water games such as jets to water cannons.
Tip: Enjoy a free day pass in the week of your birthday as a special treat from the waterpark.
Stay at Atlantis The Palm, Dubai | Stay in the waterpark's resort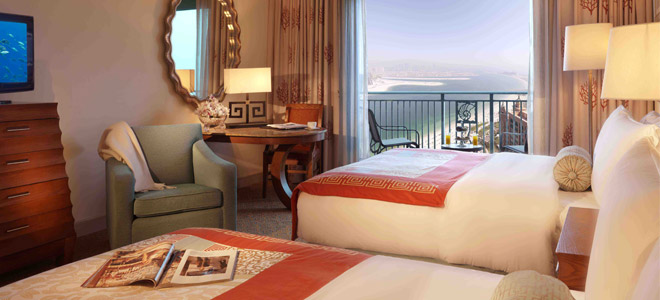 Set in its own tropical paradise, Siam Park is an adventure land that is versatile with sections for adrenaline junkies and the relaxing type of person.
The Siam Park is splashed with colour throughout as it is heavily decorated with a Thai inspired theme, covered in bright dragons and temple inspired roofs.
As you enter the park, you are greeted by Sea Lions where you can see them playing and swimming. Not too far from this is a lazy river named the 'Mai Thai River' where you can take in the sights of waterfalls and an aquarium of tropical fish. Once near the end of the lazy river you are greeted by Jacuzzi's to wind down and relax to the max.
Laugh out loud family fun can be found in the Mekong Rapids where you will find yourself submerged into the twists and turns of the circuit for a fast and fun experience. The tower of power is something everyone should try, although it's not for the faint hearted – this iconic slide is a 28 metre vertical drop (gasp!).
The lost City is a mini park for the children to enjoy their fun. Full of waterfalls, slides and climbing frames, this will keep the little ones entertained and fulfilled. For extra relaxation, visit the Siam Beach with palm trees and turquoise waters overlooking the sea.
If surfing is your thing, check out the Wave Palace as it boasts the world's largest artificial wave pool to practice or to show off your surfing skills.
Stay at Gran Hotel Bahia Del Duque, Tenerife | 9 minute drive away from the awesome waterpark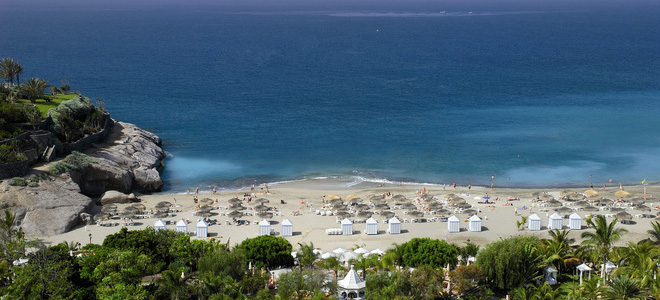 Disney's Blizzard Beach Water Park in Florida
Disney's Blizzard Beach Water Park is situated in Walt Disney World Resort in Bay Lake, Florida. This waterpark was once a ski resort that has now melted into Florida's very own Disney waterpark, decorated in fake snow to incorporate this feature into the park.
Take in the view of the waterpark  up high on an umbrella designed bench where you will see the beautiful green slopes. For the competitive type, challenge a friend on the Downhill Double Dipper where the slides are set side-by-side to bring out your competitive streak.
Challenge yourself to an ice training course where there are multiple snow inspired obstacles to challenge big kids and teens on the Ski Patrol Training Camp. Looking like a scene straight from Cool Running's, the slush gusher is a narrow slide surrounded by fake snow where you catapult yourself in twists and turns to the very end.
Designed for the fearsome, the summit plummet is a 120 foot slide for the bravest of characters. What makes this slide so fun is you get timed on your speed, so the game is on!
Stay at Disney Animal Kingdom Lodge, Orlando| 7 minute drive away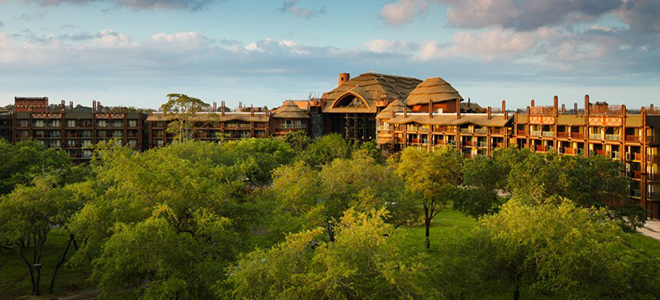 Fasouri Watermania Waterpark in Limassol, Cyprus
This 25 acre park makes this Europe's largest waterpark. For adrenaline lovers, opt for the Black Hole & Extreme Black Hole Slides where you are taken on a blind adventure through twists and turns of a 120 metre slide.
Become a human cannonball on the Black Cannons where 100 0 litres of water thrush you forward at a speed where you'll find yourself thrown out into all kinds of positions. Switch it up with a race on the Six Lane Mat Racer where you will find your inner competitive streak come alive while you battle it out with your family.
Children can enjoy child-friendly rides such as the Elephant Slide where you come out of the elephant's mouth and there are kids pools where they can enjoy playing with some new-found friends.
Stay at Le Meridien Limassol Spa & Resort| 21 minute drive away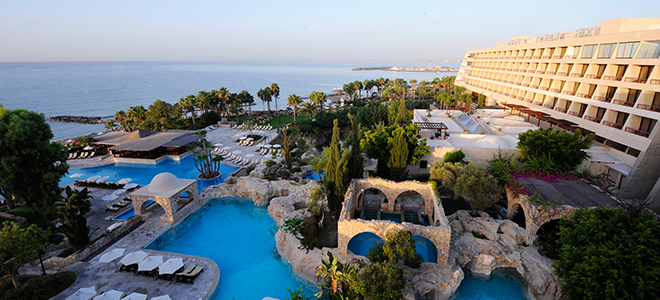 Which water ride would you dare to take on?