What to wear in Dubai
Dubai, despite being an Islamic country is very liberal and for the most part you can wear anything you like. However, there are some simple dress code guidelines to follow if you want to be respectful of the culture and tradition of Dubai whilst enjoying the trip of a lifetime. So, whether you're planning a luxury holiday for the first time or travelling with a loved one on your honeymoon, check out our guidelines of what to wear and some stylish fashion wardrobe staple essentials to choose whilst staying in the cultural and sophisticated city of Dubai.
In the Hotel, by the pool and at the beach
Dubai can get pretty hot particularly during the summer months, but both women and men must cover both their shoulders and legs when out in public. However, it's perfectly acceptable for women to wear a one piece swimsuit or a bikini on the beach or by the hotel pool. Bear in mind though, there may be other travellers or local Emiratis around who are more conservative so when walking through the hotel to get to the pool or beach make sure to cover up again. In the cultural place of Dubai, it is also inappropriate for women to sunbath topless and wear Brazilian style thong bikini bottoms as it is disrespectful. As for men they should not be walking around bare chested away from the beach, a t-shirt with offensive slogans can't be worn and shorts but only for the beach or hotel pool.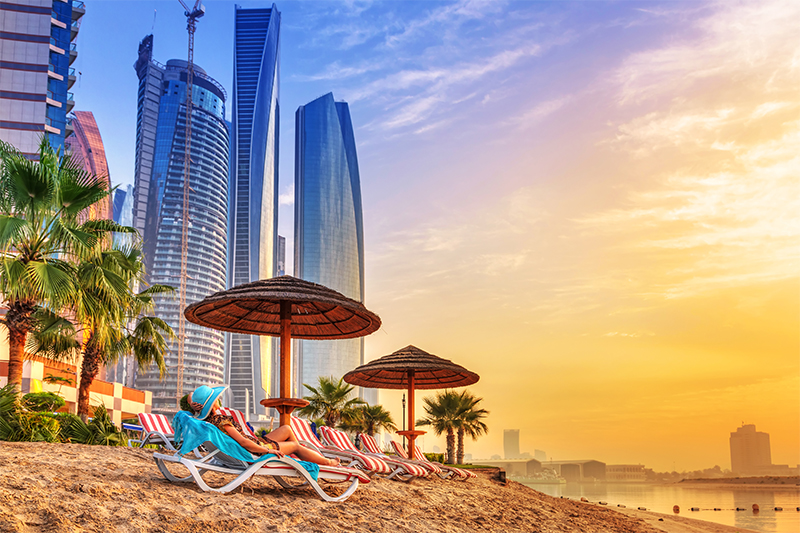 In the Shopping mall, streets and main tourist areas
Now the attire for the public places such as the shopping malls and restaurants is more relaxed but you still are expected to dress appropriately. Clothing should not be transparent and offensive slogans or images are not allowed. All the Shopping Malls, have notices at the entrances asking tourists and shoppers to cover themselves and wear respectable clothing. When out and about in the streets, souks or shopping malls, women should wear knee length skirts or shorts and have their shoulders covered. It is disrespectful to walk around in public with your bikini or swimsuit and for men with their shorts on. If you're planning to hit the shopping malls its best to cover up with a suitable pashmina or light cardigan due to the air conditioning blasting cold air. Men are expected to wear cropped length shorts or full length trousers with a light cotton shirt or t-shirt but no muscle tank tops are allowed.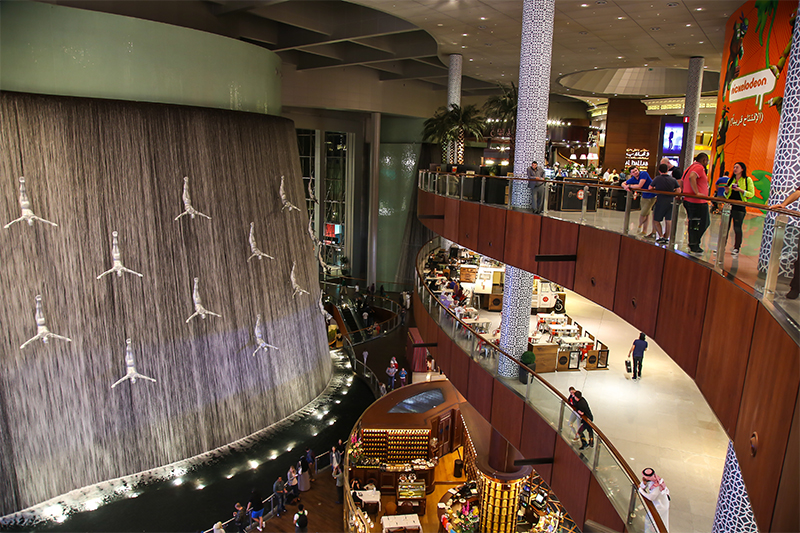 In Restaurant, Bars and nightclubs
Dubai is home to the most glamourous and must see nightclubs and restaurants in the world. So if you're enjoying the luxurious nightlife of Dubai be sure to dress smart and stylishly casual as most restaurants, bars and clubs will have their own dress code. Even though you are to dress appropriately in Dubai, in upmarket nightclubs and bars, women going out in the evening can pretty much wear anything stylish and elegant such as skirts, short dresses and high heels but does depend what part of the town. Men on the other hand may be not allowed entry if wearing jeans, flip flops, shorts and other casual attire. Therefore, wearing a nice smart shirt or trousers such as chinos and smart shoes will be recommended.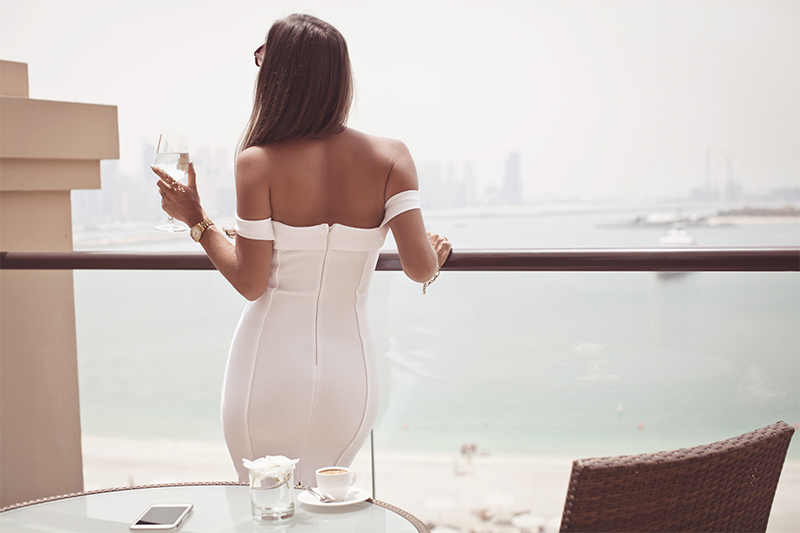 On a Desert Safari
The one thing you need to tick of your adventure list when you go to Dubai is Desert Safari and Dune Bashing. It is very popular among tourists and you won't meet any Emiratis on a desert safari. Therefore, men and women can wear almost anything they feel comfortable in such as women can wear shorts and tank tops, as for men can wear vest tops when going on a desert safari. But when riding the camels, sandboarding and dunebashing it would be best to wear something a little more comfortable. During the nights in the Summer or in the winter months it does get cold so keep in mind to bring a jacket or a sweater or even a long sleeve cardigan. As for footwear it is recommended to bring along sandals or flip flops but you can even walk barefoot as the sand is great to walk in.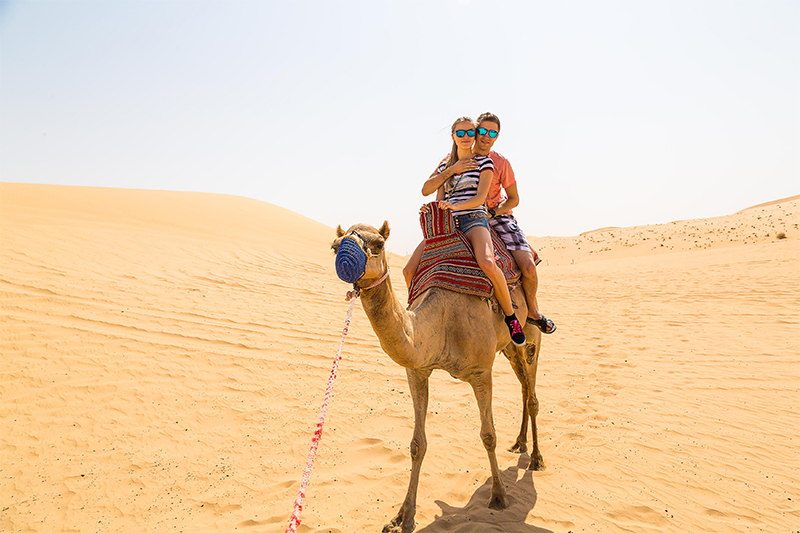 At the Mosque
As the Mosque is a place of worship there are extremely strict rules to abide by when visiting the Mosques in Dubai especially when its Ramadan. So if you are planning on visiting the iconic Sheikh Zayed Mosque in Abu Dhabi or the Jumeriah Mosque in Dubai then it is best to wear appropriate and respectable clothing. The dress code for tourists and non-tourists visiting the mosque is the following: For women – a head scarf to cover their hair, sometimes the mosques will have scarves available if you don't have one, long sleeve tops and loose clothing but black gowns can be given to wear, legs should be covered and shoes must be removed before entering. The same goes for the men except they don't need to cover their head but legs are to be covered with long trousers and shoulders with a shirt or any loose clothing. Can borrow clothing from the mosque if dressed inappropriately. Shoes also have to be removed.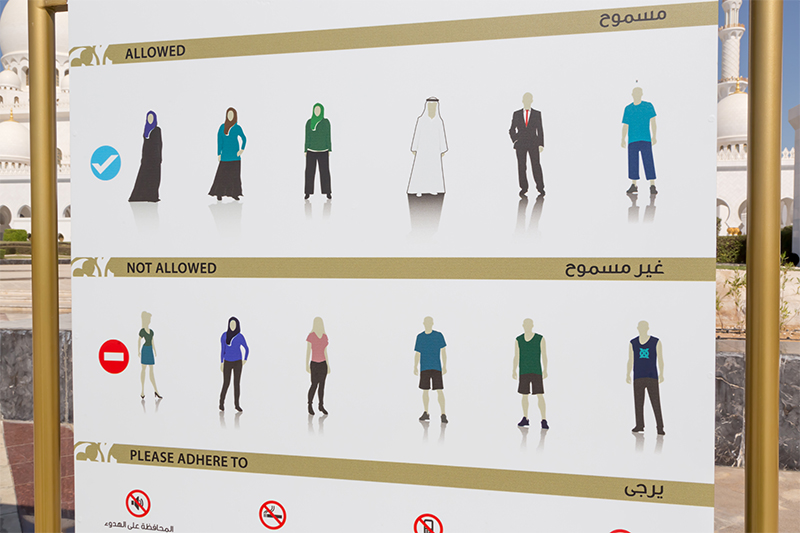 Fashion tips on what to wear in Dubai
Pashminas, boleros and cardigans can be worn to cover up the shoulders whilst walking around the streets or malls or even a night out.
Capri Pants are perfect to cover to those legs
Throw some light weight leggings on to wear under your short dresses
If visiting the mosque it may be required to wear an traditional outifit called the abaya for woman and kandourah for men. Women have to wear head scarves
Most restaurants have their own dress code usually smart casual
Recommended to wear a maxi dress and pashmina to cover the shoulders for women due to the heat in Dubai
Men should wear cotton lightweight shirts and full length or cropped trousers
Take along your best glamorous dress and bold bling accessories for a great night out in Dubai