Best Rooftop Bars in Washington
If you are planning to visit Washington DC and no doubt will be busy seeing the sights of the American Capital by day so it is essential to have the low down on the best rooftop bars in the city! The great news is that there is plenty of choice as there are more than 20 to choose from and they are the full of character and offering crafted cocktails, good wines and chilled beer, but most of them have an excellent food selection too. Read on to discover the best rooftop bars in Washington!
Top Tip:
Some of the rooftop bars are located on the roof of hotels and during the day, they are for the use of hotel guests only but by 6.00p.m. All of them have waivered this rule and everyone is welcome to enjoy an evening under the stars! A few charge an entrance fee, but this is taken off your food bill.
Perry's Rooftop Bar
Perry's Rooftop Bar is one of the oldest having been around for more than 30 years. The setting is very stylish with a roof top deck, metal tables and chairs, huge tubs of greenery to make it cosy and a stylish chrome handrail with glass panels. There is a good drinks list, which includes wines, beers, Japanese sake and a selection of Japanese whiskey! There is a wide selection of Japanese food for those who would like to make an evening of it.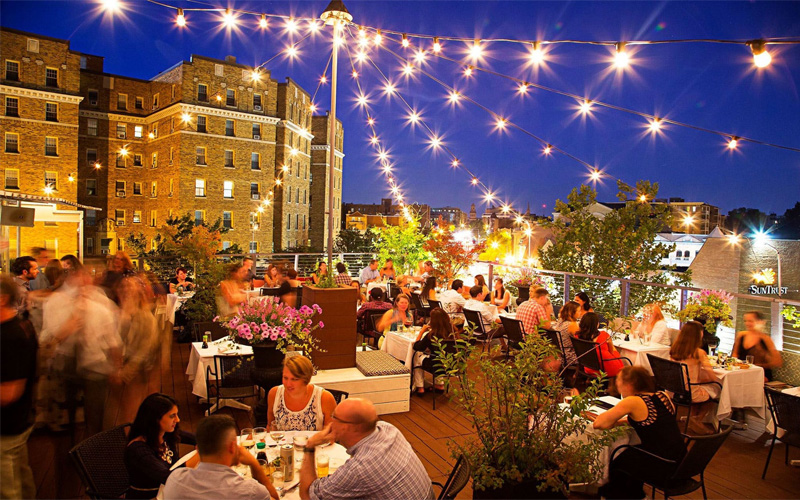 DNV Rooftop
DNV Rooftop is actually situated up on the roof of the Kimpton Donovan Hotel. It has a huge deck area overlooking the Thomas Circle, which is one of the city's main roundabouts and other city views can be enjoyed. DNV Rooftop opens to non-patrons at 5.00 p.m. and is well known for its excellent cocktails made with an Asian twist. On the food menu you will find Asian cuisine including Spring Rolls and Sushi and the ambience is vibrant with live music.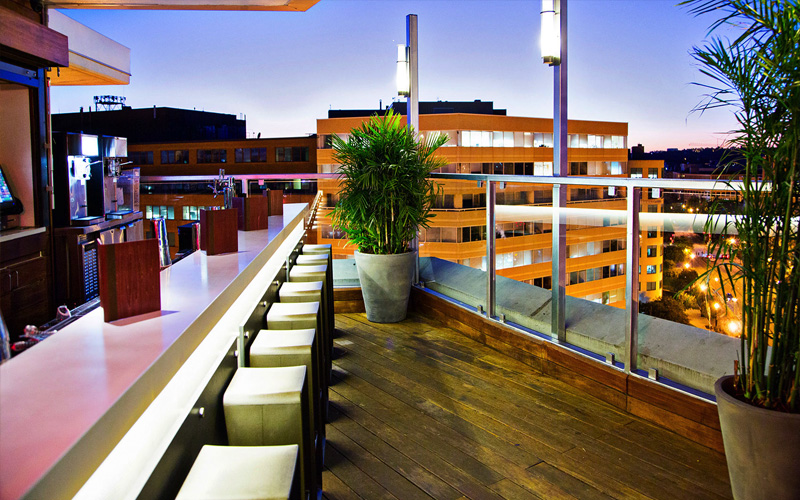 Embassy Row Hotel
Embassy Row Hotel has a rooftop bar and pool to enjoy and if you are feeling romantic you can snuggle up in a cabana to share cocktails and some tasty snacks.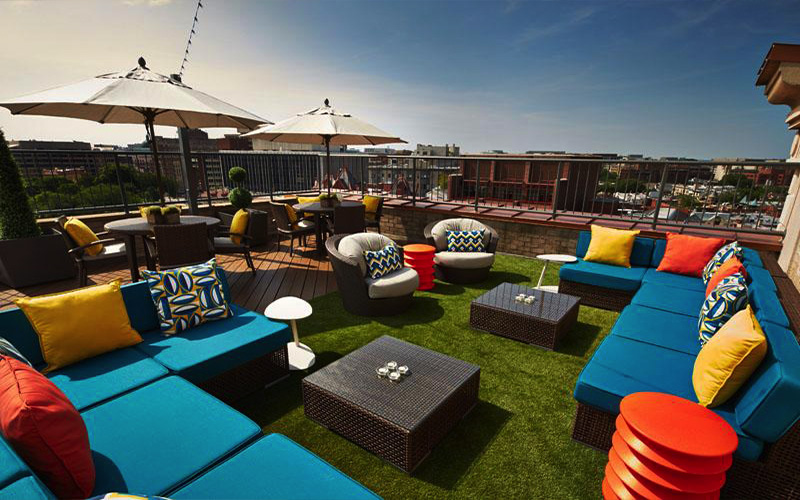 Top of the Gate at The Watergate Hotel
Top of the Gate is the appropriate name of the rooftop bar at The Watergate Hotel and is one of Washington's newest rooftop drinking perches – with another dozen scheduled to open this summer. Top of the Gate has fantastic 360º views over the Potomac River and all the city's iconic buildings. The bar has a number of signature cocktails and they make great artisan pizzas too.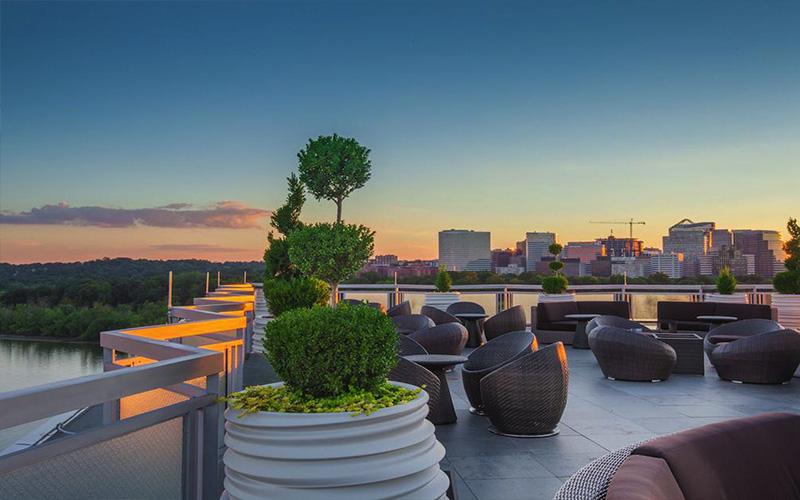 Sauf Haus Bier Hall
If you are a fan of good German beer then the Sauf Haus Bier Hall is perfect for you – imagine a German beer garden up on the roof and you will get the idea! There is a brick floor and feature wall, long wooden tables and benches with strings of lights strung across.  As well as great chilled beers, this rooftop bar serves huge accompanying pretzels!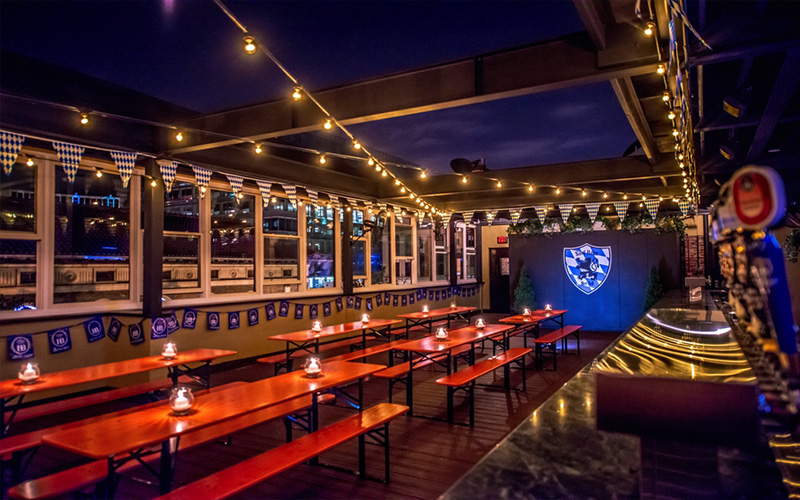 El Techo
El Techo is situated in the suburb of Shaw, but is well worth a visit. Described as a 'tree house for grown ups' because it is lined with turf, El Techo does great handcrafted cocktails including margaritas and others from South America and the Caribbean. There is good food too – tapas style, with the emphasis on seafood.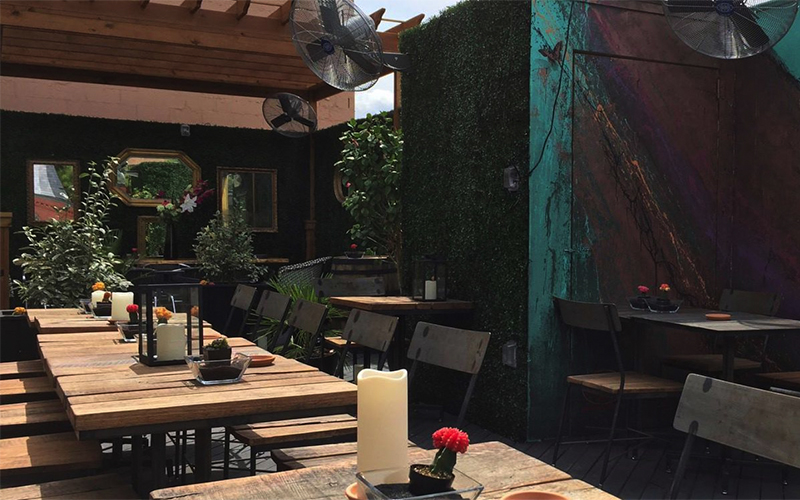 With rooftop bars becoming more numerous and more popular in Washington, it would be a shame not to check them out whilst you are there! Contact us today to discuss your next holiday in Washington.