OVERVIEW
When you think of a Peru holiday the first thing that springs to mind is a tour of Machu Picchu – and for good reason – once a hidden capital of the Incas, Machu Picchu is now a world-renowned archaeological site that attracts over half a million tourists a year.
Set up high in the slopes of the Andes you will find the ruins of Machu Picchu. The Inca trail is the well-known path to take to get to the renowned site. Feel as high as the clouds as you reach Machu Picchu, with cloud forests that will make you feel like you can touch the sky and spectacular scenery from green terraces, dramatic peaks and the remains of stone temples and palaces. If you dare to look down, you'll see cliffs that descend into the deep canyons and rushing rivers below. Also, don't forget your camera to capture selfies with the Llamas – Machu Picchu's only residents!
How to get to Machu Picchu
Pure Destinations offers a variety of Machu Picchu holidays, from escorted tours to private tours and self-guided packages. Our holidays are ATOL protected and can include guides, porters and some amenities that you need for an unforgettable hiking experience. The Inca trail is one of the most rewarding ways to climb up to Machu Picchu and to do so, you will need a permit. We advise you plan your holiday to Machu Picchu in advance to avoid missing out on a permit, as there a limited amount given each day.
The easiest way to get to Machu Picchu is from Cusco – from here you can get the train to Aguas Calientes, which is situated a few miles from the site. This journey will take around 3.5 hours and is a scenic route creating magical memories where you journey along the Urubamba Rivera in the Sacred Valley, which offers breathtaking vistas of majestic canyon walls.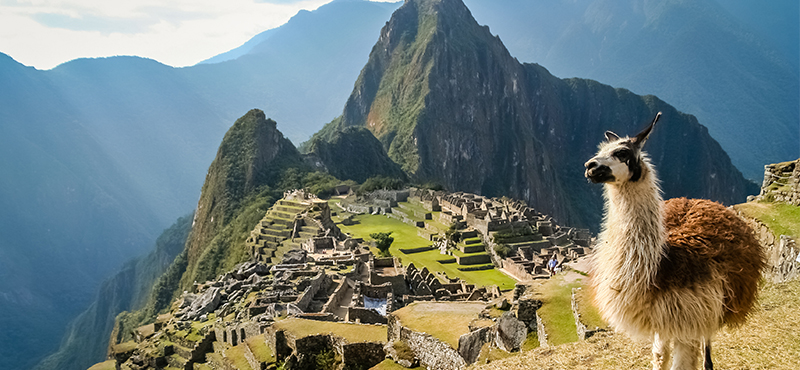 The Inca Trail
Possibly the most famous trek on a Machu Picchu holiday is the Inca Trail, the journey takes you through the pathways that the Incas would have taken from the mid-15th to the 16th century. Although a physical challenge, an Inca Trail holiday is truly rewarding with views from alpine tundra to mystical cloud forests and tropical jungles – not to mention the Inca ruins you'll find along the way. The Inca Trail isn't for the faint hearted, make sure you're in good health before attempting this trail, as the altitude reaches 4,200 metres whilst crossing the 'Dead Woman's Pass'.
The route can be done in about 4 days (or you can do a quicker 2-day trek) and you will stay in tents along the route. The number of permits per day is capped to 500 and the permits are released in January, which tend to sell out quickly so it's worth planning well ahead. The 4-day Inca Trail tour is a great way to really delve into the site's history and culture whilst sharing the experience among other traveller's in the group. Contact us today about planning your Inca Trail holiday package on 0800 0856 846.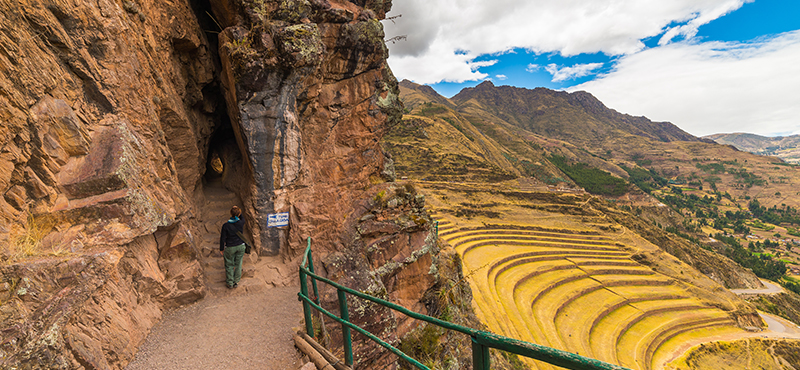 The Salkantay Trek
The Salkantay Trek is a fantastic option for travellers looking for something out-of-the-ordinary when it comes to an unforgettable holiday to Machu Picchu. There are multiple trails to consider when planning your Machu Picchu holiday package and we know that one size doesn't fit all, so depending on your experience of travelling to Machu Picchu and your passions, we can offer alternative treks to that allow you to explore off-the-beaten-path for something different.
The Salkantay Trek offers the closest alternative to the Inca Trail route, but without the volume of hikers and tourists that the Inca Trail attracts. Wind through the gorgeous and breathtaking Andean scenery en route to Machu Picchu, with around 15 different ecosystems along the way. Unlike the Inca Trail, which accesses Machu Picchu through Sun Gate, the Salkantay Trek finishes at Santa Teresa near Aguas Calientes town. This trek also allows you to take in the stunning and exclusive views of the Llactapata Mountain, which can't be seen on any other trek! In comparison to the Inca Trail, this trek is slight longer with a 5-day trek or a shorter 3-day trek. If you are looking for something luxurious, there's the option of a 7-day trek, which you will stay in a mountain lodge with 4 or 5 star accommodations. The maximum altitude is 4,600 metres when crossing the Salkantay Pass.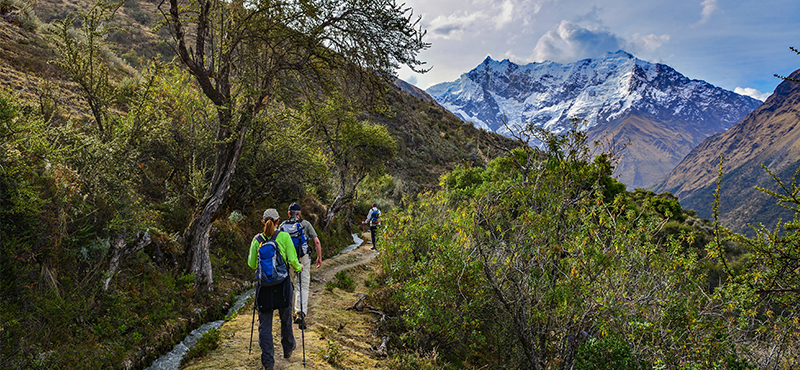 The Lares Trek
Those seeking a remote style of trekking on a holiday to Machu Picchu should consider the Lares Trek, which offers an experience away from the crowds. On the route, you'll pass through isolated villages, meeting the locals to really get a glimpse into what life is like here today. The Lares Trek is a truly wonderful experience that allows you to delve deeper into the culture and heritage to really immerse yourself into the way of life in this part of the Andes. Along the route you can stay in mountain lodges to relax and take time to capture the beauty of the sceneries that surround you.
The trail finishes in the town of Ollantaytambo and from here you can hop on a train to Machu Picchu, which is considered to be one of the most amazing train journeys in the world! Overall, the trek lasts around 4 days and has a maximum altitude of 4,450 metres while crossing the Ipsaycocha Pass.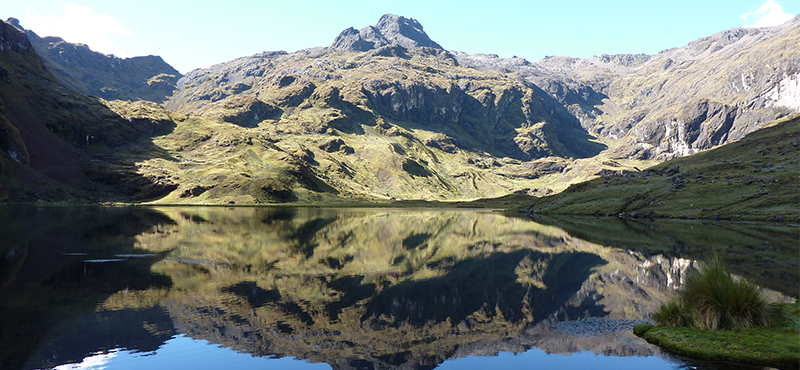 For ultimate location: Belmond Sanctuary Lodge
Located just a few steps from the entrance of the Inca Citadel of Machu Picchu, the unrivalled and exclusive location of Belmond Sanctuary Lodge offers a unique experience where you are treated to first class service and hospitality. This peaceful hideaway near the foot of the entrance offers delightful experiences to try on your Machu Picchu holiday, from delicious dining offerings that are grown from the lodge's own plot, to tranquil spa treatments to take care of your muscles and a selection of gorgeous rooms, with some offering majestic mountain views.
There are also a variety of experiences to try out – from treks and tours to coca leaf readings, bird watching and ancient Pachamama tribute ceremonies.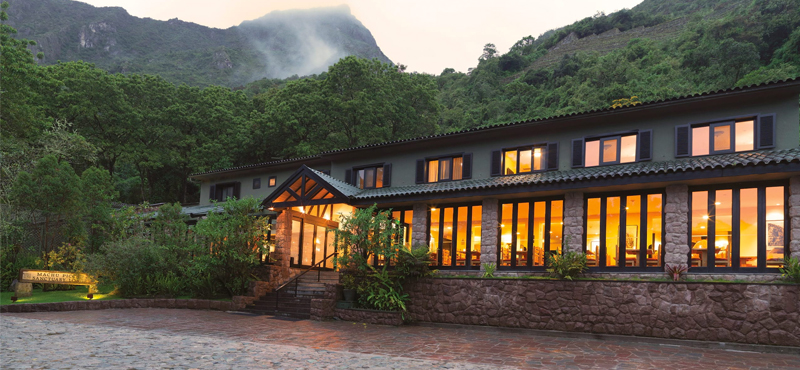 What to pack on your Machu Picchu Holiday
When planning your holiday to Machu Picchu, it's important to come prepared. Although some of our tours offer some amenities, having your own gear and equipment is necessary. Here's a list of our top things to pack:
• 40+ litre hiking rucksack
• Hiking boots or walking shoes
• Rain gear
• Hiking trousers and shorts
• Fast-drying base layers
• Comfy shoes and flip flops
• Cold-weather jacket
• Gloves and hat
• Long-sleeve fleece
• Baseball cap or sun hat
• Walking socks
• Sunscreen
• Insect repellent
• Casual wear for evenings
• Camera/GoPro
• Refillable water bottle
Where is Machu Picchu?
Machu Picchu is located in Peru. The best place to get to Machu Picchu is from Cusco to take the train to the town of Aguas Calientes.
When is the best time to go to Machu Picchu?
The best time to go on holiday to Machu Picchu is between April and November.
How long is a flight from the UK to Machu Picchu?
A flight from London to Cusco, Peru is 12 hours and 53 minutes.
What language is spoken in Machu Picchu?
The official language in Peru is Spanish. Aymara is also widely spoken.
What currency is used in Machu Picchu?
Nuevo Sol (PEN)
What is the time difference in Machu Picchu?
Machu Picchu is 5 hours behind UK time.
Do I need a visa to visit Machu Picchu?
You don't need a visa to visit Peru. For up to date travel advice to Peru, visit the FCO website here.