What to expect on a Norwegian fjord cruise
Experience the breathtaking surroundings of Norway, where panoramas of mountains, glaciers and deep coast fjords become your morning view from your luxurious sea view stateroom. Norway is certainly best when seen up close, and with our captivating Norwegian Fjord Cruise, you'll get in on all of the natural happenings as they appear in view.
The Norwegian Fjord Cruise opens the door to some of the most intriguing and charming destinations in Norway. Explore the world's wonders from UNESCO World Heritage Sights, picturesque towns and coastline excursions that will lure you into learning a new skill.
Norwegian Fjord Cruise Highlights
Bergen Cruise
Bergen city, also known as the 'gateway to the fjords of Norway', earns its name for being enclosed by seven majestic fjords. Neatly nestled on Norway's southwest coastline, this picturesque town is proudly listed on the UNESCO World Heritage list! Enjoy the spectacular surroundings of this cozy tight town along with its wonderful highlights; the renowned Bergen Aquarium is among the best attractions to visit as well as scenic cycling tours of the town and kayaking along the coast in the summer.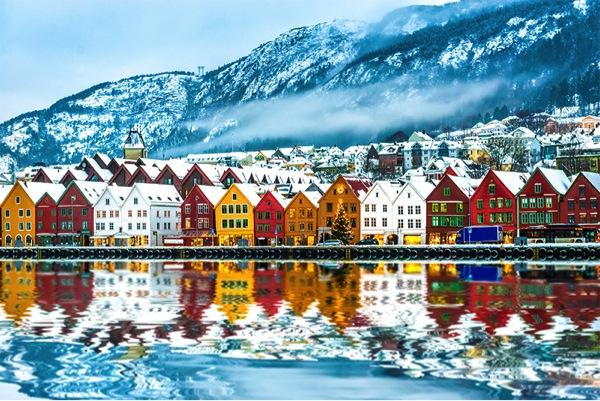 Oslo Cruise
Oslo is the capital of Norway and sits on the southern coast. This thriving capital is rich in culture and heritage. During the day Oslo becomes a haven for culture and café lovers, then transcends into a lively capital come sunset as the bar and restaurant scene comes alive! Oslo showcases artistic flare from its bustling street galleries, the 18th Century wooden homes on Damstredet and modern avant-garde architecture.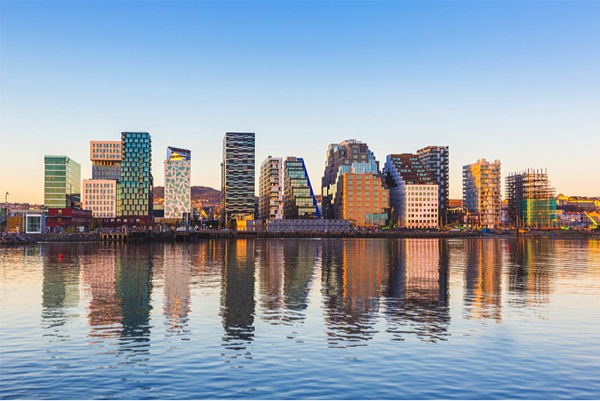 Geiranger Fjord
Located at the foot of the Skagefla Mountain, adorned in a blanket of green verdant, trickling waterfalls and majestic mountain walls. Geiranger fjord is a gorgeous gem for any sightseer, with amazing kayaking opportunities as well as seeing the grand Seven Sisters waterfall.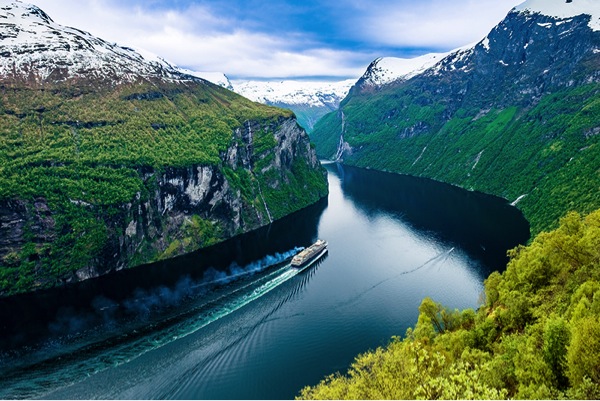 Itinerary
Day 1 – Southampton, England
Begin the Norwegian Fjord Cruise at Southampton's bustling port with a fine selection of pubs and restaurants. You'll embark on the cruise from here.
Day 2 – At Sea
Enjoy the comforts of your stateroom and onboard amenities while your journey to Bergen gets underway. Don't forget to enjoy the wonderful changes of sceneries along the way!
Day 3 – Bergen, Norway
Your ship with dock mid-morning, why not explore the beautiful wonders of the picturesque town of Bergen? After a fun filled day of venturing this UNESCO sight, you'll board back on ship come evening where you will begin travel to the next destination.
Day 4 – Flam, Norway
Set in the longest and deepest fjord in Norway sits the town of Flam. Surrounded by steep mountainsides with a collection of enchanting waterfalls and valleys, you'll discover a sensational day filled with the natural charm of Flam. By early evening you will head back to your ship en route to your next destination.
Day 5 – Geiranger, Norway
Geiranger is a splendid tourist village in the Stranda Municipality of the head of Geirangerfjorden. Encircled by the famed Seven Sisters waterfall and awe-inspiring panoramas that it presents. Geiranger is the perfect place to enjoy some excellent kayaking through the calming seas where you will really take in the awe-inspiring vistas.
Day 6 – Alesund, Norway
Alesund is a picturesque fishing port boasting charming Art Nouveau architecture that puts this elegant coastline town on the map.
Day 7 – Stavanger, Norway
Begin your early morning ventures in the charming city and fishing village of Stavanger. Culture lovers will want to visit the Domkirke Cathedral, which is classed as one of Norway's most beautiful buildings.
Day 8 – At Sea
Spend your last day at sea pampering yourself after a smooth sailing journey through some of Norway's most beloved towns. This is a great way to catch up on some sleep or admire the wonderful views one last time.
Day 9 – Southampton, England
After an amazing 8-day adventure through Norway, you'll safely arrive back to Southampton to make your way home.
Norwegian fjord Cruise itinerary is based on Celebrity Cruises, to book please call 0121 446 4932