Tour Overview
Ride your way through the desert oasis of Marrakech Palmeraie in this thrill-seeking adventure of a lifetime. These quad bikes reach up to an impressive speed of 80 km with low center of gravity and over-sized wheels for great control to enhance your experience, how else could you have this much fun on four wheels in the desert?
Spend 2 and a half hours trailing through the desert with fantastic winds, twists and turns, towering palm trees and venture past the Berber hamlets for a taste of exotic Morocco on this exhilarating experience.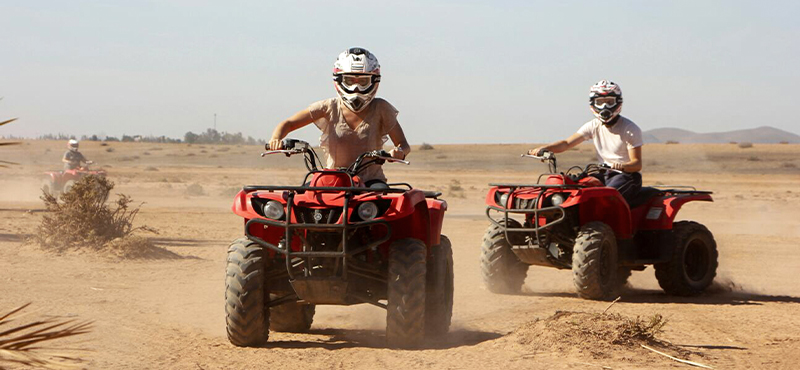 Are you interested in adding the quad biking in Marrakech excursion to your holiday? Contact us today to learn more!
Further Information
Quad biking in Marrakech operates all year round starting at either 9am or 3pm and is approximately 2.5 hours in duration. It is advised to check your personal level of cover on your travel insurance. Bring along casual clothes (trainers, jeans, sandals, t-shirts). Strictly no swimwear or bikinis allowed. The minimum age for a driver is 18 years and minimum passenger is 12 years old.
Back to Morocco