Tour Overview
Discover the beauty of Marrakech from above in this thrilling hot air balloon flight through secluded Berber villages, snow-capped Atlas mountains and the must see from above deserts.
This hot air balloon flight begins in the early morning, offering the most incredible morning sky views of warm golden sunlight bursting out of the horizon as the day begins to rise.
The hot air balloon is prepared and inflated (you may take part if you wish) you gently float into the golden morning sky where your pilot will prevail the wind currents to steer the way through the ancient villages of Berber then onto the majestic snow-capped mountains where you will witness the incredible sights of nature. This Marrakech Hot Air Balloon flight is the perfect excursion for those who love outstanding sceneries with unobstructed views. Savor this once in a lifetime experience by snapping up some of your favourite sights from above.
Once back on ground, after your incredible journey through Marrakesh, enjoy a traditional breakfast in a tented area in front of the beautiful Atlas Mountains. Breakfast includes mint tea, Moroccan pastries and fresh bread dipped in Olive oil. After breakfast, continue your adventure at the famous Palmeraie of Marrakech for a short camel ride to enjoy natural sceneries at eye level.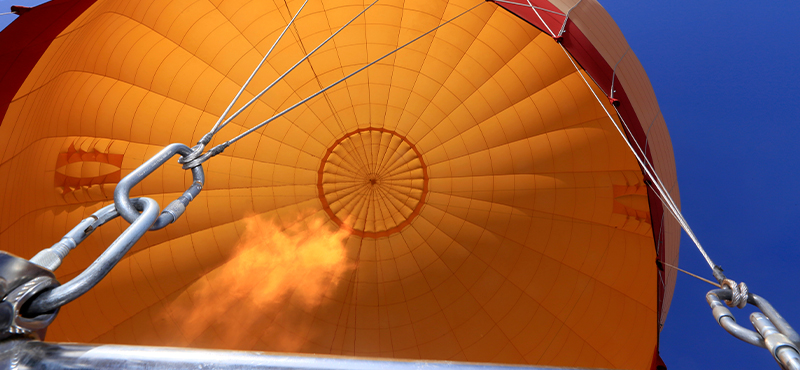 Are you interested in adding the Marrakech Hot Air Balloon flight to your holiday? Contact us today to learn more!
Further Information
This tour is available daily all year round except 10 July – 30 August due to high temperatures. The starting time of Marrakech Hot air Balloon Flight is usually 5.30am and 6.30 am and lasts around 5 hours in total, the actual hot air balloon lasts around 40 minutes depending on weather conditions. Wear comfortable casual clothing with closed toe shoes as a must, it is recommended to bring along a warm jumper and a pair of sunglasses. This tour is a shared tour with up to 8 people in the hot air balloon.
Back to Morocco