Top 10 things to do in Singapore
If you're searching for Singapore hotel deals, pencil in a few extra days to explore – as this unique island city-state is much more than simply a glamorous stopover or quick city break. A futuristic destination abuzz with innovative public gardens and inspiring architecture, this South East Asian hub has a fantastic food scene with Malay, Indian and Chinese influences, as well as a balmy tropical climate, world-class hotels and a fascinating history. Read our recommendations for the top 10 things to do in Singapore – then contact us at Pure Destinations and we'll help you book a holiday to remember.
1. Garden State
There's no such thing as an ordinary garden in Singapore. With ambitions to become the "City in a Garden", its green spaces are world-renowned. You'll never be far from an oasis filled with flowers and fauna, which makes Singapore an ideal destination for family trips as well as romantic getaways.
Interactive, artistic and awe-inspiring, you'll be spoiled for choice for scenic walks and places to picnic. Visit Gardens by the Bay, a sprawling 250-acre nature park, which features three waterfront gardens and the largest glass greenhouse in the world. Be sure to also pay a visit to the park's iconic Supertree Grove, a collection of tree-like vertical gardens that house exotic plants, harness solar energy to help power their own environment and become part of a dramatic light and music show for an hour every evening.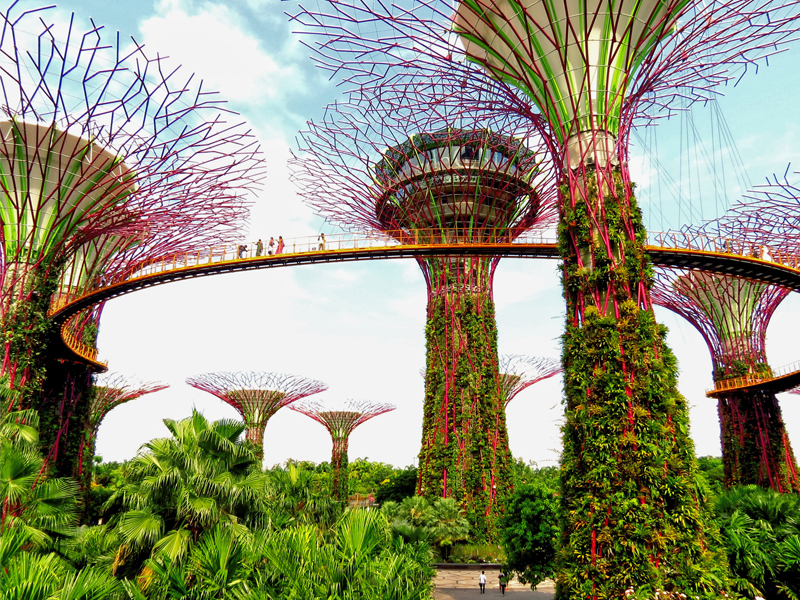 2.Take a trip to Chinatown
Experience part of Singapore's fascinating heritage and culture by visiting the maze of streets that comprises its colourful and atmospheric Chinatown. Best known for its 'Food Street', you can spend 11am to 11pm snacking on noodles at hawker stalls and sampling fried oysters while seated outside on plastic tables and chairs – until your heart's content.
By the time you've eaten your weight in street food, there still are historic temples, traditional medicine shops and bakeries to peruse – as well as cultural offerings in the way of the Chinatown Heritage Centre and Chinatown Crossings, a theatre performance set in a traditional shophouse.
3.See Singapore from on-high
Singapore is worth seeing from up high, so that you can really appreciate its striking skyline. There are a number of ways to take in the view, and all are equally entrancing. Hop into a cable car at Mount Faber and peer out across the harbour, ascend to the top of the imposing Tiger Sky Tower for views in a rotating cabin, or see all the way to Malaysia and Indonesia while sipping Champagne from one of the air-conditioned cabins in the Singapore Flyer, a 165m-tall observation wheel.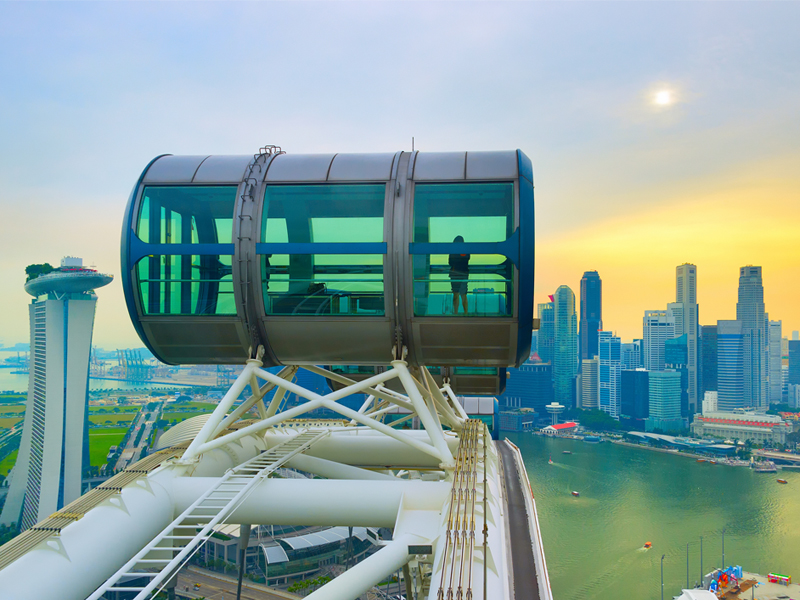 4.Go on safari
A safari may not be the first thing that springs to mind when you think of Singapore. But this exotic island has its own take on animal adventure. Choose Night Safari, a nocturnal wildlife park which focuses on breeding threatened species. You'll take a memorable 40-minute tram journey through the wilderness – and you can even dine onboard while you do so.
Alternatively, for daytime animal action, check out River Safari – a zoo and aquarium that focuses on freshwater friends and ecosystems. Spot manatee, jaguars and anteaters, or relax on a Reservoir Cruise.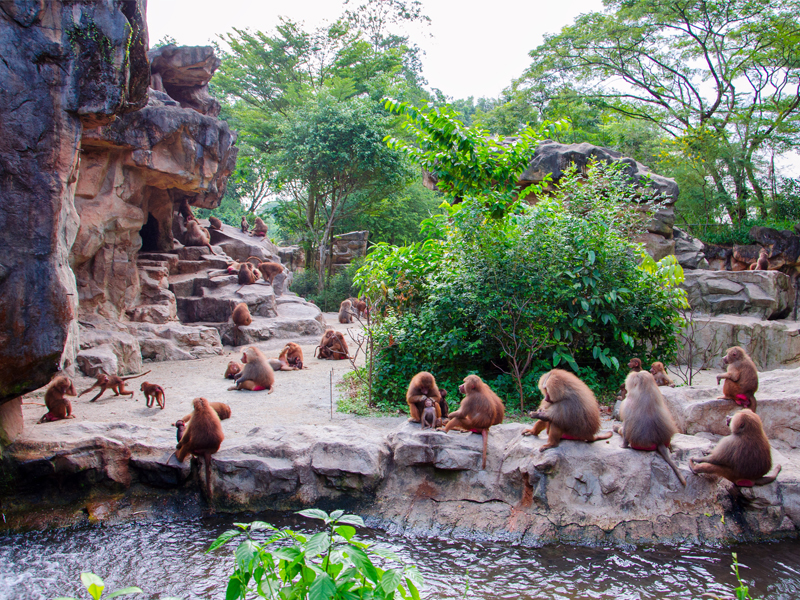 5.Shop until you drop
If it's a taste of luxury living you're seeking, Singapore won't disappoint. Hit Orchard Road, one of the city's most famous shopping areas, for high-end boutiques, department stores and malls featuring top brands. Stroll past the shops, viewing outdoor artwork along the way, and finish your retail therapy in style by dining out in one of the district's world-class restaurants.
6.Singapore Botanic Gardens
Ideally placed near to Orchard Road, the Singapore Botanic Gardens (SBG) make a perfect place to pause and escape from the city. Around 160-years old and one of only three gardens to be named a UNESCO World Heritage Site, this tropical green space is more than just a little bit special. Here you can view The National Orchid Garden, the interactive SBG Heritage Museum, or stop for refreshments at one of the many cafes and restaurants.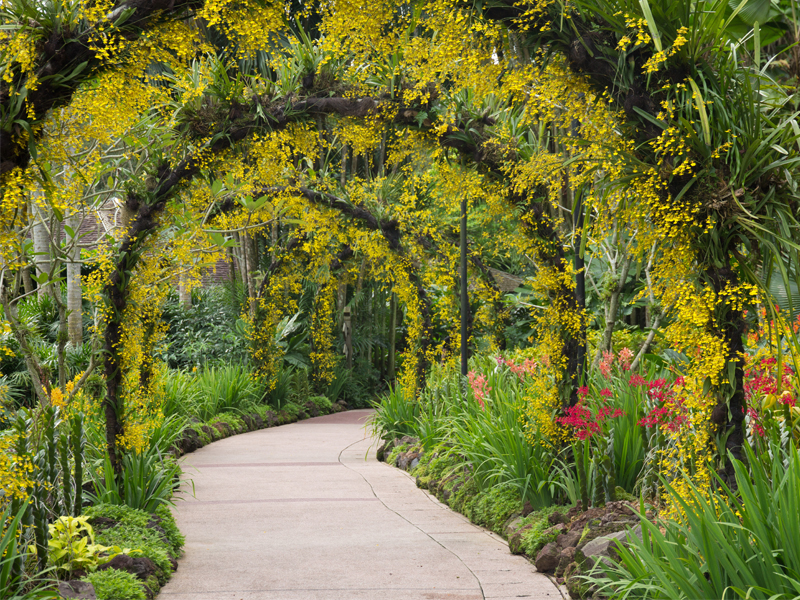 7.Spot urban otters
One of the most unique things to do in Singapore – go wild otter spotting. Usually seen in a zoo or a nature park, here you can admire the cute critters out in the open. Usually noticed in the early evening, the Singaporean celebrities cause a stir by popping up on shores and riverbanks around the island – or even in water features at the heart of the business district. Just remember to keep your distance and turn your flash off.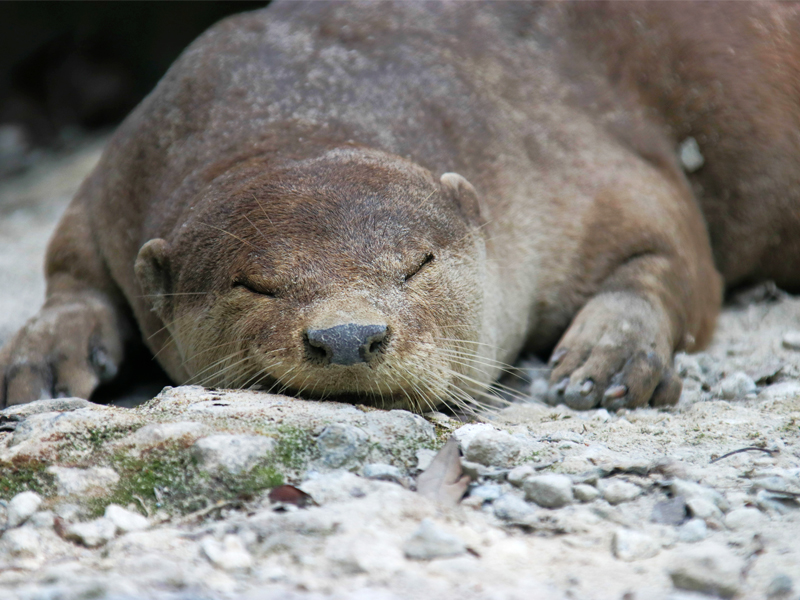 8.Buddha Tooth Relic Temple
Tucked away in Chinatown, the Buddha Tooth Relic Temple and Museum provides a great opportunity to explore Buddhist art and artefacts. A beautifully designed temple in the Tang Dynasty style, its centrepiece is an imposing gold tooth relic weighing 3,500kg. Explore by yourself as entry is free, or add more to the experience by taking a workshop on Buddhism or a two-hour guided tour.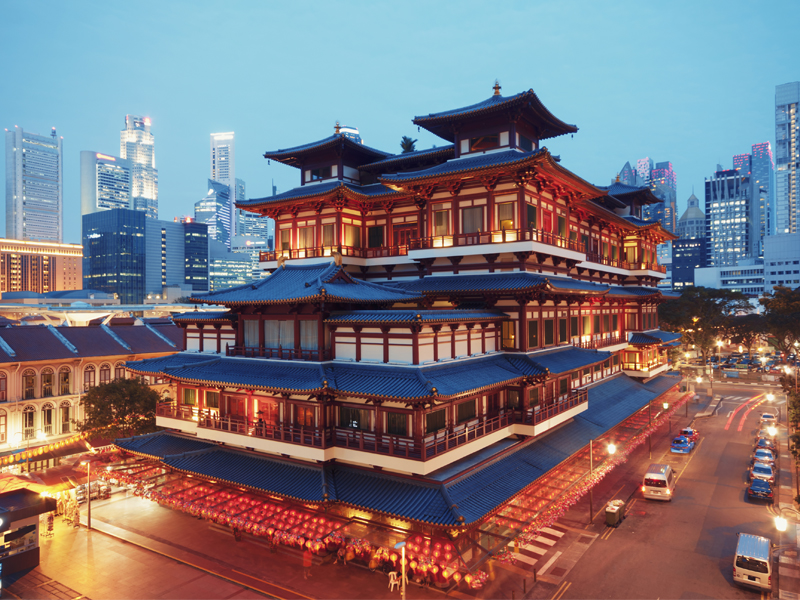 9.Jurong Bird Park
Part of Wild Reserves Singapore, which also runs the Night and River Safari experiences, Jurong Bird Park is focused on conservation and breeding endangered species. Take the opportunity to view around 400 birds across over 20 hectares of land, with highlights including huge walk-in aviaries, a waterfall and exhibits including a Penguin Cove.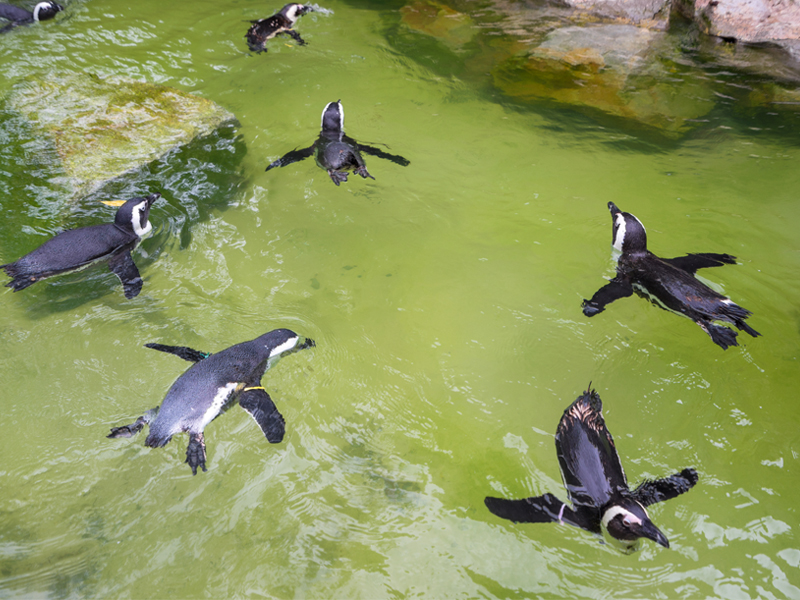 10.Hit the beach
Sentosa, an island resort just off Singapore and connected by walkway, road, monorail and cable car, is the place to visit for sun, fun and sand. Relax on one of the three beautiful beaches, take the plunge with a zip-wire experience over green jungle at the Mega Adventure Park or explore the impressive S.E.A Aquarium.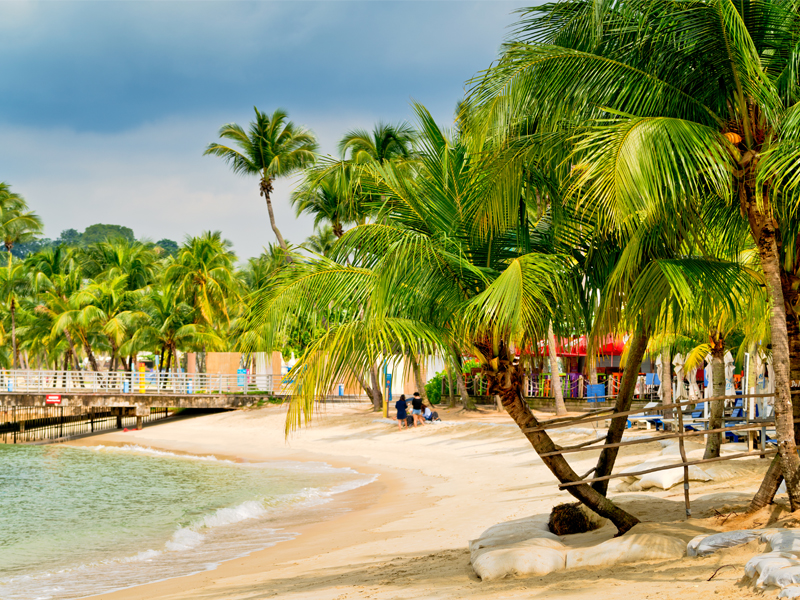 Inspired by our top 10 things to do in Singapore? Contact a Travel Expert at Pure Destinations online or call us on 0800 0856 846