Summer vs Winter in Switzerland
Switzerland is a popular holiday destination – for both short breaks and long, but there's much more to the Alpine nation than you may first think – if you can get past clichés about chocolate, skiing and world class watches.
Best known for its powder-soft snow, exciting slopes, wide range of winter sports and cosy chalets, the Central European country is landlocked – nestled in between Italy, France, Germany, Austria and Liechtenstein; this makes Switzerland officially multi-lingual and a fascinating country that's influenced by its many neighbours. Home to beautiful lakes, mountains, forests, and quaint countryside villages, as well as bustling cities stacked with arts, culture and history, it's an excellent year-round destination thanks to its natural beauty and fantastic transport system.
So, is Switzerland better in winter or summer? We compile the best things to do in each season to help you decide whether to book a stay at a Swiss ski resort or visit in the sunshine months. Call us today on 0800 0856 846 to plan your Switzerland holiday!
Winter
Take the scenic route: There are no seasonal restrictions on taking the train but, although the Swiss countryside looks plenty scenic when it's lush and green, it's an all-together different experience to glide through the Alps while everything is covered in a sparkling blanket of snow. A quintessential Switzerland winter break experience, you'll be spoiled for choice with railway routes that twist and curve while providing mesmerising mountain views. If you take one of the nation's most famous journeys, on the Glacier Express, you can dine and drink at your own pace while taking in the sights – as you're carried from the bottom of the majestic Matterhorn glacier to the alpine Engadine valley, in a leisurely eight or so hours.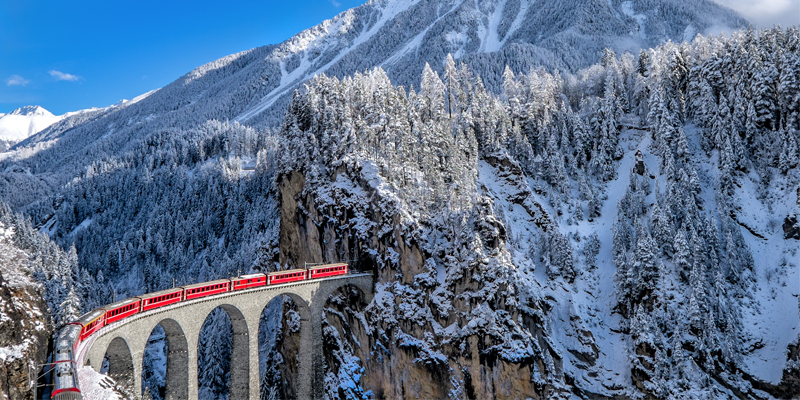 Photo: Glacier Express
Hit the slopes: Whether you're a pro, a novice or a total newbie, there's a slope for you in Switzerland. It's almost a rite of passage to make a frosty foray into the mountains via cable car to try and stay upright on your vehicle of choice – skis or snowboard – before returning to your accommodation, and the bar, to warm up with a glass of kirsch or a hot chocolate. There are a great variety of ski resorts in Switzerland, from the most famous, such as a Zermatt, Verbier and St Moritz, to slightly lesser known lights like Arosa-Lenzerheide. Choose what's best for you according to proficiency, budget and whether you want to party or enjoy a tranquil trip with the family.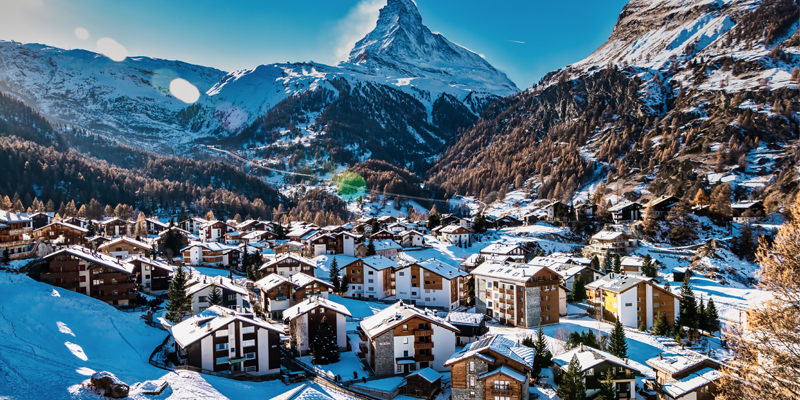 Photo: Zermatt & Matterhorn Mountain
Be cheesy: Arguably Switzerland's most famous meal, fondue is best consumed after a chilly day on the slopes and it's a decadent dinner worth sharing. Dip whatever you want into your puddle of gooey, melting cheesy goodness – although the traditional dish of Emmental and Gruyere is usually consumed with chunks of crusty bread and followed with a shot of Calvados. You'll want to choose somewhere the locals go for a truly authentic experience, which means you'll find the best of this delicacy during the snowy months.
Soak it up: Try out one of Switzerland's rejuvenating thermal baths, such as the Mineral Baths & Spa Rigi-Kaltbad, to relax and rest your weary feet after winter sports adventures. Bathing in steaming hot water after being out in the cold all day is hard to beat, and these baths, situated on top of Mt Rigi, are best reached by cable car. Once you're up there, you can unwind with spectacular views from the outdoor pool, and lounge in an indoor herbal sauna.
Make a run for it: You don't just have to stick to your skis and snowboards while in Switzerland; you can also embrace your inner child and go tobogganing too. One of the nation's most famous toboggan runs is the Preda-Bergün route, which also happens to be Europe's longest flood-lit run at 6 km – it'll see you shoot dramatically through the Albula Valley towards your destination, Cool Runnings-style. You'll have to use the Rhaetian Railway to get there but you can hire a toboggan on site. It's not quite the same as using your plastic sledge…make sure to hold tight.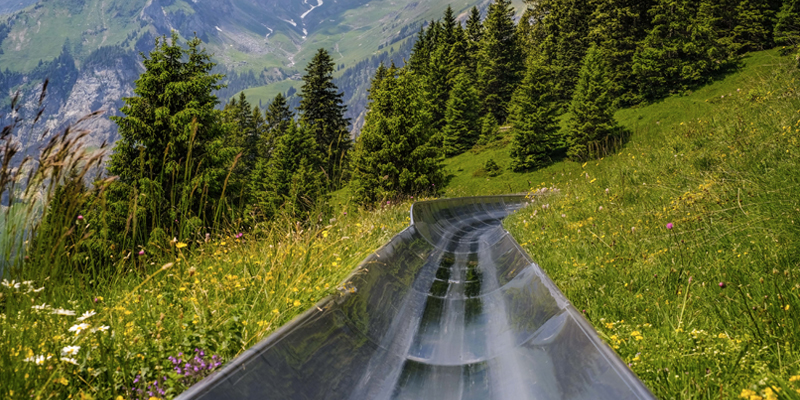 On thin ice: There are ice rinks aplenty in Switzerland, with the cold weather a great excuse to get your skates on and show off. Ice skating season follows on from the skiing season, which can make it a great way to end your holiday – and it's an activity all the family can enjoy. You'll be spoilt for choice when it comes to rinks around the big cities, but Vevey-sur-glace is a popular pick, as the artificial rink covers around 600 sqm and is set next to a natural lake, meaning holidaymakers and locals alike can glide and slide while enjoying a spectacular sunset.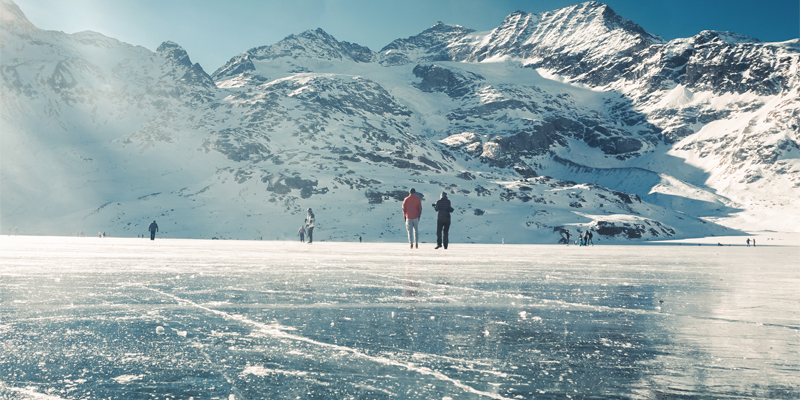 Photo: Lago Bianco
Join the festivities: A winter wonderland writ large, Switzerland doesn't have to work hard to give you that festive feeling. But why not take it up a notch and visit one – or many – of the Christmas markets? Whether you celebrate Yuletide or not yourself, it's a perfect excuse to take part in the local celebrations or just to go shopping. You're sure to pick up some fantastic homemade and traditional gifts, hear carols and find plenty of festive food and drink to enjoy. Every city and town will offer its own unique spin on things and Basel, Zurich and Lucerne are just a handful of the most famous spots for celebration.
Summer
Water features: When summer arrives, it's an excuse to explore – and where better to enjoy the warmer weather than Rhine Falls, apparently the largest waterfall in both Switzerland and Europe? A spectacular sight of blue and white amid rolling green hills and trees, the rushing waters can be seen up close from platforms that jut out over the river. The brave can also venture to the famous rock in the middle of the falls via a tour, or even rent a canoe to explore themselves.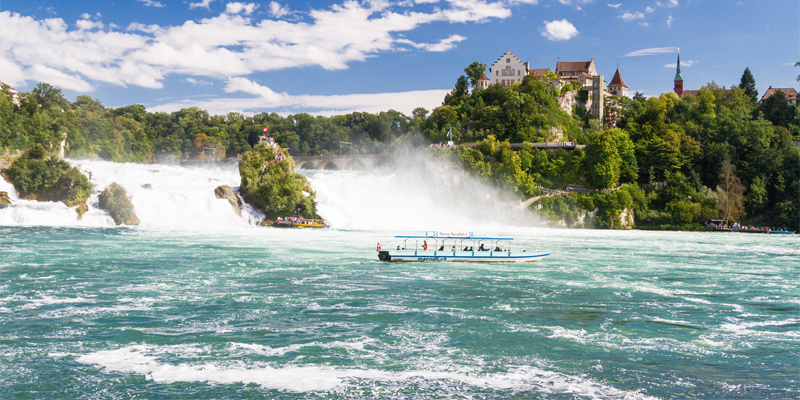 Chillon out: You won't be short of castles to visit in this fairytale-esque kingdom. With the sun shining down, history buffs can take their pick of many almost perfectly preserved fortresses and even picnic in a courtyard or two to make the most of Swiss summer time. Oberhofen Castle on Lake Thun, hilltop Tarasp Castle, and picturesque Chatue de Chillon in Lake Geneva are just a few of the country's most famous.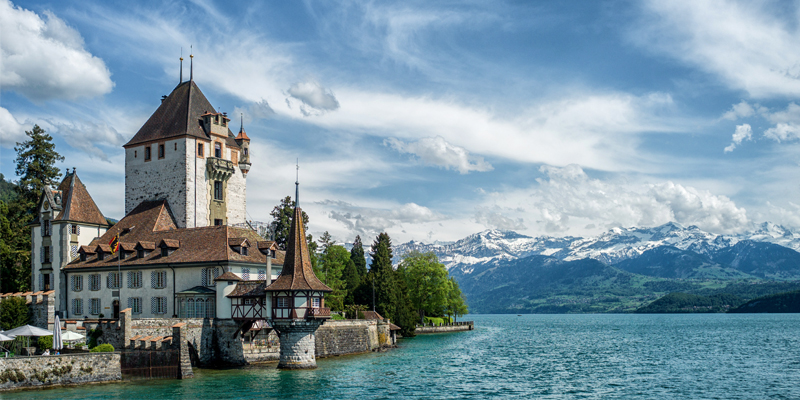 Photo: Oberhofen Castle on Lake Thun
Top of the lake: With the snow and ice making way for lush greenery, Swiss summer time is your chance to splash around and swap skiing for water sports. Despite the country being landlocked, Switzerland is blessed with beautiful rivers and lakes that are prime for rafting, canoeing, wind surfing and wild swimming. Don your bikini or swimming trunks and dive in at Untersee bathing beach, or grab a paddle and explore the stunning Lake Thun to enjoy a different side to the nation.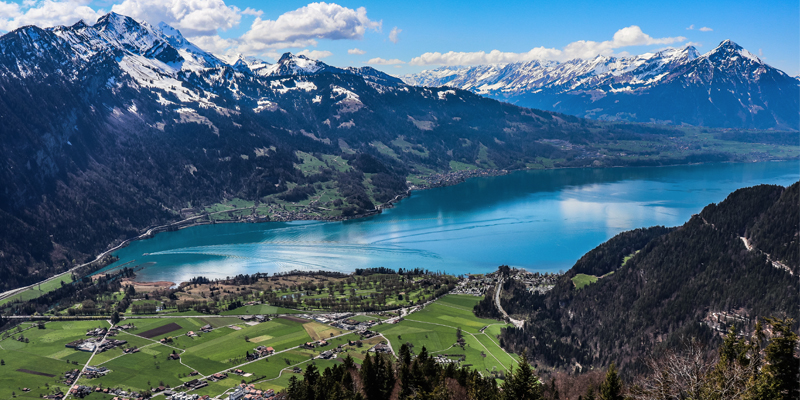 Photo: Lake Thun
Hike it out: Your boots were made for walking and summer is a great time to really see Switzerland before the snow comes to cover it. You don't have to be a mountaineer to enjoy the countryside, and there are many walking and hiking trails to suit all abilities and ages. Interlaken is the resort town of choice for many adventure lovers and nature seekers, as it makes a great base if you plan on a traversing the beautiful Bernese Oberland. Notable hikes in the area include the ever popular Harder Kulm and Jungfraujoch, the high altitude railway station featured in many an Instagram post.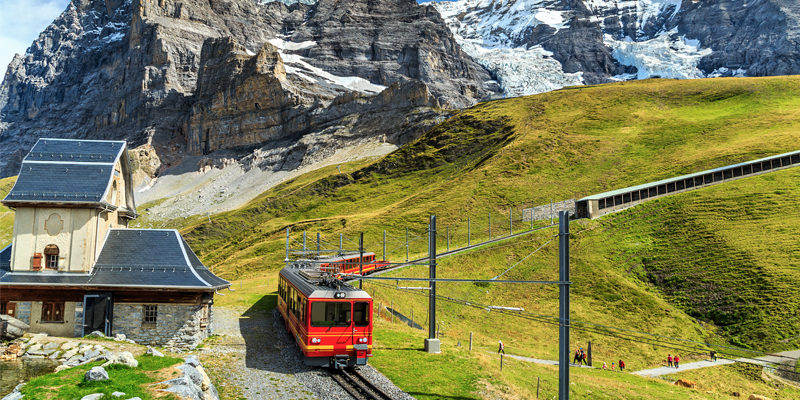 Photo: Jungfraujoch
Summer in the cities: Swap your usual European city break for a Swiss city and see how the likes of cosmopolitan Geneva, attractive Zurich, the historic capital of Bern and culture-stuffed Basel compare to Paris, Rome, London and beyond. Many of Switzerland's big cities, such as Zurich and Geneva, are set next to stunning lakes, meaning it's a great opportunity to partake in a boat tour. It's touristy, yes, but a fun way to get around and a chance to sit back and soak up the rays.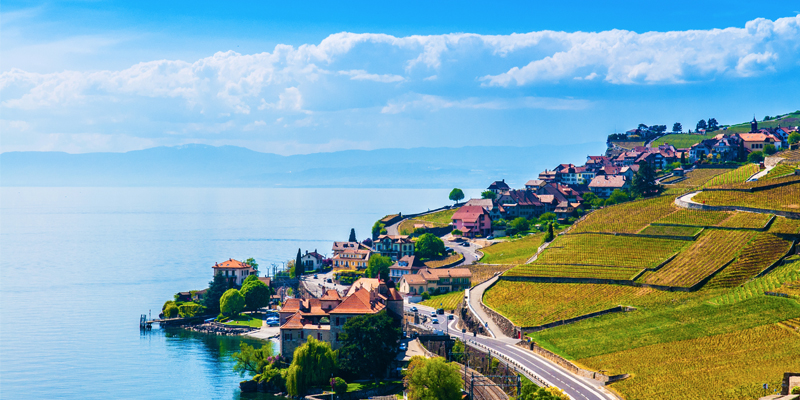 Best vintage: French, Italian, Chilean, South African…even Australian and Californian wines are getting all the attention these days. But Switzerland also has its fine wine producing regions and they are well worth a visit. If you fancy yourself as a sommelier in training, or just enjoy a tipple, a winery tour can make for an intriguing summer excursion. Try a vineyard in the Lavaux region, where you can meet the producers, take a walk, sample and stock up.
Contact us on 0800 085 6846 at Pure Destinations and we'll help you plan your next trip to Switzerland – whether it's in the snow or sun.