Tour Overview
Kanchanaburi is home to the famous WW2 bridge over the River Kwai, which is near to a War Cemetery, around 80 miles outside the city of Bangkok.  A hugely popular tourist attraction that is a once in a life experience for history lovers, and world war 2 enthusiasts. The bridge has been developed into a walkway with side platforms where you can soak up the views on foot and also runs passenger trains across the bridge throughout the day.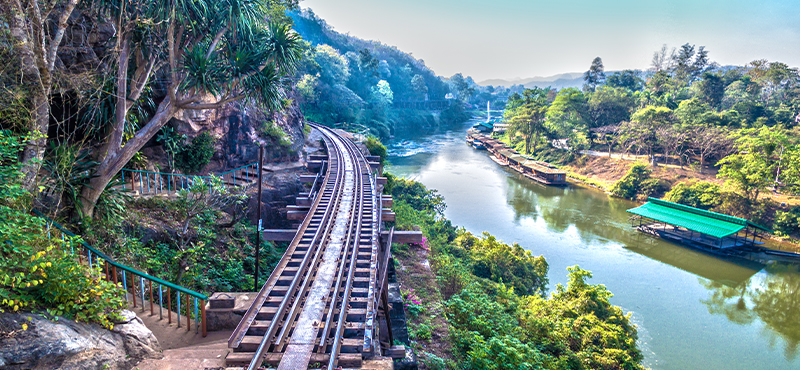 Visit the Allied War Grave and the Death War Museum, which is home to a collection of paintings depicting the tragedy and loss of war. The journey from Bangkok to the River Kwai is a meaningful journey through sugar cane fields, rice paddies and pineapple plantations, as you learn about the Death Railway which was a wartime project to link Thai and Burmese railways to build a direct route from Bangkok to Rangoon, supporting the Japanese occupation of Burma. After lunch you will be escorted via a pleasant speedboat ride down the river taking in all the sensory experiences before you having some free time to explore the bridge and the museums, and finally a little train ride through the area before returning back to Bangkok.
Further Information
This experience includes a visit to the Bridge on the River Kwai, an allied War Grave Cemetery and entrance to the Death War museum, air-conditioned transportation, and services of an English speaking guide, Lunch, a speedboat ride and a local train ride. The tour begins at 7.10 am and pickup time is around 6.15 am 7 am.
Back to Bangkok