Top 10 things to do in Delhi
Delhi is an aspiring destination to visit and explore. Being a sprawling metropolis with a population with over 20 million people, the city holds one of the richest histories in the world. With each day spent, Delhi will keep you fully engaged as you uncover layer upon layer of ancient history, rich culture and sumptuous cuisine on your holiday to India.
1.The splendour of Humayun's Tomb
Located in Central Delhi, the Humayun's Tomb is a highly recommended landmark to visit, since it features the great Indian craftsmanship and Persian finesse. Surrounded by the lush greenery of Mughal gardens, the landmark offers a wonderful location for photos and casual strolls.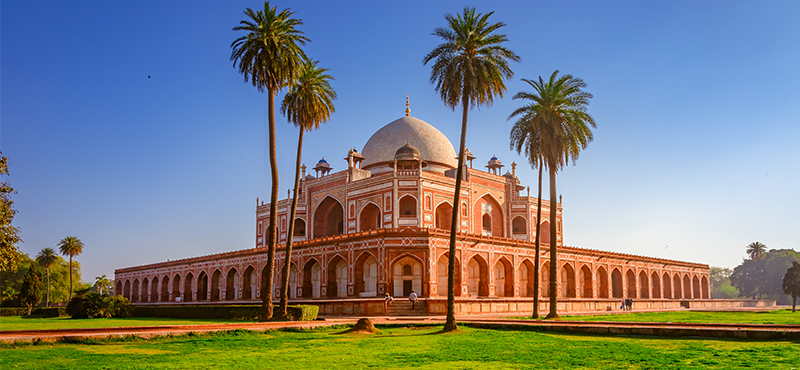 2.Sunder Nursery and Lodi Garden
For nature lovers there is the Sunder Nursery and Lodi Garden, which will send you to a state of deep relaxation. Sunder Nursery is a beautiful park decorated with tranquil water features and historical Maghul monuments. Lodi Garden is the perfect place to be on a peaceful Sunday afternoon. Discover ancient ruins from the Lodi dynasties and Islamic Sayyid and settle down with a picnic basket to fully interact with your surroundings.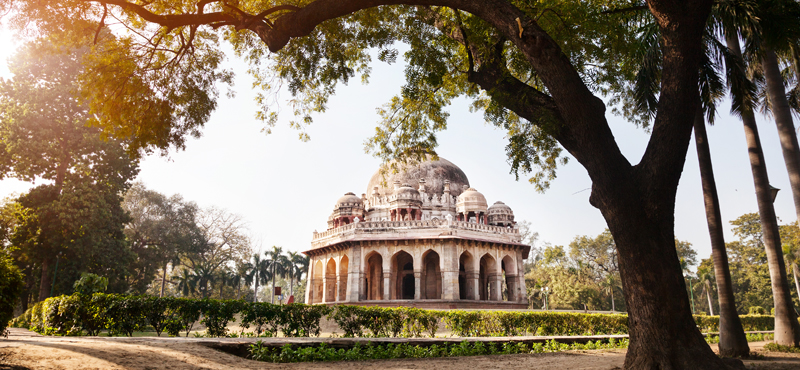 3.National Museum and National Gallery of Modern Art
Culture-wise there are two buildings that are a must to visit-the National Museum and National Gallery of Modern Art. Let yourself be overwhelmed by the astounding collection of woodcarvings, statues, paintings and other little gems. At the gallery you can enjoy the extraordinary modern work of Indian artists.
4.India Gate
You should also acknowledge the importance of and see the India Gate, which is a memorial built to honour the Indian soldiers killed during World War I and designed by the well-known architect Edwin Lutyens.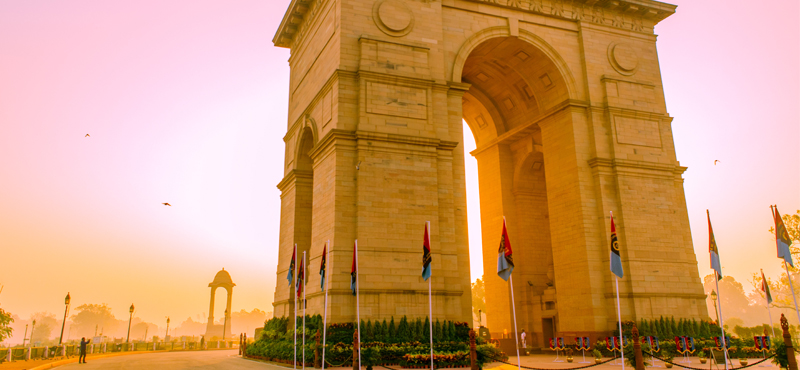 5.Ghandi Smriti
If you would like to go back in time and explore another 20th century historic landmark, you should consider paying Ghandi Smriti a visit. The museum is the location, where Mahatma Ghandi spent his last four and a half months of his life before being executed in 1948. Holding rich history within its exterior and interior, the museum doesn't require an entry fee.
6.Shopping in Delhi
When thinking about where to go shopping New Delhi has to offer a wide range of markets. The most famous one would be Khan Market, which was built in the 50s and was named after one of India freedom supporters Khan Abdul. Back in 2010 the market was also deemed as the world's 21st most expensive retail high street. Close to India Gate Khan Market is in the heart of the city and offers high-end shops and premium dining venues. However, bear in mind that the Khan Market is closed on Sundays. Other markets worth strolling along are Janpath and Sarojini markets, both are the go-to-places for finding various items and stock at bargain-able prices.
7.Chandni Chowk
First thing you should whilst walking down the streets of Chandni Chowk neighbourhood is succumb to the amazing aroma of the local cuisine. The highest recommended street to visit to nurture your taste buds is Paranthe Wali Gali. And you should definitely try the sohan halwa and Karachi halwa, both traditional desserts for West Asia and India, at the one of the oldest sweet shops in India Ghantewala Halwai.
8.Jama Masjid
Whilst in Old Delhi you can find one of the biggest mosques in India – Jama Masjid. Built by a Mughal Emperor in the 17th century, its architecture is adorned by three gates, four towers and two 40m high minarets, built of a gorgeous blend of red sandstone and white marble.
9.Red Fort
After you've satisfied your cravings you should explore within the huge walls of red sandstone of the Red Fort, which is situated opposite Jama Masjid. Labelled as a UNESCO World heritage site in 2007, the building was built back in 1648 and it was established to be the Mughals' ceremonial and political centre.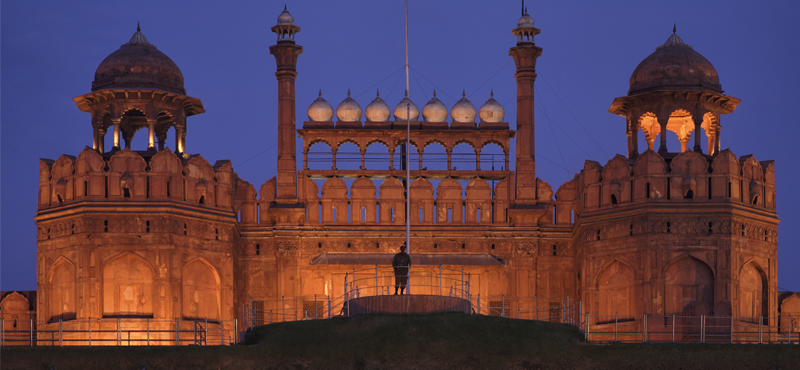 10.Raj Ghat
A great escape of the buzzing city streets of Delhi is the Raj Ghat in Old Delhi and its serene gardens. Home to Gandhi's Memorial you can gain the insights of the modest way of living of the grand Independence leader and tragedy of his leave.
Inspired by our top 10 things to do in Delhi? Request a tailor made holiday quote to India.