The world's top incredible luxury treehouse hotels
Imagine being surrounded by nature and being hidden amongst the trees? Well now that childhood fantasy has come to life, with incredible tree houses and tree top hotels being designed to live in. Step away from the rest of the world and stay in one of the uniquely designed tree houses. From the enchanting bamboo treehouse in cultural Bali to sleeping under the stars in the middle of a safari in South Africa, check out our list of some of the most epic luxury treetop stays in the world.
Keemala, Phuket, Thailand
Keemala is a two storey villa tucked away in the lush woodlands overlooking the Kamala village and the Andaman Sea in Phuket, Thailand. Inspired by a mythological clan, this small resort has 38 pool villas with 7 of them being the unique tree pool houses. It boasts with a spa and wellness centre, a delectable Thai restaurant and private pools with outdoor relaxation space with the Patong beach a few miles away. The villas come in four separate styles – clay and straw cottages, tent villas, treehouse and bird nest villas. It sure is a hip hideaway for couples and families that are in harmony with nature and are looking for a place to relax.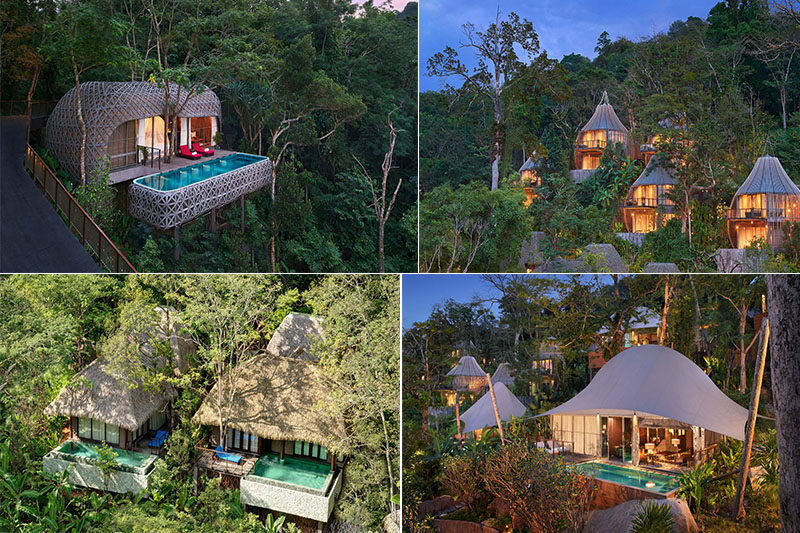 Tsala Treetop Lodge, Plettenburg Bay, South Africa
Be expected to be blown away if you decide to stay at the Tsala Treetop Lodge. It's located along South Africa's Garden route and set amidst the treetops overlooking the enchanted Tsitsikamma Forest. The lavishly decorated stone and glass lodge inspired by the diverse cultures of Africa has 10 secluded treehouse suites. The treetop lodge features floor to ceiling bedroom windows, private decks, log fireplaces and an infinity edge pool. It offers the ultimate treetop hotel experience.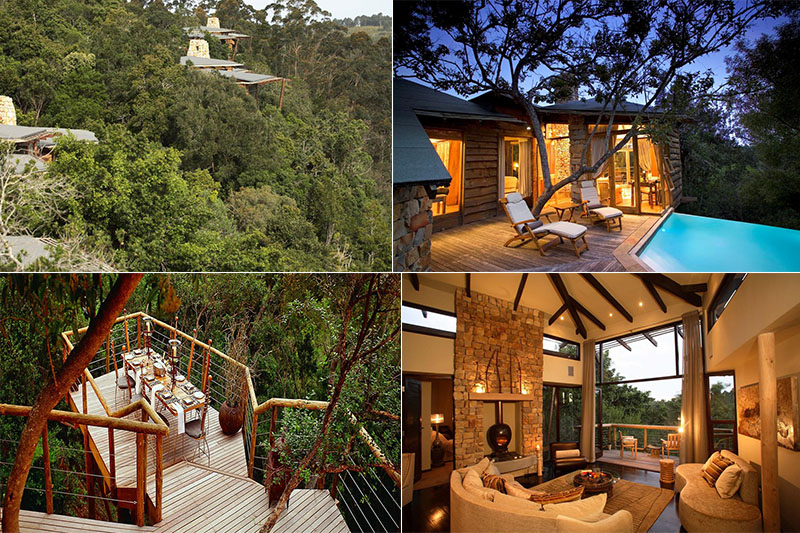 The Secret Treehouse (Wollemi Wilderness), Australia
Tucked away in the Blue Mountains and perched high in the tree tops, this secluded rustic yet luxurious secret treehouse is perfect for anyone looking for an adventure or couples looking for a romantic getaway. The lush treehouse has stunning views of the majestic Bowen's Creek Gorge and Blue Mountains rainforest and probably some mists and birds and other magical things in the backdrop. This one of a kind treehouse offers an open plan lounge, kitchen and bathroom, a cosy open fire, floor to ceiling windows and a balcony to capture the magical views and watch the stars at night plus a tranquil spa. It doesn't get better than this, a serene and romantic stay at the secret treehouse is the ideal way to make wonderful memories.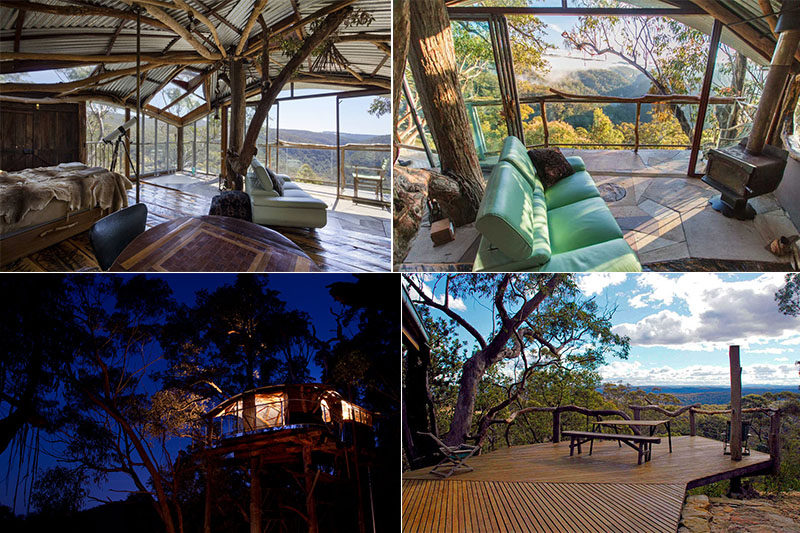 Sharma Springs, Green Village Bamboo House, Bali
Set on a river valley landscape along Bali's sacred Ayung River, the enchanting Green Village is a community of bespoke homes made out of bamboo. The popular Sharma Springs is one of them, a unique 6 storey bamboo treehouse like no other that you can find in Bali. Being featured on CBS This Morning and New York magazine, its mesmerising architecture, design and wonderful valley views are a must see. The entry to the house is via a dramatic tunnel bridge that takes you directly to the treehouses rooms. It features four bedrooms equipped with private bathrooms, a kitchen, lounge and dining area, private garden and pool plus your very own friendly butler. It sure is a great place to embrace the beautiful surroundings and enjoy a trip of a lifetime.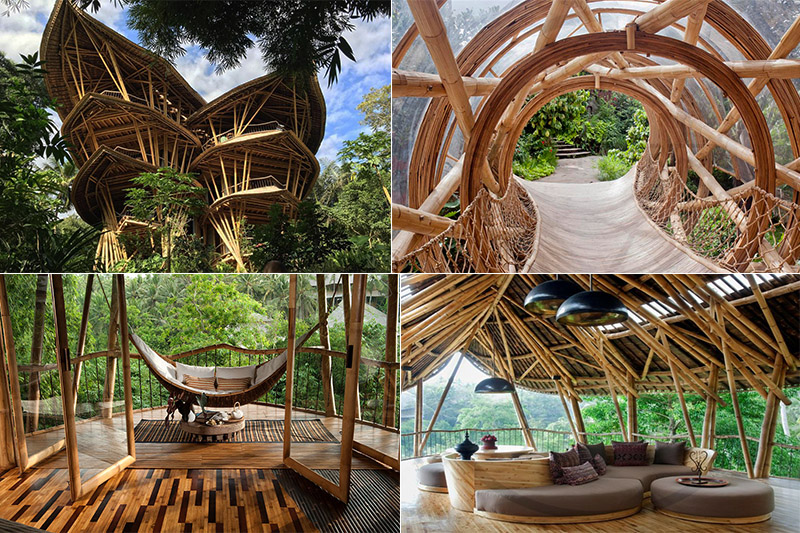 Bangkok Tree House, Bang Krachao, Thailand
This may not be for everyone, but imagine escaping the hustle and bustle of Bangkok city and staying at a stylish 3 storey private eco hotel. Situated on the riverbank of Bangkok's 'Green Lung' island amidst lush greenery it accommodates guests in 12 sleeping units called cozy nests. This unique hotel is built from local bamboo, glass and recycled metal featuring a stylish treehouse, a treetop bungalow with a stunning view. If you fancy staying here experience spending the night on a floating bed in the middle of the river. Even better if you don't want to lounge around admiring the stunning views arrange a sightseeing tour or go on a bike ride.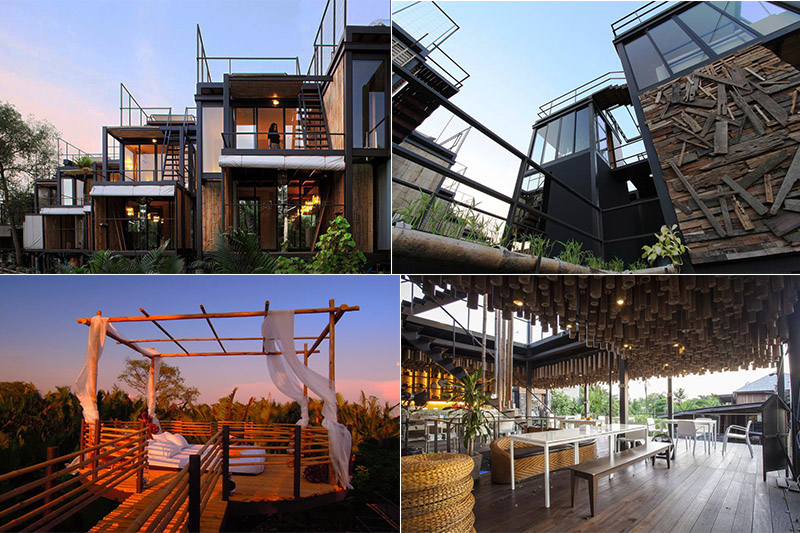 Treehouse Villas, Disney's Saratoga Springs resort and spa, Orlando
Surrounded by the lush forest along the Sassagoula River, the enchanting Treehouse villas at Disney's Saratoga Springs is the perfect holiday hideaway. Standing on stilts 10 feet high nestled in the woodlands, the complex 60 three bedroom villa lies in Disney Land Resort and accommodates up to nine guests. It offers a sense of adventure and nostalgic memories of the childhood days. The unique octagon shaped units provides wonderful views of the tranquil surrounding including three bedrooms, two bathrooms, a kitchen, kids playroom, private decks and your own pool whilst sharing the amenities at Saratoga Springs. A stay at this unique treehouse villa is definitely a unique, and unforgettable magical experience for the whole family and kids.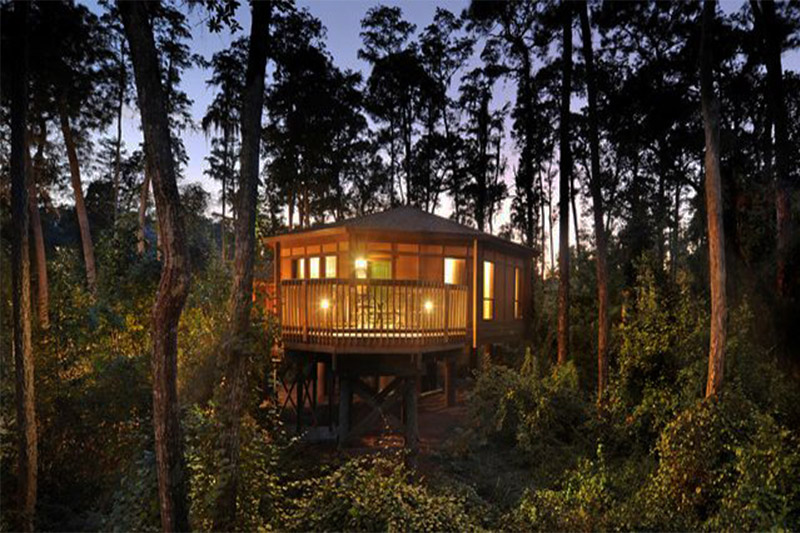 Treehouse hotel, Châteaux dans les Arbres, France 
Hidden in the lush green Perigord region of France, lies the majestic Chateaux dans les Abres (Castle in the Trees). Each of the 5 enchanting treehouses boast stunning views of the French countryside. It can accommodate from 2 to 6 people depending on the hut. No two tree castles are the same, they are all individually designed with different charming characteristics. It's the perfect spot to soak in a hot tub, savour the beautiful views, indulge in a spa massage, take a dip in the pool and explore the fresh woodlands of France. So if you live the dream of being in a fairy tale these wonderful enchanting treehouse castles are the ideal place to stay at.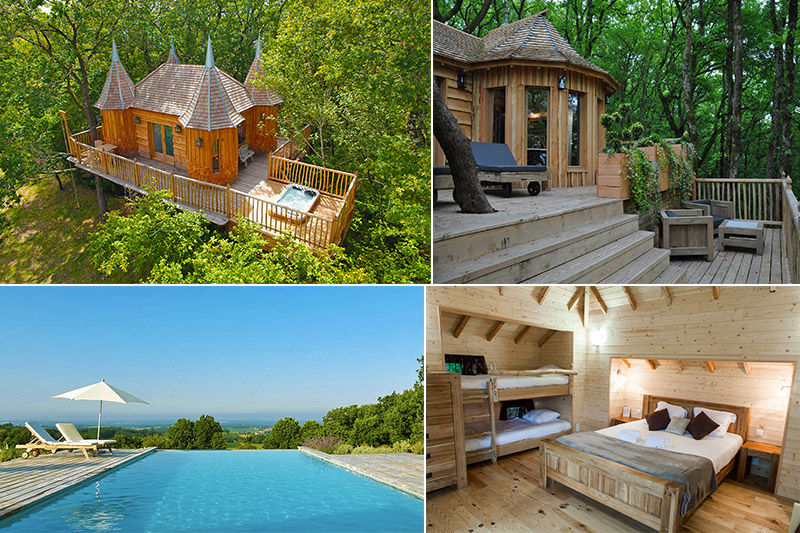 Treehouses, Lion Sands Game Reserve, South Africa
There's nothing more dreamy then sleeping under the stars in the middle of a safari. At Lion Sands Game Reserve in South Africa, you can stay in one of the 3 breath-taking tree houses where you are completely exposed to the sounds of the nature around you. Whether you stay in the magical Chalkley's, Kingston (Sabi Sand) or Tinyeleti (Kruger National Park) treehouse, you will hear hippos honking, lions roaring, hyenas cackling and even other sounds from the bush. A delicious picnic with the sunset in the backdrop is included within the wonderful experience plus plenty of other activities such as walking safaris, helicopter rides and pampering spa treatments. It's the perfect holiday for a hopeless romantic or an adventurous person.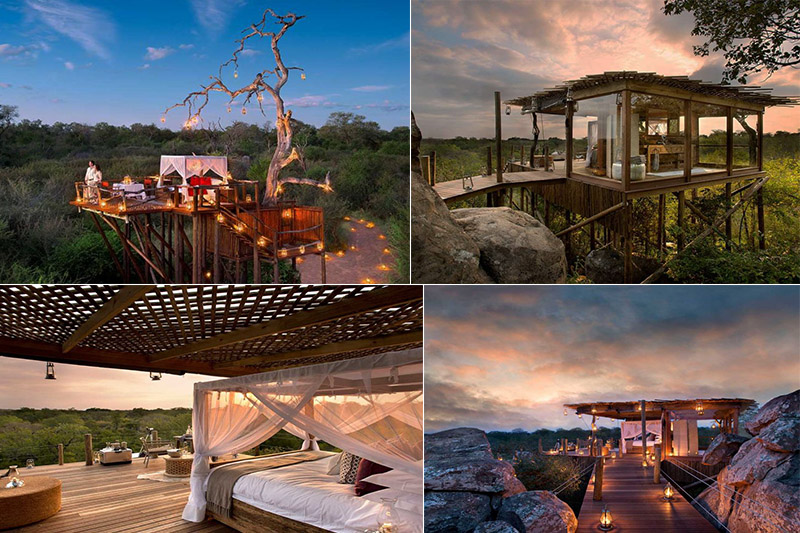 Have you been inspired by the most incredible luxury treehouse hotels in the world? Contact us today to book your dream holiday of a lifetime!