Overview
Discover the natural beauty of Ecuador and the Galapagos on our once-in-a-lifetime group tour. Experience the outstanding culture, incredible landscapes and unforgettable wildlife encounters, some of which can only be seen in this part of the globe!
Tour inclusions include:
Make Your Day Individual on days 3 and 11
International and domestic flights in economy class
3* and 4* charming accommodation
Tour Leader throughout plus expert local guides
All entrance fees and excursions as stated
Meals as stated
All transport
A Water-to-Go reusable filter bottle per person
An exclusive Latin Routes backpack per booking
For a tailor-made group tour to Ecuador & Galapagos for 2019/2020 please call us on 0800 0856 846
Holiday Builder
FROM £4199PP
Please contact us for prices for a tailor made quote.
STOP 1
STOP 2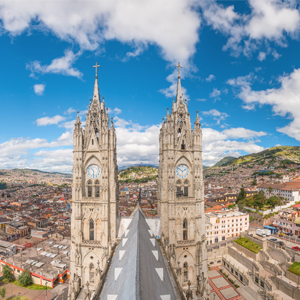 Hotel Casona de la Ronda or similar
Land in Quito, Ecuador's beautiful, colonial capital.
STOP 3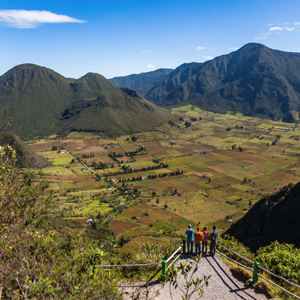 Breakfast – Hotel Casona de la Ronda or similar
Make your day individual with one of the below experiences!

Cultural Experience: Quito Colonial Centre
Rich in history with narrow cobblestone streets lined with whitewashed walls and spectacular churches, embark on this wonderful walking tour to discover the depths of Ecuador's fascinating capital.

Adventure Experience: Quito Teleferico
Enjoy the stunning views of Quito on the Teleferico gondola lift, which is one of the highest aerial lifts in the world. Take in those incredible views of the city as you tower up to 3,945m. The gondola runs from the edge of the city centre up to the east side of Pichincha Volcano to lookout Cruz Loma.

Unique Experience: Middle of the World and Pululahua crater
In what capital of the world can you stand in both hemispheres? Ciudad Mitad del Mundo is where! This incredible, unique experience is followed by a walk along the rim of an extinct volcano at Pululahua crater!
STOP 4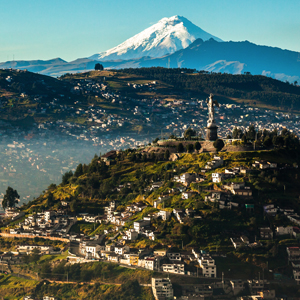 Breakfast, lunch & dinner - Chilcabamba Lodge
Markets are an essential part of Ecuadorian culture, where locals come to buy their supplies, and a visit to a typical market will have you rubbing shoulders with the locals to get a feel of what life is like here. After, enjoy a gentle hike at Pita waterfall before reaching your accommodation lodge just outside Cotopaxi National Park.
STOP 5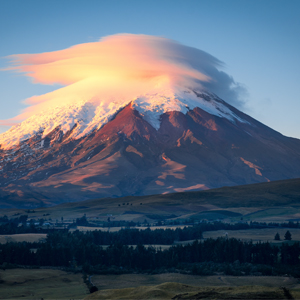 Breakfast, lunch & dinner - Chilcabamba Lodge
Amazing landscapes are the scenes of the day as well as enjoying one of the most beautifully symmetrical volcanoes in the world! Depending on the weather, you will be able to see the perfect snow-capped summit and, if you like, an optional 2-hour hike can be enjoyed to Cotopaxi's J. Ribas refuge at 4,800 metres.
STOP 6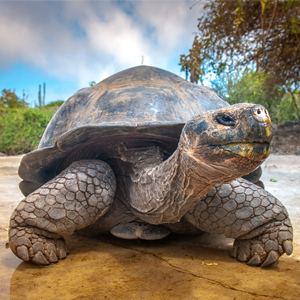 Breakfast, lunch & dinner - Galapagos Magic
Take a flight to the gateway to the Galapagos, Baltra Island, where you will visit the famous Giant Tortoises farm, where you can admire them as they roam in the wild. You'll be staying at Galapagos Magic, which is in a privileged position high on the highlands with fantastic views with a combination of raised safari tents and tree houses.
STOP 7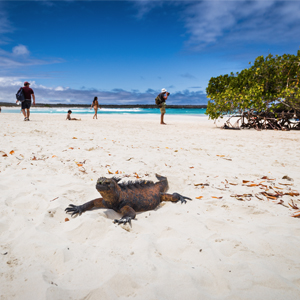 Breakfast, lunch & dinner - Galapagos Magic
Embark on a comfy motor yacht and enjoy an excursion to one of the nearby islands. You'll be greeted by expert crew aboard and the knowledgeable naturalist guide will give you deep insights into the natural history of the islands.
STOP 8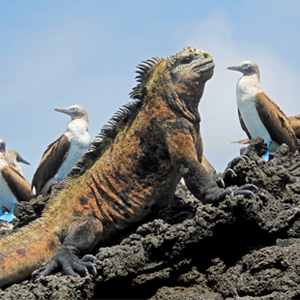 Breakfast, lunch dinner - Isamar Hotel or similar
Journey on a speedboat to one the most famous of all Galapagos Islands, Isabela Island, which is one of the youngest, yet biggest in the archipelago. Isabela Island offers a wealth of wildlife species and features some of the most dramatic landscapes! You will visit the island's breeding centre in the morning and later in the day, you can enjoy a snorkel in Tintoreras islands, where you might be lucky to spot a white tipped shark, sea lions, turtles, rays and penguins.
STOP 9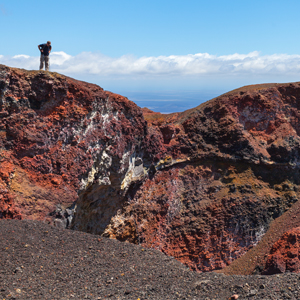 Breakfast, lunch dinner - Isamar Hotel or similar
Explore Isabela's highlands as you embark on an unforgettable day hiking up to the crater of the Sierra Negra Volcano, followed by a trek along the rim of Volcan Chico. You will encounter plenty of wildlife along the way as well as taking in breathtaking vistas of the neighbouring islands. Relax on the beach of Puerto Vilamil for a well-deserved break to end the day.
STOP 10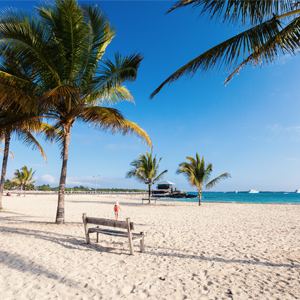 Breakfast, lunch dinner - Isamar Hotel or similar
Spend the morning snorkelling though a maze of small islands and arches as you spot fish, sea turtles and the odd white tipped shark! During the afternoon, you will hike the Wetlands Trail to see the colonies of marine iguanas and a variety of mangrove trees.
STOP 11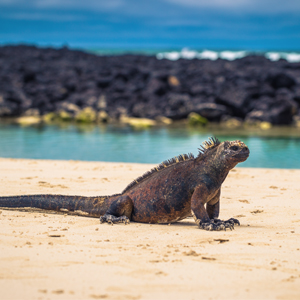 Breakfast – Hotel Fiesta or similar
You will take a boat back to Santa Cruz Island in the morning, then enjoy one of the below experiences to make your day individual.

Wildlife Experience: Tortuga Bay & Charles Darwin
Spot the marine iguanas as you walk to the beautiful beach of Tortuga Bay. Go for a swim, snorkel in the sea or simply relax on the beach. After, visit the Charles Darwin Research Centre, which is home to where the Galapagos' most important conservation projects are carried out.

Gastronomic Experience: Local Cooking Class
As well the abundance of wildlife, Galapagos Island is loved for the locals, and what better way to experience life like a local than to enjoy a local cooking class where you will learn all about the culinary traditions from the locals that live on the island.

Unique Experience: Garrapatero Beach
An idyllic place to swim and relax as well as admiring the present and unique wildlife of the Galapagos, Garrapatero Beach is a remote beach, and is often visited by flamingos!
STOP 12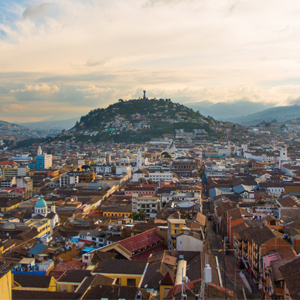 Your tour of Ecuador and the Galapagos has come to an end. In the morning you will catch your flight to mainland Ecuador to connect with your international flight back home.
STOP 13