Overview
As one of the most diverse countries in South America, extending for more than 4,000 kms, Chile has a lot to offer for a once-in-a-lifetime holiday. Our 14-day group tour allows you to explore natural wonders, from Atacama's moon-like landscapes, stunning lakes, volcanoes and simply breathtaking glaciers.
Group tour inclusions:
Make Your Day Individual on days 8 and 11
International and domestic flights in economy class
3* and 4* charming accommodation
Tour Leader throughout plus expert local guides
All entrance fees and excursions as stated
Meals as stated
All transport
A Water-to-Go reusable filter bottle per person
An exclusive Latin Routes backpack per booking
For a tailor-made group tour to Chile for 2019/2020 please call us on 0800 0856 846
Holiday Builder
FROM £4599PP
Please contact us for a tailor made quote.
STOP 1
STOP 2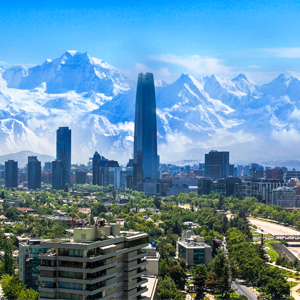 Hotel Novotel Providencia or similar
Arrive in the morning and settle into your hotel located in central Santiago. In the afternoon, enjoy a city tour to capture the main sights.
STOP 3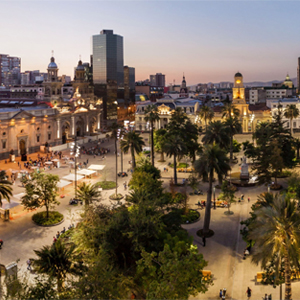 Breakfast - Hotel Novotel Providencia or similar
Explore vibrant Santiago at your leisure, taking in more sights as you've had a feel for the city on the previous day from your city tour.
STOP 4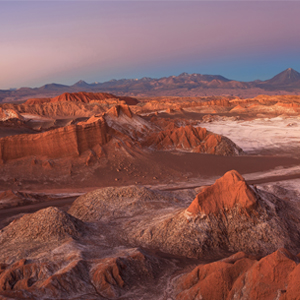 Breakfast - Hotel Altiplanico or similar
Fly to the Atacama Desert to see some truly spectacular scenery and in the afternoon, you will be taken to the Cordillera de la Sal and the renowned Moon and Death Valleys to see some of the most incredible sunsets of your life!
STOP 5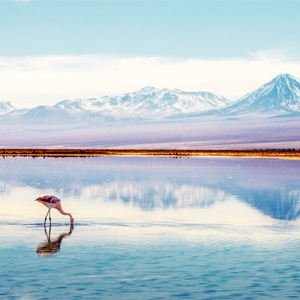 Breakfast - Hotel Altiplanico or similar
Visit the mesmerizing Salar de Atacama in Los Flamencos National Reserve, which is Chile's largest salt flat with gorgeous views of the Andes mountains in the backdrop. Observe the flamingos and other animals that inhabit the salt flat lagoons. During your visit you will also stop at the village of Toconao.
STOP 6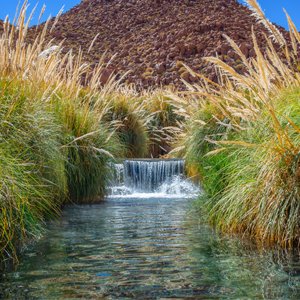 Breakfast – Hotel Altiplancio or similar
Plunge into the mineral rich waters of the Puritama Hot Springs, which is a series of 8 large geothermal pools connected by wooden footpaths, situated at the bottom of a deep-cut gorge in the heart of the desert mountain range.
STOP 7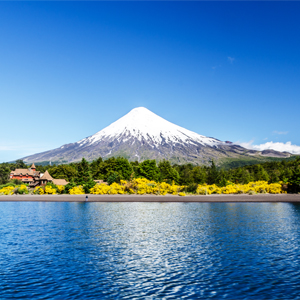 Breakfast – Hotel Cabanas del Lago or similar
Fly to the Lake District in Northern Patagonia, home to ancient forests, blue lakes, and snow-capped volcanoes. Enjoy the gorgeous scenery that unfolds as you discover this beautiful region, which covers both parts of Chile and Argentina.
STOP 8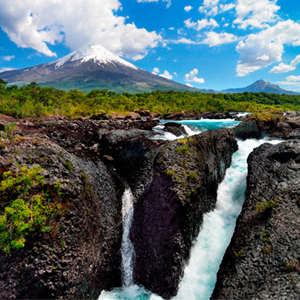 Breakfast – Hotel Cabanas del Lago or similar
Make your day unique with one of the below experiences.

Unique Experience: Chiloe Island
This totally unique island is very different from any other part of the country. During your tour you will visit the island and its capital to learn all about the history including how it is famous for hundreds of different types of potatoes.

Active Experience: Peulla
Travel on land and boat to the town of Peulla, along the way, enjoy the beautiful scenery including Puntiagudo and Osorno volcanoes on a clear day, as well as enjoying a short stop at Petrohue Falls. You have the opportunity to try several activities once you reach Peulla including trekking and horse riding.

Natural World Experience: Osorno and Petrohue Falls
Discover the natural beauty of the region on this fascinating tour. Admire the stunning Petrohue Falls with Osorno Volcano in the backdrop, and then take a boast across the glistening emerald waters of Lake Todos los Santos, followed by a drive to the volcano.
STOP 9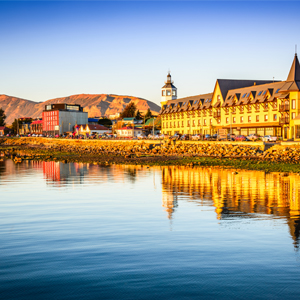 Breakfast – Hotel Martin Gusinde or similar
Fly to Puerto Natales, which is the last town before Torres del Paine National Park. Enjoy the rest of your day at leisure exploring this charming town at your own pace.
STOP 10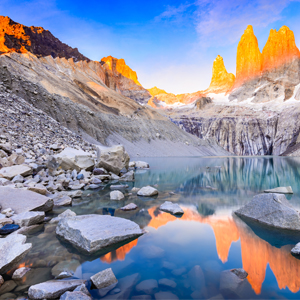 Breakfast - Hotel Lago Grey or similar
Attracting visitors from around the globe, Torres del Paine National Park will captivate you with its incredible beauty. You will leave Puerto Natales early in the morning with a stop at Milodon Cave before continuing onto Grey Lake, Lake Pehoe, Lake Sarmiento and Laguna Amarga. Admire the waterfalls and the beautiful three granite peaks of the Paine mountain ranges.
STOP 11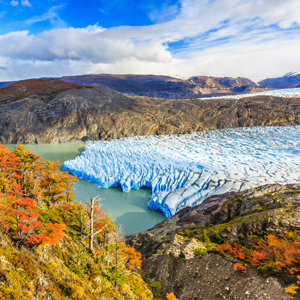 Breakfast - Hotel Lago Grey or similar
Wildlife Experience: Mirador Condor
Enjoy a 45-minute drive, then begin a gentle trek to a lookout point that faces the stunning Paine Massif, which offers beautiful views of the Paine river and glistening turquoise waters of Lake Pehoe. If you're lucky, you may spot the condors on a clear day, as this is a launching platform where parents teach their young to take flight.

Active Experience: Monte Ferrier
Enjoy a challenging trek to the Perrier viewpoint and be rewarded with the stunning vistas of Grey Glacier and floating icebergs, Paine Massif, Paine river, Lake del Toro and Pingo Glacier!

Natural World Experience: Grey Glacier
Take a boat to Grey Glacier, which is considered as one of the most captivating excursions in the park. Vistas of lush forests and majestic mountains come into view before reaching the glacier's wall. With over 25 metres of height, admire the amazing colours and shapes at this huge natural structure.
STOP 12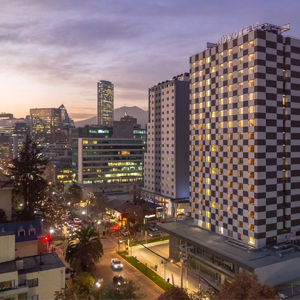 Breast - Hotel Novotel Providencia or similar
Fly back to Santiago for your last night where you can enjoy some free time at your leisure.
STOP 13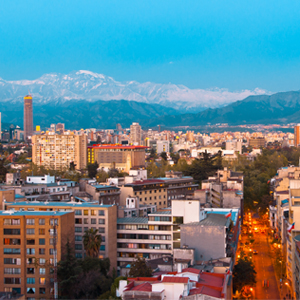 Today you will be transferred to the airport to catch your flight back home.
STOP 14