Overview
Go on an unforgettable Thailand adventure with our Bangkok, Elephant Hills and Phuket holiday package. Our holiday package is the perfect blend of bustling city, meets adventure and wildlife experiences with an idyllic beach break to end in relaxation.
Elephant Hills is Thailand's first luxury tented jungle camp, offering an unforgettable experience from start to finish, inspired by the idea of African national parks in the Thai tropical rainforest, go on an adventure unlike no other. With 2-4 day luxury adventure tours around stunning Khao Sok National Park, wash, feed an interact with the beautiful elephants, go canoeing down the gorgeous Cheow-Lan Lake, spotting the monkeys in the tree tops and go exploring on foot to discover more wildlife and lush plants.
'Save' REF: B67893 – For a tailor made Thailand holiday package please call 0800 0856 846
Holiday Builder
FROM £1695PP
Please call or email and for alternative dates and hotels.
STOP 1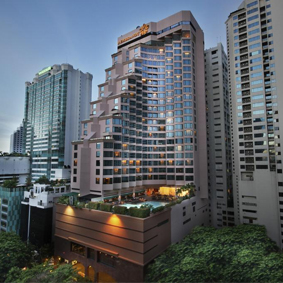 Begin your Thailand adventure in Bangkok at the 4+* Rembrandt Hotel, which is well located in the city's vibrant Sukhumvit area, where you are just a short distance from shopping centres, attractions, restaurants, bars and parks to explore. Toast to the beginning of your unforgettable Thailand holiday at the 1826 Mixology & Rooftop Bar as you gaze out to the bright lights of the city with unbelievable views. In between exploring the city of Bangkok, slip into a robe and enjoy a massage at the spa for some well-deserved pampering. Rembrandt features spacious and modern rooms, a pristine outdoor pool, well-equipped fitness centre and 6 restaurants and bars to enjoy on your Thailand holiday.
STOP 2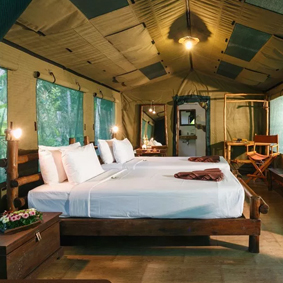 Double Room, Lunch & dinner (Elephant Hills Camp)
Begin day 1 of your 3-day Jungle Lake Safari transferring to Khao Sok National Park in the Phang Nga province via an air-conditioned vehicle as you pass tiny rural villages and rubber plantations. On arrival at Elephant Hills Camp there will be lunch waiting for you, then you'll hop aboard a canoe and paddle along the beautiful Sok River by a local river guide. Pass limestone peaks and dense tropical vegetation – keep your eyes peeled as you may spot reptiles, birds and hornbills! Further down the river you'll arrive at the elephant Sanctuary where you will spend time on land learning about these beautiful creatures, watch them bathe and have the opportunity to take photos to capture those incredible memories. End the experience with an educational video about the sanctuary's conservation efforts and enjoy something from the café where you watch the elephants. After, head back to camp and enjoy some down time in your luxurious tent or besides the camp's pool. On the evening, sip cocktails and local Thai beers at the Jungle Bar and enjoy a traditional Thai dance performance by a local school group or a cooking demonstration. Enjoy a delicious dinner before returning to your tent.
STOP 3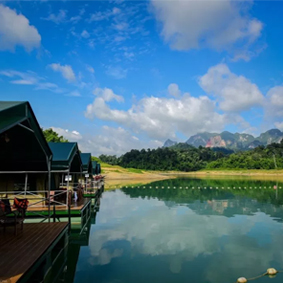 Double Room, Breakfast, Lunch & Dinner (Elephant Hills Rainforest Camp)
Day 2 of your Jungle Lake Safari at Elephant Hills starts with cruising along the waters in a long-tail boat where you will arrive at Elephant Hills Rainforest Camp. One of the splendid highlights of your time here is your home for the night, which is a luxury floating tent with stunning views of the water from the comforts of your private deck. Enjoy a tasty Thai buffet lunch before settling into your new floating oasis, then after, head out with an experienced and knowledgeable guide and ranger to explore the enchanting surrounding jungle by foot. Spot wildlife such as hornbills, gibbons, macaques and more! You'll also learn how to identify the plant life at Elephant Hills such as bamboo shoots and ancient hollow trees. End your day with a pre-dinner dip and take in the gorgeous sunset views behind the limestone peaks that surround Cheow-Lan Lake. During the night, the sky comes alive with thousands of stars to spot!
STOP 4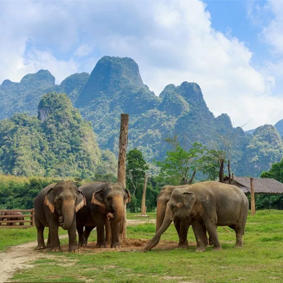 Double Room, Breakfast & Lunch (Elephant Hills Rainforest Camp)
Enjoy your final morning in this relaxed paradise, hop aboard a canoe for some pre-breakfast exploration and lookout for the monkeys in the treetops, or simply take a dip into the lake from your outdoor deck for a refreshing swim. After a delicious breakfast, head out on a guided canoe safari into the small meandering inlets of Cheow-Lan Lake to spot more wildlife encounters. Tuck into your final lunch with fellow guests at the floating camp and take in the beautiful surroundings before heading to the pier to travel onto Phuket.
STOP 5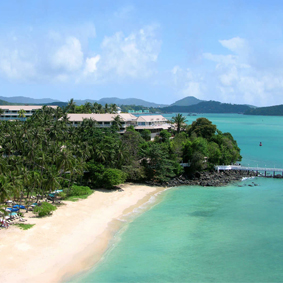 A former colonial coconut plantation, Cape Panwa Hotel has welcomed the rich and famous through its doors over the years and what better way to relax after your incredible adventure at Elephant Hills than on a stunning private beach. Spend your days enjoying the wonderful location with water sports such as kayaking, paddle boarding and boat trips to Coral Island. Other wonderful activities include Thai cooking classes, Thai boxing, batik painting and private yoga classes. Each Friday, there's a delicious Steak Night buffet to enjoy, the hotel's main buffet restaurant serves up delicious breakfast and all-day dining too.