Overview
Tokyo
Tokyo is fast paced with neon-lined streets, towering skyscrapers and futuristic technology. If you're in search of a new city to love, Tokyo will certainly fit the bill, from its exceptionally attractive food scene, from Michelin stared restaurants and quirky street food to its endless list of spectacular attractions that will make your holiday most memorable. As well as its bustling city status, Tokyo prides itself on its ability to retain its cultural roots, if you look past the thriving city lights you will find ancient shrines, wooden houses covered in flowers, quaint village lanes and retro sweet shops.
Kyoto
Serving as Japan's 7th largest city, Kyoto very much holds onto its rich culture and charming exterior where ancient Buddhist temples, charming gardens traditional wooden houses, and shrines tell the story of Japan's riveting history. From hot springs, picturesque gardens, museums and galleries, architectural sights and amazing tours that allow you to really connect with the city's culture.
Hakone
Hakone is a charming town renowned for its hot springs and the spectacular Hakone National Park. Situated at the foot of Mount Fuji, Hakone National Park is one of those destinations where you can be outrageously adventurous, with a plethora of sights and attractions that offer those jaw-dropping moments. Visit Lake Ashinoko, stroll around the Botanical Gardens, embark on a scenic railway journey, hike the mountain trails, explore the museum and temples or enjoy some retail therapy with international shopping malls.
'Save' REF: B44328
Holiday Builder
FROM £5190PP
Price per person. Please contact us for alternative hotels and combinations.
STOP 1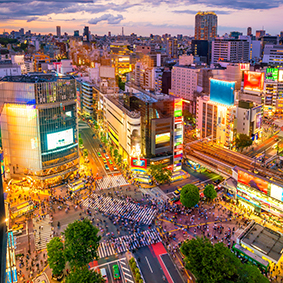 Breakfast, City Queen Room
Ideally located in Shiodome, the business and cultural district offering a plethora of shops, cafes, restaurants, theaters and attractions, Park Hotel Tokyo will serve as your base in which to explore Tokyo's bustling city. The hotel has 7 restaurants and bars offering a range of authentic and healthy options located in trendy venues for gastronomical delights to tantalize your senses. The rooms at Park Hotel Tokyo boast of creative artwork, which transform your stay into a unique experience to relax your body and mind. Nearby you will find excellent experiences to embark on including the Tokyo Skytree, the old Japanese town of Asakusa, Tokyo Tower and much more.

Includes a 7-day Japan Rail Pass (Ordinary Car). The pass entitles you to unlimited travel on any trains in the extensive Japan Railways network including all of the famous Shinkansen bullet trains (exception of the Nozomi Shinkansen).

After your 3 nights in Tokyo you will transfer to Kyoto using your Japan Rail Pass.

Price based in October.
STOP 2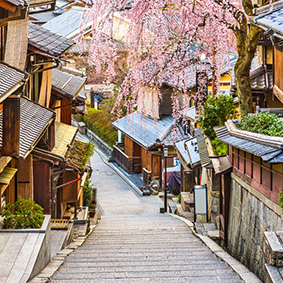 The first thing you will notice about Hotel Granvia Kyoto is its striking architecture that exudes of modern Japan. Conveniently situated so that you can access incredible destinations such as Osaka, Tokyo, Hiroshima, Nagoya and Fukuoa. The 536 elegantly furnished rooms offer a modern base with spectacular views of the city. Boasting of 9 specialty restaurants and 2 bar lounges, Hotel Granvia is quintessential for exploring Kyoto's exceptional culture and attractions.

After your 5 nights in Kyoto you will use your Japan Rail Pass to travel to Hakone National Park, which is located at the base of Mount Fuji. Journey time is 2 hours and 10 minutes.

Price based in October.
STOP 3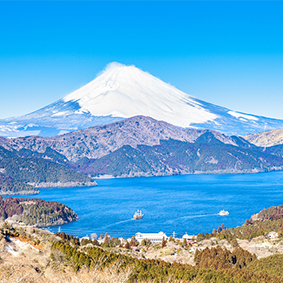 Hyatt Regency Hakone Resort & Spa is situated in the Japanese district of Kanahawa Prefecture in central Honshu. Renowned for its naturally beautiful location compromising of hot springs, majestic mountains, charming lakes, sweeping gardens and of course the incredible views of Mount Fuji. The hotel boasts of 80 spacious Japanese and Western style rooms and suites, all of which feature a private sun terrace or balcony. There are 4 restaurants and lounges situated in the hotel offering a range of delicious cuisines from authentic Japanese Sushi to elegant French delicacies. Enjoy the renowned Onsen hot springs at the Spa IZUMI & Onsen Hakone where you will go on a blissful journey with natural spa treatments, from the on-site hot spring to the rejuvenating massages, facials and body treatments.

After your 3-night stay in Hakone you will transfer to by private taxi to Yumoto Station where you will catch a train to Tokyo. The train time is around 90 minutes.

Price based in October.

STOP 4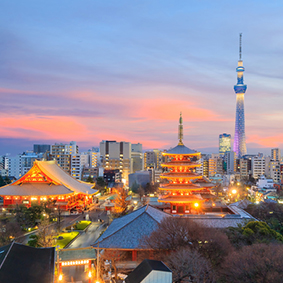 Breakfast, Double Southern Tower Room
Your last stop will be back in Tokyo before your flight the next day. Century Southern Tower is ideally located just minutes from local transportation for that spare-of-the-moment adventure. With shopping malls, restaurants and gardens at your fingertips, you can still grab a slice of the action in Tokyo on your last day. Boasting of 375 guestrooms, all of which feature stunning city views, you can feel rest assured that you will enjoy the cozy and modern rooms in which to use as your base of exploration and means of relaxation. Choose from 4 restaurants and bars at the hotel, serving traditional Japanese cuisine in beautiful locations around the hotel.

Price based in October.