Top All inclusive family resorts
Send your family packing their bags for their most adventurous encounter yet, with our top all-inclusive family resorts! Whether you're looking for a private peninsula or a beachfront location, our top all-inclusive family holidays will accommodate your family, big or small!
Zilwa Attitude, Mauritius
Ideally located on the coast of Mauritius in Kalodyne, nearby the fishermen's village and in good location to island hop to the close by private and wild islands. Zilwa Attitude offers 5 distinctive restaurants that offer the tastes from Creole, Indian, Asian and European.
For kids: children between the age of 3 and 12 can stop by the Mini Club; supervised by trained staff and family members where adventures include a treasure hunt on Crusoe's Island!
Family activities: take the family out to visit Goodlands, a traditional Mauritian village with food and textile markets, or spend the afternoon enjoying some delicious local food with a barbecue on Gran Zil.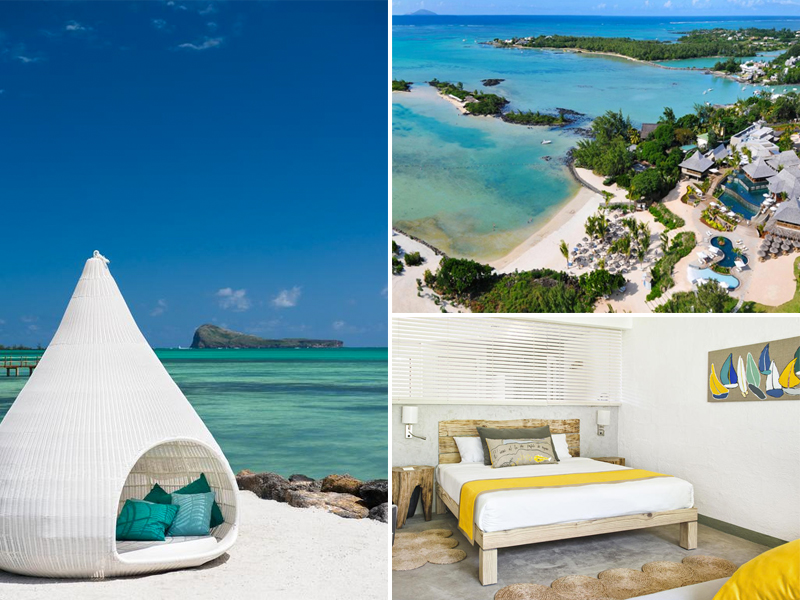 Dreams Palm Beach Punta Cana, Dominican Republic
Dreams Palm Beach Punta Cana surrounds lush tropical gardens and a palm-fringed beach. There's never shortage of dining choices, with an impressive 8 restaurants, 5 a la carte dining options, a buffet, grill and a café. Enjoy tastes from around the world including France, Asia, Mexican, Italian and seafood. Adults can enjoy a more relaxing beverage with unlimited top-shelf spirits, including your own complimentary mini-bar, taking the party upstairs.
For kids: there are two kids clubs at Dreams Palm Beach, the Explorer's Club is a fully supervised program for ages between 3 and 12, while Core Zone Teens Club specialises in activities for ages between 13-17.
Family activities: enjoy 300 meters of white sandy beach with a large variety of beach activities, from snorkelling, windsurfing, beach ball, scuba diving and movies on the beach. Adults can enjoy a more mature crowd in the Casino, featuring blackjack tables, slot machines and poker tables.
JA Palm Tree Court, Dubai
JA Palm Tree Court prides itself on its beachfront location, with 4 swimming pools, a spa and its daily themed buffet, giving you flavours of Arabia and around the world. All suites at JA Palm Tree Court can accommodate 2 adults and 2 children. As well as great accommodation, you can expect excellent service with their family friendly policy, which allows free breakfast for up to 2 children under 16 when staying with parents, and children under 12 can stay on the same meal plan when parents book all inclusive.
For kids: expect world-class childcare at JA Palm Tree Court, with 3 clubs offering age-appropriate activities. Creche offers services for ages between 4 months and 4 years, CoolZone provides fun activities for ages 4-12 and ChillZone is for ages between 13-17.
Family activities: spend some quality family time on the beach with a variety of water activities to keep the young ones entertained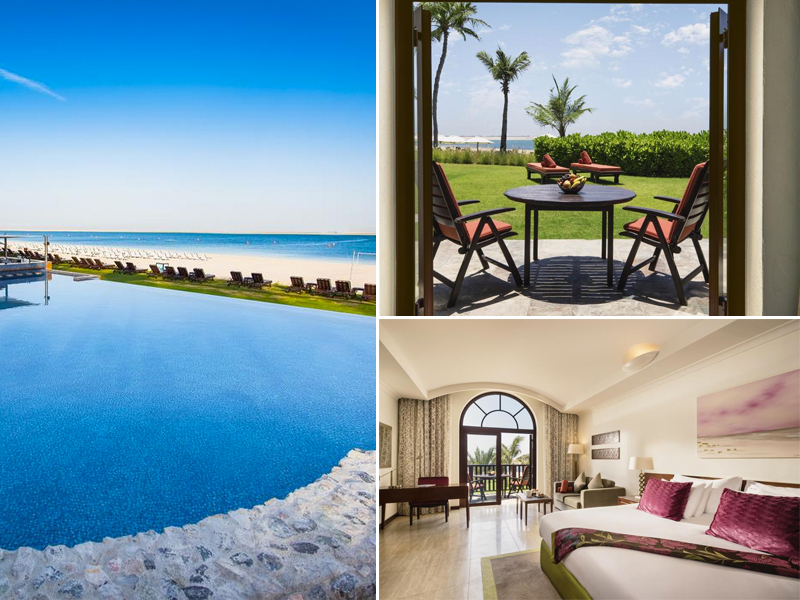 Hilton Rose Hall Resort & Spa, Jamaica
Set between the majestic mountains and turquoise Caribbean, Hilton Rose Hall Resort & Spa offers excellent family facilities, and children under 5 stay and eat for free. There are 6 eateries around Hilton Rose Hall Resort & Spa, from local Caribbean delights to Italian dishes served al fresco.
For kids: spend time relaxing on the pristine private beach or taking a boat tour around the Caribbean, for even more adventure head to Sugar Mill Falls Water Park.
Family activities: When the sun goes down and the night draws in, why not check out Hilton's on site nightlife entertainment, from poolside cocktails in a relaxed atmosphere, to live music and karaoke nights.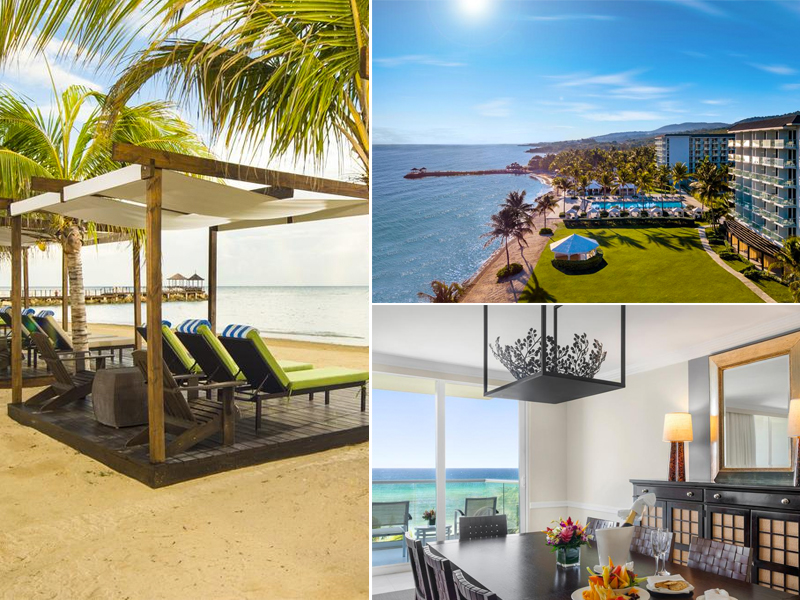 Kurumba, Maldives
Kurumba Maldives offers more than its pristine beaches and dreamy views; it hosts a range of facilities for every family member to enjoy. Choose from 12 elegantly positioned restaurants, all offering enticing views across the island, you can expect menus vairying of Italian, Japanese, Indian and Asian cuisine. Kurumba Maldives is just a 10-minute speedboat ride from Male, making this a perfect Island to bring the entire family.
For kids: enjoy some stress-free moments by checking your children in the care of Majaa kids club, open 7 days a week with educational and fun activities for ages between 4 and 12.
Family activities: there are plenty of things to do on this idyllic island, with nightly entertainment shows, social events and off shore excursions. For a magical end to the day go on a sunset and discovery cruise across the Indian Ocean where you can spot the beautiful Spinners and Bottle-Nosed Dolphins.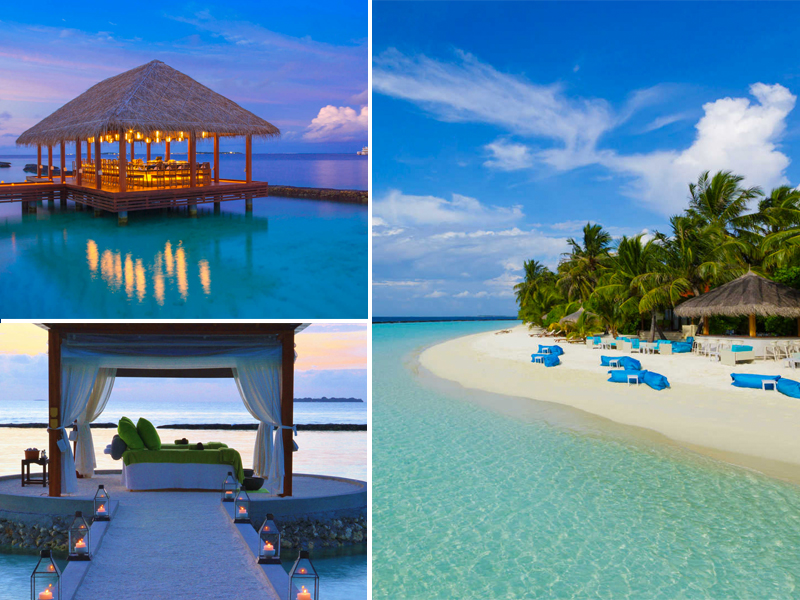 Voyager Beach Resort, Kenya
From the exterior of Voyager Beach Resort, you can immediately see that this was designed with families in mind, with its vibrant ship themed interior and exterior. Ideally located near Africa's largest crocodile farm and the world-famous Haller Park. You and your family can enjoy 3 swimming pools, a whirlpool, 3 specialized restaurants, 4 bars and a watersports centre.
For kids: the Adventures' Club offers amazing island activities for your little ones, with trained and enthusiastic staff on hand.
Family activities: spend the day exploring the Caribbean with a glass-bottom boat ride that showcases the most colourful of coral reefs around the island.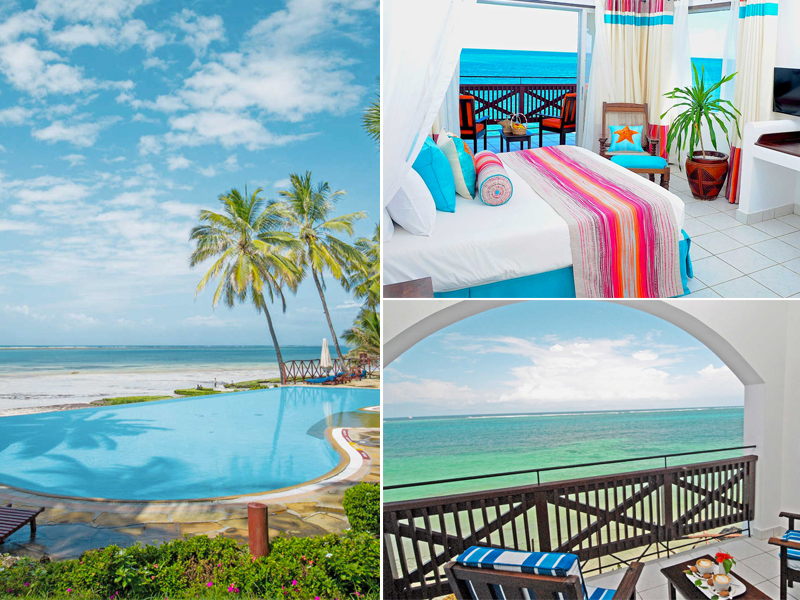 Inspired with our list of All inclusive family resorts? Why not contact us with your family holiday plans to learn more!