Overview
A Sri Lankan tour is great for travellers looking for excitement;whether you're whitewater rafting in down exhilarating rapids to cycling through beautiful rice fields, quaint little villages or beside intricate temples on dedicated trails.
With a huge variety of luxury accommodation, Sri Lanka is perfect for those that want a comfortable base from which to explore this diverse country. We suggest travellers hire a private driver who will take help you create the perfect itinerary.
Holiday Builder
FROM £2025PP
Please call for alternative hotels and dates.
STOP 1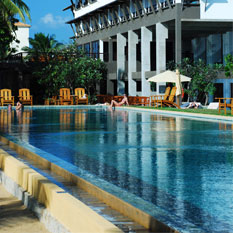 Unwind on a beautiful beach at this stylish Negombo hotel.An intimate and beautifully designed hotel, this spacious and stylish property offers fine facilities in a superb location beside a stunning beach right in the heart of Negombo. Highly recommended for honeymoon couples.

Relax in the open-air sea-view lobby, bar and main restaurant, or the air-conditioned à la carte restaurant. Relax beside the fantastic infinity-edged swimming pool or, orif you have the energy, the fitness centre or tennis court await.
STOP 2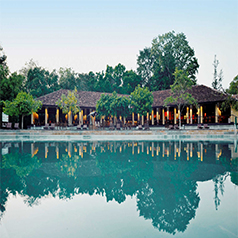 Half Board, Standard Room
A charming village-style resort for a perfect getaway. A delightful base from which to explore Sri Lankas cultural triangle, within easy reach of Sigiriya and Dambulla. Set in beautifully tended gardens, the facilities are in the style of a Sri Lankan village.

Enjoy a blissful massage at the Ayurveda centre or for the more active there is tennis, badminton, jogging and cycling. experirnce the local wildlife with elephant safaris and birdwatching, or just relax in the swimming pool. Later, unwind in the airy lobby and bar before enjoying dinner at the open-air restaurant and evening entertainment.

Other facilities include a gym, chess hut, jeep safaris, trekking and kayaking, and you can also pre-book experience packages to ancient cities. Visit Black Water Pool, learn to cast nets with village fishermen, take a bullock cart ride to a banana plantation, visit a local paddy field and hike to a mountain, ancient ruins or a monastery in the jungle.
STOP 3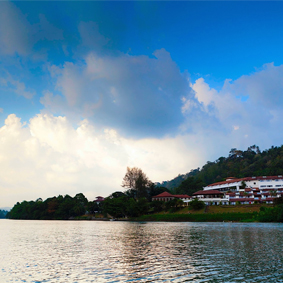 Half Board, Standard Room
With good facilities and a great atmosphere, the Citadel climbs terraced slopes on a riverbank hillside and is a lovely place to relax after sightseeing. Take in beautiful views of the surrounding mountains from its elevated spot, with terraces overlooking the river.

Unwind in the large swimming pool as the children enjoy the kids' slide, play table tennis, billiards and snooker and go boating. Be pampered at the Ayurveda centre and dine on delicious cuisine at one of two restaurants before sipping a nightcap at the bar.
STOP 4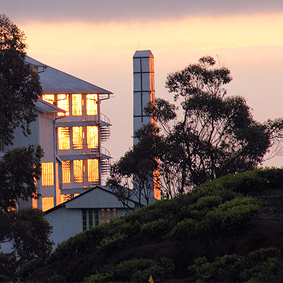 Nestled amid Sri Lanka's breathtaking hill country, this unique hotel sits 6850 feet above sea level. A recently restored tea plantation factory, it oozes old-world charm and boasts stunning views of the surrounding countryside.

Enjoy a game on the putting green or pick your own tea at the miniature tea factory. For total relaxation, visit the spa for a blissful treatment. Dine at two restaurants - one fine dining, in a restored train carriage - before sipping a nightcap at one of the bars.

Other facilities include a library, gym, bicycles to rent, sports facilities, indoor games, live entertainment, nature trails, jungle trekking and an eco walk. Sightseeing tours can also be booked.
STOP 5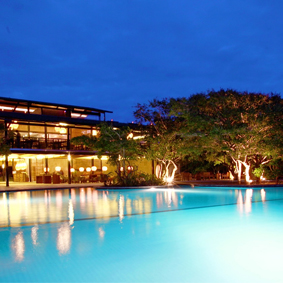 Half Board, Jungle Chalet
Discover amazing wildlife from this fantastic nature resort. Bordering Yala Wildlife Sanctuary and spanning 10 acres of jungle and miles of pristine beaches, Yala Village is a nature resort of untamed beauty on Sri Lanka's southernmost tip.

Head to the observation deck for a bird's-eye view of the eco-friendly sanctuary or look out for wildlife while floating in the swimming pool overlooking the nearby lake.

Embark on a safari, tour or excursion - you could go birdwatching or lake fishing - before dining at the restaurant and sipping cocktails at the poolside bar
STOP 6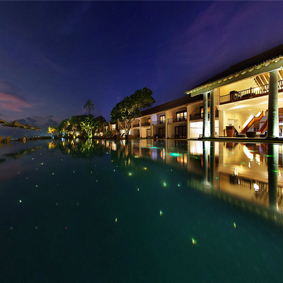 A beachfront boutique with old-world charm. A combination of Dutch and Portuguese styles with echoes of Old Ceylon, this exquisite hotel has set a new standard of accommodation in Sri Lanka. A stunning boutique property in a beautiful beachfront setting.

Flop onto a garden hammock before sliding into the freeform pool with massage jets. Indulge at LIME Spa with sauna, steamroom and hydrobath (spa packages available to pre-book on request), head to the fitness centre or practise yoga in the pavilion.

Dine in two great restaurants, visit the wine cellar and wander to the tea tasting bar.