Overview
Toast to the end of the year and the beginning of a new one with our ICEHOTEL Sweden experience based on travel from 30th December to 2nd of January, including a night in an Ice Room!
This itinerary is a once-in-a-lifetime experience you will never forget, set in the heart of the Swedish Lapland, world famous sculptors transform blocks of ice into show-stopping pieces of art, which then serves as beautiful décor for the rooms and around the hotel. There are plenty of magical experiences on offer, from celebratory drinks at the ICEBAR at ICEHOTEL, as well as winter wonderland adventures from snowmobiling over frozen lakes and arctic forests, to being guided by a specially trained guide in search of the northern lights. Being situated in a stunning winter wonderland location, the Swedish Lapland offers incredible excursions with the arctic wildlife such as lunch with the huskies, a snowmobile wildlife tour, wilderness dinner, and northern lights on horseback, reindeer encounters and so much more.
'Save' REF: B52063 – travel based on 30 Dec 2018 – 2 Jan 2019 (contact us for alternative dates)
Holiday Builder
FROM £1200PP
Price from £1200pp. Please contact us for alternative hotels.
STOP 1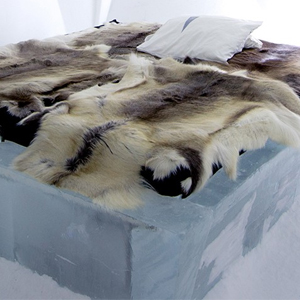 Cold Room - Ice Room, Breakfast
Enjoy a unique night in the Cold Room - Ice Room, a classic designed room with a bed, which has a thick mattress that rests on a wooden base and in the morning a hot cup of lingoberry juice will be waiting besides your bedside. The bed is adorned with reindeer hides and you sleep in a thermal sleeping bag. In the dressing room, which is situated adjacent to the ICEHOTEL, you will find communal changing rooms, toilets and saunas for women and men. Luggage is stored in the luggage room prior to your overnight stay.
STOP 2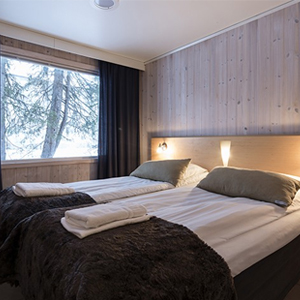 Warm Room - Nordic Chalet, Breakfast
Ideal for family or friends sharing, the Warm Nordic Chalet is situated just minutes from the main reception, ICEHOTEL, the shop and main restaurant. Featuring 2 bedrooms - one with a double bed and the other with bunk beds, this chalet can accommodate up to 4 guests. There is a small lounge and kitchenette as well as heated tiled flooring in the hallway, lounge and bedrooms for extra comfort.