Overview
Norway is home to majestic mountains, phenomenal fjords, picturesque towns and a wealth of history and culture. Our incredible 13 day Norway with Northern Lights holiday package is the perfect way to tick off a number of adventurous activities from your list; seeing the Aurora Borealis illuminating above, to cruising through fjords and husky dog sledding – just to name a few!
If you've always wanted to explore Norway's incredible locations, or you would love to revisit for a special occasion, get in touch today about the below itinerary for a tailor-made experience you won't forget!
'Save' REF: REFB283
Holiday Builder
FROM £2385PP
Price from £2385pp. Please contact us for alternative hotels.
STOP 1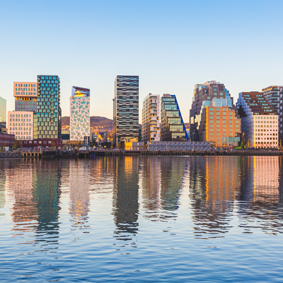 Your first stop will be an overnight stay at Radisson Blu Airport Hotel, accessible via terminal walkway with easy access to bus and train stations. You can reach the city center within 20 minutes via the Flytoget Airport Express train. Each of the 500 rooms at Radisson Blu Airport Hotel is soundproof, giving you a cozy base to begin your Norway with Northern Lights holiday. Room amenities include free Wi-Fi and mini bar, and the restaurants offer Scandinavian a la carte selections and the fully equipped gym is on hand to keep up with your regime.
STOP 2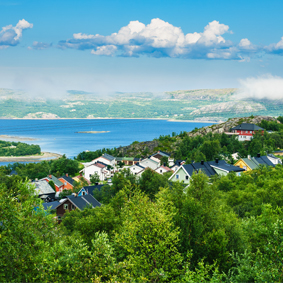 On day 2 you will stay overnight at Scandic Kirkenes, which is centrally located near the snow hotel and Varanger Museum. Scandic Kirkenes is the ideal base in which to explore Kirkenes, from snowmobiles, ATVs or dog sleds as a means of travel. Hotel facilities allow for a comfortable stay, including the gym and spa with pool and sauna, free Wi-Fi and free parking.
STOP 3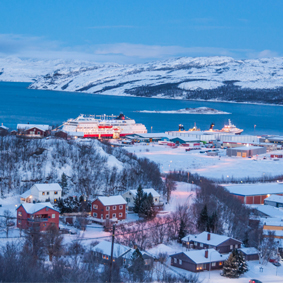 Next stop is the incredible Gamme Cabins, in winter they are surrounded by a thick blanket of snow offering you sweeping snowy landscapes. During the summer, you can enjoy views of lush greenery and fishing lakes for a charming summer countryside escape. The Gamme Cabins are designed in the shape of traditional hunting and fishing huts. Each hut is furnished with warm and cozy features such as the under floor heating, kettle and bathroom with a separate aurora wall! Large panoramic windows and lounge chairs allow you to relax in your cozy retreat while gazing up into the sky in prospect of seeing the Northern Lights.

During your time in Kirkenes you will enjoy a Husky fun tour through the Arctic wilderness, and if you're lucky you may get to see the Northern Lights whilst gliding through the blanket of snow!
STOP 4
Full Board, Outside Twin Cabin
On day 4 you will board MS Midnatsol with Hurtigruten and embark on a 4 night cruise from Kirkenes to Bergen where you'll pass the Arctic Circle, over 100 fjords and 1000 mountains!

After you port in Bergen you will be taken on a guided tour of Trondheim with a stop off at the Cathedral.

Trondheim is the third most populous city in Norway, with plenty to see and do. With a large collection of restaurants and bars, theaters, bowling, baths, water parks and skiing. Complete your day in Trondheim with a historical tour of Nidaros Cathedral, built on the exact spot of King Olav Haraldsson's burial sight. Known as the national sanctuary of Norway, Nidelven Cathederal is a gothic styled landmark, which homes an entertainment program of choirs and carols.
STOP 5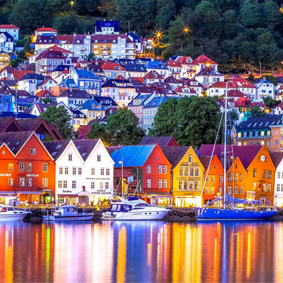 During your time in Bergen you'll stay at the well-appointed Radisson Blu Bergen for 2 nights. Home to a UNESCO World Heritage Site, a cluster of colourful buildings and an abundance of winding alleys lined with shops and restaurants, there is plenty to see and do during your 2 nights in Bergen. Radisson Blu Bergen has 342 stylish rooms that are furnished with inspiration taken from the colourful exterior of the city. Guests can enjoy complimentary access to the fitness center, free high-speed Wi-Fi, mini bar, radio and super breakfast buffet. Guests can use Radisson Blu Bergen as the ideal base in which to explore the city with 2 restaurants and a piano bar to begin your day or evening.
STOP 6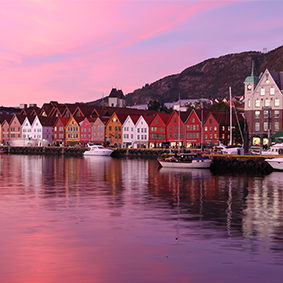 After your two days in Bergen you will retreat to Oslo via the Norway in a Nutshell Rail journey. You will cross the beautiful sceneries of Norway's breathtaking fjords from the Aurlandsfjord to the narrow and dramatic Nærøyfjord, which is a UNESCO World Heritage site.
STOP 7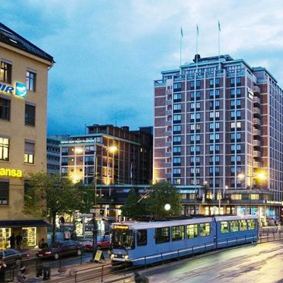 Situated adjacent Oslo's bus terminal overlooking the charming harbour, Clarion Royal Christiania is in an ideal location where in just 5 minutes you can walk to main sights such as the Akershus Fortress, Oslo Cathedral and Aker Brygge. Clarion Royal Christiania features en-suite rooms that occupy solo travellers, families and couples. Each room is equipped with writing desk, satellite TV, free Wi-Fi, kitchen and iron with ironing board. Breakfast is served each morning in the min restaurant.
STOP 8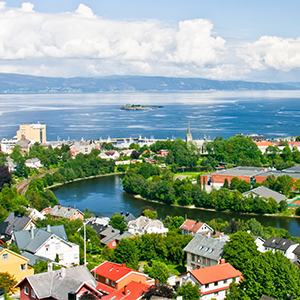 After 2 nights in Oslo, you will transfer via Oslo back to Trondheim.
STOP 9
On your final day you will stay at Scandic Nidelven, famous for its delicious award-winning breakfast. Minimalist rooms are stylishly furnished serving as your ideal base to recuperate on your last day, whether its enjoying great food and drink whilst overlooking the Nidelven River at the restauran, or getting a last sightseeing trip before your flight home.