Overview
Toronto
Toronto is Canada's bustling city that sits along the waterfront of Lake Ontario. Boasting of an abundant of green spaces from parks and gardens to zoos – and even a beach park, which is ideal for picnics on the sand with views of boats passing by. One of Toronto's most iconic buildings, the CN Tower is a one-stop destination for wining and dining – before the Burj Khalifa was built in 2010, the CN Tower was the tallest free-standing building in the world! For impressive views of the city, why not head to the glass floored elevators and make your way to the LookOut level for views across the city all the way to the lake, Niagara Falls and New York! As well as being a city for world-class dining and shopping, Toronto's night scene is also noticed as being one of the liveliest for music and nightlife in the world, with lively after-hours bars and trendy nightclubs. Some of the best things to see and do in Toronto include a day trip to Niagara Falls, strolling around High Park, visiting the AGO art gallery and Ed Mirvish Theatre. If you enjoy escaping the hustle and bustle of the city you can always hop on a ferry ride to Centre Island where you can kayak in the glistening waters or rent a bike and trail the popular paths with lush sceneries.
Rocky Mountaineer
See the extraordinary sights of the Canadian Rocky Mountains on a Rocky Mountaineer journey to Canada's most-talked about destinations; Banff and Lake Louise. The full journey takes 6 days and 5 nights, with 2 days on board the Rocky Mountaineer train and 5 nights hotel stay. Take in Canada's breathtaking sights at the perfect pace so you can really enjoy the sights and sounds Canada's natural wonders. The Rocky Mountaineer includes activities and tours including the Vancouver Lookout, Yoho Park Tour, Banff Louise, and Lake Louise to Calgary Tour including Banff Gondola, a panoramic helicopter flightseeing tour and a visit to Calgary Tower. See below for the complete day-by-day itinerary.
Vancouver
Known for its famous film set locations in popular Hollywood hit movies such as 'Tomorrowland', '50 Shades of Grey', 'Night at the Museum' and the 2014 'Godzilla' movie. Surrounded by mountains, Vancouver is one of those cities that will make you return time after time, from its vibrant downtown neighbourhoods to its awe-inspiring natural beauty and endless list of attractions that make this city so diverse. You could be spending one day strolling the golden beaches, watching a local game of baseball or hockey and indulging in retail therapy in the many designer shops – on the contrary you could be venturing to Whistler, a popular ski resort with year round adventure activities such as whale watching, water rafting and zip lining for a completely different experience of Vancouver. The many characteristics of Vancouver really come to life with its many attractive areas such as the bustling Chinatown, aromatic Punjabi Market, vibrant Granville Street and the popular shopping precinct on Robson Street.
'Save' REF: B44829 – travel based in May 
Holiday Builder
FROM £3150PP
Price per person. Please contact us for alternative hotels and combinations.
STOP 1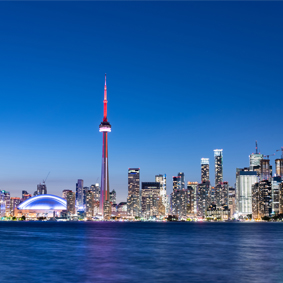 Situated in the hub of Toronto's downtown centre, Holiday Inn downtown is in the midst of it all with shops galore at Toronto Eaton Centre and great transportation links in which to explore the city. Holiday Inn Downtown Toronto serves up delicious hot and cold buffet breakfasts and a la carte menu for lunch and dinner, which showcases some of Canada's delectable culinary offerings at Carlton Restaurant. Pre and post dinner drinks can be enjoyed at Thirty Bar. The hotel also features an indoor pool and fitness center equipped with all the gym essentials.
STOP 2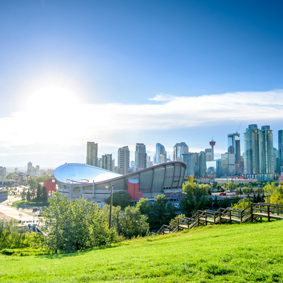 Rocky Mountaineer – Calgary
On the first day of your Rocky Mountaineer you will arrive in Calgary, where you can freely explore the city in your own pace. You will spend your night at Hotel Arts, conveniently placed near an array of downtown attractions and entertainment. Award-winning dining and designer-led rooms is what gives Hotel Arts its exclusivity, with a host of signature amenities such as the Italian glass tiled pool and the indulgent spa and wellness centre.
STOP 3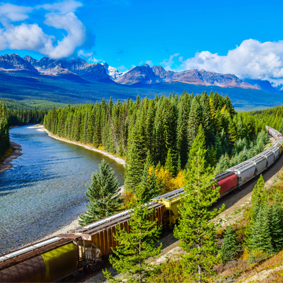 Rocky Mountaineer – Calgary to Banff
On day 2 of the Rocky Mountaineer you will embark on a full-day tour, which will take you to Banff. En route you will stop off at Kananaskis to enjoy a thrilling 12-minute Panoramic Helicopter Tour over the breathtaking Rockies. After your spectacular flight you will continue the journey to Banff, which unveils a plethora of sights including Bow Falls, Lake Minnewanka, Surprise Corner and the Hoodoos. For the best views of Banff a ride on the Gondola is included, which gives you 360-degree views of Banff and 6 scenic views of the mountain ranges from 2,281 metres above sea level!

After your adventurous day you can enjoy an overnight stay at Elk + Avenue Hotel situated in downtown Banff in the heart of the national park and Canadian Rockies. Rooms are adorned with fresh and modern interiors and well appointed amenities such as complimentary Wi-Fi and large deluxe showers. Known for its famous breakfasts at Rick's All Day Dining, your taste buds will be satisfied for the adventures waiting on day 3 of the Rocky Mountaineer.
STOP 4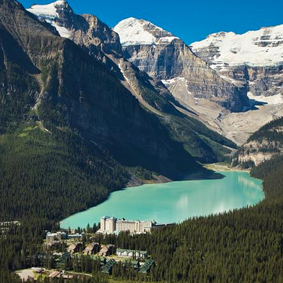 Rocky Mountaineer – Yoho Park Tour, Banff to Lake Louise
A half-day tour to Yoho National Park presents some of the world's most inspiring sights to behold such as spiral tunnels, emerald coloured lakes and a natural rock bridge that spans the Kicking Horse River. Finishing off the tour in Lake Louise, you can enjoy some leisurely time to explore the amazing sceneries for yourself. Be inspired by the vast of spectacular views by Gondola or the many hiking trails where you can see the natural wonders of the Temple Mountain, Big Beehive, Herbet Lake, Fairview lookout, plain of six glaciers and so much more. Fun activities in Lake Louise include river rafting and dog sled tours.

An over night stay at Fairmont Chateau Lake Louise showcases spectacular views of Lake Louise, from the majestic mountains to the Victoria Glacier and the emerald azure waters. Rooms are modernly furnished with wonderful views and well-appointed amenities for a relaxing stay in the heart of Lake Louise. 7 restaurants and lounges present global gastronomy for those looking for exceptional dining experiences, from contemporary Canadian delights to European alpine cuisine and modern Italian fare – your taste buds will be taken around the world on a journey of flavour. After a long day of exploration why not retreat to the spa to recuperate, with the use of an indoor heated pool, whirlpool, steam rooms and fitness center.
STOP 5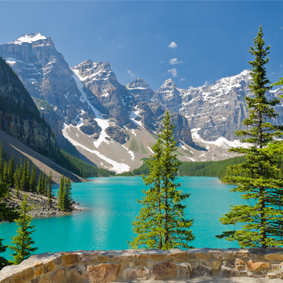 Rocky Mountaineer – Lake Louise to Kamloops
On board the Rocky Mountaineer you will travel from Lake Louise to Kamloops where you will navigate between the glacier and snow-capped peaks of the Canadian Rockies, over the mountain passes and through the incredible tunnels. You will also go along the rocky lakeshores and across the ranchlands of the interior. The highlights of the train ride include Continental Divide, the Spiral Tunnels, Kicking Horse Canyon, Rogers Pass and Craigellachie.
STOP 6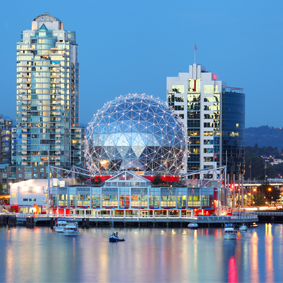 Rocky Mountaineer – Kamloops to Vancouver
From Kamloops you will take the Rocky Mountaineer and journey to Vancouver. The pleasant journey showcases a variety of vistas from winding river canyons, lush forests, beautiful coastlines, cascading mountains and verdant green landscapes of the fields of Fraser Valley. Highlights of this train journey include the waters of Hell's Gate and the Thompson River.

After your last day on the Rocky Mountaineer you will stay at the Pinnacle Hotel Vancouver Harbourfront, which is located in downtown Vancouver, with beautiful harbour views where the North shore mountains can be seen. The ultra modern rooms are furnished with floor-to-ceiling windows for admiring the impressive views. The hotel's wonderful amenities include complimentary Wi-Fi, hotel bikes, pool, gym and fitness centre, live music and a daily happy hour!
STOP 7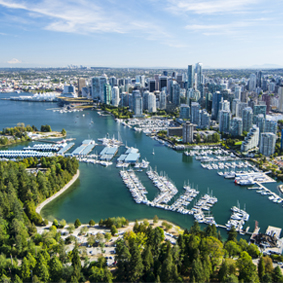 Sutton Place Hotel is placed in downtown Vancouver just a stone's throw from renowned shopping, business, arts and entertainment districts. Tastefully furnished with European style, this elegant hotel is a quintessential base in which to explore everything that Vancouver has to offer. The hotel is home to 397 rooms each featuring modern amenities and beautiful views of the city. Amenities at the hotel include an indoor pool, fitness centre, sauna, whirlpool and spa. Spend your 2 nights discover Vancouver's highlights such as Stanley Park, Granville Island, VanDusen Botanical Gardens, Queen Elizabeth Park, English Bay and False Creek.