Overview
Explore more to the tropical Islands that situate on the Indian Ocean with a Sri Lanka and Maldives multi centre holiday, giving you an all-round experience of culture, heritage, beautiful sceneries and wildlife encounters. Complete your amazing holiday in one of the worlds most sought after relaxation retreats, the Maldives, designed to slow things down to appreciate the company from family, friends and loved ones.
Sri Lanka
Sri Lanka is the situated within the marvelous Indian Ocean, with white sandy beaches that will calm your senses in an instant. Families and couples will love what Sri Lanka has to offer, where culture and wildlife sit side-by-side and lazy days always wait with open arms. Known for its heritage of tea making, Sri Lanka boasts stunning sights such as the green hill plantations, that are sure to take your breath away, with its endless trails of tealeaves. Why not take a tea tour and discover more about the wonders of Sri Lanka's continuous heritage. With choices between the beach and forests, you really have the world in your hands. Spend your days laying around the beach, trying out a new water activity or checking into a spa retreat for a traditional massage. Wildlife and nature lovers will admire the variety of species to spot, look out for elephants, bear monkeys, sambhur or majestic leopards while discovering this beautiful destination.
Maldives
The Maldives is a glorious destination, known for its calming ambience of turquoise lagoon and white pearly beaches. Families can enjoy a fun, yet relaxing holiday, where water activities, land activities and spacious villa accommodations create a perfect family getaway, sharing amazing moments that will become wonderful memories to look back on. Couples can revel in romance in their own private retreat, and do as little or as much as they please. The Maldives is renown for its therapeutic spa retreats and overwater villas that capture amazing sunsets and sunrises over the Indian Ocean.
'Save' REF: Q46815 – price based in August 
Holiday Builder
FROM £4650PP
Price per person. Please contact us for alternative hotels and combinations.
STOP 1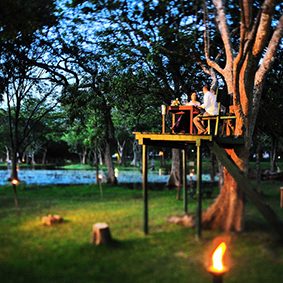 Cinnamon Lodge is a collection of 137 chalets, nestled within acres of re-forest land with outstanding natural beauty. Modern interiors, exuding with orange and brown interiors, making the rooms feel welcoming with warm hues and traditional artwork scattered around the resort, giving you a taste of Sri Lankan lifestyle. Nature lovers will love staying in this resort, with up to 100 avian species of birds to look out for, you really are in the heart of Sri Lanka's wildlife terrain.
STOP 2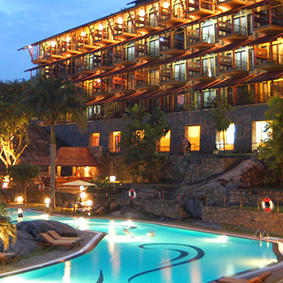 This luxurious 5 star hotel is located in Sri Lanka's cultural capital, Kandy. Elegant interiors combine inspiration from Sri Lanka's natural beauty and heritage to create comfortable and stylish accommodation. Cozy furniture and amazing balcony views come together to make your Sri Lanka experience even more special. The magnificent swimming pool at Earls Regency is a truly spectacular sight to see, the pool laps around the plam trees where you can capture views across Sri Lanka, creating a poised and mystical scene, the panoramic views are a truly photo-worthy sight to capture while staying at Earls Regency.
STOP 3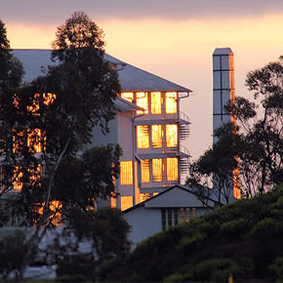 Half Board, Superior room
Stay in the heart of Sri Lanka's cultural hotspot, where lush green plantation hills scatter around the resort, oozing with charm, boasting mystical sights to see. Full-length windows from the bedroom allow for the most magical views to wake up to in the morning, when the sun rises. Modern and rustic interiors, with dark wood furnishings and light and elegant bed sheets and sofas, build a cozy and homely ambience in the guest rooms at heritance Tea Factory.
STOP 4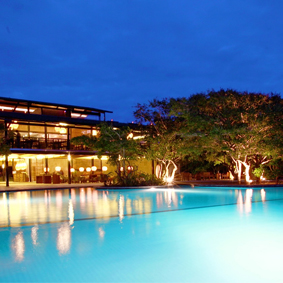 Half Board, Jungle Chalet Room
Part of the Cinnamon hotel chain, neighboring the Yala National Park, which is home to a high density of leopard in Asia, Cinnamon Wild Yala is an eco-friendly resort for wildlife lovers to experience adventurous safari trips in the park's game reserve. A choice between a jungle chalet and a beach chalet allows you to experience amazing scenery from the bedroom, whether your choice of scenery is of the dreamy beach or the mystical wonders of the deep forest.
STOP 5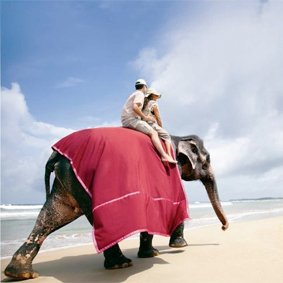 Half Board, Superior Charm
This beachfront resort is ideally located on the south west coast of Bentota. Amazing fresh green lawns and tall palm trees line the appealing beach and Indian Ocean for a relaxing getaway near plenty of culture and natural surroundings. The terracotta-roofed resort offers modern living, overlooking the lush gardens and turquoise shores. Fresh interiors, with vibrant coloured walls and stylish furnishings immediately uplift the senses, making you stay feel like a seaside getaway.
STOP 6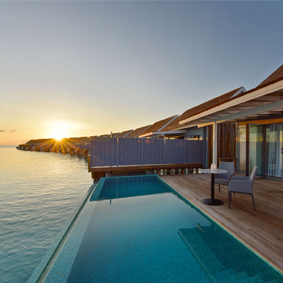 A La Carte All Inclusive, Water Villa with Jacuzzi
Kuramathi Island resort is just 20 minutes from Male airport via an enjoyable seaplane transfer or opt for the speed boat which takes 1 hour and 30 minutes through the sparkling Indian Ocean. This all-villa resort offers guests a choice to sleep above the luscious ocean or nestle on the pearly white beach. Modern furnishings make Kuramathi Island a cozy retreat to escape into your own secret haven.