Vivienne & Graham's Romantic Getaway at Tongsai Bay
Our clients, Vivienne and Graham, spent 2 weeks relaxing in Koh Samui at the stunning, 5 star Tongsai Bay. As regular clients to this hotel, we caught up with Vivienne to discuss her recent trip staying in the lavish Pool Villa and all about their 4th time visit to the resort.
Impressions of Tongsai Bay
"Our Story began in 2010 when we discovered The Tongsai Bay in Koh Samui for our Wedding and Honeymoon. As it was to be just the two of us at our wedding and our love for all things Thai, we chose a 5* Luxury resort which features Villas and Cottages rather than high rise Hotels. Our Wedding at Tongsai Bay was out of this world, the ceremony on the beach, flower garlands, cake, photographs and the hotels guests became our guests. The Management and Staff are very attentive as such they remember your name and likes and dislikes throughout your stay. We have been 4 times in total with our 5th stay booked for a fortnight in March 2020 to celebrate our 10th Wedding Anniversary and my 60th Birthday. Our favourite villa is the Tongsai Pool Villa for privacy and space.  The views are amazing wherever you look.  It's peaceful and relaxing. The food is our favourite pastime – it's so fresh and fragrant!! Although the resort is built on a hillside, the steps are block paved and very safe and they have several golfing buggies to take you around the resort from villa to restaurant and they arrive instantly on request, which is very attentive. There are 2 pools – as the resort is not Adult Only they have one half moon pool away from the beach for just adults.  To be fair I cannot really remember seeing many children at all if your preference is for the more tranquil holiday as is ours."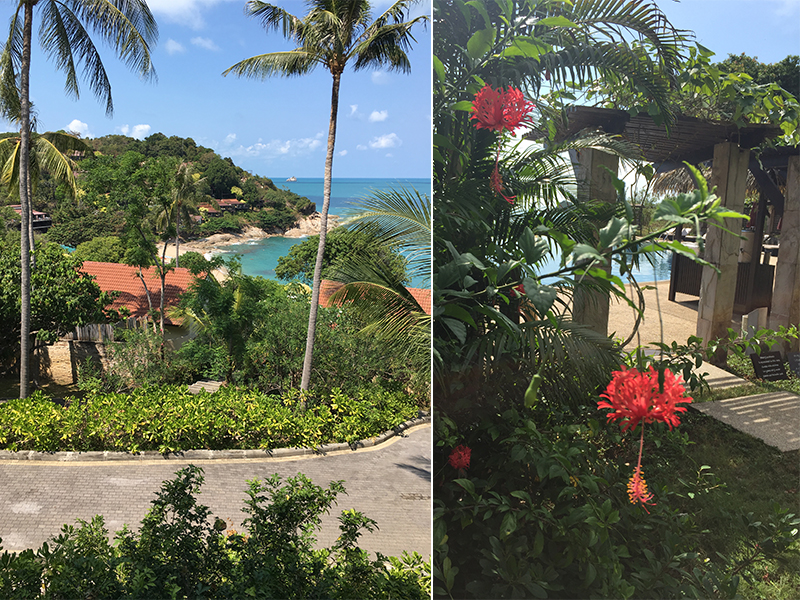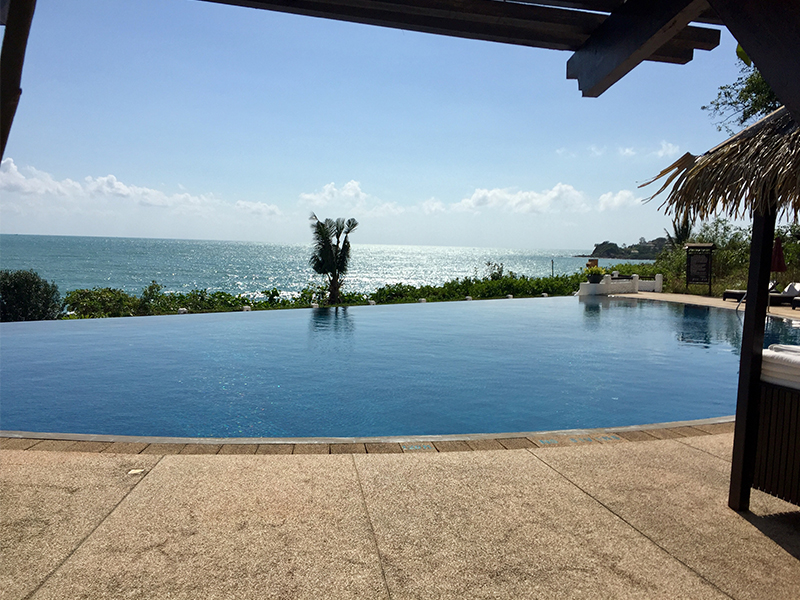 Pool Villa at Tongsai Bay
"It was our first time in a Pool Villa after always staying in a Grand Villa which in itself is a amazing. However, the Pool Villa is the best of the best, room 514 has the best view, uninterrupted views of the sea.  The pool is very large too not just a plunge pool.  From memory it was 30ft x 12ft approx. Inside you have king size bed, seating area, dressing area, walk in wardrobes, his and hers hand basins, and large shower. Housekeeping is twice a day with flowers scattered here and there in your room, fruit (Thai Mangos a must) and foodie treats are also delivered to your room every day. The outside patio area is as big as inside. With a kitchen area, fridge – mini bar, Nespresso machine, very large table for in villa dining, 2 loungers, a day bed with mosquito net and of course Tongsai's signature feature a huge outside bath. You are entitled to a Return to Prana Spa for 2.5 hours, which is absolutely out of this world. Also, for a special treat, a 5 course in Villa dinner on your veranda is also included with a private chef cooking there and a waiter throughout the evening – they even decorate your veranda with dozens of tea lights and flowers. All in all fabulous!!"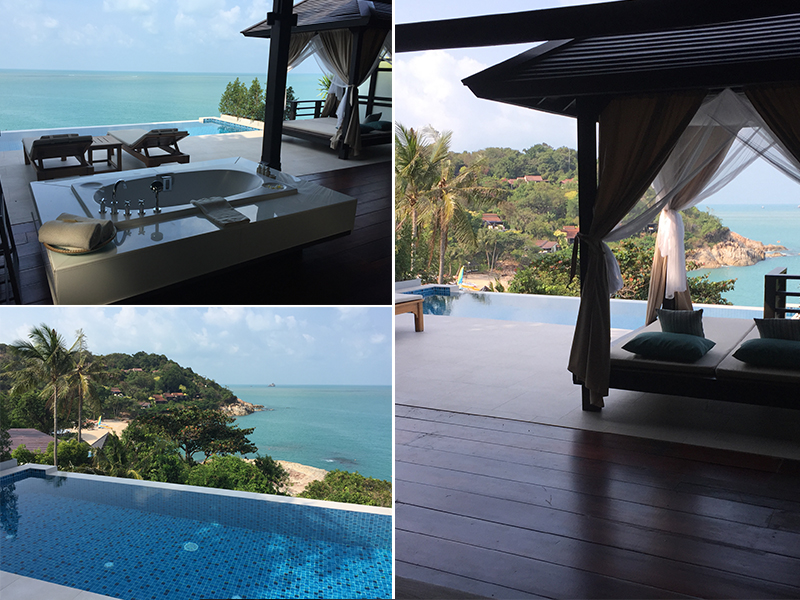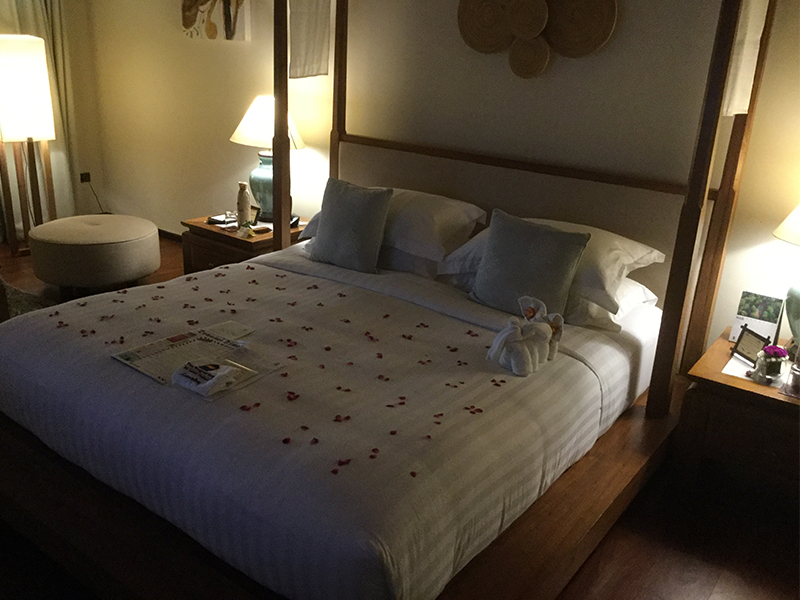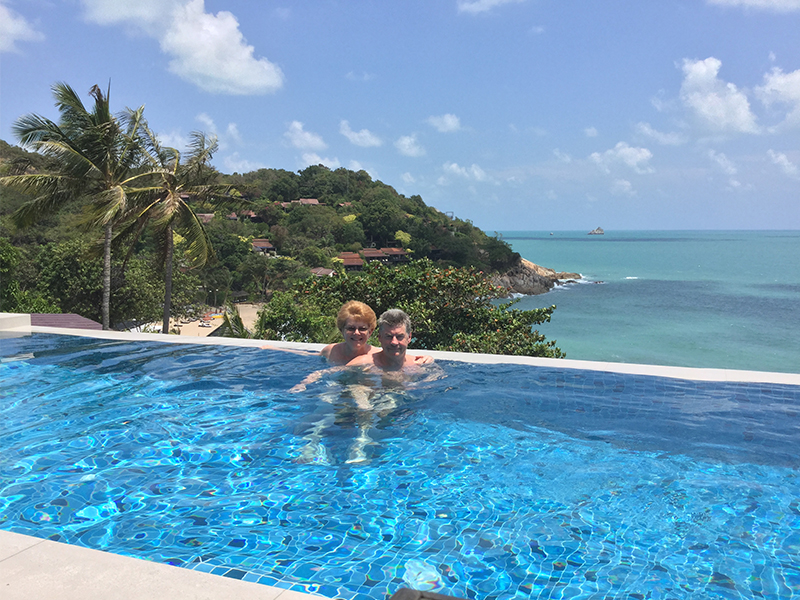 Dining at Tongsai Bay
"We always eat the hotel, with 3 restaurants and themed evenings, the foods is amazing, so we never feel the need to travel outside the resort. Chef Chom's Restaurant serves typical Thai cuisine our favourite dishes include Soft Shell Crab with Peppercorns, which is not to be missed and Coconut ice cream served in a young coconut, and fresh mango with sticky rice yummy. Pad Lo Restaurant serves a variety of cuisine, our favourite is the seafood BBQ, which is all fantastically fresh. Butlers Restaurant is a fine dining restaurant, more French style cuisine with wine pairing, absolutely amazing! In addition, daily breakfast at Chef Chom's is fantastic with different cooking stations including a noodle bar, egg station and the 2 ladies serving on the fruit and smoothie station is a meal time to look forward to!"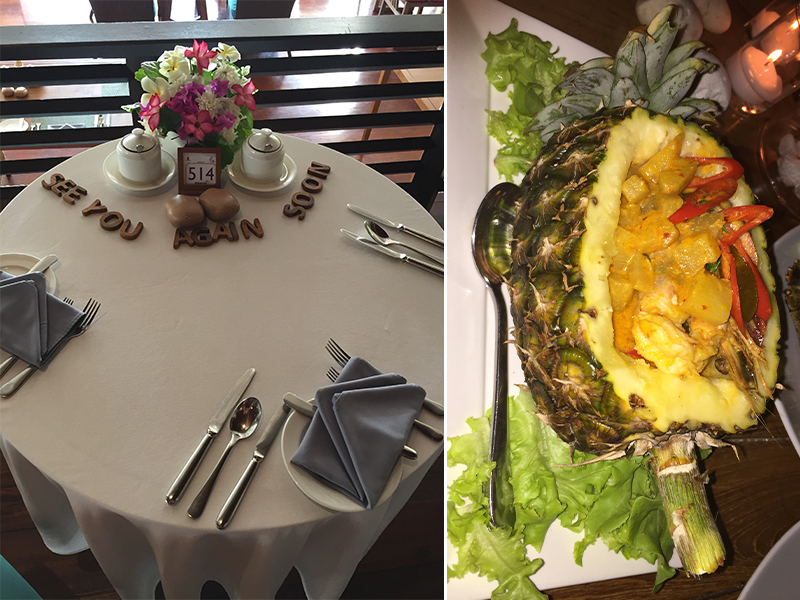 Acitivies at Tongsai Bay
"Our idea of a great holiday is to relax by the pool with a good book, enjoy the scenery, food and cocktails. However, there are numerous excursions to experience with a dedicated desk in Reception for all your enquiries and staff suggestions. In hotel activities such as Thai cooking classes and fruit carving and yoga classes are available to name just a couple. There are non-motorised water sports too, Tongsai is also a private beach!!"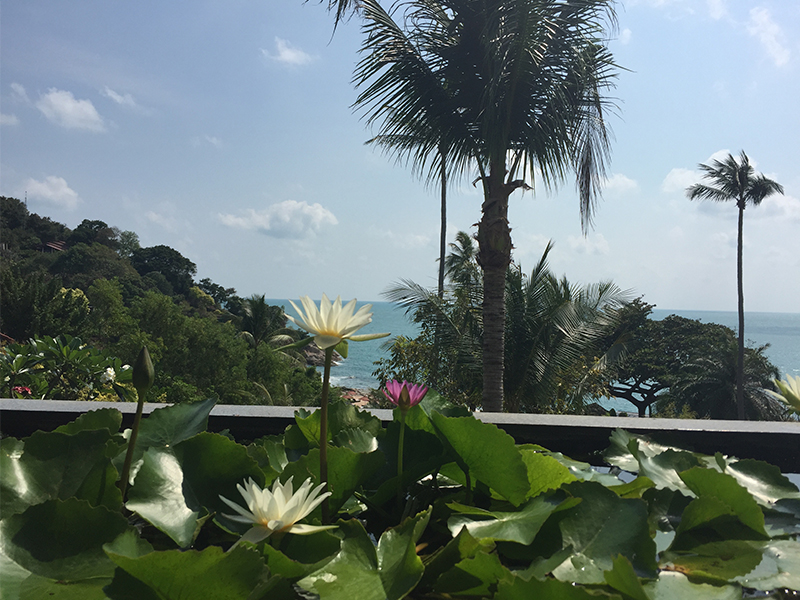 How was the service that you received from your travel agent, Donna?
"Well what can I say about the lovely Donna?? She's amazing!!!! We're great friends now. Nothing is too much trouble, she is very friendly but professional, she looks into all the details with a fine toothcomb, I'm very impressed. It's not 'rush rush down to business' she takes time to know a little about her "VIP" clients. She's a star – thank you!!"
Where is next on your bucket list?
Inspired by Vivienne and Graham's romantic Koh Samui holiday? Contact Pure Destinations today about a tailor made holiday package or visit our Travel Agent store in Edgbaston or Sutton Coldfield.