Travel Tips: How to pack like a minimalist
Minimalism is one of those terms that periodically reappears. Based on the idea that less is more, it champions a streamlined and clutter-free approach to life, holding to the point that you don't need loads of stuff to make you happy. With the rise in popularity of figures like Marie Kondo, minimalism has recently enjoyed something of a resurgence, but to what extent does can the concept be applied to travel?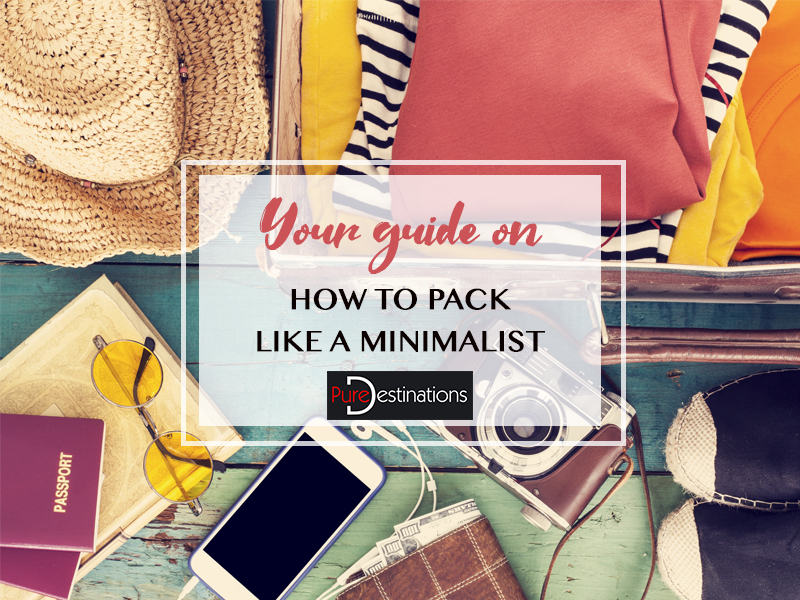 The most obvious area in which minimalism might be utilised to aid the average traveller is in packing. Packing can be a tricky thing to complete. Depending on your chosen destination, you might need to fit a whole host of things in your suitcase to ensure your holiday isn't lacking any essentials. If your destination is one with unpredictable weather, you may find packing light to be a particular challenge, while those who intend to spend weeks on the road will likely struggle to fit everything in a single rucksack.
How, then, might minimalist values be drawn upon to achieve efficient packing? Cast your eyes over our helpful tips to find out…
Research your destination
Once you've decided on where to go, thoroughly research your destination to gain insight into the kind of items you might need to take with you. Check out the weather and average temperatures for the time of year you'll be travelling, take time to uncover local traditions to ensure you select appropriate clothing for the culture of wherever you're heading, and try to get an idea of what is available in the area you will be staying. If there are plenty of shops nearby – local supermarkets, pharmacies, and so on – you could pick up some of the items you'll need during your holiday once you've arrived at your destination, freeing up space in your bag for other things.
Carefully select your luggage
The type of luggage you take can make all the difference to what and how you pack. If you're looking to go the minimalist route, opt for a bag or suitcase of modest size and with plenty of different pockets and compartments. Not only will a smaller case necessitate a certain brutality when it comes to deciding what to take, but having a variety of sections to store things in will help you easily locate your different items while travelling. This should help you organise your bag better and allow you to identify any non-essential items that can be left out of the final cut.
Plan ahead
Similar to researching your destination, it is essential to plan ahead if you're going to pack like a minimalist. Multipurpose items are a minimalist traveller's friend, and multipurpose clothing can be especially useful. Figure out where you'll be going while you're away and decide on a few key outfits ahead of time to make sure you're only packing clothes you will wear. If there's the possibility of an elegant meal out, take a shirt or blouse that can be dressed up with accessories for the evening then worn during a guided tour the following day. If your hotel is inland and doesn't have a pool then leave the swimming costume and trunks behind. Neutral colours are particularly helpful to pack when attempting to keep things streamlined as they are invariably easier to match with other items than brightly coloured clothing.
Roll with it!
One key piece of advice when packing like a minimalist is to roll up your clothing like a fruit roulade. Section your items out into categories such as shirts, skirts and dresses and then roll each section up and bind with a piece of string. Socks can be rolled up tight to fit inside shoes or in any small pockets and compartments within your case. Not only will this approach to packing take up less space than if you packed the traditionally way, but it helps to organise the inside of your luggage and allows you to find things more easily when you need them. Another benefit to rolling is that you'll arrive at your destination will clothes that are free of crinkles, thus cutting down the need for any impromptu ironing while enjoying your well-earned break.