Top Five Christmas Destinations
A top five collection of the best places around the world to celebrate the festive period whether it's traditional christmas markets or dog-sledding, you can have it all this Christmas! We've explored everywhere worthy of this festive title, from the city metropolis of New York to secluded retreats in the Nordic territories.
1. Quebec, Canada.
In Old Quebec Quarter (Petit Champlain) is transformed at this festive season into a winter wonderland; think cobbled streets, a French style village of chocolate box houses dusted with snow and a smattering of Fir trees. Meanwhile the whole city gets into the swing of things with events including; Christmas food tours, spirited tour guides in New France, Red Bull Crashed Ice Winter Sports, the Christmas markets at Old Port and Quebec Winter Carnival. Explore Canada holidays.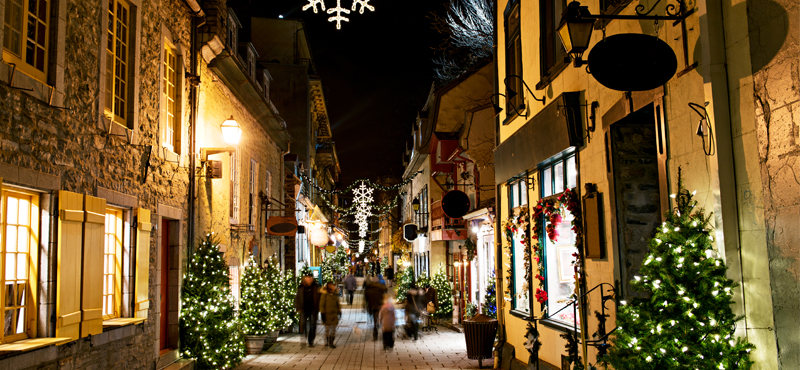 2. New York City, New York.
It's featured in some classic Christmas songs: The Fairytale of New York, its Christmas in New York, 'Have Yourself a Merry Little Christmas'. And in Christmas films like Miracle on 34th Street, Trading Places, Elf, Home Alone and Scrooged. Its also the home of many Christmas cliché's; you can go to the Rockefeller centre to witness the giant Christmas tree, powered with over 45,000 LED lights, or go to see Macy's Santa land – a winter scene come to life – Christmas trees, elves, toy trains and of course, it's home to the only real Santa. New York botanical garden have one of the cities greatest traditions – the holiday train show, with a quarter mile toy train track passing NY icons like the Brooklyn Bridge and Statue of liberty! You can choose from our selection of the most opulent hotels in the big city, here.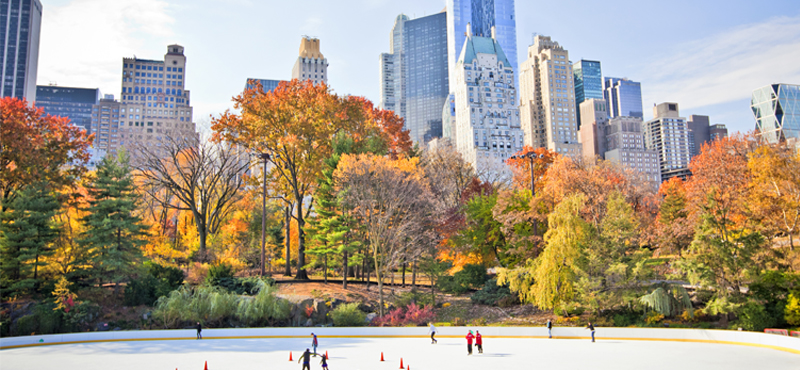 3.Tromsø, Norway.
Tromsø has been said to hold the best views of the northern lights than anywhere else – add to that dogsledding, mountaintop cable cars and traditional Christmas food – you have the perfect Festive location! There is one slight catch, in December a day in Tromsø 'day' only has a couple of hours of actual daylight – but doesn't that just give you more of an excuse to snuggle up by the fire.
4.Zurich, Switzerland.
With the amount of magical events happening over the festive period Zurich easily clenches one of the top spots and here's just a few reasons why… Circus Conelli, every year during Christmas time the Conelli circus appears at the 'Bauschanzli' – a miniature island on the Limmat River the acts range from classical to contemporary circus arts in a feast of festive colours! Zurich Night Shopping, for the shopaholics, the switching on of the Christmas lights (fueled by 12,000 LED lights) is celebrated by a night shopping event fortified by mulled wine and traditional food stalls. The Swiss National Museum showcases a selection of notable Christmas cribs, nativity scenes and mystical wintery landscapes. Lastly and probably the most visually arousing is the 'Lichterschwimmen' , which is essentially 800 floating candles launched onto the Limmat River, with stunning effects.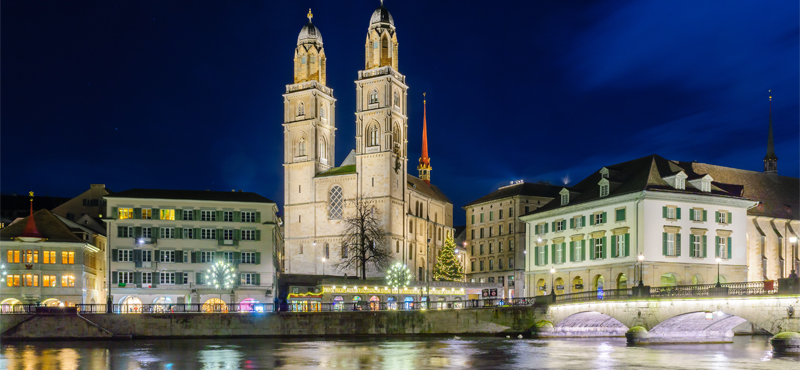 5.Santa Claus, Indiana.
This town's actually name is Santa Claus, how could I not mention it? It also has the worlds only post office to bear the name 'Santa Claus', as you can imagine, they get countless letters from young children trying to contact Santa – these children's letters are replied to by a group of volunteers (since. 1914) called Santa's Elves. Just to give you an idea of how Christmassy this town is, its town hall and main shopping centre are permanently decorated festively – there is even a gigantic Santa statue outside the town hall! The majority of residents live in a gated community called, none other than, 'Christmas Lake Village' which is built around three lakes; Christmas Lake, Lake Holly and Lake Noel – these people were either extremely unimaginative or were just complete Christmas enthusiasts.
Inspired by our top fives destinations to visit at Christmas? Contact us today about planning your net getaway. Call us on 0800 0856 846 or enquire online.