Tom's Journey Through Utah and Las Vegas
Join our Head of Marketing, Tom, as he journeys through Salt lake City, 3 of Utah's 'Mighty Five' national parks and ends up in Las Vegas as part of the Travel 2 and Gold Medal USA FAMtastic MegaFAM.
We began our epic journey by flying out with Delta Airlines and due to their partnership with Virgin Atlantic, we were able to make use of the Virgin Clubhouse at London Heathrow. The Clubhouse is billed as more like a five-star hotel than an airport lounge and it did not disappoint. Visitors can choose from a full range of à la carte dining options along with alcoholic and soft drinks, Virgin Redhead cocktail recommended! There is a games room, spa, viewing deck and much more to keep you entertained before you board.
The flight itself was very comfortable with the crew exhibiting typical small town American charm. Throughout the journey we were generously plied with food and drink to distract us from the 9.5 hour journey from Heathrow to Salt Lake City.
Salt Lake City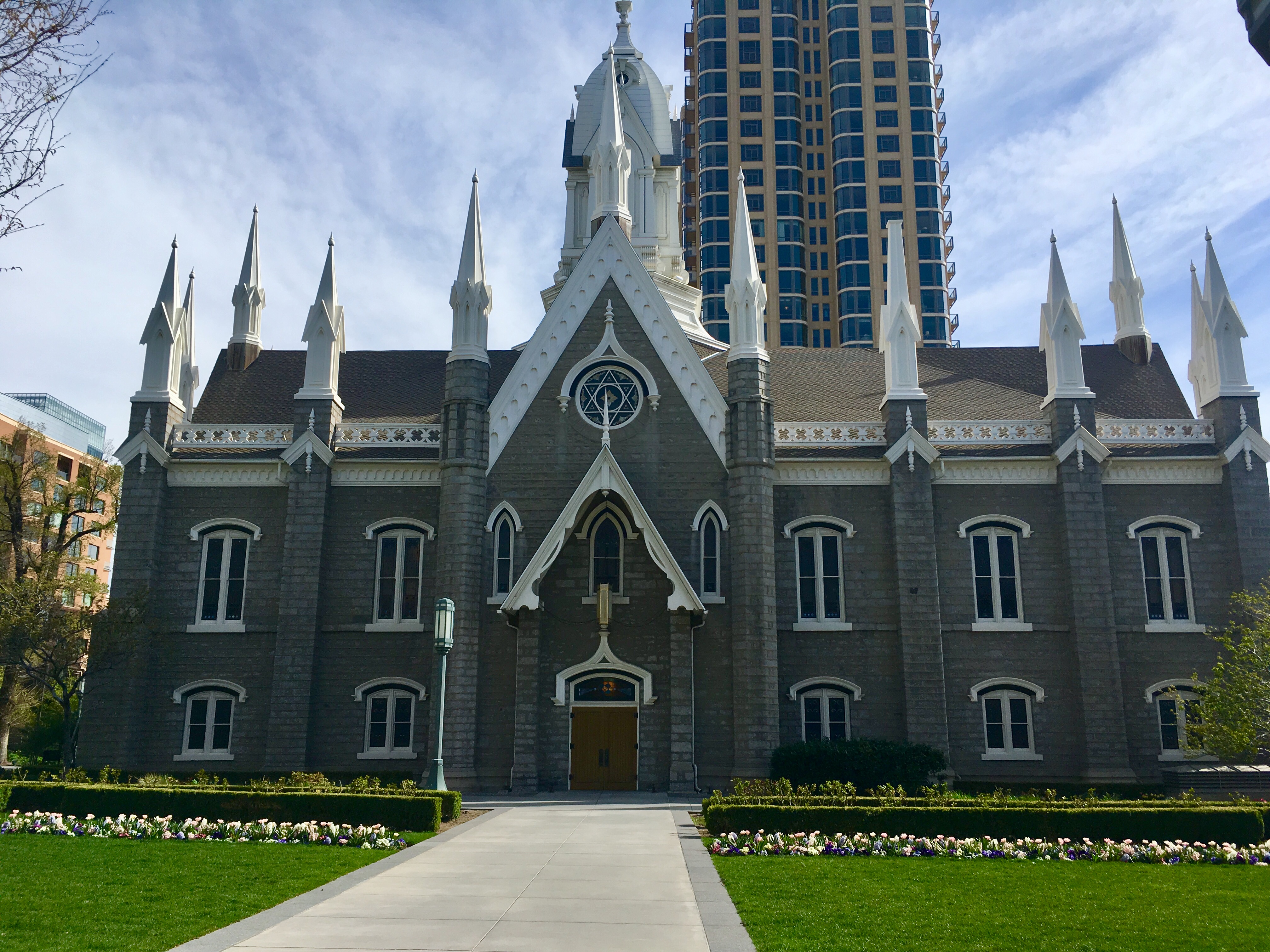 Touching down in Salt Lake City, we were immediately whisked to our first hotel, the Crystal Inn & Suites by Colin, our bus driver/tour guide and for the week. The hotel was basic but a good spot to explore the city from.
Temple Square
Our first stop on arrival to Salt Lake City was at Temple Square to visit the headquarters of The Church of Jesus Christ of Latter-day Saints. This 35-acre area contains more than 15 attractions related to Mormon heritage and beliefs.
Whether it's the rich history, the gorgeous gardens and architecture, or the vivid art and culture, Temple Square dominates the city centre and is a must see when in the area.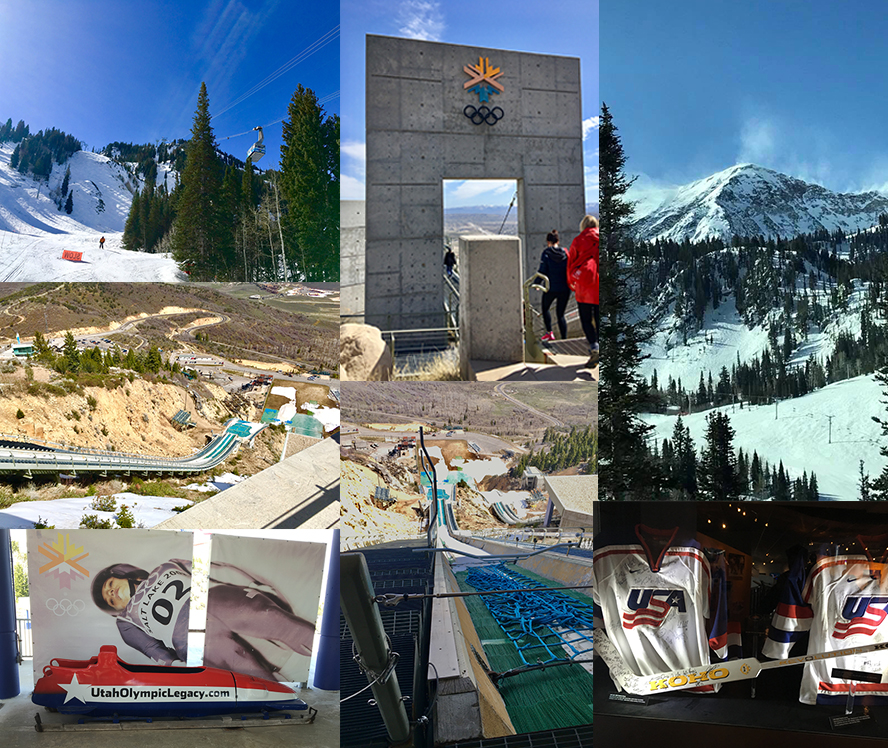 Snowbird & Olympic Park
The following morning, blurry eyed, we made the short drive to the Snowbird ski resort to ride the scenic tram. Situated in Little Cottonwood Canyon, the Scenic Tram takes you 1.6 miles and 2,900 vertical feet to the top of Hidden Peak, at 11,000 feet. Unfortunately, due to high winds the tram was closed but we were assured the views are spectacular in all directions from the top and during the ascent.
Home to the 2002 Winter Olympic Games, the Olympic Park is located just across the canyon to Snowbird. Whilst at the park we were taken to the top of the world's highest Nordic ski jumps,  a great viewing spot, and one of only two sliding tracks in the USA. Our tour guide, Carl Roepke, former luge competitor and commentator at the Olympics since 2002 helped go through the intricacies of the sport and, to our disbelief, explained how ski jump is actually the safest Olympic sport. Sure, Carl, sure!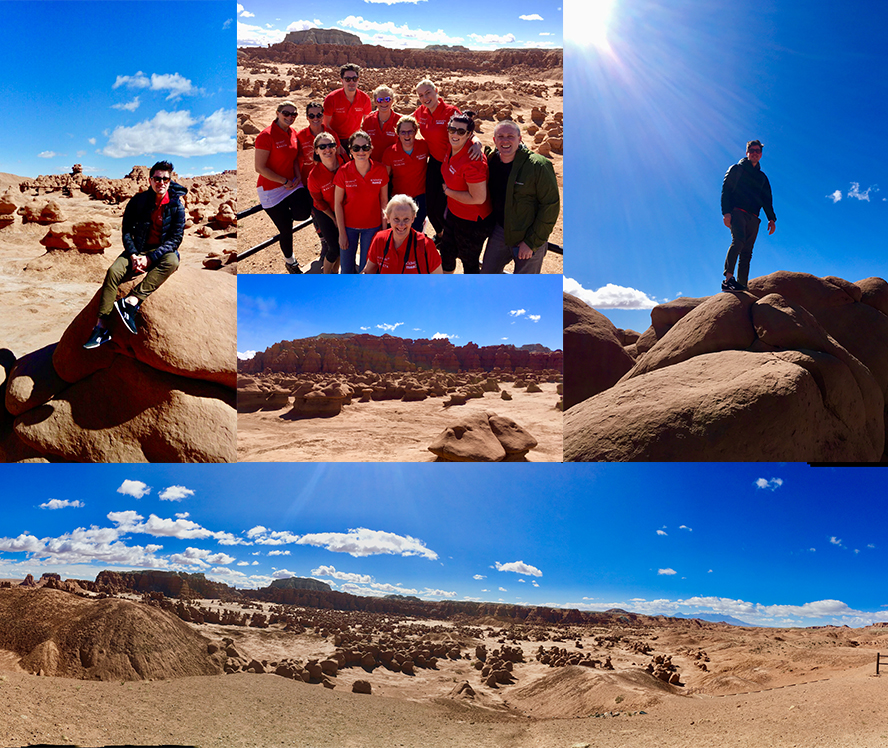 Goblin Valley State Park
Overnight was spent in Green River, a true American trucker stop just a short drive from Goblin Valley State Park. This strange and colourful valley covered with sandstone goblins and formations, is often compared to Mars. Windy? Yes. Beautiful? Undoubtedly.
This park is a definitely worth braving the wind for and was completely empty during our visit. Be advised, goblin climbing will result in cuts and bruises.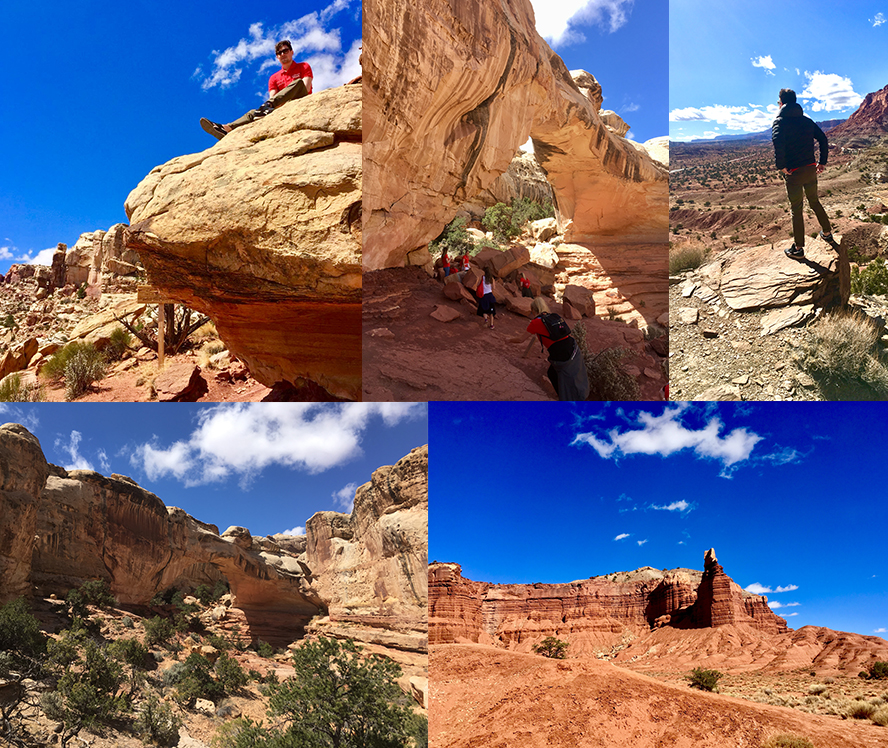 Capitol Reef National Park
Onwards we journeyed, for our first taste of National Parks at Capitol Reef. Our very first hike of the trip was in store on the Hickman Bridge Trail, the 1.8 mile loop encompassing the 41m wide natural Hickman Bridge and spectacular vistas over the Fremont River and far beyond.
Our second hike of the day was a bit more sedate taking in a small section of the Chimney Rock Trail climbing as high as we dare. The views from the top of the short climb were completely breath-taking and a great photo opportunity.
We spent the night at the Broken Spur Inn, an authentic ranch experience, complete with steakhouse. The restaurant comes highly recommended for those that are into large portions and tasty steak. Who isn't?
Later that evening, we headed back into the National Park to view the night sky in all its glory. Capitol Reef National Park is one of Utah's 10 International Dark Sky Park and the perfect spot to view the exceptionally clear skies with constellations aplenty. Photos could not do justice to how spectacular, yet very cold, this experience truly was.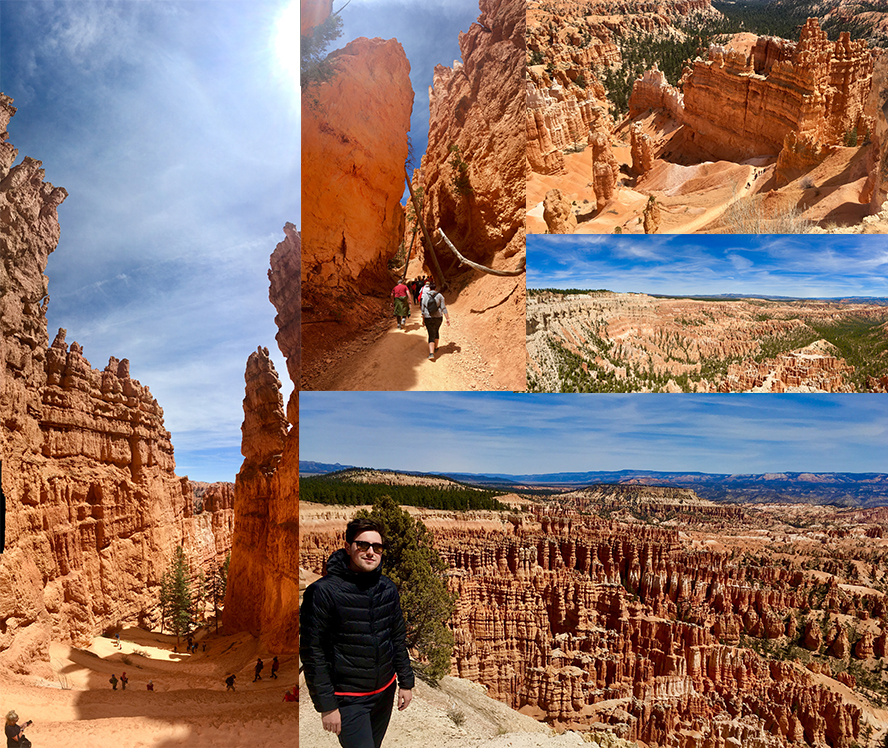 Bryce Canyon National Park
The following morning, we departed the hotel to travel along Scenic Byway 12 to Bryce Canyon National Park stopping at various points of interest along the way. The byway, although about 20 minutes out of the way, is a great way to take in the undulating roads ranging from snowy peaks to deep canyons and high plateaus.
There truly is no place like Bryce Canyon. Hoodoos (odd-shaped pillars of rock left standing from the forces of erosion) can be found on every continent, although Bryce Canyon has the largest collection in the world!  Our first viewing spot, Inspiration Point, with 360 canyon views, was a stunning yet slightly petrifying, place to see get a sense of the scale of the entire canyon.
As we descended deep into the canyon we began the winding Navajo Loop, a 1.3 trail amongst the Hoodoos. Although somewhat steep and unforgiving the trail can be taken at your own pace and affords the chance for some amazing photo opportunities. This trek was a real highlight of the trip.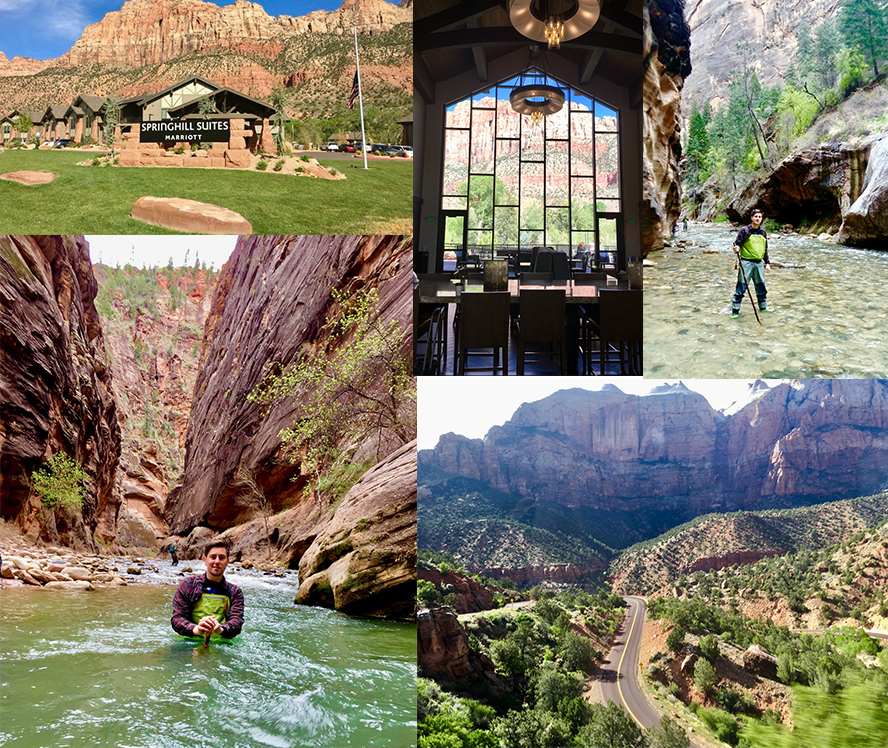 Zion National Park
As we departed Bryce Canyon, we made our way between canyons, around meandering byways and tunnelling through rock faces to get to Zion National Park. Arriving in Zion, you really are awestruck by the surroundings, a showcase of geology characterised by high plateaus, a maze of narrow, deep canyons and striking rock towers and mesas.
Our hotel for the night, Springhill Suites by Marriot at Springdale was a luxury retreat located directly in the park and encircled by imposing rock faces on all sides.
Our evening meal at Oscar's Café, was a unique culinary delight. Burgers the size of your face and burrito bowls as big as your backpack are the name of the game, all delicious and served with warm hospitality.
Up bright and early to journey through The Narrows of Zion, one of the park's most famous hikes. Our group waded upstream through the Virgin River as it flows down the slot canyon. As the water depth fluctuates depending on the stretch, from ankle deep up to waist deep, getting yourself kitted out in full wading gear and walking sticks from the Zion Park Outfitters is a must to protect you from the cool rushing water.
The full hike takes 2.5 hours upstream and 2.5 hours back down but go as far as you desire and then turn back the way you came
Only a two-hour drive to Las Vegas, Zion certainly is a worthwhile experience, not to be missed for wanting something a bit different for a Vegas trip.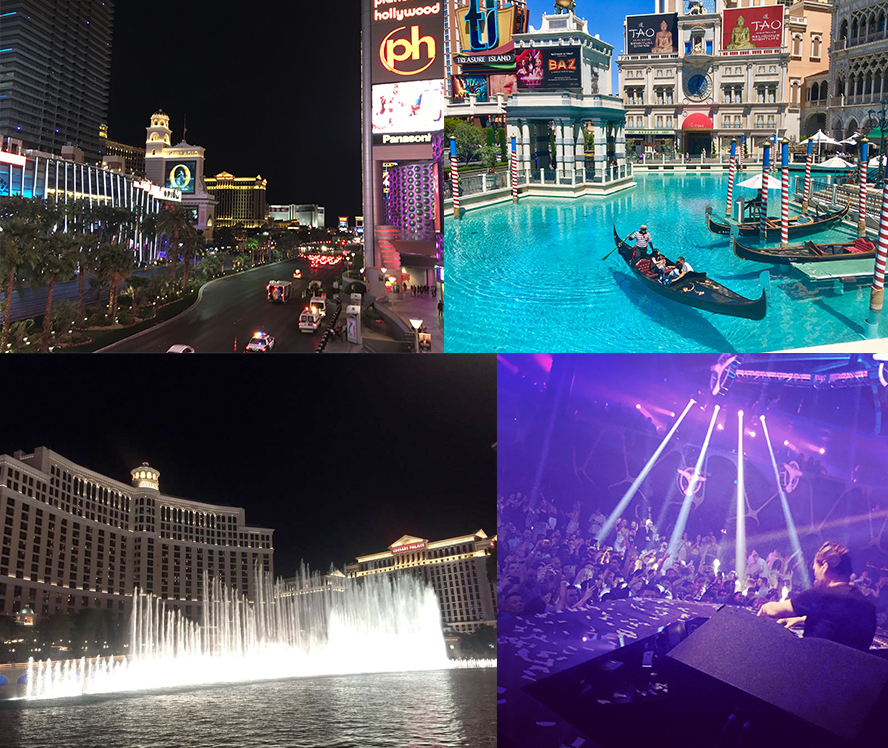 Viva Las Vegas
We arrived in Las Vegas to complete the relaxation of the Vdara Hotel & Spa, an MGM hotel, and a haven amongst the pomp and lights of Sin City.
A hosted evening of drinks and canapés by MGM was a great way to ease us into the Vegas experience followed by a jaunt down the strip to establish our bearings and scope out the casinos.
Our first full day in Las Vegas began with the FAMtastic Finale conference, where we learnt all about MGM, Delta and Virgin Atlantic along with what some other groups had experienced on their travels around the USA.
Then, onto drinks at the decadent Bellagio Grand patio followed by a delicious 3 courses interspersed with performances by Bruno Mars and Lady Gaga. The real ones, I promise.
Our final full day in Las Vegas was filled with shopping at Caesar's Palace, Gondolas at the Venetian, and chocolate fountains at Bellagio. There really is so much to and 3 nights is hardly enough to experience it all.
Our final evening was spent at the MGM Grand hotel beginning with a sumptuous family-style meal at Fiamma and then for the grand spectacular, KÀ by Cirque du Soleil.  Feats of fierce martial arts, blazing pyrotechnics and jaw-dropping aerial adventures are aplenty for this epic tale of twins on a perilous journey to fulfill their shared destiny. There are 6 Cirque du Soleil shows in total throughout Las Vegas, KÀ included, and no trip is complete without catching one.
Our final stop for the evening was Hakkasan night club at MGM. This super club is one of Vegas' hottest spots for late-evening entertainment. Our group was fortunate enough to have two large booths right beside the DJ booth to take in the performance by world-famous DJ, Tiesto. After a long night of drinking, dancing and singing, it's safe to say many a sore head ensued.
The next morning, a relaxed brunch, and a chance to soak up some of the previous event's libations, complete with live music, was laid on for us at the wonderful Aria Hotel & Casino. Sadly, we were all set for our flight home.
Homeward Bound
Our flight home with Virgin Atlantic was generally very pleasant but, most of all, an opportunity to catch up on some sleep and reminisce on what a great time we had had over the last week.