The Best Pool Parties in Las Vegas
Home to some of the globe's best casinos and nightclubs, Las Vegas is an opulent playground for adults that attracts world-class DJs, top stage shows and entertainers, as well as the rich and the famous, by the bucket load. But glamorous party people no longer head to Sin City solely for fun when the sun goes down, it's all about day clubs too – daytime revelling and pampering that takes place, preferably, in a pool.
The poolside party scene, usually part and parcel of five-star luxury hotel experiences, makes it easy to hop around the city seeking that VIP buzz all day long and then into night. Whether you love laid-back vibes or crazy crowds, there's something for everyone, so we've compiled our picks of the top pool parties in Vegas.
Wet Republic Utra Pool (MGM Grand Las Vegas)
Always among the top Las Vegas resorts for a pool party, MGM Grand takes day clubs to the next level. This stalwart of the Strip boasts DJs such as Calvin Harris and Tiesto but it's the ultra pool and accompanying sun deck that takes top billing. There's plenty of space for everyone across this 54,500 sft party paradise and when you want to take time away from the open-air lounge and its Champagne showers, there are saltwater dipping pools, daybeds, bungalows and cabanas galore.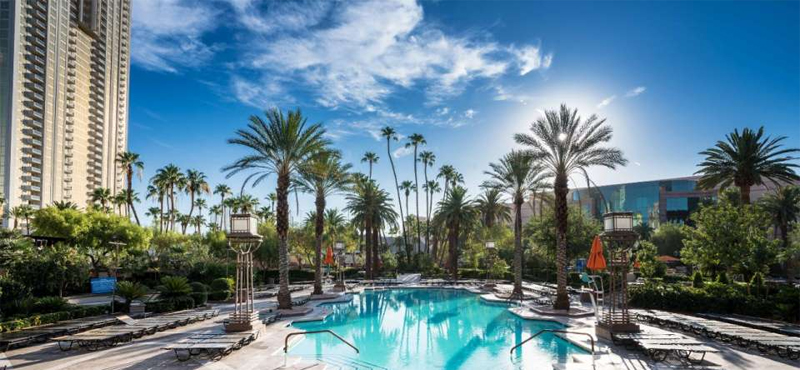 Encore Beach Club (Wynn Las Vegas)
David Guetta and Chainsmokers are among the recent star names to have performed at the electric EBC, where you can dance the day away. You'll get the full clubbing experience thanks to the huge pool deck and, when you're ready to rest your weary feet, you can sit back and sip cocktails on the floating sofas and day beds that jut out across the water. You'll never be far from the blackjack tables and fine food either, making this a great all-rounder with a real tropical beach vibe to boot, thanks to the swaying palm trees.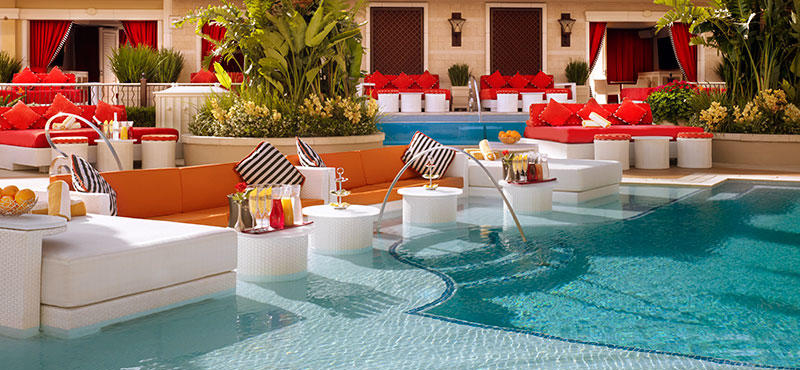 Kaos (Palms Casino Resort)
Prepare for Kaos, where party animals can hit the day club until 6pm and then return for the nightclub just a few hours later. An almost all-day party extravaganza, this upscale multi-level venue is stuffed with events through Friday to Sunday, when it takes over the resort pools and stage. A shiny new addition to the Vegas party scene, it has plenty to show off – from a jaw-dropping Damien Hirst sculpture, a specially designed luxury suite, and cabanas with private pools, to top acts like Marshemello, giant sushi platters and a dome cover for operating year-round.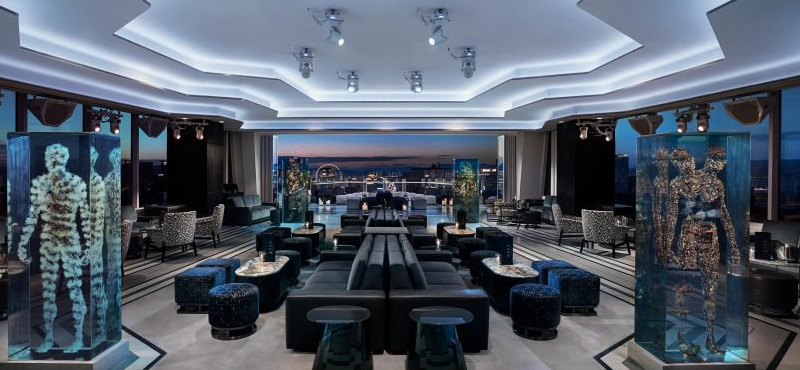 Drai's Beachclub (The Cromwell)
Dramatic views of the Strip steal the show from this cool beach club that perches on the rooftop of The Cromwell hotel. With seven pools, two bars, a slip-proof deck, tables with bottle service, VIP bungalows and cabanas with showers, this must-visit venue extends its decadence over 25,000 sft. All you have to do is don some fashionable swimwear to make sure you're pool party ready.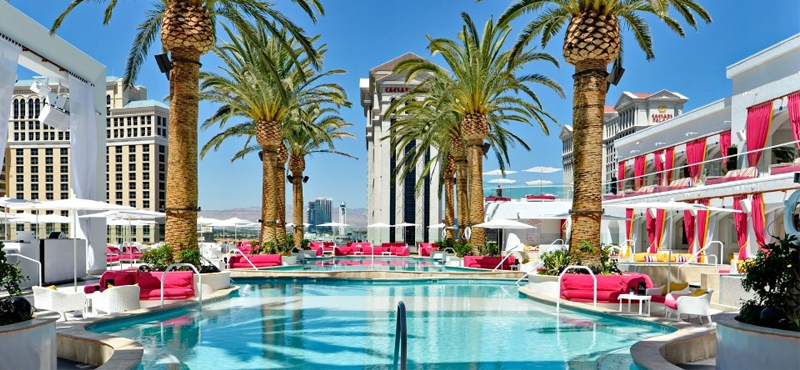 Marquee (The Cosmopolitan)
Pick out your most colourful pool attire for this glitzy day club, which stays open as an extension of the nightclub on selected evenings. Superstar DJs and a packed calendar of events, purple water beds 'floating' around pool edges, and cabins with private spas and infinity plunge pools will make you feel as though you're a world away. The nightclub, for which you'll have to swap your bathing suit in favour of a smart casual dress code, is worth a visit too for its spectacular glass window walls and Travis Scott residency. Discover more about The Cosmopolitan Las Vegas.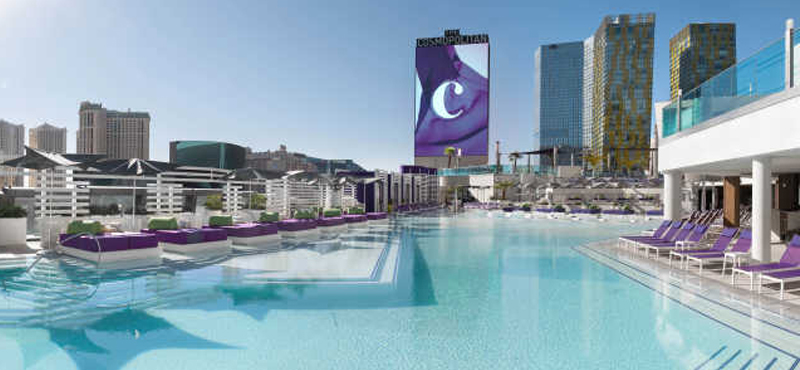 If you're considering a fun-filled Vegas holiday package, get in touch with us at Pure Destinations on 0800 0856 846 and we'll help you tailor your ideal trip.