Overview
Sydney
Sydney is renowned for its spectacular waterfront with iconic sights such as the Harbour Bridge and Opera House being among some of the top things to see whilst visiting this vibrant city. But Sydney has so much more for you to explore, with so many incredible things to see and do from sun-kissed walks on Bondi beach to seeing koalas and kangaroos at Taronga Zoo and not forgetting Island hopping to Cockatoo Island or embarking on adventures at the Blue Mountains National Park to add to the list!
Gold Coast
The Gold coast is a summer loving beach destination sprawled with exciting attractions including many world-class theme parks for the adventurous traveller. If you love the idea of exploring like a local, you can enjoy incredible culinary offerings in the many neighborhoods, which will tempt your taste buds with charming coffee shops, exquisite seafood and boutique breweries. Of course, the main attraction of the gold coast is the 57km stretch of golden sand beach, which is a surfer's paradise and a great opportunity to begin lessons or take to the glistening ocean with a snorkeling or diving trip with over 50 species of fish to encounter.
Port Douglas
Port Douglas is your gateway to the Great Barrier Reef where you can book day trips from this charming village to the world's number one snorkeling and diving hotspot. Listed as the only destination with two World Heritage Sites, Port Douglas really does have it all, from dense rainforests, a 4-mile beach and luxurious spa resorts.
Melbourne
After visiting two incredible beach destinations, end your amazing Australian holiday with a visit to Melbourne. This energetic city is fast paced with so much to explore through its charming cobbled laneways, vintage and arts scene, open-air markets, rooftop bars and a flourishing café culture.
Holiday Builder
FROM £PP
Please contact us for alternative hotels and combinations.
STOP 1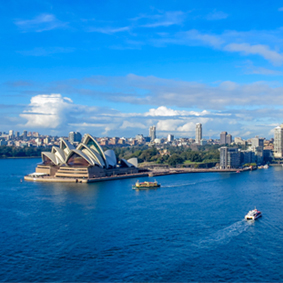 Room Only, Deluxe King Full Harbour View
Situated amidst the main attractions, Four Seasons Hotel Sydney places you right by the shopping and business district, near the historic Rocks and Circular Quay. Rooms offer front row vistas of Sydney's stunning Harbour and Opera House and the dining options present world-class cuisine and fine wines. Serving as an ideal base in which to explore Sydney, Four Seasons Hotel Sydney offers a plethora of hotel amenities to help you relax before embarking on incredible adventures. From the outdoor pool and whirlpool to the Exclusive Lounge 32 for Club room and suite guests to enjoy personal chef breakfasts, all-day refreshments and a range of luxurious benefits.
STOP 2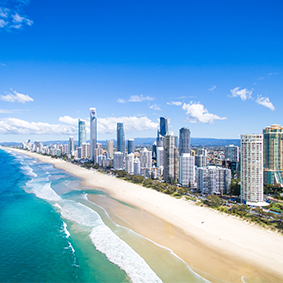 Palazzo Versace Gold Coast Hotel is located in an exclusive waterfront setting, with the white sandy shore at your fingertips. Distinguished by Versace's signature designer style, this hotel boasts of bespoke furnishings and Italian craftsmanship that exude with glamorous ambience throughout the hotel, whether its in one of the grand-styled guestrooms or at one of 3 elegant dining venues boasting of award-winning menus. After a day of exploring the Gold Coast check yourself into the Aurora Spa or enjoy poolside luxury in a private cabana overlooking the hotel's 63-meter pool with its own sandy white beach.
STOP 3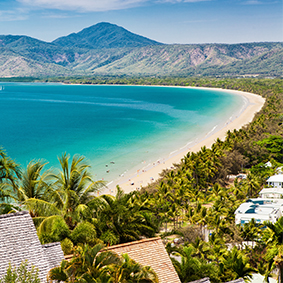 Elegantly placed on the 4-mile stretch of sandy beach, Pullman Sea Temple is a relaxing oasis designed for luxurious beach living with well-appointed rooms, apartments and villas. Guests can enjoy the excellent location as a gateway to the Great Barrier Reef, shopping malls and walking trails that reveal breathtaking panoramas of the beach, ocean and nearby islands. Pullman Sea Temple features a poolside restaurant and pool bar serving local delicacies such as freshly caught seafood. There is also a spa for indulging in moments of tranquility to refresh your mind, body and spirit.
STOP 4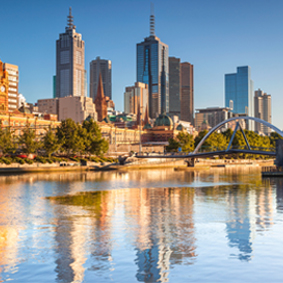 Room Only, Superior King Bayview
Adorned with quintessential French art de vivre influences in signature Sofitel style, Sofitel On Collins is placed on Collins Street, Melbourne's major street lined with high-end shops and grand Victorian architecture. Guest rooms and suites are elegantly furnished with plush sofas and chairs, glamorous drapes and floor-to-ceiling windows that reveal Melbourne's breathtaking cityscape. Choose from 5 restaurants and bars offering delicacies from France and locally sourced ingredients.