Overview
Our Dubai multi centre package is the perfect holiday for those who love to find adventure in a bustling city.
Singapore
Begin your Dubai multi Centre in Singapore in the bustling business district with the likes of Gardens by the Bay, the Singapore Flyer, Singapore Zoo and the well-known Orchard Road for shopping and entertainment.
Japan
After your mini city break in Singapore, you will head off to Japan for a 10-day tour of Honshu where you will see the likes of Tokyo, Odawara, Miyajima Island, Nara, Kyoto and Osaka. On this wonderful tour you will ride up mountains, see a vast amount of Japanese culture, enjoy scenic train rides including a ride the bullet train and take private guided tours to really see Honshu's incredible destinations.
Dubai
After your whirlwind adventure in Japan, you last stop on this Dubai multi centre holiday is in Dubai. You'll be staying near the beach with access to a plethora or bars and restaurants as well as access to Wild Wadi Water Park to cool off.
Price based on September/October dates.
'Save' REF: B4603
Holiday Builder
FROM £4485PP
Please contact us for alternative hotels and dates.
STOP 1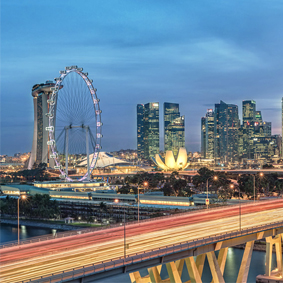 Breakfast, Deluxe Balcony
Pan Pacific overlooks Marina Bay Sands and Singapore's bustling Central business District. However this 5 star hotel also boasts a host of attractions of its own, ranging from the upmarket St Gregory Spa to its pristine swimming pool and the epicurean delights of its award-winning eateries, which allow you to feast on an exciting array of global cuisines. Pan Pacific Singapore is famed for its world-class facilities and its superlative service, making it the perfect option for a luxurious Singapore holiday.
STOP 2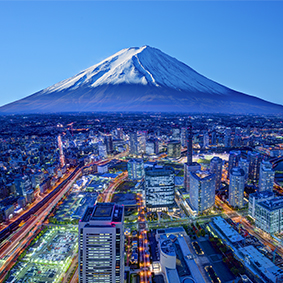 On day 1 you will transfer from Narita Airport to Tokyo via a shared shuttle bus staying at the Richmond Hotel, which will be your base for your time in Tokyo. On day 2 you will enjoy a 4-hour private guided tour of Tokyo. On day 3 you will have time explore the sights you missed on the tour. See the iconic Tokyo Tower, Roppongi hills, Shinjuku Gyoen, Tokyo National museum, Roppongi and much more!
STOP 3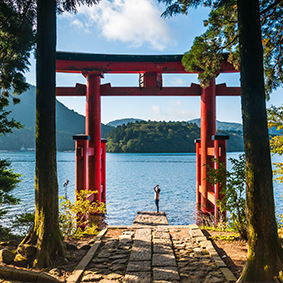 Hakone, Ichinoyu Honkan Hotel
On arrival at Odawara you will obtain a 2-day Hakone FreePass, which entitles you to unlimited use of 6 different forms of transport in the Hakone region including the mountain bus, railway, cable cars and a pirate ship that cruises across Lake Ashi.From Odawara station you will use your Hakone FreePass to take the bus up into the mountains of Hakone and on to your accommodation at the Ichinoyu Honkan, which includes breakfast and dinner.
STOP 4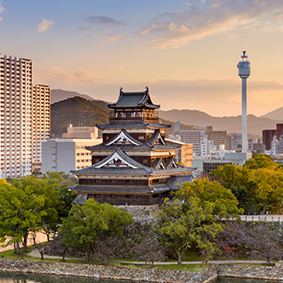 After you've explored Hakone you will use your FreePass to make your journey to Odawara station by bus. Your next transportation will be a train journey from Odawara to Hiroshima, passing through the cities of Nagoya, Kyoto and Osaka, which will take around 4 hours and include one change of train.
STOP 5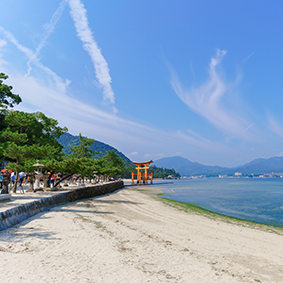 Renowned for the 'floating' toril gate at Itsukushima, rated as one of Japan's top three sights to see and a World Heritage Site. Your journey begins on a ferry ride to the island. Popular things to do on this island include a scenic cable car ride to the top of Mount Misen where you'll see incredible views and be greeted by some native monkeys! For shopping and dining, head to Omote-Sando, a main street with an array of restaurants and shops. When you've come to the end of your day at Miyajima Island you can take a train or tram to Miyajima-Guchi station and catch a ferry back to Hiroshima, where you will spend the night at Sunroute Hiroshima Hotel.
STOP 6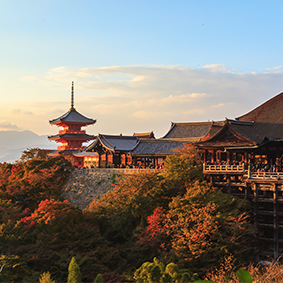 Take a 2-hour train journey from Hiroshima to Kyoto. Home to 17 UNESCO Heritage Sites with over 1,600 Buddhist temples and 400 Shinto shrines. This ancient city exudes with traditional Japanese culture with romantic gardens and an incredible culinary experience.
STOP 7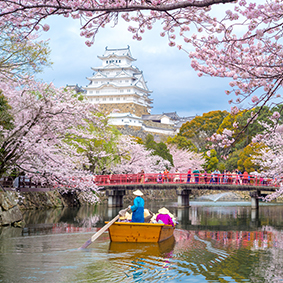 Starting at 9am, you will be greeted by your private guide who will meet you at your hotel to take you on an incredible tour showing you the most renowned sights and some scenic ones too! If there are any sights in which you want to see on your private guided tour or Kyoto, you can let us know and we will make sure this is fitted into your tour. Your tour will finish around 1pm in which you can decide to continue exploring on your own or head back to your hotel.
STOP 8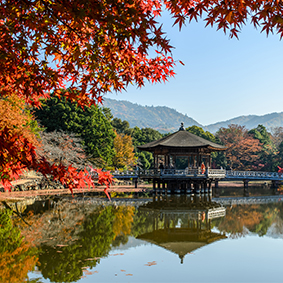 Enjoy a day trip to Nara with a private guided service; Nara is just 40 minutes by local train from Kyoto. Nara use to be Japan's capital, dating back to the 9th Century, you can expect traditional temples, museums, palaces, tranquil gardens and a National Park.
STOP 9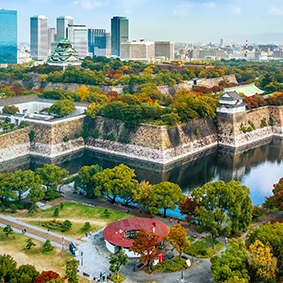 Using your Japan Rail Pass you can board the Shinkansen high-speed railway at Kyoto station for a 15-minute ride to Oaska (Shin-Oaska). Oaska is Japan's second city, with plenty of restaurants and bard, department stores, wheel attractions and much more! During the day you can visit museums and the Osaka Castle, a reconstruction of the original that was burnt down during the end of World War Two. During the evening, the city comes alive with lively restaurants and bars serving hearty local food.
STOP 10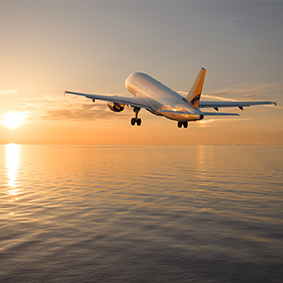 From Osaka Nanba station you will take the bullet-shaped Nankai train direct to Kansai Airport, which takes only 35 minutes. From Oaska Airport you will catch a flight to Dubai.
STOP 11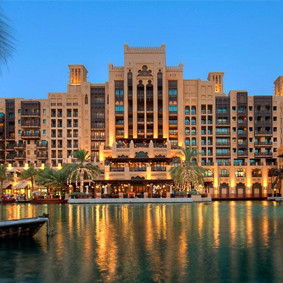 Half board, Arabian Deluxe Room
Jumeirah Mina A'Salam offers spacious and elegant accommodation in the heart of Madinat Jumeirah Resort with private rooms featuring balconies with wonderful sea views. Guests staying at Jumeirah mina A'Salam receive complimentary access to Wild Wadi Waterpark and have access to over 50 world-class restaurants and bars, a Talise Spa and fitness Centre.