Overview
Explore Austria and two destinations in Italy with our Italy multi centre holiday package.
Salzburg
Explore the old city of Salzburg, which is located on the border with Germany. This enchanting city is picturesque, with 19th century architecture, a cliff top fortress and a tranquil river that flows through the city. Culture is at the heart of this European city, scattered with palaces, castles and cathedrals.
Florence
Florence is Tuscany's Capital, known for being a city of romance, from the picture-perfect gardens, galleries and historical culture that simply captivates you. Culinary delights is at the heart of Florence's appeal, with streets upon streets of restaurants offering a menu of traditional Italian cuisine – and if you're looking to cool down, pop into the many gelatos for a traditional sweet treat.
Viareggio
Your last stop is in the charming fishing village of Viareggio. Situated in the northern area of the Tuscan Riviera, you'll notice that not much has changed, which is all part of its beauty and charm. La Passeggita is situated in the heart of the city and offers plenty of shops, bars and restaurants and is considered to be a wonderful place for people watching.
'Save' REF: REFB1280
Holiday Builder
FROM £500PP
Please contact us for alternative hotels.
STOP 1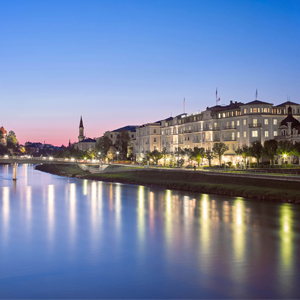 Hotel Sacher Salzburg is an elegant 5* hotel situated along the river. There are 4 restaurants, a bar with al fresco seating and a confectionary shop on site. Rooms are furnished with sophisticated style and detail, from original framed paintings, marble bathrooms and luxurious amenities. Hotel Sacher Salzburg is the ideal base in which to explore this fascinating city.
STOP 2
Breakfast, Classic Executive Street or Courtyard View
Set in the heart of Florence, Hotel Brunelleschi is a 4 star boutique with 96 rooms, 3 restaurants and a gym. Rooms offer a spacious and stylish base in which to explore Florence. Furnished with a large bathroom with whirlpool tub, fluffy towels, Dr Vranjes and hairdryer. Each room features a 42-inch satellite TV, Wi-Fi, air conditioning, heating and safe.
STOP 3
Breakfast, Superior Side Sea View
The Grand Hotel Principle di Piemonte is part of the Small Luxury Hotels of the World, set in a 1920's historical building, just a few moments from the sandy shore. With a range of restaurants and bars and a tranquil spa, your stay in Hotel Principle di Piemonte can be as relaxing as you please. There are 106 rooms across 5 floors, each room or suite is furnished with Wi-Fi, satellite TV and a marble bathroom with shower or bathtub. Rooms provide views of either the Apuan Alps or the Tyrrhenian Sea.