Overview
Explore Brazil's incredible locations with our 13-night Rio de Janeiro and Beyond tour. Tower Sugarloaf Mountain, get close to Iguazu Falls, explore world-renowned beaches and discover the incredible world of the Amazon, all in this once in a lifetime bucket list trip!
If Christ the Redeemer is on your 'to see' list, why not add a few other's to that list, including Buzios, which homes 20 stunning beaches and Manaus for its prime location of the Amazon. Our 13-night tour is perfect for the adventurous travellers that want to fill their days with fun-filled adventures, whether that's skimming through the streams and waterfalls of Iguazu or Canoeing and jungle hiking the Amazon.
This package includes flights, tours, transfers, meals as specified and accommodation.
'Save' REF: LATINR
Holiday Builder
FROM £4300PP
Please contact us for alternative dates.
STOP 1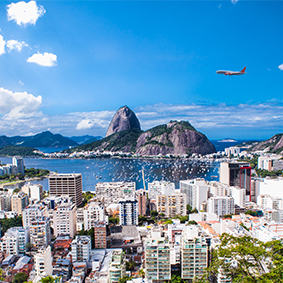 Breakfast, Deluxe Ocean View Room
Pestana Rio Atlantica Hotel
Rio de Janeiro is the capital of Brazil, known for its prominent structures such as the Christ Redeemer and Sugarloaf Mountiain. Considered as one of the most important cultural and economic cities in Brazil, you will get the chance to spend 3 nights exploring this lively hub, from the relaxing palm fringe beaches to the dense oasis of Tijuca Forest.
STOP 2
Breakfast, Deluxe Ocean View Room
From your hotel, you will be picked up in a shared open-air Hummer style jeep. You will begin your journey through Corcovado Mountain in Tijuca Forest in which Christ Redeemer is situated. Now one of the 7 Wonders of the World, you'll make your way up to the foot of the Christ Redeemer by panoramic elevators or escalators. Once atop, take in the incredible views of Rio de Janeiro's stunning beaches, botanical gardens and the Rodrigo de Freitas Lagoon.
Once you've taken in the incredible sights of the Christ Redeemer and beyond, your tour will resume up to Sugarloaf Mountain by cable car. This incredible mountain rises from a small island at the doorway of Guanabara Bay. The first cable car towers 215 meters above sea level with views overlooking the entire bay and its islands. A second cable car from Urca Hill ascends 395 meters above sea level where 360-degree panoramas of Rio de Janeiro can be adored with sights including Botafogo and Copacabana Beaches, Corcovado and downtown Rio.
STOP 3
Breakfast, Deluxe Ocean View Room
You've seen the most majestic sights in the previous days' tour, now is the time to really explore the depths of Rio de Janeiro at your leisure, whether it be shopping in Leblon, hiking Tijuca Forest, sightseeing 16th Century Spanish architecture or enjoying a day on one of the most world-renowned beaches in the world; Copacabana beach – the choice is yours.
STOP 4
Breakfast, 1 Double Standard Room
Known as the main base for exploring the incredible Iguacu Falls, the scale of this majestic world phenomenon is truly understood when you consider its intriguing details; made from over 270 separate falls that stretch for more than one and a half miles, most of the falls are around 200 feet in height and the largest of them all; the Devil's Throat is almost 500 feet across and over 2,000 feet in length, this U-Shaped fall is one of the most photographed and filmed part of the Iguacu Falls.
STOP 5
Breakfast, 1 Double Standard Room
This exciting and thrilling tour begins by visiting the Argentine side of the Falls, you will have access to an English speaking guide who will take you for a stroll along the lower circuit for about half a mile, you'll see paths running along the Devil's Gorge, which will take you under small splashing waterfalls and streams that are flowing into the heart of the water's avalanche. The walkways are just a few meters from the edge of the main falls where you will be surrounded by clouds that overlooking the majestic torrent. Continuing onto the small ecological train is a marvelous experience, as it chugs through the rainforest you will get to appreciate its natural habitants such as birds, lizards, butterflies and monkeys. When you arrive at Estacion Garganta you'll head to another pathway, which rises above the other end of the Devil's gorge, leading to the panoramic point offering awe-inspiring views of the upper lip of the falls.
STOP 6
Full Board, 1 Double Standard Room
Manaus lies on the banks of the Negro River and is the Amazon's largest city. The amazon is a large rainforest and waterways that cover an incredible 6 Brazilian states. Cruising along the length of the amazon allows you to really enjoy the deepest parts of the rainforest, if you are interested in adding an Amazon Cruise into your itinerary please contact us to learn more. There are many eco lodges situated along the river, from rustic lodges to luxurious retreats. You will be staying at the 4.5* Anavilhanas Jungle Lodge in Manaus with spacious accommodations that feature an outdoor veranda to appreciate the stunning views of the River.
STOP 7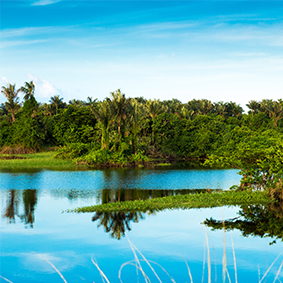 Full Board, 1 Double Standard Room
On day 7-8 you will have plenty of time to add on any excursions that you want to do while staying at Anavilhanas Lodge, you'll get to try 8 different activities such as canoeing, nocturnal sightseeing, local community visits, jungle hike, pink river dolphin visits and piranha fishing!
Included in your stay is shared transfers, accommodation, all meals, water, fruit juice, all excursions and navigations as part of the standard programme, bilingual guides and Wi-Fi access. Not included in your stay are alcoholic drinks, laundry services, tips, phone calls and additional meals not programmed by Anavilhanas Lodge.

STOP 8
Breakfast, 1 Double Superior Room
You will spend 1 night on the banks of Rio Negro at Hotel tropical, which is situated just 30 minutes from the centre of Manaus. Serving as the ideal stopover, many guests take advantage of the hotel's location to embark on an Amazon Cruise.
STOP 9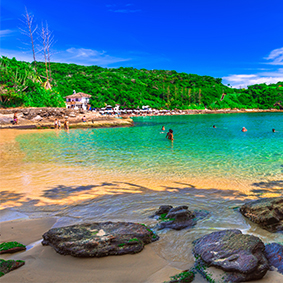 You will catch a flight from Manaus to Rio de Janeiro, then a 3-4 hour drive up to the coast of Buzios. Boasting a spectacular 20 beaches with crystal clear waters, it's wise to spend your time relaxing until your heart's content in Buzios. Filled with charming boutiques and restaurants, Buzios is the perfect way to make room for a little self-indulgence.
STOP 10
Explore the beautiful sights of Buzios with your final 3 days at leisure to use as you please.
STOP 11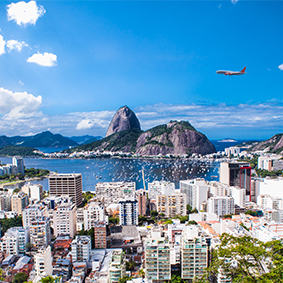 From Buzios you will be privately transferred to Rio de Janeiro to board a flight to London Heathrow.