Michelle's Incredible Japan Holiday
Our Edgbaston store manager, Michelle, ventured on an incredible 17-day holiday to Japan stopping at Tokyo, Matsumoto, Takayama, Hiroshima, Miyajima Island, Mount Koya and Kyoto and Hakone National Park. We caught up with Michelle to give you an inside look into what to expect on your Japan holiday. Read on to discover Pure Destinations' store manager Michelle's incredible journey…
Japan was absolutely amazing, up there in my Top 5 destinations I've visited for sure.
So much to see, do and experience. There really is something for everyone from young, old and families. I travelled on BA direct from Heathrow to Narita 12hrs. It's the cleanest country I've ever visited even cleaner than Singapore! No matter if you are in a busy city or a mountain village its spotless. You barley see any rubbish bins either. Locals take their rubbish with them back home. They really respect their country.
Tokyo
Tokyo is massive and there are so many different areas to stay and visit depending on what you are interested in seeing and doing. I stayed in an area called Shibuya in the Shibuya Excel Hotel, which over looked the famous Shibuya crossing. It is in great location right next to the train station and above a shopping mall. There are plenty of restaurants, bars and shops within walking distance from the Hotel. You are located right in the heart of the Neon lights and the madness of Tokyo.
Michelle's travel tips while in Tokyo
I'd recommend 3-5 nights in Tokyo depending on what you want to see and do.
Note that with the long flight and jet lag the day you arrive you won't do anything!
Day 2 I did a full day city tour which I'd recommend. It's a perfect way to see many sights and get your bearings. The guide can also help you exchange your rail pass too.
There are plenty of parks to visit to see cherry blossom/autumn leaves, I visited Koishikawa Korakuen Gardens
Senso-Ji temple in Asakusa – Asakusa nice area very different from the madness of the neon lights in other areas.
Meiji Shrine in Shinjuku – Shinjuku a very popular area a mix of the madness/neon lights and then high-end shops and good restaurants.
Giza Area is like Oxford street in London
Robot Cafe's and animal cafe's
Nikko national park is a good day trip from Tokyo (2.5hrs and 2 trains) to get out of the city and visit a stunning area of Temples, shrines and waterfalls and Shinkyo (red) bridge over the river.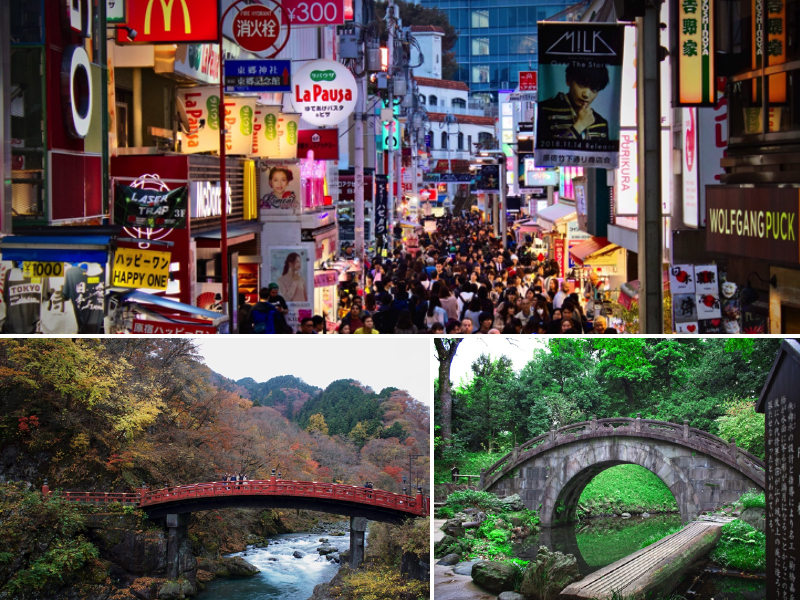 Matsumoto
Matsumoto is a gateway for the Nakasendo Way, a walking tour suitable for anyone, where you can walk part of the route the Samurai walked. Nakasendo Way is lined with traditional houses passing through local villages and stunning scenery. I stayed at the Buena Vista Hotel, which is a really nice hotel I would recommend, I stayed for 2 nights, which is plenty of time.
Michelle's travel tips while in Matsumoto
The main thing to see is the castle, surrounded by a fort.
The Nakasendo Way is a day trip from here and definitely worth it. I did as a day trip but you can also do as a 2 day longer walk and stay over night in one of the villages on route.
Nakasendo Way day walk starts in the village of Magome its up hill from the start for about an hour. Then it finally levels out and you walk through the forest, past waterfalls and the famous teahouse that Joanna Lumley stopped at when she did this walk too, until you reach the village of Tsumago.
From Tsumago you can either take a short bus ride to Nagiso where you catch the train back to Matsumoto or you can walk another 1hr. I took the walk option but it depends on how much time you have before its dark. If you don't walk this last hour you aren't missing too much.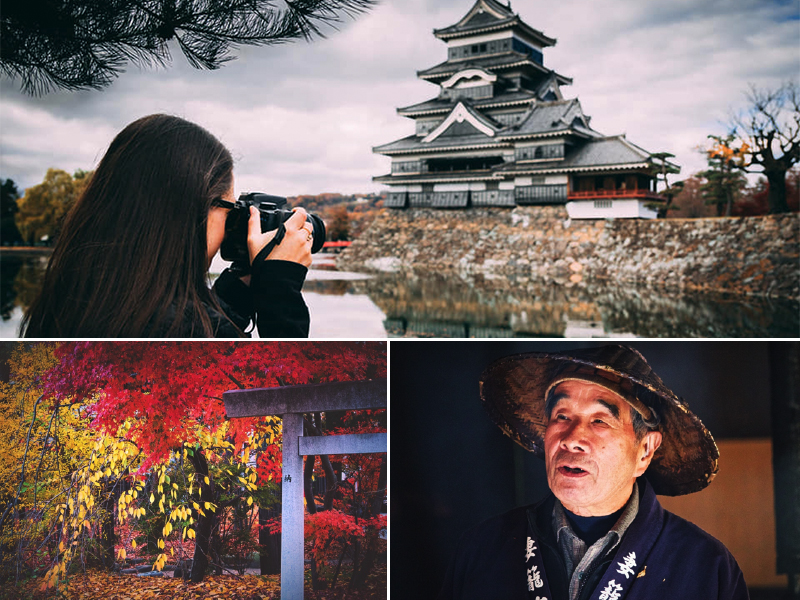 Takayama
Takayama is one of my favourite places! Located at the lower end of the Japanese Alps, Takayama is a traditional Japanese old folk town with traditional buildings surrounded by the mountains. Also famous for the Hida Beef, you'll feel a world apart from the Neon lights and skyscrapers of Tokyo. I Stayed at Honjin Hiranoya Kachoan Ryokon, which is a traditional Japanese accommodation. I'd definitely recommend clients to experience this way of living for at least a night or 2.
Michelle's travel tips while in Takayama
On entering Honjin Hiranoya Kachoan Ryokon you have to take your shoes off and put some traditional sleepers on which you wear throughout the Ryokon.
You are assigned a server/maid who will bring you green tea and nibbles throughout the day. She will also explain how things work, meal times and take breakfast and dinner order.
In the day your room is set up as a lounge and by night a futon mattress is set up as your bed.
You are provided with traditional dress to wear to breakfast and dinner in the Ryokan and also traditional jams.
Breakfast is a bit of everything, breads, fruit, yogurt and a hot breakfast of egg and sausage.
Evening meal is a set traditional meal of about 7 courses, various starters then main course of beef and fish and then desert
The town is a lovely place to wonder around and maybe pick up some traditional wooden souvenirs.
There are plenty of temples and Shrines to visit in the town
Hida folk Village is a good place to visit and is just a 10 minute taxi ride from the Town
Take a short train ride to Hida Furukawa, a small town where you can take a cycling tour through the town and to see some of the local countryside.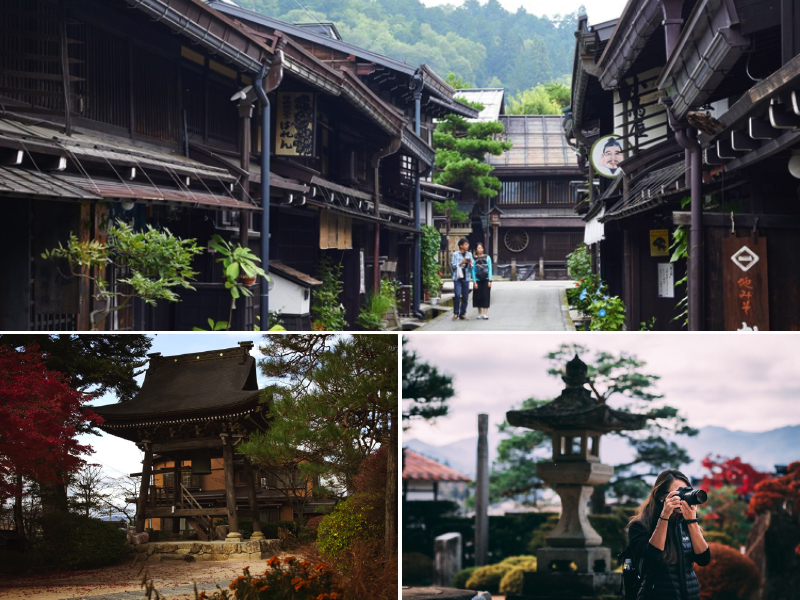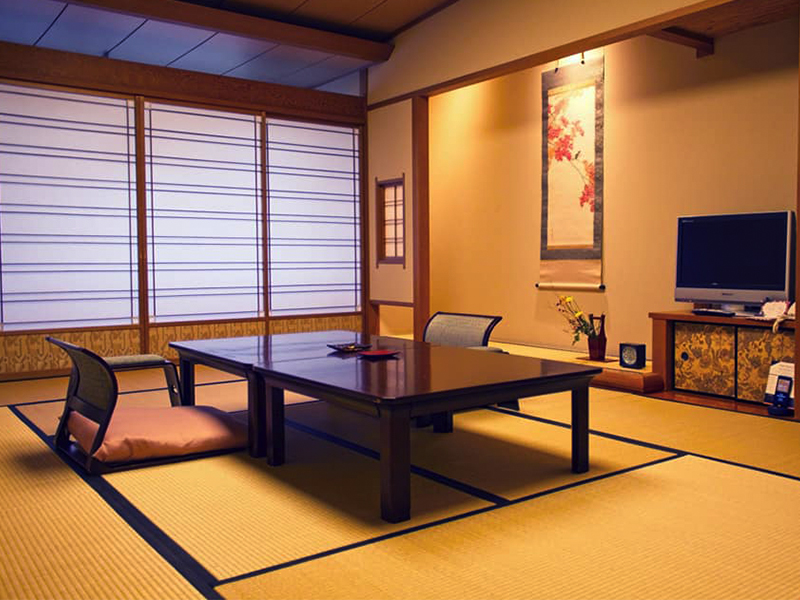 Miyajima Island
A small island just 1 hour from Hiroshima, Miyajima Island is most famous for the Giant Red Torii Gate which floats in the water at high tide. A must see island to visit as a day trip from Hiroshima or stay over-night in a local ryokan.
Michelle's travel tips while in Miyajima Island
You can get to the island via Train or Boat from Hiroshima. I caught the fast boat there which cost 2000yen one way and took 55mins or 3600yen for a return.
Lots of tourist shops, cafe's and street food stalls on the island
I'd recommend getting to the island as early as possible so you can visit the Torii Gate before the grounds get busy by late morning.
Loads of temples and Shrines on the island to visit
Free roaming deer everywhere
There is a mountain on the island which you can either walk up a steep hill to the top which takes about 45-1hr each way or you can get the cable car up to the top at a cost of 1800yen per person each way. On a clear day you can see views right back to Hiroshima.
Try the street food, a squid on a stick 500yen or chicken, corn and chips too.
I caught the train back to Hiroshima which is free with your JR rail pass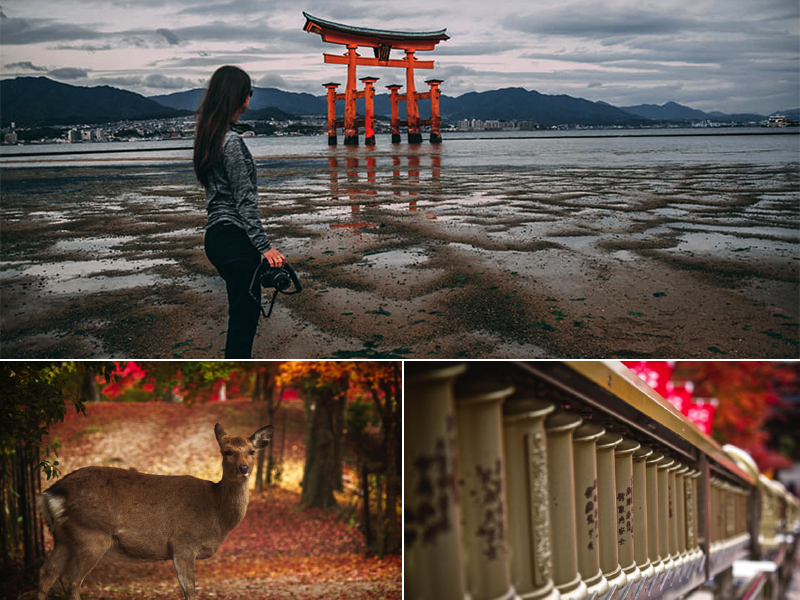 Mount Koya-(Koya-San)
This is one of the holiest mountains in Japan. At the top is home to over 100 temples and monasteries and the World Heritage Site of a Cemetery. I stayed in a Buddhist temple for 1 night called Eko-In. This was a simple Buddhist temple where you sleep on the floor in your rooms, eat the vegetarian food prepared by the monks and go join in he meditation and fire ceremonies.
Michelle's travel tips while in Mount Koya
Koya-San is the Headquarters of the Shingon Sect, an esoteric School of Buddhism that has over 10 million members and 4000 temples.
The journey is an adventure in itself passing through some stunning scenery. The journey takes around 3 hrs from Osaka/Kyoto and took 5hrs from Hiroshima. It takes a number of trains including a very steep tram right to the top of the village.
The village is only small and easy to walk around to visit the Temples and shrines and there are a handful of restaurants and shops.
The World Heritage Site not to be missed is the huge cemetery. You can visit by day but by night is the more popular time to visit when it's lit up. Most of the temples you stay at will arrange a guided tour by night.
Note the temperatures here are a lot cooler that the cities of Osaka/Kyoto. When I was here in November temperatures were below freezing so warm clothes are a must.
Rooms in the Temple don't have heating only a small oil burner
The rooms only lock from the inside so best not to take anything too valuable with you. There is a small safe in the room if you want to lock any valuables up when you are out.
One night is enough but I would try to arrive by midday and leave the next afternoon to give you enough time.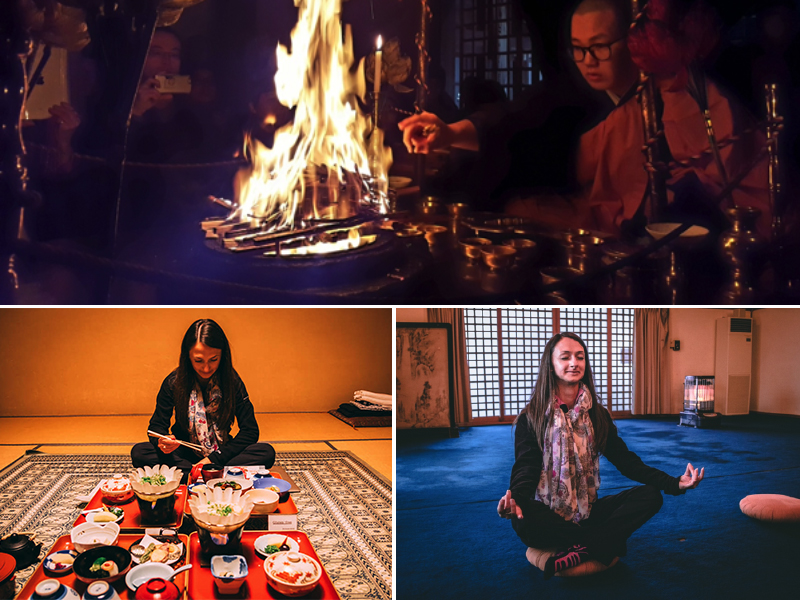 Kyoto
This was my Favourite City I visited in Japan!!  I stayed for 3nights at the Royal Park Hotel Sanjo, a nice hotel, my room wasn't huge but that's common in Japan. It's in really good location to explore the city. Loads of shops and restaurants on the doorstep and within a 3-5-minute walk is a Sanjo Station to get around the city or out of the city. It's also only a 5-minute walk and you are on the Gion district, where you can see Geisha's. I would recommend the hotel. In summary Kyoto is fantastic and must visit city with so much to see and do for all ages so make sure you have enough time to do everything. It offers excellent food with all cuisines on offer and easy to navigate around.
Michelle's travel tips in Kyoto
Kyoto is the cultural and historical capital of Japan. It was home to the Japanese Imperial Family until 1868 when the Emperor decided to relocate his family to the new Capitol Tokyo.
Kyoto was one of the only cities to not be hit by the bombs of WW2 so you still have the original old buildings, temples/Shrines and Zen Gardens mixed in with the hustle and bustle of a modern city.
Kyoto is a must visit city if travelling to Japan and I'd recommend a stay of 3-5 nights depending on how much time you have.
Kyoto is about a 3hrs journey by bullet train from Tokyo.
I would recommend a half day guided city tour when you first arrive to get your bearings but after that the city is pretty easy to get around on your own. Especially if you have already been to Tokyo and used the trains.
I did an afternoon half day city tour with afternoon tea with a Geisha. Our guide was lovely and very knowledgeable of the city. She gave us some options of things to see and do and we decided to visit the Kyoto Castle, known as Nijo Castle and it was worth a visit.
We then headed to the Gion district for a wonder around and the guide explained all about the life of a Geisha. Showed us where they lived and went to school before we had a private afternoon tea with a Maiko (trainee Geisha) This was a really good experience as its very rare to actually see a real Maiko or Geisha walking around the city. The girls you see and normally tourists dressed up.
The afternoon tea lasts for just 45 minutes and our guide stayed with us to translate as they don't speak much English at all. You can ask the Maiko any questions you want to know about her over some local tea and sweets before she performs a dance and then you can have photos taken with her at the end.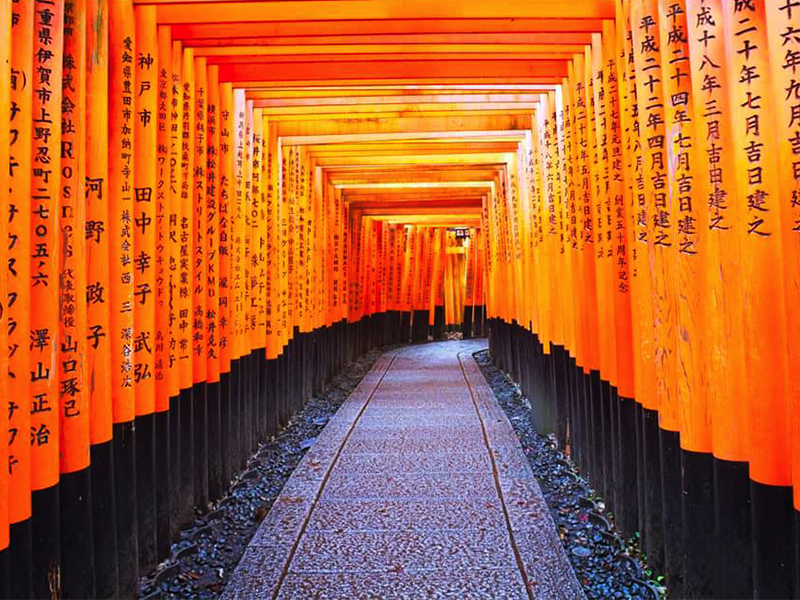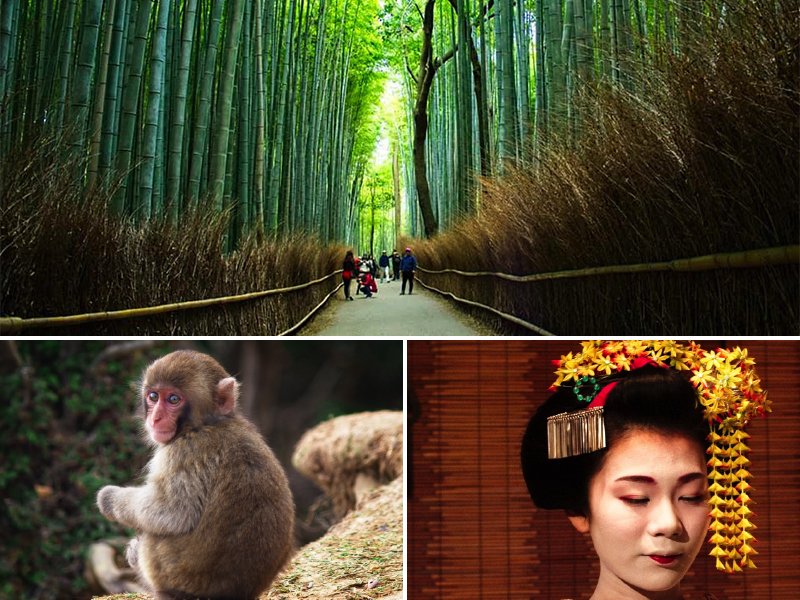 Things to do in Kyoto
Nara – I didn't do this as it was similar to Miyajima Island that I visited from Hiroshima. Nara has many UNESCO world heritage sights to explore like the Great Buddha Statue. It's also famous for the bowing deer that roam freely around the parks. The journey takes about 2hrs from Kyoto so you do need a full day to visit Nara.
Himeji – Famous for the White Heron Castle, which survived the bombs of WW2. It's about 1 hr from Kyoto and can be visited in a morning/afternoon
Osaka and Kobe – can both be easily reached by train. Osaka is only 20 mins from Kyoto and Kobe is 30 mins by bullet train. Local trains take a bit longer. Osaka is said to be an excellent place to visit in the late afternoon/evening to sample the excellent food and nightlife.
Arashiyama and Bamboo Forest – The town of Arashiyama reminded me of somewhere like Stratford-upon-Avon, really nice to have a wonder around the local shops and stop in a cafe/restaurant for a drink or bite to eat. There is a river there where you can take a boat trip along taking in the scenery or walk along the river. There are local markets selling freshly cooked local food for a few pounds. If you are feeling energetic take a walk up to the Monkey Park. The walk up takes a good 20 minutes and is pretty steep but once at the top there are plenty of monkeys roaming around and swinging in the trees
Bamboo Forest – this was a little disappointing as its not actually a forest but actually just a street which you walk down and either side at the huge bamboo trees. Its worth a visit if you are going to Arashiyma anyway as its free. You have to get there pretty early to avoid the crowds though. I was there about 8:30am and it was already pretty busy.  It took about 30minutes from Kyoto to get there by train
Fushimi Inari Shrine – this is definitely worth the early morning start. It's free to visit and I would definitely recommended getting there by 8am to avoid the crowds. If you are going to walk to the top of the mountain you will need a good 2-3 hrs to get up and down. Only took by 10-15 mins by train to get there and its about a 10 minute walk from the station up to the entrance. If you want to go into the temples here you do have to pay but if not you can walk up the mountain as far as you like through the red gates. The start can be busy so if you are willing to walk about 40 minutes up the mountain you will soon find there aren't many people around so you can get some good pictures without the crowds.
Various museums to visit in Kyoto.
Shopping is pretty good here and just a few minutes walk from the hotel is an outdoor shopping mall. I found a really nice French cafe called Breizh Café, which was a nice change from Japanese food. The cost wasn't expensive at all. I had a set 3 course lunch of soup, savoury Galette and then a crepe with ice cream for desert with a drink and it was about £12 and all gluten free too as they use buckwheat instead of flour.
I also had a massage in the shopping mall too. These were the same prices you pay in the UK but it was very good.
Hakone (Mt Fuji)
Hakone was my last stop of the trip and another favourite of mine as it was nice to be out of the hustle and bustle of the cities and back to the countryside. Hakone is the national park from where you can see Mt Fuji on a clear day! Any cloud and it just disappears. I stayed here for 2 nights and it was a nice relaxing way to end the holiday. I stayed Kowakien Tenyu, which is classed as a Ryokan but it's more like a hotel. You don't have sleep on the floor you do have proper beds but you do get the traditional Japanese pyjamas that you wear around the accommodation and also down to breakfast and dinner. As it's a Ryokan it's based on half board and both meals are a set menu. Breakfast is a choice of western or Japanese and the evening meal was traditional with about 8 courses No drinks are included at evening meal and then drinks were the most expensive anywhere in Japan. A bottle of water for the table was about £12! The room was very nice and large. It only had a walk in shower in the room and on the balcony was an outdoor bath, which you fill up with the location's natural spring water. It was the most relaxing bath I think I've ever had.
Michelle's travel tips while in Hakone
 The Ryokan has an Onsen (hot spring bath) which you can use complimentary. There are separate Onsen's for women only and men only. You can't wear any clothing into the baths so maybe not for everyone.
Whether you are coming from Kyoto, Tokyo or any other destination you will catch the train into Odawara train station. This is a town at the bottom of Hakone National Park. From here you have to then catch a bus up into the national park to your accommodation. Depending on where your accommodation is will depend on how long the journey takes. My journey took about 40 minutes.
Its recommended not to take your luggage to Hakone and forward it on to your next destination and just take a bag holdall bag instead, This is due to there not being much room on the bus for any suitcases and in busy times you will have to stand up.
Its ideal to have the 2 or 3 day Hakone pass which allows you to use various local transport during your stay including the bus, boats rope way and tram.
There are lots of museums in Hakone to visit the Open – Air museum is a popular one that's recommended.
The main thing to see and do is head down to Lake Ashi after breakfast where you can catch a private ship to take you to the other side of the lake passing Mt Fuji. Once you are the other side you get off and head to the cable car, which takes you to the first stop: the Volcanic Terrain of Owakudani. Up here you get more views of the amazing Mt Fuji but you also get the bad smell of Sulphur so you won't want to spend to long hanging around. There is a cafe and some shops up here too.
You can either go back down or carry on up to the top station at Sounzan. From here you take the tram down to the town of Gora. You will then need to take a bus back to your hotel. All this can be done in a full day and your Hakone pass gets you on all of these transports free of charge.
There are some walks you can also do from Lake Ashi its worth picking up a map and having a wonder around and walking through the woods which will bring up out to an opening away from the crowds and you will get some good views of Mt Fuji from up here.
Around the Lake there are a few restaurants for some lunch or a hot/cold drink.
After a full day of walking and sightseeing a soak in your bath on the balcony is a must do.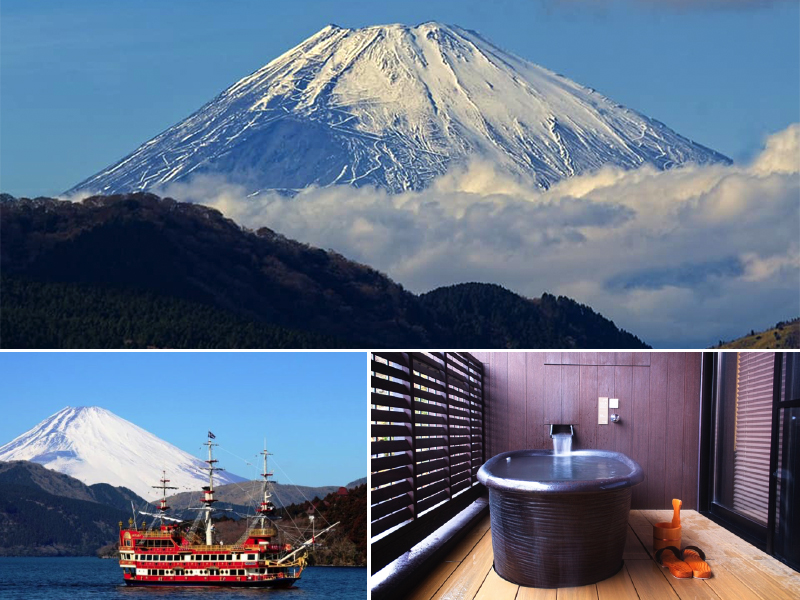 The map below shows where things are: Odawaara is the start of the national park where you catch the train/bus from to your hotel/accommodation. Once at your hotel there are then various buses you can take down to Lake Ashi and from there you can see where the Pirate boat goes across the lake and then the cable car/Ropeway and cable car all these modes of transport are included in the Hakone Free Pass so definitely worth having one.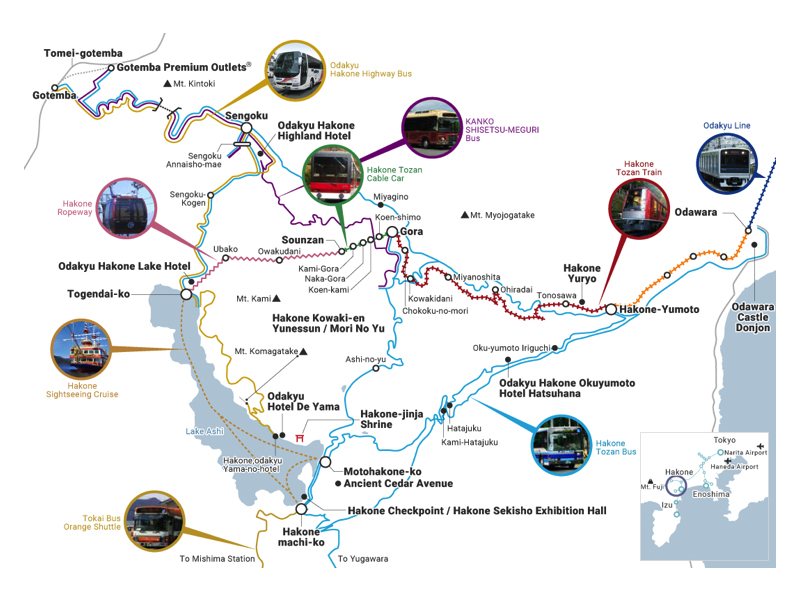 My final stop was back to Tokyo for 1 final night before flying home. You have to make your way back down to Odawara station on the bus and then catch the train back to Tokyo which takes about an hour on the train.
I stayed for my final night in Japan at the Century Southern Tower hotel in the Shinjuku area.
This skyscraper hotel was really nice with fab views of the city from your room. Good size rooms and a really good breakfast with plenty to choose from. All buffet style with an omelette cooking station.
The hotel is right opposite the train station is excellent for getting around the city or to the airport.
Outside the hotel are plenty of restaurants on the door step.
Opposite is a huge shopping mall called Takashimaya Times Square with 14 floors of high end shops like Tiffany, Channel, Bvlgari, and Gucci just to name a few. They have 3 floors of restaurants too.
There is a large park to wonder around called Yoyogi Park a short walk from the hotel if you want to escape the city for a few hours.
Japan in a nutshell:
The locals
People are really friendly a lot more than what I was expecting. They were really helpful if you needed directions or help finding the right train to get on.
Incredible transportation
OMG this is just amazing. I travelled on local trains, bullet trains, subways and also some buses over 17 days and not one was ever delayed. Everything runs like clock work, it's just amazing!! For anyone doing the bullet train as part of a 7 or 14 day pass you have to exchange your voucher locally when you arrive into Japan. This is very simple to do, finding the train station office however was not. After asking various people and 45 mins later I finally found it. You can exchange your voucher at plenty of the main stations and you will get a list of these with your voucher before you travel. You can ether pre book your seats in advance for your train journeys or you can just turn up on the day. Bullet trains have a number of carriages for pre booked passengers and then the rest of the carriages are for unreserved.
Personally I would advise all clients to pre book their seats on trains to guarantee they are sat together and also get on that train especially if they have to also get a connecting train.
High-Tech Toilets
Toilets are an experience. Other than a few places most toilets are heated 24/7 and have what seems like a million buttons to make it an exciting experience each time you go!
Finding the flush was the hardest thing for me, as they all seem to be in different places depending on where you are. Most toilets DONT have hand dryers; locals carry their own hand towel with them. So I'd recommended carrying one yourself or taking hand sanitiser Gel.
Fantastic food options in Japan
Although there were many things I unfortunately wasn't able to try due to being coeliac I was very surprised at just how much I could still eat and just how helpful and accommodating local restaurants were. When booking with Inside Japan you get sent a really helpful and in my case, lifesaving note that explains in Japanese what I can't have. Although Japan isn't known for being brilliant for dietary requirements like vegetarian/vegan and coeliac I can honestly say they were fantastic for me as a coeliac. Even in a local restaurant in the mountains where no one spoke a word of English they managed to put together a meal for me which was lovely and I was not once unwell anywhere.
Food is amazing and things to definitely try are Ramen – a noodle broth dish with a choice of meat or fish in it.  The Wagyu beef is a must, (I don't normally eat beef and yet I ate it several times it was so good) and the Sushi looked amazing. For anyone that's not a fan of these dishes then there is still plenty of other cuisines to eat like, Italian, Indian, Thai, French and of course there is always McDonalds!
Michelle's Travel Tips in Japan
Voltage – 100v 2 pin flat blade plugs
Wi-Fi – is in all hotels and in many public places including many trains and buses
Alcohol – Legal drinking age is 20
Money – The currency is Japanese Yen. Credit and debit card are widely accepted although I would recommend taking some local currency too.
Tipping – There is no tipping in Japan and if you do try to leave a tip in a restaurant for example they won't accept it. It is recommend tipping a tour guide if you feel they looked after you well. Tip 2-3000yen per 8hrs. For Ryokan staff – it is recommended to also tip your server 1000yen per night.
Clothing – it's a pretty casual country even in the hotels you don't have to wear anything too dressy.  Jeans, t-shirt, jumper and casual dress is fine. Good footwear in the day is a must due to the amount of waking you will do. Walking shoes or good trainers is recommended.
Room toiletries – are provided in all types of accommodations/hotels and ryokans.
Hairdryers are always provided too so I wouldn't bother taking your own. With the low voltage you might find it doesn't work very well anyway.
Inspired by Michelle's Japan holiday? Call us today for a tailor made holiday package to Japan on 0800 0856 846