Best Places To Visit In Thailand
Thailand is one of those destinations in which you can tick off extraordinary experiences off your bucket list in one incredible holiday. Nature lovers will love all that Thailand offers, from the renowned Phi Phi Islands, gorgeous beaches of Koh Samui and the bustling cosmopolitan of Bangkok, which is a foodie's heaven. Below are just among some of the places that we recommend adding to your Thailand multi-centre holiday for an unforgettable trip.
Phi Phi Islands
Made up of 9 beautiful islands, the Phi Phi islands are one of Thailand's most visited places with gorgeous beaches with turquoise lagoon and majestic limestone formations, which offers the most gorgeous backdrop to your holiday. The most visited Phi Phi islands are Phi Phi Don and Phi Phi Leh, where you can step on the renowned Maya Bay, which is known as the film set for The Beach. If you're in search for an incredible snorkeling spot, head to Sama Bay where you'll find a rainbow of tropical fish.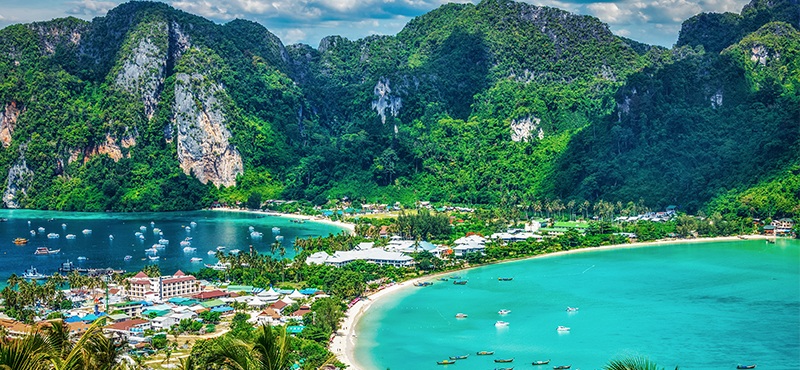 Bangkok
Bangkok is Thailand's energetic city with plenty going on, from bustling food stalls that line the streets, to enchanting temples and vibrant nightlife. There's a variety of ways to travel around Bangkok, why not discover the scenic streets by tuk tuk or explore the city on a cruise through Chao Phraya River – or even better, grab some local delicacies on a long tail boat ride through the floating markets. If you're wondering what the best way to view Bangkok's striking skyline would be, we recommend booking a reservation at the many rooftop restaurants scattered around the city. Veritgo (on the 61st floor of Banyan Tree), Sky Bar (on the 63rd floor of Lebua at State Tower) and Octave Rooftop Bar (on the 45th floor of Marriott Hotel) are just among some of the best rooftop bars to visit for those awe-inspiring views.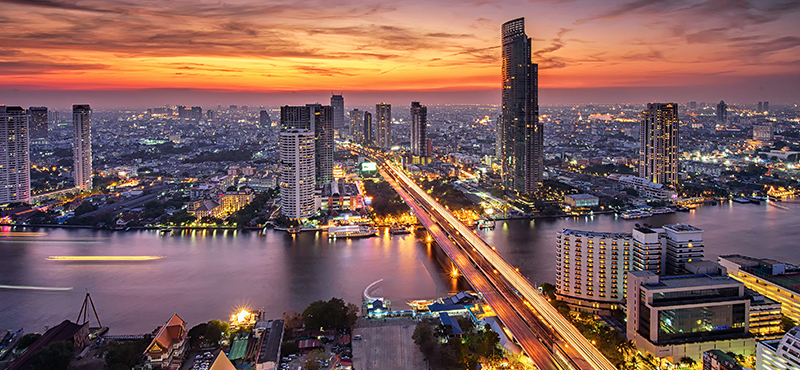 Pattaya
Pattaya serves as a wonderful beach destination with close proximity to Bangkok (just a 2-hour drive away). As well as its stunning beaches, which are loved by sun worshippers, Pattaya has breathtaking temples, gorgeous gardens, fun water parks and stunning viewpoints in which to admire Pattaya's mesmerizing sceneries. If you're looking for a slice of paradise, we suggest island hopping to Koh Larn, located 7.5 km from Pattaya beach, here you will discover tropical paradise with white sandy beaches and crystal clear waters.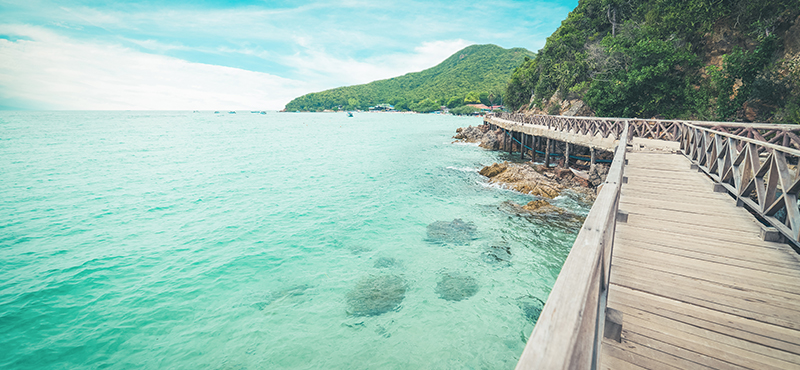 Koh Samui
Koh Samui is great for price conscious travellers looking for gorgeous beaches and the charming boutique hotels make for a lovely stay. Those who love to snorkel and discover the natural beauty of the island will fall in love with Angthong National Marine Park, which compromises of 42 islands in the Gulf of Thailand with majestic limestone mountains, dense jungles, white sandy beaches, hidden coves and waterfalls. Foodies will love a visit to Fisherman's village Bophut. Each Friday the beach and roads are transformed into a bustling food scene with plenty of shops and restaurants to enjoy. One of Koh Samui's main attractions, Wat Plai Laem, a captivating Buddha with 18 arms that rises majestically reaching for the clouds is a must see.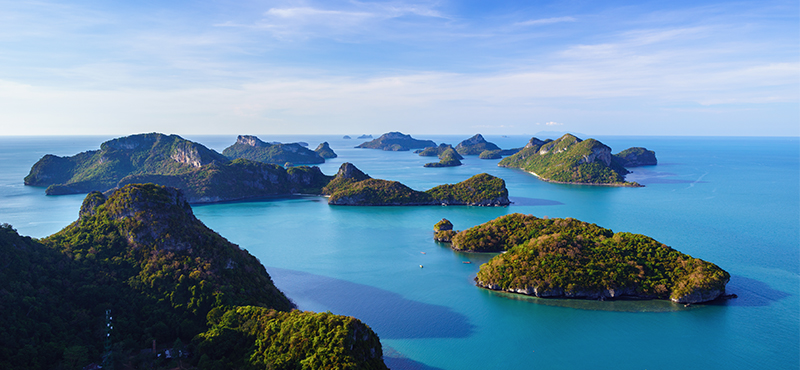 Phuket
It's hard to not think of Phuket when imaging your Thailand holiday. It might be because of its beautiful beaches, incredible nightlife and outstanding high rated attractions that make Phuket stand out. Serving as a gateway to the Phi Phi islands, Phuket has a historical old town scattered with shrines, temples, quaint cafes and a plethora of restaurants. For an unforgettable day out explore the Phang Nga Bay, where you'll find the distinctive limestone cliffs that rise above the emerald green waters. With so much to see and do in Phang Nga Bay such as visiting James Bond Island being among one of the most famous islands to explore as well as a range of boat tours.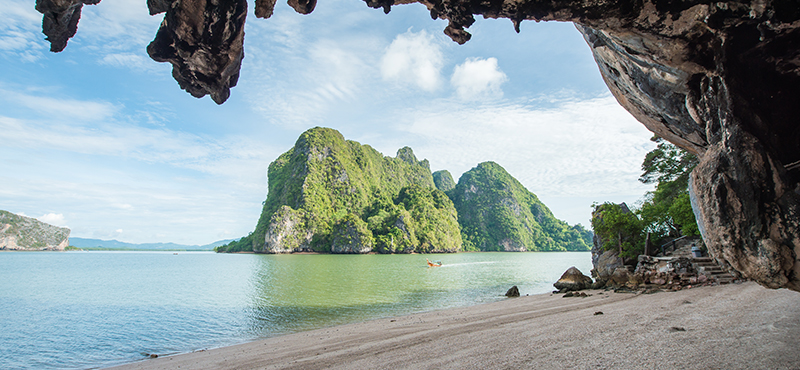 Krabi
Sun drenched beaches, crystal clear waters and with over 150 idyllic islands off its coastline, Krabi is another mesmerizing island escape where you'll find jungle-covered cliffs, secret caves, waterfalls and exotic wildlife. Island hopping is one of the most loved things to do in Krabi where you'll find plenty of adventures underwater with emerald green waters, which is great for snorkeling, kayaking and scuba diving. Its dense jungles are also great for rock climbing and trekking.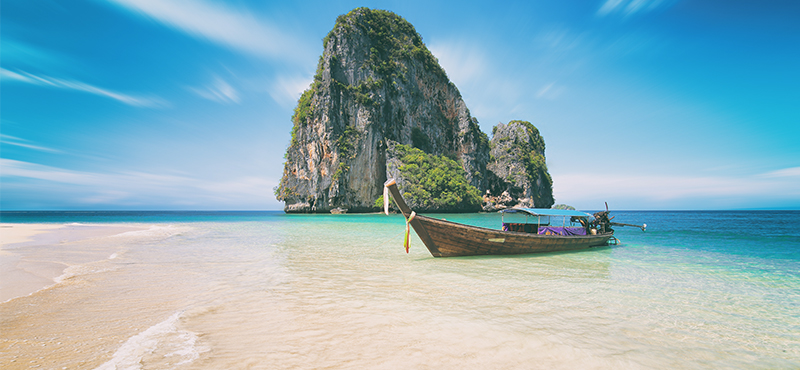 Inspired by our best places to visit in Thailand? Send us an enquiry today and we can start planning your amazing trip!