Amazing birthday holiday to the Galapagos
Our client, Jan and partner, Thomas, celebrated Thomas' big birthday in the Galapagos, as they've always wanted to sail across the equator! Jan visited Pure Destinations store in Sutton Coldfield to book a once-in-a-lifetime trip to the Galapagos. Read on to discover all about their incredible holiday:
The flight
"Our flight from the UK was via Amsterdam to Quito, with KLM and would recommend. Flight had no hold up and service was good. On arrival a private transfer took us to our hotel, and the guide from Andando Tours was very informative, and gave us lots of information about Quito and safety etc."
Quito
"The Hotel Patio Andaluz was a lovely traditional hotel, service was good and staff could not do enough. Rooms are traditional dark wood, large and spacious. Would have been nice if they had tea and coffee facilities in the room, but you did have access to tea and coffee in the lounge area, which was a short walk away. Hotel is in a central location and easy to explore the area."
Day 2 in Quito
"Our second day was spent exploring Quito and we had arranged a full day City tour of Quito and the Middle of the World, although this was shown as a shared service, we actually ended up with a private guide, which was a bonus. We visited many churches on a walking route, which were stunning, and all very different. One of my favourites was the San Francisco Monastry. The square, which houses the Government Palace, Cathedral, Archbishop Palace and City hall, is lovely. Unfortunately we were unable to go inside the gold church (Church of la Compania de Jesus) as it was closed, but we did get a glimpse the previous evening when we were walking around, and it looked stunning. Our guide then took us in his car to El Panecillo, a hill, which is 3000m where The Virgin of Quito oversees the city. This is impressive and you can walk up to a platform 11m above ground and you have a 3630-degree view of the city, which is breath-taking. We then went on "middle of the world" where we visited the Inti Nan Museum, which demonstrates the different sides of the equator. You have the opportunity to straddle a line where it is zero latitude, and you are on both sides of the equator. There are also interactive things to do, like balancing an egg on a pin at 0.00 latitude. The museum is well planned and well thought out and well worth a visit. Seeing a humming bird on a Bird of Paris flower was lovely, I just was not quick enough to get a photo! We then returned to the city and visited the Basilica church, which is very similar in style to Notre Dame. It was undergoing some renovation works but we were able to go to the spire, (not for the faint hearted!) and again the views were great."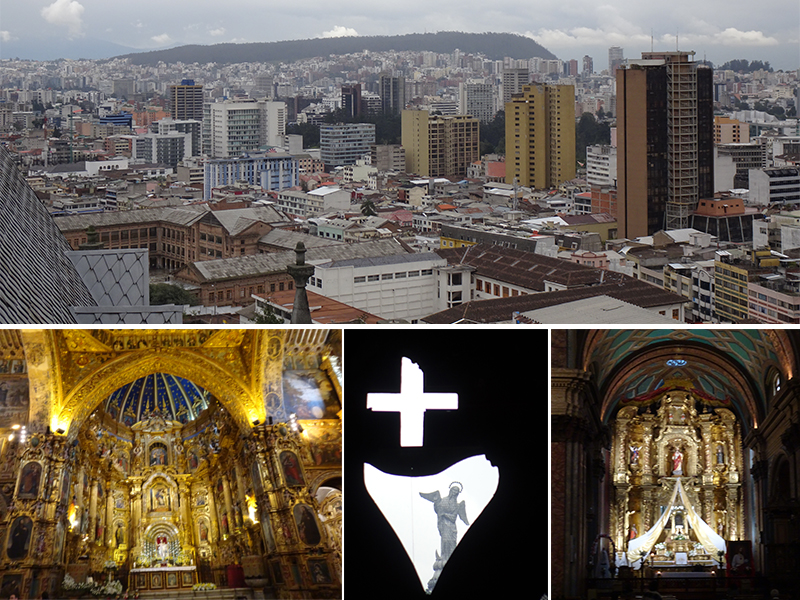 Flight to Galapagos
"Our flight to the Galapagos was an early start we had to leave our hotel by 4.15am for 6.45am flight. The local flight was fine, with no hold ups. On arrival at the Galapagos, we got on a coach to take us to the ferry area for our crossing to our boat. There were several frogmen in the water and armed guards, which we thought was strange, then we found out the reason, the President of Quito, was also visiting the Galapagos, and turned up with his entourage, so not surprisingly he was given priority."
Galapagos Odyssey
"Our boat on the Galapagos was the "Galapagos Odyssey" there were 15 passengers on our boat. Every one was really friendly, and we all got on well, we enjoyed the activities and had lots of banter, so was a great grouping. Our guide for the duration was Victor Hugo, who was born in the Galapagos, so he was very informative, and also very protective of the islands and the culture. The itinerary was well planned out, with excursions in the morning and afternoon. Lunch was usually around noon, after which a brief siesta, and then a meeting to discuss the programme for the rest of the day. Dinner was usually between 7.00 and 7.15pm, all food was tasty with a couple of choices at each sitting. We had another briefing just before dinner, to discuss the day and the following days activities. Our cruise was around the west of the Island, around Isabella  (the sea horse shaped island). Our first port of call was Charles Darwin Research Station, where we saw many Giant tortoises and Land Iguanas. We then went back to our boat for our first night where the staff were dressed in their official cruise uniforms where we met the Captain and the staff."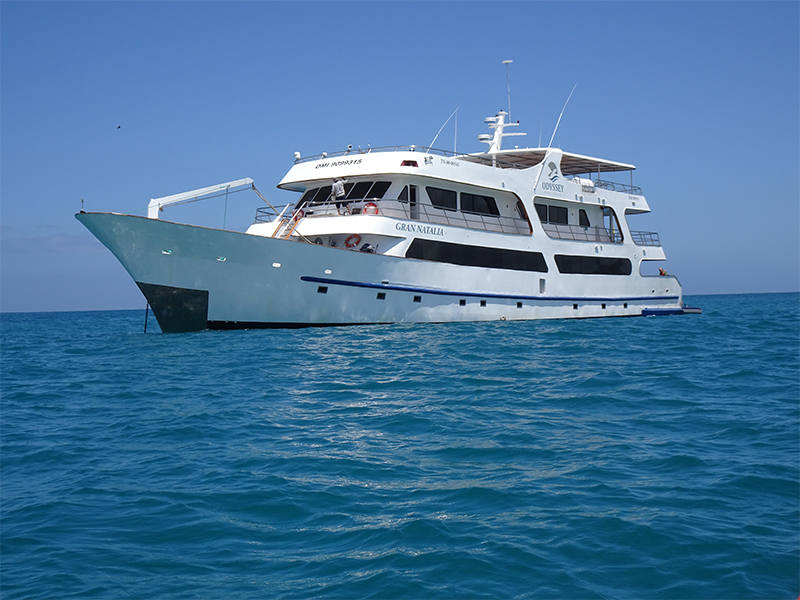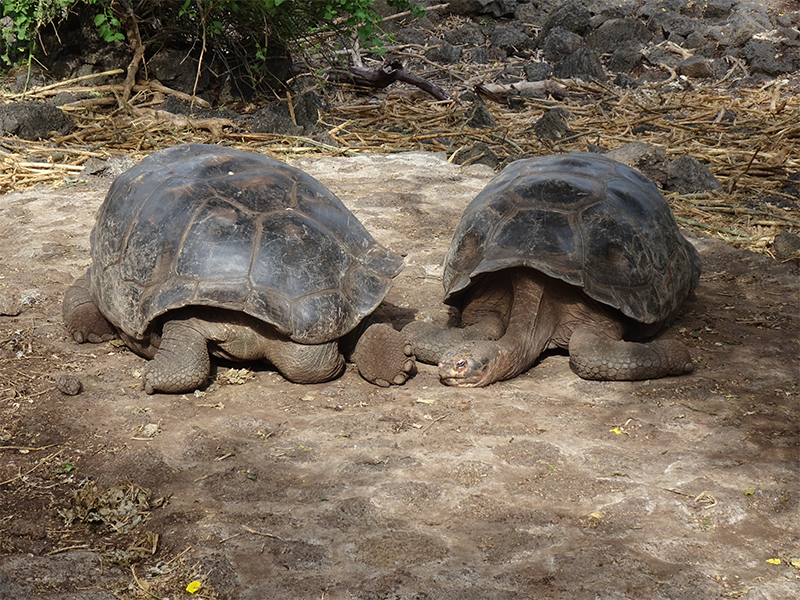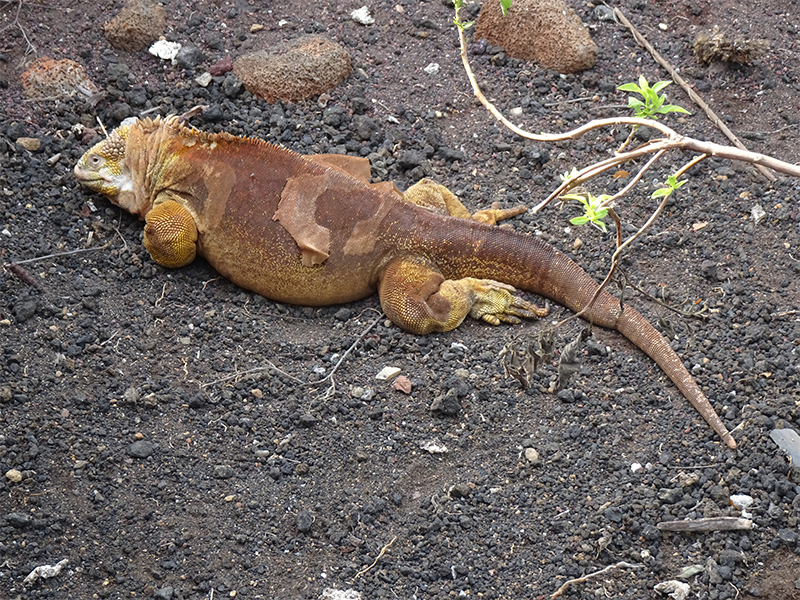 Day 2 of Galapagos Odyssey
"On the 2nd day we visited the Tintoreas Islet on Isabella Island, we had a hike to Sierra  Negra volcano, unfortunately the weather was not on our side and after a 3km walk, over rough terrain there was too much low cloud to see anything! On a clear day I expect it would have been great, but that is the weather for you! We returned to our boat for a welcome snack and lunch. In the afternoon as we reached land, we went to Flamingo Lagoon, which is also a breeding centre and had the opportunity to walk around the town."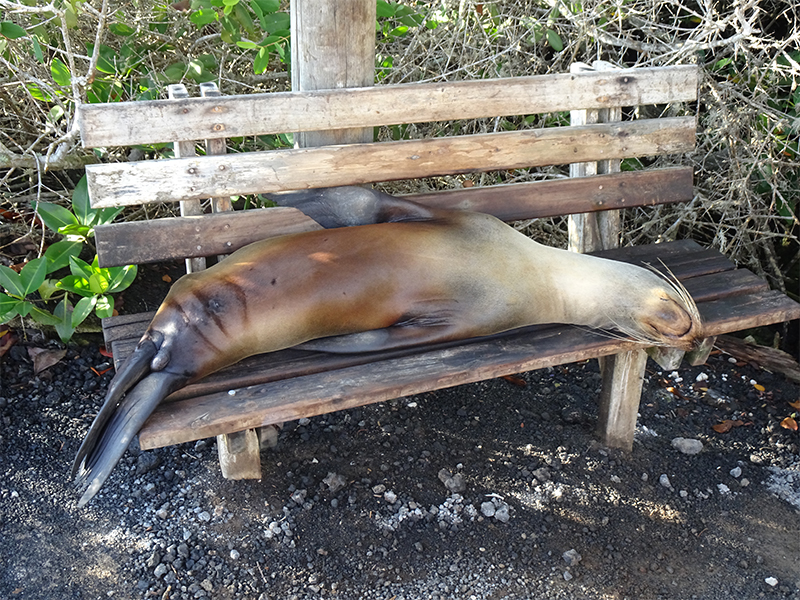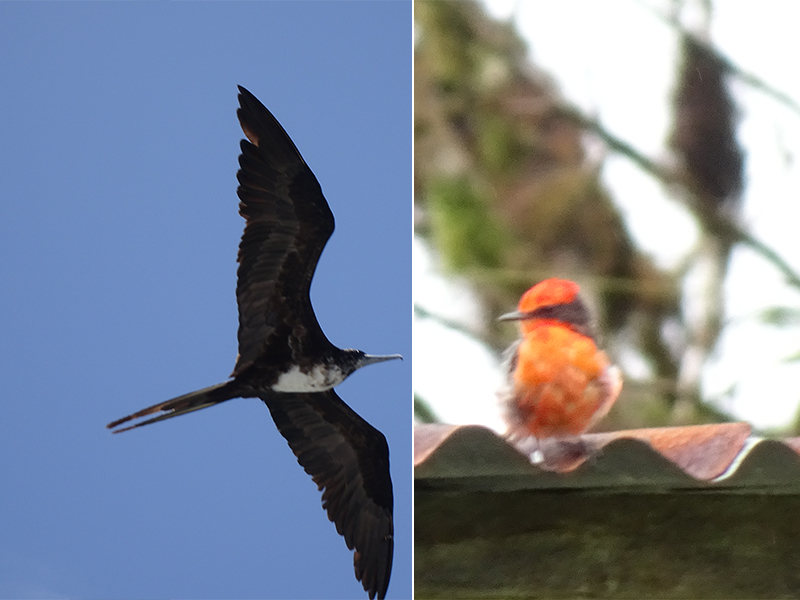 Day 3 of Galapagos Odyssey
"On our 3rd day in the morning we went to Moreno Point Isabella Island where we took a zodiac ride to bird watch and walk on lava rocks. As we approached the landing point my favourite "penguins" were diving in the water beside me, and I loved it (in the initial briefing we were all asked what we wanted to see or do and mine was see penguins, my partner's was to sail across the equator!). After we got off the Zodiac there was a sea lion sunbathing on the bench! Cameras at the ready… but you soon got used to seeing animals in most unusual places. To respect the animals you are supposed to stay 2 meters away from them. During our hike we saw White tipped reef sharks, and numerous lava rock Iguanas. After a return to the boat we then had the opportunity of deep-water snorkelling off the Zodiac, we saw rays, penguins, sea lions, turtles lots of different birds, snorkelling was good! During lunch we sailed for 2 hours to Elizabeth Bay. In the afternoon we went on a Panga through the mangroves and saw flightless cormorants, turtles, herons and pelicans. The mangroves have lots of red roots and large green leaves and is very peaceful and tranquil."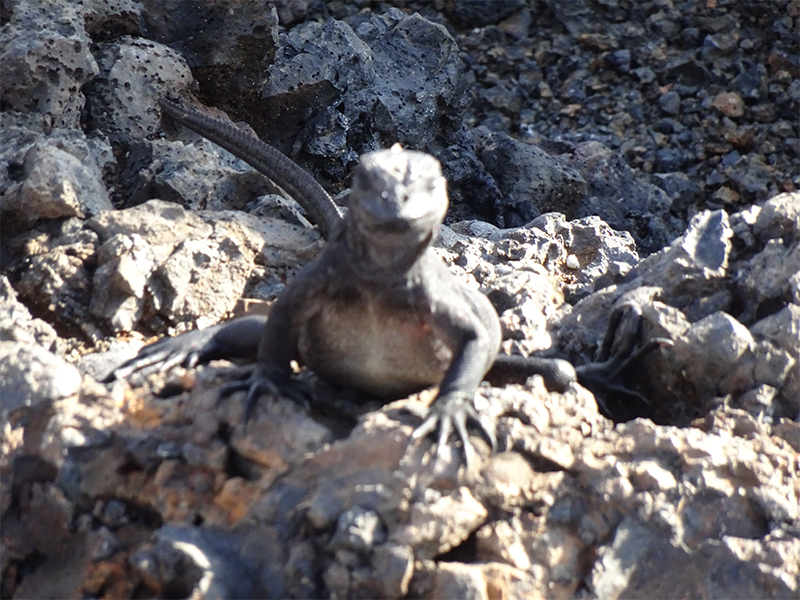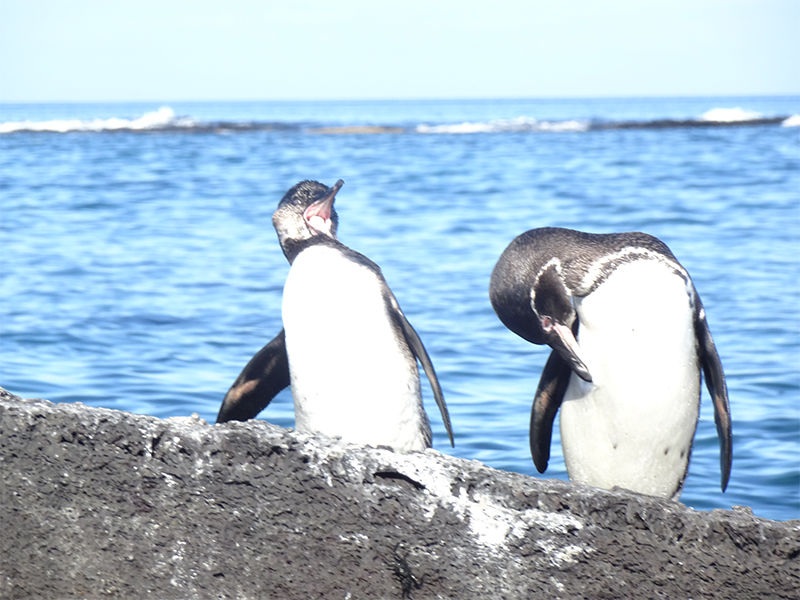 Day 4 of Galapagos Odyssey
"We visited Espinoza Point Fernandina Island in the morning, Fernandino is the 3rd largest Island, we went for a 1k walk across lava fields and saw numerous Marine Iguanas, which are difficult to spot on the lava rocks, but there are hundreds of them! Also saw penguins and the unique species of the flightless cormorant. Back to the boat we enjoyed a quick snack, and time for more snorkelling, this was clearer this time and to have sea lions swimming next to you was fabulous, same as for turtles. There were lots of Parrot Fish, wrasse, damsel fish, and too much more! There is something very special about being able to see such amazing fish and mammals close up."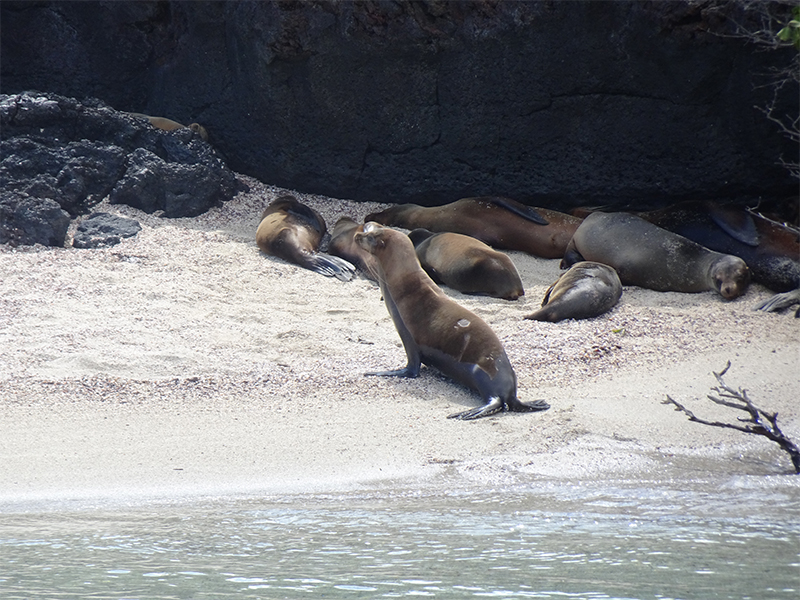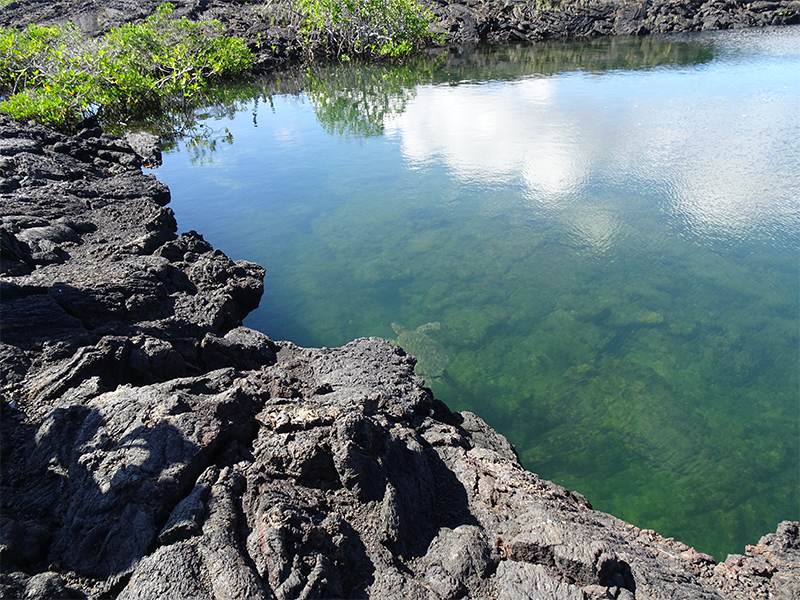 Day 5 Galapagos Odyssey – Santiago Island
"An unexpected bonus! As we were preparing for morning activities, someone spotted Dolphins at the front of the boat. Our guide then decided to let us go in the Zodiacs to catch the Dolphins! We spent several minutes with Dolphins swimming alongside us and it was a fabulous sight to see, as they are not always visible at the time of our trip. So an unexpected highlight, as they are such beautiful creatures. In the morning we went to Buccaneer Cove, where we took a Zodiac ride, observing sea birds. Then did another snorkel, again lots of fish seen along with spotted rays and turtles. Back on board and we then sailed to Egas Port for afternoon activities. In the afternoon we went on a 1k walk across lava rocks, with some time to do some relaxation on the beach, or snorkel, I chose the beach, and seeing sea lions just lying on the beach at the waters edge was very relaxing."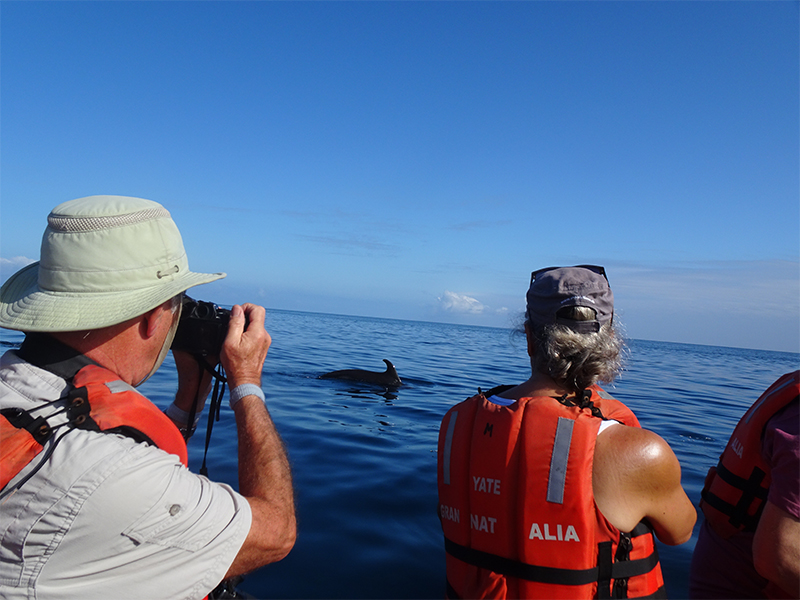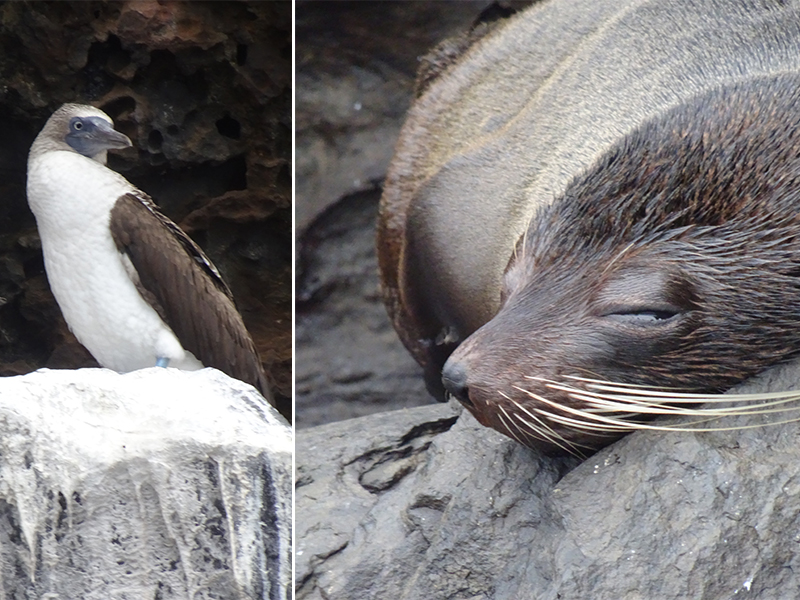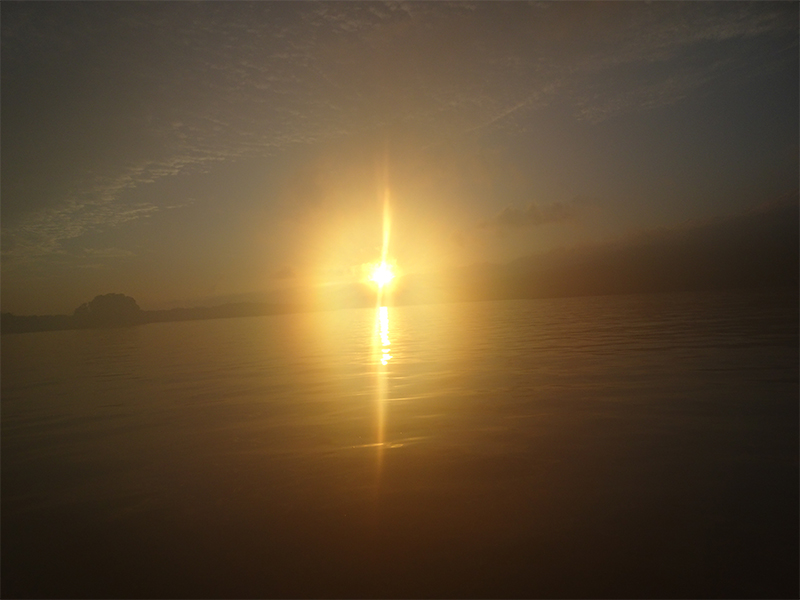 "We then had an 11-hour sailing for our final day In San Cristobel In the afternoon we went back to Isabella Targus Cove, where we had the opportunity to either snorkel or kayak, we chose Kayaking and to be able to get close to the rocks to see the wide life, sea lions and penguins was magical. Back to the boat, quick change, and we then went on a 1.5 k walk to see Darwin Lake, which was stunning; we kept on walking to the top of the cliff. En route you can see graffiti on the surrounding cliffs of the cove, which is said to have been engraved by pirates, whalers and buccaneers in days gone by! We then had a long sail around the top of Isabella, which was 11-hours, this was special for my partner as it meant we were going to sail across the equator. 10 minutes beforehand the Captain allowed us all to go onto the bridge and see the dials and clocks count down to zero… (almost like counting down for New Year!) it's something that I will  not forget."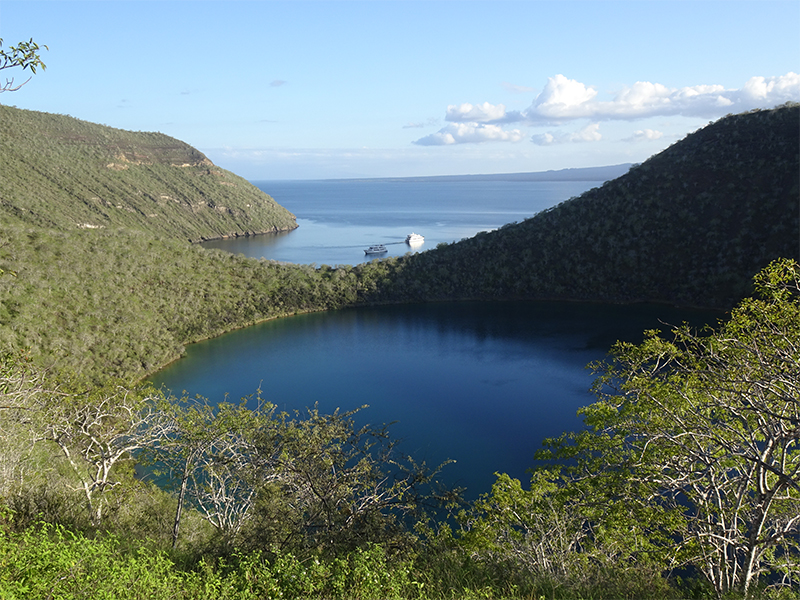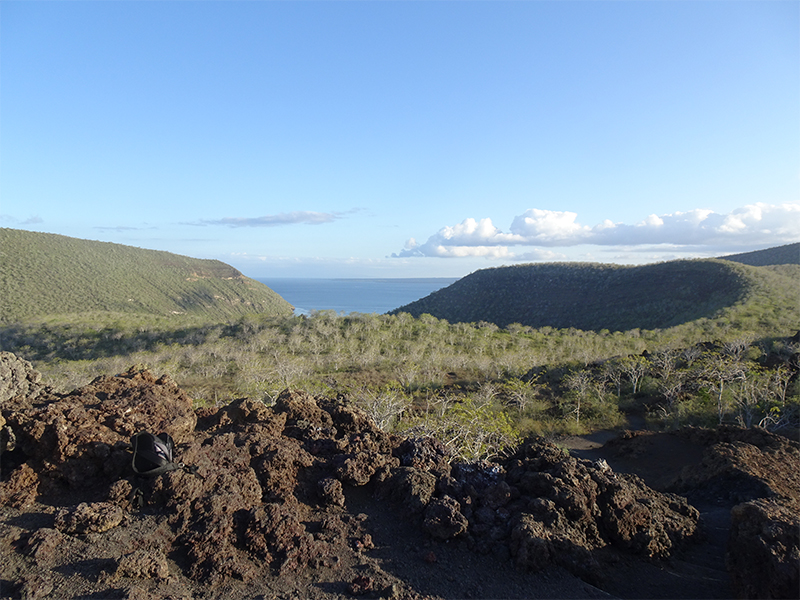 Day 6 Galapagos Odyssey
"Very early morning 6.00am start walking across a trail of volcanic rock and dry vegetation zone. We saws lots of blue footed boobies, red crested balloon birds, hawks and other sea birds. Then into San Cristobel town for some last minute shopping before saying our goodbye's and off to the airport for our various onward destinations. The whole experience on the boat was fantastic, I expected the trip to be full on and it lived up to and surpassed my expectations. One evening we were on the upper deck after dinner, and our guide was up there, he then gave us an impromptu talk about all the stars and their constellations, we were able to witness some amazing sunrises and sunsets, and being on a boat in stunning surrounds was very special, and does make me want to do it again… I just loved seeing all the animals especially penguins, and loved every minute of it. I have come away with such happy memories that will last for a long, long time."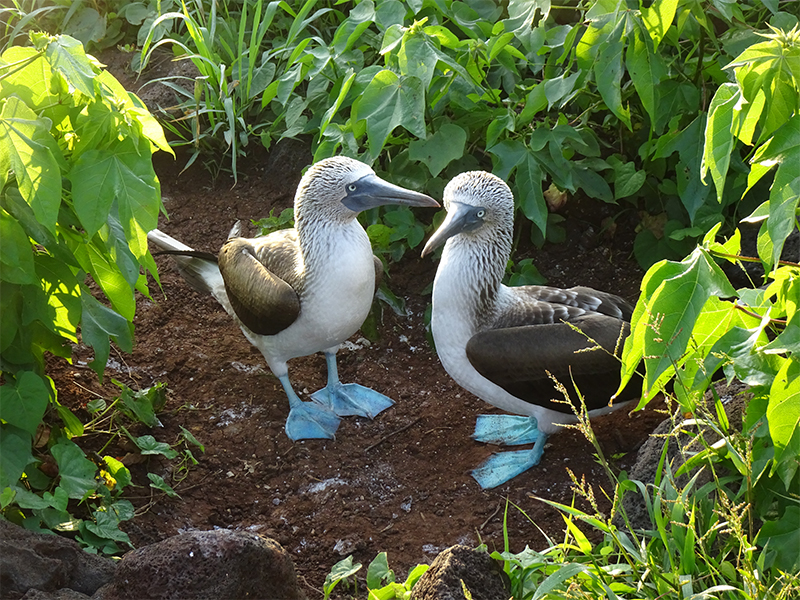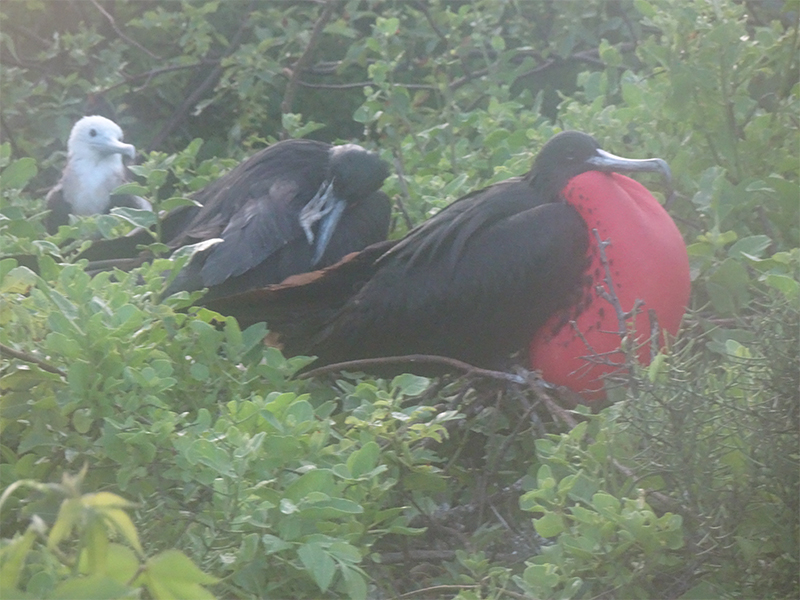 Guayaquil
"We stayed in the Wyndham hotel which is only a short ride form the airport. This is a modern contemporary hotel, rooms are massive with all the 5 star amenities you would expect. We had dinner in a local restaurant recommended by our guide and was very good. Lots of bars and restaurants close to the hotel to enjoy, too."
Day 2 in Guayaquill
"The following day we had arranged a Mangrove and Chocolate tour with a private guide.
We went to the Natural Reserve Mangalares Churute, we went on a scenic boat ride through the mangrove forest where we saw numerous birds including egrets, herons, cormorants, pelicans, kingfishers. We also saw how the locals caught the red mangrove crabs, we then went on to The Nature Reserve, where there are howler monkeys, but unfortunately we were unable to see any. We did walk up to a waterfall, which was over rough terrain but well worth it! We then went onto a small finca for lunch, whereby we took a tour of the farm and saw the cocao bean, which is made into chocolate. One of the farms chief exporters are the Nestle chocolate firm! We were then given a demonstration as to how the chocolate bean is made into chocolate, but we had it as a chocolate drink! The last day at our hotel we spent a few relaxing hours sitting by the pool and reflecting on our amazing, unforgettable holiday!"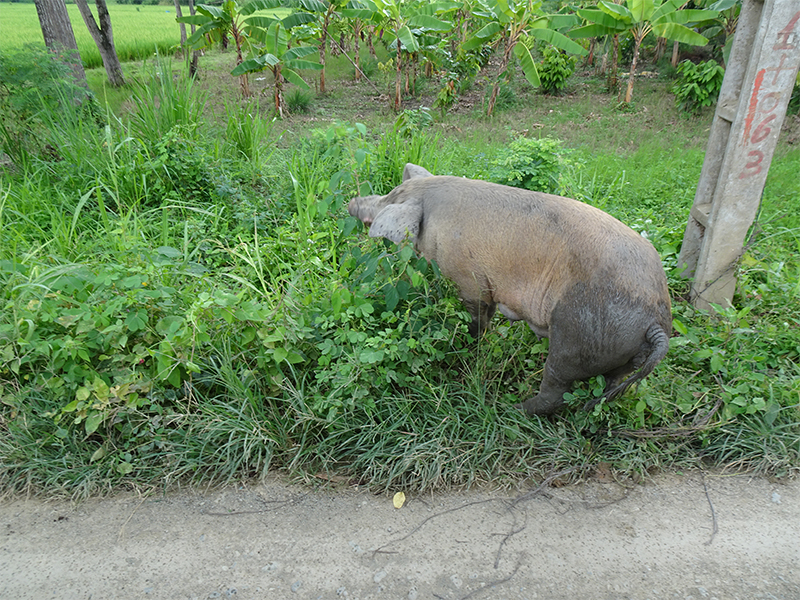 Pure Destinations' service
"I am so pleased that I used the services of Pure Destinations, before I visited the shop in Mere Green I had researched visiting the Galapagos online, but if I am honest had not got a clue! I had a rough idea of what Itinerary may work, and put this idea to Natasha. She told me they used a company called Latin Routes, and she put together a package for me having discussed my needs, budget, and expectations. It could not have worked better, and everything was great from start to finish. We were kept updated every step of the way, and the literature provided by Latin Routes was very informative. I would not hesitate in using Pure Destinations for any special tailor made holiday, and would certainly recommend them."
Where is next on the travel list?
"One thing that is being considered is a safari, and that would be specialist so, would look to use Pure Destinations to come up trumps."
Inspired by Jan & Thomas' amazing holiday to the Galapagos. Please call 0800 0856 046 to plan your next adventure with the travel experts. Book an appointment in store in Edgbaston or Sutton Coldfield.