2018 Bucket List Destinations
If in 2018 your goal is to start ticking off those bucket list moments that you'll never forget, then you've come to the right place. Our bucket list destinations is just the inspiration you need to start planning your best year of travel yet. So what will it be? Visit a most-famous attraction? Indulge in island living? Embark on unique animal encounters? Here's a few to get you started…
Stay on the Galapagos Islands
Visiting the Galapagos Islands is a bucket list favourite for many and to get most out of your time here, a stay on one of the islands is a must! We recommend staying at Iguana Crossing Boutique Hotel, a beachfront hotel, which is aptly named after the "Iguana passing" path, the best place for a Galapagos experience! If you're looking for a white sandy beach, you will find this on Totuga Bay on Puerto Ayora, alternatively on Isla Santa Cruz you can marvel at the incredible giant tortoises at the El Chato Tortoise Reserve!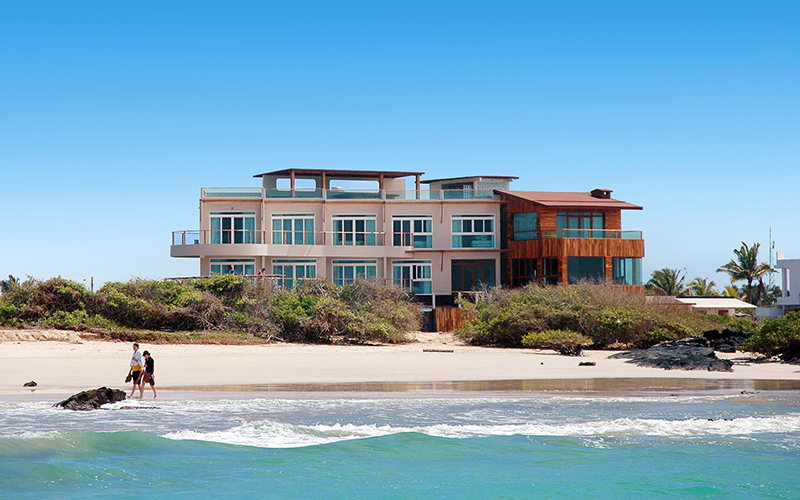 Visit Machu Picchu
Machu Picchu is one of those sights, which will simply take your breath away, the most best way to really take in all the sights is to hike many of the Incan trails to suit your physical capabilities – and with many tours tailor made to offer unforgettable experiences, it's easier than ever to sink your teeth into this 15th century wonder! Some of the most top sights near Machu Picchu include the Huayna Picchu, a breathtaking mountain that soars over the Machu Picchu, also known as the 'Lost City'. The Temples of the Three Windows is also not to be missed, this ancient stone temple can be found at Machu Picchu and is renowned for its 3 windows made from stone. If you're looking to explore Machu Picchu thoroughly, we recommend staying at Belmond Sanctuary Lodge, which is conveniently located adjacent to the Inca citadel entrance to Machu Picchu!
Have breakfast with Giraffe at Giraffe Manor
If wildlife adventures are on your bucket list for 2018 and your favourite safari animal happens to be a giraffe, we recommend staying at the notorious Giraffe Manor, which is a unique experience situated in Nairobi, which guests can enjoy their stay with resident giraffe that have a tendency of popping their heads into the Manor house! Guests can feed them special giraffe treats whilst dining in luxury…
See the Northern Lights in a Glass Igloo
The aurora borealis are on the bucket list of many, this spectacular phenomenon is the reason why many of us flock to Scandinavia, but to make your experience that much more special, we recommend a stay in an igloo, which is an experience within itself where you can indulge in stargazing at your own pace in the comforts of your igloo abode. Santa's Igloos Arctic Circle is a top choice for many, situated in the Arctic Circle in Rovaniemi, and Santa Claus Village is just a stone's throw away, you can turn your holiday into a festive wonderland trip of a lifetime!
Dine underwater with the fishes
The Maldives is a destination made for special occasions, whether it's celebrating the beginning of your marriage in absolute paradise, toasting a big birthday milestone or treating your loved ones to truly memorable moments that will be cherished forever. Each island in the Maldives is different and offers distinctive features, our top Maldives island resort for creating those WOW moments has to be Hurawalhi. This fairly new island is reserved for adults only, with beautiful villa accommodations placed on the white pristine beach or poised over the lush lagoon.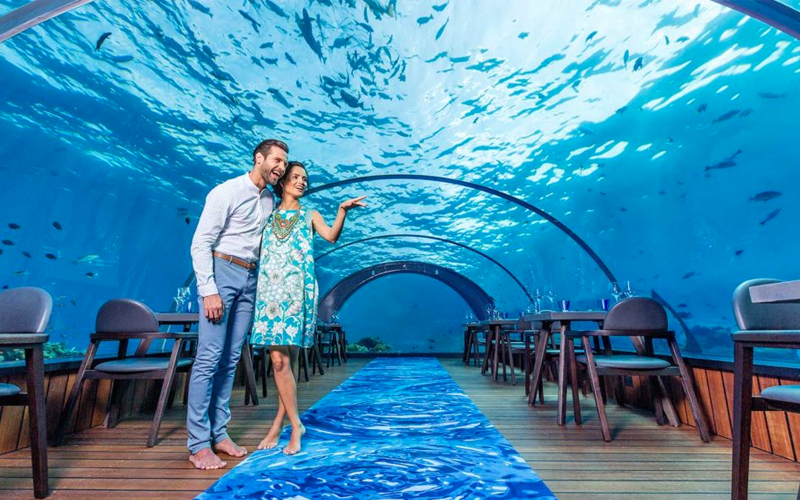 Stay in a Treehouse
If time away from your phone and time spend with loved ones is more on your agenda for 2018, then a holiday at the newly appointed Treehouse Villas on the pristine island of Khao Yao Noi is just the escape you need. Designed for adults only, this luxury resort is set amongst lush jungle with canopy walkways and beautifully designed villas, each with its own pool, private dining facility, personal bar with complimentary drinks and unbelievably beautiful views out to sea and the ancient Jurassic massifs of Phang Nga Bay.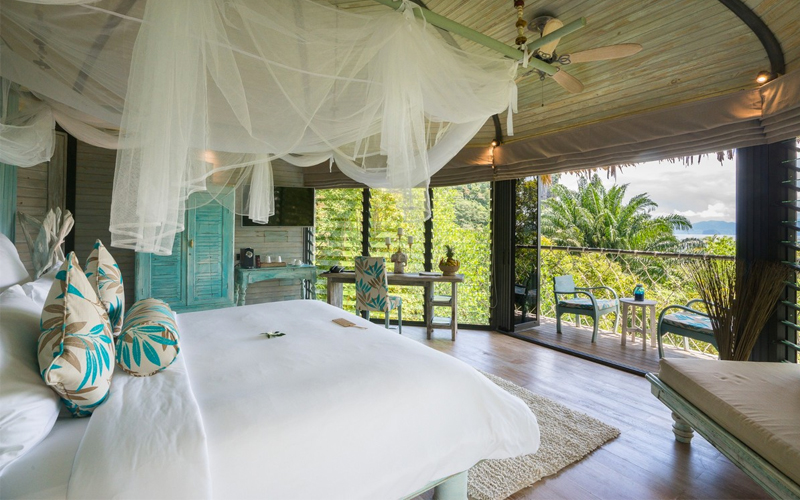 Ride a hot air balloon over Cappadocia
The captivating landscapes of Cappadocia are a sight to behold, especially towering above in a hot air balloon – it's one of the most must-do excursions in the area! Make sure to bring along your camera, as you go past spectacular sceneries of the fairy chimneys, scattered valleys, and pigeon houses, and over orchard and vineyards.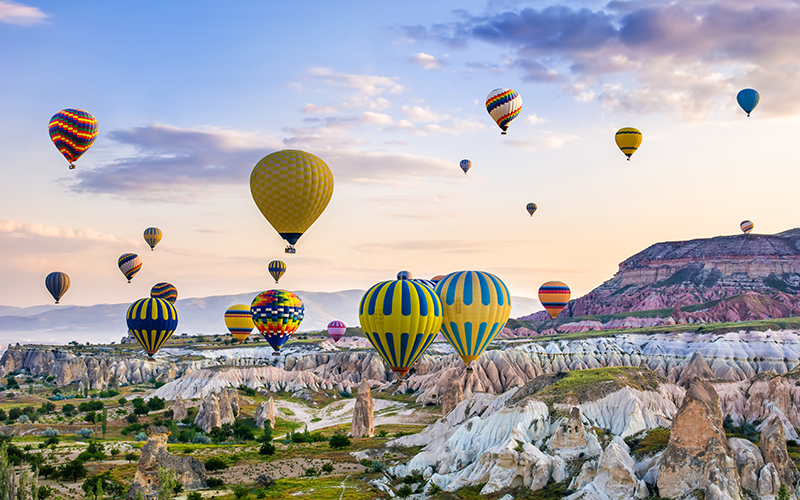 Sky dive in Dubai
For those seeking more than a 'little' adrenaline in 2018 a sky dive over Dubai's renowned sights might just do the trick! Sky Dive Dubai is the place to do it, you'll take in breath taking bird's eye views of the Palm Jumeirah and surrounding areas, plunging from 13,0000 feet!
Inspired by our 2018 bucket list destinations? Why not contact us today to start planning your next adventure…